Roberto Lugo, a ceramic artist from Philadelphia, will be in residency at the Cincinnati Art Museum now through March 24.
Visitors can watch Lugo throw pots from 11 a.m. to 4 p.m. during his residency and exhibition, titled Roberto Lugo: Hi-Def Archives. While working in Cincinnati, much of his work will be inspired by Rookwood Pottery, the historic local ceramics company founded by Maria Longworth Nichols Storer in the late 1800s, leaving a legacy as the first woman-owned major manufacturing company and for its works' motifs of time, place, and identity. 
The idea for Lugo's exhibit blossomed after the Cincinnati Art Museum's curator of decorative arts and design Amy Dehan attended a gathering of curators and collectors at the Metropolitan Museum of Art. "Roberto performed his spoken word poetry, sharing his story, his experience, and the mission that guides his work," says Dehan. "The room was spellbound, I knew we had to bring Roberto to Cincinnati, our community needed to hear his story, see his art, and experience the way he made precious connections". 
"Where I'm located is really important. Right now I'm in Cincinnati, so for me, that led me over to the Rookwood collection of pottery. I was able to see those works in person because I'm in proximity to it," Lugo says with approximated sketches of Rookwood pottery pinned to the wall, influencing his day's creative trajectory. 
Lugo hails from the urban Kensington neighborhood of Philadelphia. He channels social narratives of defeating social plights and marginalization through his work in a manner that encourages slashing through the odds of cultural conventions with passion.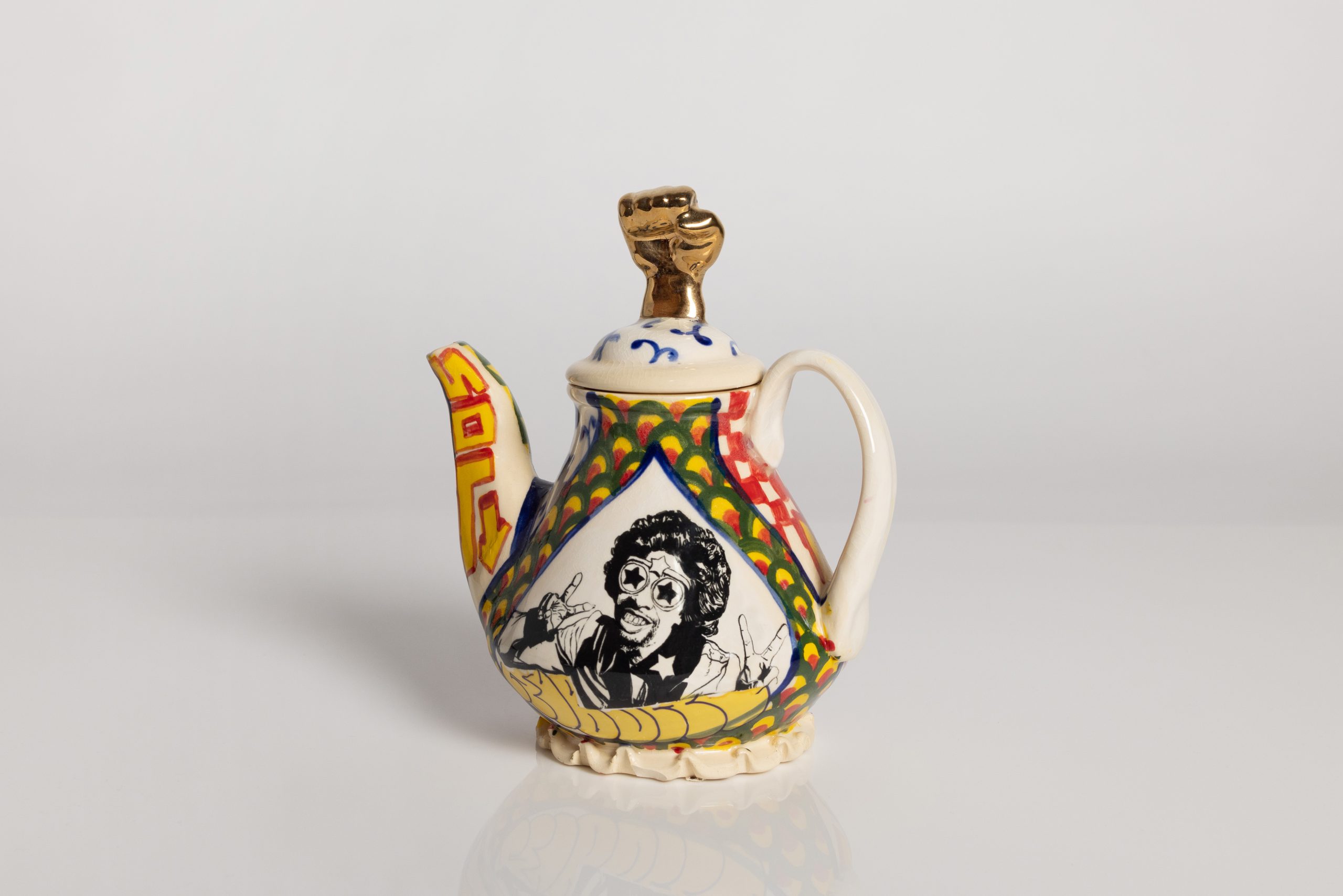 Lugo brings pop culture and hip hop iconography to the forefront of his work—like portraits of hip hop legends and graffiti tags—harmonizing it with the classic forms and patterns of ceramic arts to elevate groups that historically are underrepresented in the art form. This eclectic imagery's position in his work delivers the message of inclusion of diverse identities and places miring his work.
"Ceramics is so archival. It's putting a permanence to a history that's often forgotten. And so, that gives me a lot of power to be able to do that through my work," says Lugo. "It gives voice to a lot of people who aren't represented."
Following his residency, Roberto Lugo: Hi-Def Archives will exhibit through September 24, displaying a curation of work by Lugo and Rookwood that sparks conversation through the melding of artworks made with similar artistic outlook and distinct by individual experience. Finished work from his time at the museum will be showing in the exhibition as well. 
https://www.tiktok.com/@cincinnatimagazine/video/7212707985720741163?lang=en
Facebook Comments