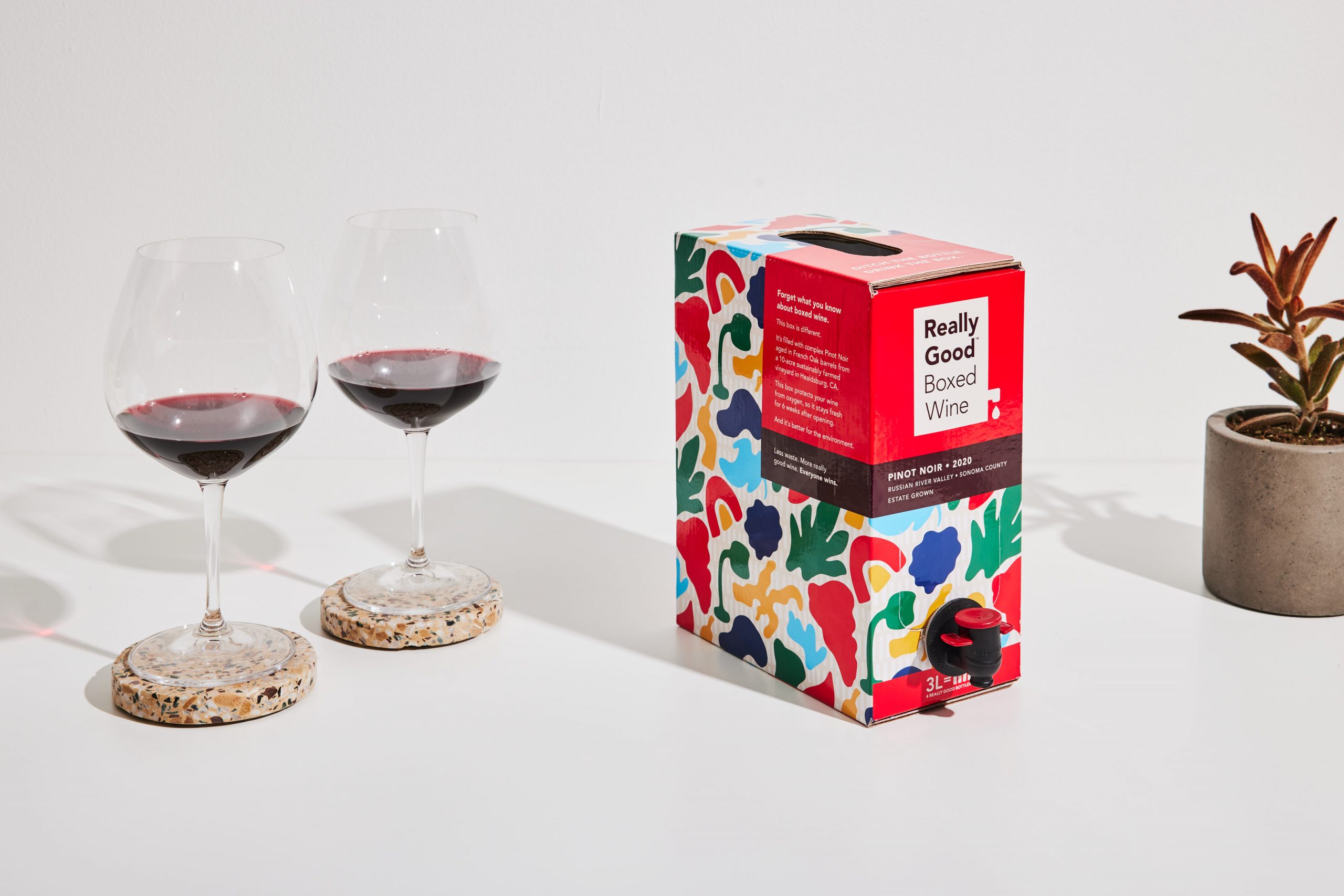 When it comes to wine, Jake Whitman of Really Good Boxed Wine wants to give customers three things: better taste, better prices, and better, more eco-friendly packaging. Heavy glass bottles eat up fossil fuels, mass produced grapes drive vineyards to employ unsustainable farming methods, and the good wine just costs too much to enjoy very often. As a wine lover, Whitman is ready to change how Americans buy their vino.
"The whole idea for Really Good Boxed Wine came from problems I experienced as a wine drinker," he says. "I would open a bottle of wine on a Tuesday after work, and then would feel either compelled to overdrink or risk throwing out half a bottle of good wine if it went bad a couple days later."
Whitman knew boxed wine lasted longer after opening—typically several weeks, a more reasonable time for consumption. That huge advantage, however, couldn't compensate for one enormous drawback. "I would buy a box every once in a while and I was always disappointed," he adds. "I had assumed there was a technical reason why producers couldn't put great wine into the bag-in-box format. At some point, my curiosity got the best of me, and I started looking into it."
What he found was a cultural disconnect. Europe and Australia offered high end wines in boxes; they even shipped their product to America in plastic bladders. But upon arrival in the States, the wine went into bottles. The revelation was the start of something beautiful. "Once I realized it was possible, and that no one else was really doing it in the U.S., I dove headfirst into researching the industry," Whitman explains.
The box provides more than longer-lasting wine in a cheaper package.
"Sustainability was always part of the plan," he notes. "It's one of my favorite things about boxed wine. We, as consumers, have been taught that there's a tradeoff between environmental sustainability and low cost. Boxed wine is this magical combination."
With business chops earned at P&G and an appreciation of wine country from a stint in the Napa Valley, Whitman had the vision and acumen to make his dream product a reality. With his contacts, it came together quickly.
In March, he made his first phone call to his friend Allie Ketcham, the owner of Ketcham Estate. He then called another friend, Bob Jennings, the owner of a prototyping business 3D Color, to make a prototype. The first run of Really Good Boxed Wines was produced in Sonoma, California, on August 6. Once that was completed, a launch date of August 28 was set.
The first box, a pinot noir starring Ketchum Vineyard's grapes, comes from a special place in Whitman's heart.
"I love pinot noirs," he says. "Pinot noir is an incredibly delicate, complex, ancient grape, and the range in styles of pinots is as wide as any varietal. I wanted one that would be approachable for both pinot lovers and pinot skeptics who prefer the bigger, bolder cabernets. The blend that we created with Ketcham, along with our winemaker Tami Collins, nailed that vision."
And this is just the beginning. The brand has big plans for the national launch, which may come as early as Black Friday. "We have already started production on several different varietals for the national launch," Whitman says. "Our goal is to have a range of whites, reds, and rosés so there's something for everyone."
The Ketchum Vineyard pinot noir becomes available on Really Good Boxed Wine's website this weekend. Customers on the waitlist get first dibs.
"I see Really Good Boxed Wine as a way to democratize access to really good wine," Whitman adds. "So much of the good wine out there is either inaccessible or too expensive. The Midwest often doesn't get the most innovative things first before other markets, but the people in this city are amazing and are hungry for new ideas and new products. I can't wait to bring this wine to the Cincinnati community."
Facebook Comments