There's something about South Haven, Michigan, that doesn't feel like the Midwest. Though the city is just three hours north of Indianapolis, a short visit will leave you feel­ing like you've traveled much farther from home than you really have.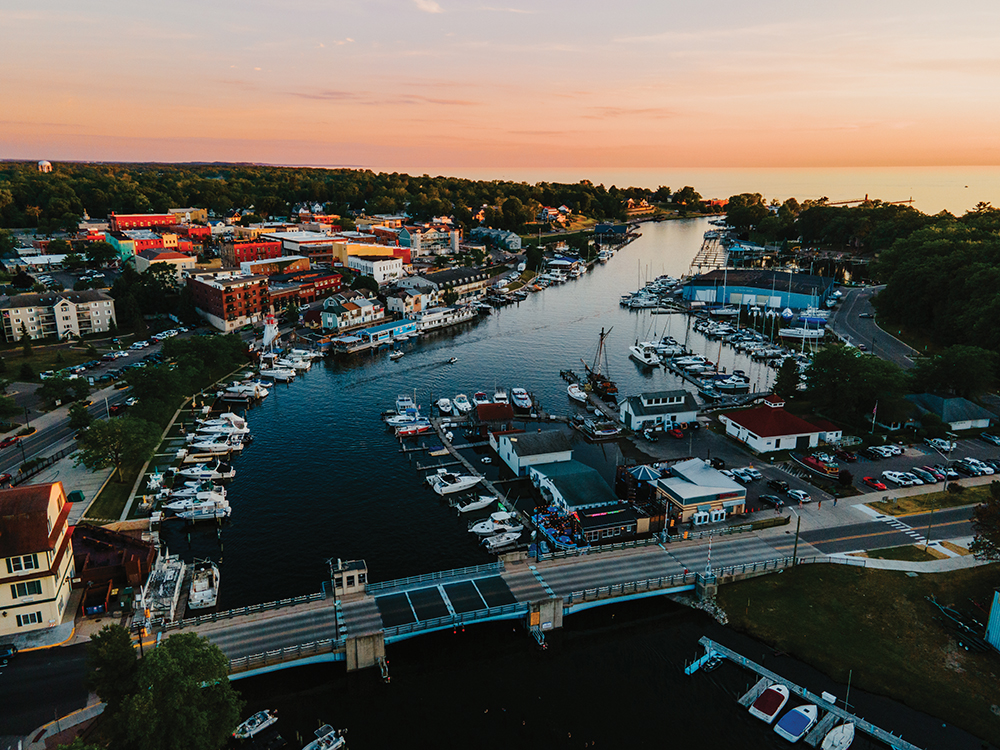 It's probably the Lake Michigan beaches. Or the lighthouses. Maybe it's the boardwalk. The miles of trails. Or the fact that the city was designed, specifically, for visitors, which means it's supposed to feel like somewhere other than home.
"We're founded as a tourist town," says Jen Sistrunk, executive director of the South Haven/Van Buren County Convention & Visitors Bureau. "We've tried to beautify [the city] that way. It's always been a getaway, and we want to keep it a getaway."
Plus, South Haven is totally walkable. Park your car in the quaint downtown, full of locally owned shops, boutiques, restaurants, and tasting rooms. Walk to the beach. Walk from one lighthouse, over the drawbridge (which is staffed all day long during the peak season), to the second lighthouse. Eat. Drink. Hike. Swim. Check every vacation item off your to-do list without getting back in the car.
HIT THE BEACH
The beach is visible from the east end of downtown, just a few minutes away. Swim, play, and gather in the scenery: Sunset on North or South beach is a spectacular show against the crystal waters, made more beautiful by the pier and lighthouse silhouette.
South Haven remains fairly busy even post-Labor Day (so long as the weather holds up), so if you prefer a beach with even fewer people, try Woodman, Dyckman, Packard Park, Oak Street, or Newcome beaches. These smaller spots are sprinkled along North Shore Drive.
HAVE A BITE
Downtown South Haven is home to a variety of family and fine dining restaurants. For something casual, try Clementine's. Its spacious, sprawling building dates back to 1896, and, Sistrunk says, it sells nine miles of onion rings a year. Looking for something a little dressier? Try Taste for small plates and martinis or Tello Italian Bistro. (If the crab-stuffed mushrooms are on Tello's menu, start there for one of the best apps of your life.) And with a small warm-weather patio and excellent pizza and sandwiches, Venezia Restaurant is a perfect drop-in spot.
Idler Riverboat and Admiral Jack's, both seasonal restaurants on barges that butt against one another, are local favorites, says Sistrunk. Get an A+ view of the Black River, watch the boats, feed the ducks, and grab a bite (hint: get the seafood) and a drink.
TAKE A HIKE
In 2019, South Haven was designated a Pure Michigan Trail Town by the state's Department of Natural Resources. That means, in a state full of rich scenery with an abundance of ways to play outdoors, South Haven represents some of the best. The region has more than 48 miles of hiking and biking trails—plus 91 miles of canoeing and kayaking trails, 11 miles of horseback riding trails, and 770 acres of nature preserves.
If you truly want to feel like you're in the middle of nowhere, try the Black River Preserve, just 10 minutes from downtown South Haven. The trails range from easy to  difficult, and they wind hikers through forest and wetlands, including a mile along the Black River.
If you prefer to hike in-town, stroll the Maritime District Harbor Walk, which stretches from pierhead to pierhead along the Black River with scenic views of the river, Lake Michigan, and the harbor.
---
Savor Saugatuck

For a slight change of (still gorgeous) scenery, venture 20 miles north of South Haven to Saugatuck, Michigan. Downtown is full of artsy storefronts, wine and spirit tasting rooms, and breweries. One must-stop shop? The Mitten Brewing Co. The outdoor patio is spacious, and in addition to your flight of beer, you can get a flight of pizza (ideal for when you really want to try the Westerdog, a pizza with sliced hot dogs, but you don't want to commit to an entire hot dog pizza).
Facebook Comments