Internationally renowned street artist Vhils chisels, drills, and bleaches his way through plaster and brick to create his works. Called "part artist, stone mason, and archeologist," his mission is to create massive and often mesmerizing images that, in conjunction with the particular wall he's working with, tell the story of an area and its people.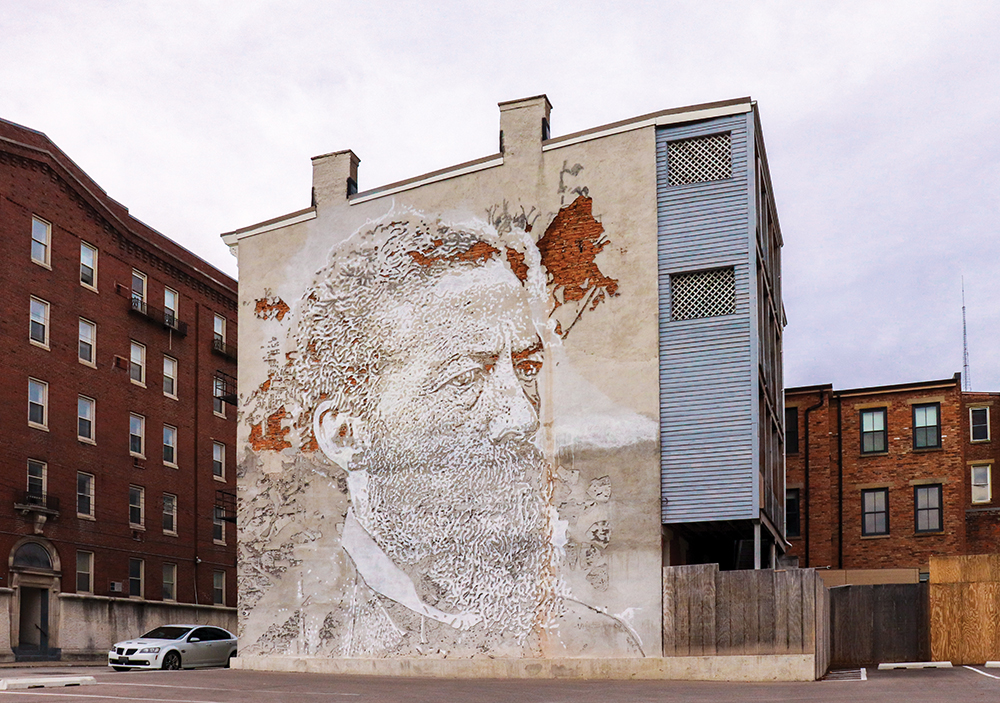 He's used this technique locally, on a building on Over-the-Rhine's Logan Street, to produce his portrait of John Mercer Langston (above) for BLINK in 2019. He also created a portrait of Motch Jewelers CEO Timothy Dwight on the side of a Fifth Street bar in 2011. Now, fans of those murals and newcomers alike can view more of Vhils's art—including one large wall piece—at his first ever large-scale exhibition in the U.S., beginning February 21 at the Contemporary Arts Center.
Born Alexandre Farto in 1987, Vhils (his tag name) grew up on the outskirts of Lisbon, Portugal. He gained attention for his graffiti before garnering widespread popularity when his relief portraits appeared next to street artist Banksy's work at the Cans Festival in London in 2008.
Vhils begins with a photograph, which he then translates into a drawing before starting his destroy-to-create technique. He also does video installations, billboards, and carved doors.
Vhils's work will be at the Contemporary Arts Center through July 6.
Facebook Comments