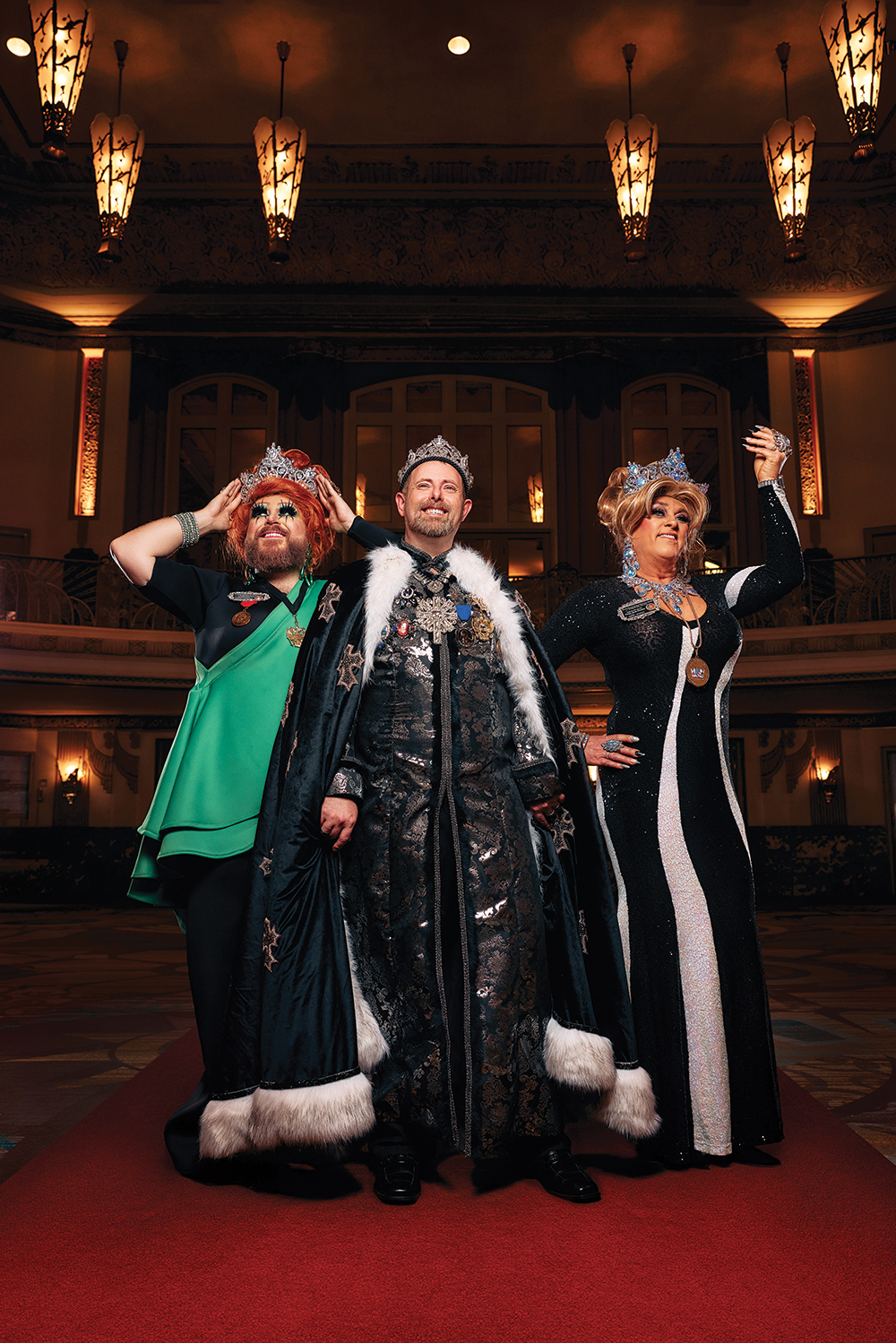 Light bounced off of the custom-made iridescent bodysuit with a floor-dusting train worn by Anita Dushay. Her makeup was heavy, her "diamonds" heavier, and her trademark extra-spiky false eyelashes were as exaggerated as her treacherous heels. (Stage names and performer pronouns are used throughout this story.)
Dushay wasn't fooling anyone about her gender, what with her bushy beard and burly build. Nor was she trying to. Her aim, like all the performers at December's "Toyland" event at the cavernous OTR StillHouse distillery and bar, was to raise funds for kids in need.
As if the show's red-bewigged emcee wasn't enough of an eyeful, Dushay kicked off the entertainment by introducing Ginger Snap-Clemons, who was herself cartoonishly resplendent in a blue bustier gown shot through with sparkles, a crown atop her blond barrel curls, and powder-blue eyeshadow. Her look harks back to the 1960s, when such entertainers were called "female impersonators."
Snap-Clemons lip-synced "Hard Candy Christmas," a melancholy Dolly Parton song. It wasn't the kind of high-energy number you see on RuPaul's Drag Race, and her form-fitting outfit precluded any high kicks or death drops. The extent of Snap-Clemons's acrobatics was descending a  couple of steps from the stage to the audience, where patrons clutching dollar bills leapt to their feet and drew closer to. The more bedecked folks lined up two by two, holding hands aloft royal-style, bracelets clinking. They curtsied to Snap-Clemons as she accepted each cash tip. After the performance, she took a bow and immediately went for her silver pocketbook, from which she withdrew cash and got in line to tip the next performer.
As the evening progressed in this annual benefit event, the look of the lip-synchers varied from a cisgender woman (that is, assigned female at birth and presenting as such) in a red fringe minidress and silver sneakers to a butch lesbian in a penguin vest and red pants to an out-of-town fellow in everyday jeans and a turtleneck. If some of the numbers were amateur and even lackluster, you wouldn't know it from the enthusiastic applause and free-flowing tips. (One patron kept a bank envelope fat with singles at the ready next to her cocktail.) Performers dropped fistfuls of bills into a basket that was periodically upended onto a table, where the mounds of cash were stacked and counted.
By the end of the evening, more than $3,200 was collected to help area kids who have a family member living with HIV/AIDS and who would otherwise have gone without holiday food, clothing, and toys. AIDS Volunteers of Northern Kentucky, working with the Northern Kentucky Health Department, distributed the money. But to the performers—members of the Imperial Sovereign Queen City Court of the Buckeye Empire (I.S.Q.C.C.B.E., a.k.a. The Court)—it was just another night of dressing up and giving back, one of more than 40 fund-raisers the group produced in 2022. The point of the event was less about moments in the spotlight and more about easing the stress and pain of children impacted by the specter of a stigmatized disease.
"You need a schtick to be noticed to draw people in," says Casey Pond, Emperor 30 and current president of The Court's board of directors. The group's schtick is royalty: crowns and gowns, pomp and ceremony, and a new Empress and Emperor elected annually. Today, though, Pond is in street clothes, not drag. He has an elvish look, with a goatee and a mischievous sparkle in his eyes. His hoodie, which reads "I'm dead inside," is belied by his enthusiasm for The Court's work, which we're discussing over Bloody Marys. We're brunching at Goose and Elder in Over-the-Rhine with Pond's husband, Michael Tate, who is in a pink oxford shirt and has twice served as I.S.Q.C.C.B.E. Empress.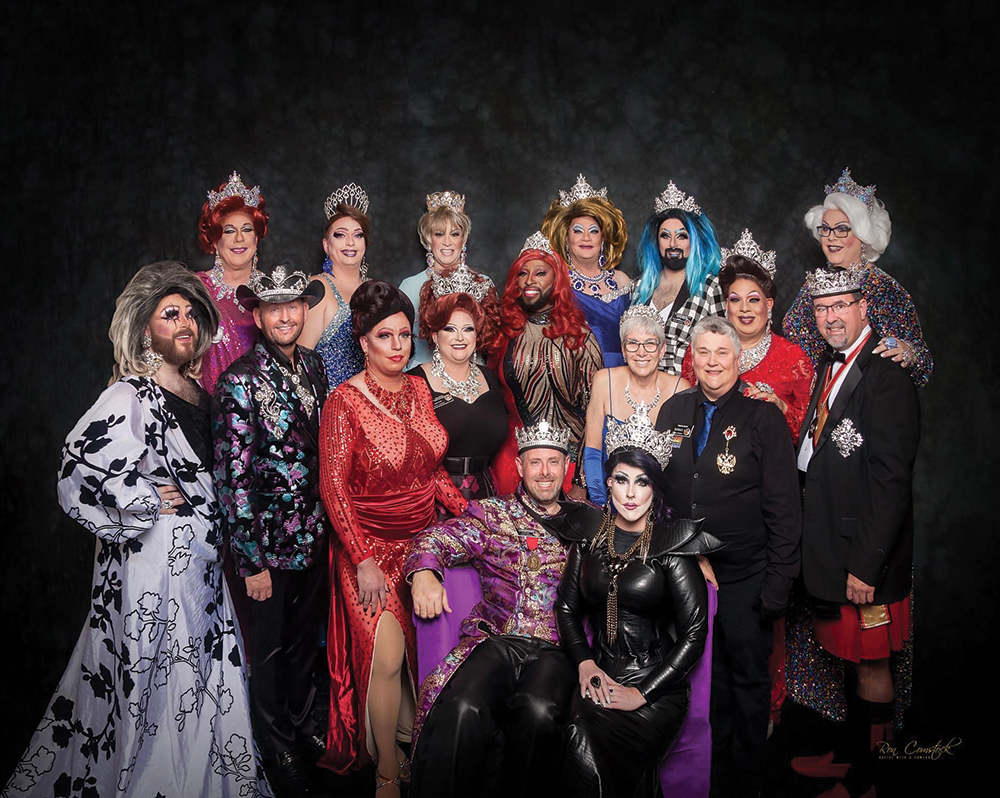 Before tucking into his goetta hash, Tate says, "I am the College Representative to the Board of Directors and Mistress of Protocol; Heir to Empress 31; Recipient of the International Royal Orders of the Double Eagle and José 1; Empress 7¼ of Indiana; Her Imperial Serene Majesty, the Hot & Spicy, Whip-Crackin', Jäger-Drinkin' Empress of Perpetual Pleasure; Empress 8 and 29; Miss Tate; and the Silent Karen Walker." He takes a breath. The random-sounding name is actually stratified by rules, he explains. "The protocol when you reign is you are His—or Her or Their—Most Imperial and Sovereign Majesty. When you step down, you lose 'Most' and 'Sovereign' and pick up 'Gracious.' Then after 20 years, you become a Serene Majesty."
Pond nods, adding, "It can get very convoluted." Despite the fussy frocks, the regalia and regulations, and the protracted investiture ceremonies to bestow bizarre titles, The Court boils down to something simple, he says. "It's a social organization with a family aspect and a fund-raising aspect." Another Court member likens it to "the gay Shriners."
---
Since the Buckeye Empire Court first appointed an Empress in 1990, it has raised $1.5 million for Cincinnati area charities "one sweaty dollar at a time," says Pond. The recipients of that largesse are mainly nonprofits assisting the LGBTQ+ community, but any 501(c)3 can apply for assistance. The Court's other causes range from breast cancer research to animal rescue to student scholarships to medical aid for sex workers.
Court members pay for their own gowns, jewels, and travel and lodging to attend coronations by other courts. From crown to heels, a single ensemble can set a member back $5,000. Empresses and Emperors are allotted a tiny travel budget during their reign, but they'll also typically shell out thousands of dollars of their own money to look the part, represent the local chapter at events in other cities, and contribute their own donations. That's not to mention the time involved; the crowned potentates can spend 30 hours or more a week focusing on their reign. "It's all very grassroots," says Truly Scrumptious St. James, Empress 13.
At first glance, The Court is a seemingly goofy gang of mainly middle-aged, middle-class men and women prancing on stage in the name of charity. What's even more odd is that such a long-standing and magnanimous group remains so obscure. It's one of the oldest, if not the oldest, national gay organizations, with close to 60 years of activity under its collective garter belt. In addition to work for local charities, it contributes to national efforts; it instigated the successful push to get a U.S. postage stamp and a U.S. Navy ship to commemorate Harvey Milk, the late gay activist.
But The Court operates in a completely different world from the most famous drag entity today, that of Drag Race, which has rocketed the art of cross-dressing to the international mainstream and along the way helped correct the understanding of drag as an art form, not a sexual deviation. Celebrity drag queens who perform all over the globe don't speak about The Court, let alone count themselves members. "Nobody knows about it," says Robin Kradles, Empress 19 of New York City.
"I talk about them all the time, and people are like, Who's that?" says Linda Seiter, CEO of Caracole, Cincinnati's largest nonprofit for people with HIV/AIDS. "They're our largest consistent private donor. Whenever we need something, they are there for us."
The mouthful of an acronym is part of what keeps the I.S.Q.C.C.B.E. incognito. "I can't remember that long name half the time," says Donna Lunik of Cat Adoption Team, an animal rescue organization The Court supports with annual drag brunches and a campy "Wags and Drag" wall calendar.
More than its moniker, though, the I.S.Q.C.C.B.E.'s hidden-in-plain-view existence is due to its age. When the Buckeye Empire chapter was founded in 1989, "everyone had one foot in the closet, so we didn't want to be published," says Andrea Victory-Parkway, Princess Ultima for Life. Truly Scrumptious remembers police harassing cross-dressers, who would doll up at a nightclub or bar rather than at home so as not to be targeted on the car ride over or on the short walk from the parking lot to the venue. "The Court is the best-kept secret in Cincinnati because lawyers and doctors and teachers and school principals don't want a lot of people to know about it."
Vestigial fears about being bullied or outed are waning, but The Court, which is 100 percent volunteer, still doesn't engage in much self-promotion. The marketing push outside its own network is minimal. The organization has been overlooked by media, including here in Cincinnati, even though this city boasts one of the oldest and most active chapters in the Midwest. Cincinnati's Court may also have the largest percentage of female members, both straight and gay, as well as nonbinary members. "Our chapter constantly has things going on," says Alynn Rousselle (a.k.a. Anna Mosity), who in 2018 was elected the Buckeye Empire's first cisgender female Empress. "An annual reign for us raises about $70,000 or $80,000. Other chapters don't do nearly as much."
Courts in mid-sized cities like Cincinnati serve an outsized role compared to those in coastal metros. "There aren't many gay organizations [in smaller cities], so the small Courts are extremely relevant and important," says Coco Lachine, a New York Empress who is second in line to the throne of Queen Mother, the Court's top position. (Indeed, what passes for a gay community center in Cincinnati is a static website with links and phone numbers.) "For many, the Court is their lifeline to the gay community."
---
The Court wants to bring young members on board, like Rousselle, who joined in her mid 20s, to ensure its future. But the group's byzantine protocol and often expensive old-school drag can be daunting to younger folk. Fund-raising for a sometimes-forgotten disease may not be the first priority for queer people just discovering the local scene. But The Court's mystery and stigma is wearing off, at least among some people who initially dismissed it as unhip.
Michael Musto, the prominent Village Voice writer, said he initially considered The Court old-fashioned, but that changed after his first show in New York. "I went from being an antagonist to such a fan," he says. "I came around to realizing that what turned me off was what was so great about it. It is ceremonial. It's an institution with rules. It does feel rooted in the old aesthetic where gay men had to hide in drag or create a society where they could feel safe with each other, which is now more topical than ever."
The International Court System, also known as the Imperial Court System, was started in 1965 in San Francisco by José Sarria. A political powerhouse with a knack for getting noticed, he was one of the first openly gay men to run for elected office in the U.S. When someone off-handedly called him a "queen," he responded by saying he was more than that—he was an empress. He declared himself "Absolute Empress I de San Francisco." A group formed around him, donning crowns, adopting regal titles, and raising money via drag shows for what was then called the gay liberation movement. In step with burgeoning civil rights activism, The Court fought to change laws that permitted people to be fired from a job, evicted from housing, or committed to a mental institution solely because of their sexual orientation.
The Court might have remained a kooky California phenomenon—like the smaller, more avant-garde and more famous Cockettes performance group—were it not for the AIDS crisis. The 1980s and 1990s saw an unprecedented rise in activism by gays and lesbians to demand money, research, and policy to combat the newly identified disease. The need for cohesion and safe spaces was met by a patchwork of start-up organizations, only a small percentage of which survive today in their initial form and function. The Court is one of them.
Almost 25 years after the initial court was established, Cincinnati's chapter grew out of a gay bowling league that had traveled to Toronto for a match. A handful of the bowlers attended a coronation by Toronto's court. "I was enthralled!" says Angela St. James, a founder of the Buckeye Court. "There was a huge auditorium with gay people, women, men—it was something we didn't see in Cincinnati. We saw people getting along. The leathers, the cowboys, everyone was having a good old time. That's how it got started here. We brought it back from Toronto."
As AIDS devastated the gay community, the need for dollars and community was crucial. "There was one funeral a week, and then two," recalls Truly Scrumptious, who joined in 1992. "Something had to be done." Adds Victory-Parkway, "Everybody wanted to do something but didn't know what to do."
Donating money to AIDS Volunteers of Cincinnati, the city's first grassroots organization to help those hit by the disease, was the obvious outlet. That nonprofit no longer exists, but its sister organization in Northern Kentucky does, as do other longtime beneficiaries of The Court such as Caracole and PFLAG (Parents and Friends of Lesbians and Gays). Government and corporate grants now flow to nonprofits in the fight against AIDS and discrimination, but those monies are notably designated to specific tasks such as housing. Donations from The Court, on the other hand, don't come with stipulations.
"The Court helps us to fill holes in places we don't have funding, things grants won't cover, which is huge," says Caracole CEO Linda Seiter. "No grants cover our Client Assistance Fund, so when a client has a special need no one will pay for, we use The Court donations, among other private donations, to provide assistance. A flat tire might need to get fixed so the client can get to work. We also had someone who needed a prosthetic device, and no one else would pay for that."
With about 100 regal heads, The Court's membership today is about half of what it was in its heyday. There are other gay organizations now vying for members. And many young queer people don't feel the need to belong to any gay group at all, feeling comfortable and accepted in the world at large in a way many of their counterparts in the 1990s did not.
This doesn't mean The Court's contributions are dwindling, though. The internet has strengthened exposure and friendships among Court members across the country, so when Pond started doing online fund-raisers a few years ago, donations rolled in from afar.
In the beginning, The Court wasn't receptive to straight allies joining, to the disappointment of some early members. Today it's open to any gender and is less strict about apparel: Gowns no longer need to touch the ground, and gloves don't have to match. The nonbinary title of "Emprex" has recently been introduced.
One of The Court's many unsung impacts is forging support across nonprofits for different causes. Volunteers of the Cat Adoption Team, in appreciation for the group's assistance, now likewise show up for The Court's other causes, such as suicide prevention. As a result, feline enthusiasts attend its annual Suicide Is a Drag fund-raiser. Without The Court, they might not even know of the event.
"At the last one, we were all singing 'Love Can Build a Bridge' by The Judds, and everyone was holding hands and crying," says Rousselle. "That show tends to be emotional because most folks there have lost someone to suicide."
The Court is still way too under the radar, in a camp of its own, quietly raising funds with few pats on its red velvet backs. But if its numbers are shrinking, it can be said that its heart is still growing. "As long as I can stand in 4-inch heels, you will see me traveling and participating," says Truly Scrumptious. "This is about so much more than drag."
Facebook Comments