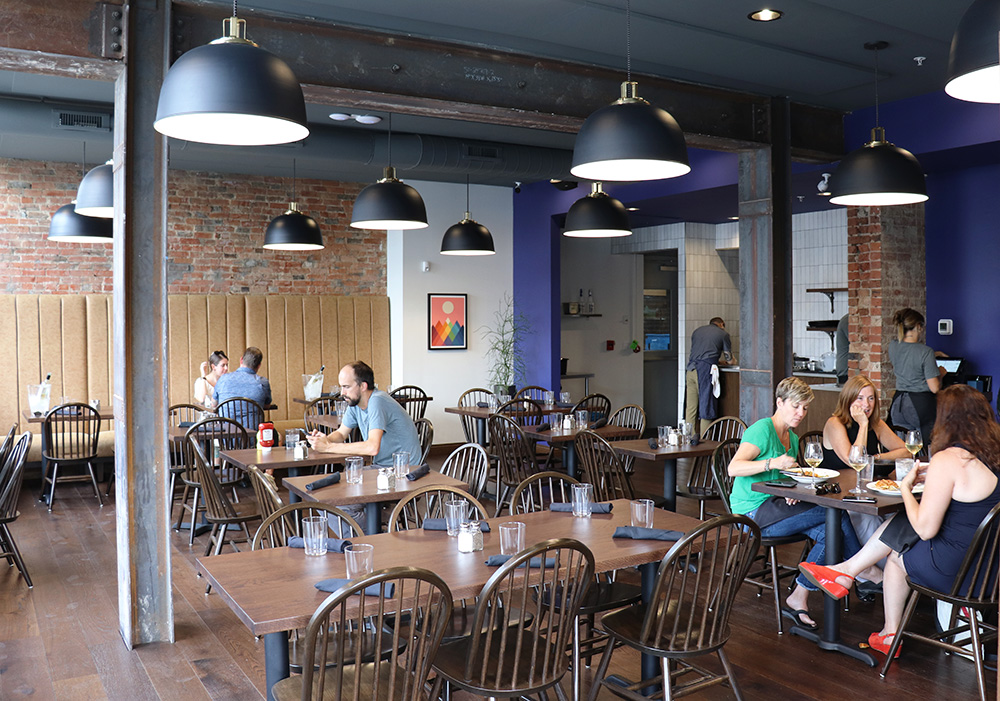 Chef Jose Salazar, the culinary mind behind downtown restaurant Mita's and Over-the-Rhine's Salazar, has debuted his latest restaurant Goose & Elder, giving diners a casual front-row seat to Findlay Market.
Situated at Race and Elder (with Goose Alley running behind the building, hence the name), Goose & Elder brings a laid-back approach to Salazar's cuisine with a menu focused on American comfort foods, plus a handful of healthier items.
"Being right across the market, we're catering to families and to neighborhood folks, and people coming to visit the market," Salazar says. "We thought something more casual would be the best approach. It's a nice departure from what I've been doing."
The menu is divided by sharable appetizers ("Little Bites"), salads ("Elder Greens"), sides, mains, and desserts ("To Finish"), and features several standouts: crushed avocado toast topped with shaved radish, pickled jalapeño, shaved parmesan, and fresh herbs, served on a wide slice of soft, thick multigrain bread; roasted bone marrow, to be spread on crusty sourdough toast with parsley salad and pickled onion accoutrements; watermelon slices served with salt, chili powder, and lime—bringing out the sweetness of the melon and adding notes of heat and acid; and Cincinnati favorite, chicken schnitzel, served with buttered noodles and grain mustard.
Two sandwiches join the list, including all-American comfort favorite, the classic cheeseburger ("Royale Goose"), plus a fried bologna sandwich—Salazar's personal favorite. "That's been one that I crave," he says. It's served on a bun with two thick slices of Kahn's bologna, pickles, slaw, and dijonnaise, plus a surprise ingredient: a handful of potato chips. "You smash it down and the chips get all crunchy and delicious," Salazar says. "It's a pretty hefty sandwich. It's rich, decadent, and comforting."
Brunch is served on Saturday and Sunday from 10 a.m. to 2 p.m. and includes two items (the turkey BLT and the Cubano sandwich) from the phased-out lunch menu at Salazar, plus other breakfast classics. A new specialty from Chef Salazar, Speckled Goosecakes—which he says is his favorite from the brunch menu—are chocolate chip pancakes topped with peanut butter buttercream and banana slices.
Menu prices generally range between $7 and $9 per item, with three entreés nearing the $20 mark, like the $19.50 sirloin steak, which comes with fries.
The dining room—which features a design that's part Mid-Century Modern, part rustic, and part kitsch—seats 55, with 16 additional table seats on the front sidewalk patio. At the back of the restaurant, an adjoined bar seats 35, plus standing room, and stays open later than the eatery; a sliding barn door blocks access to the restaurant after hours.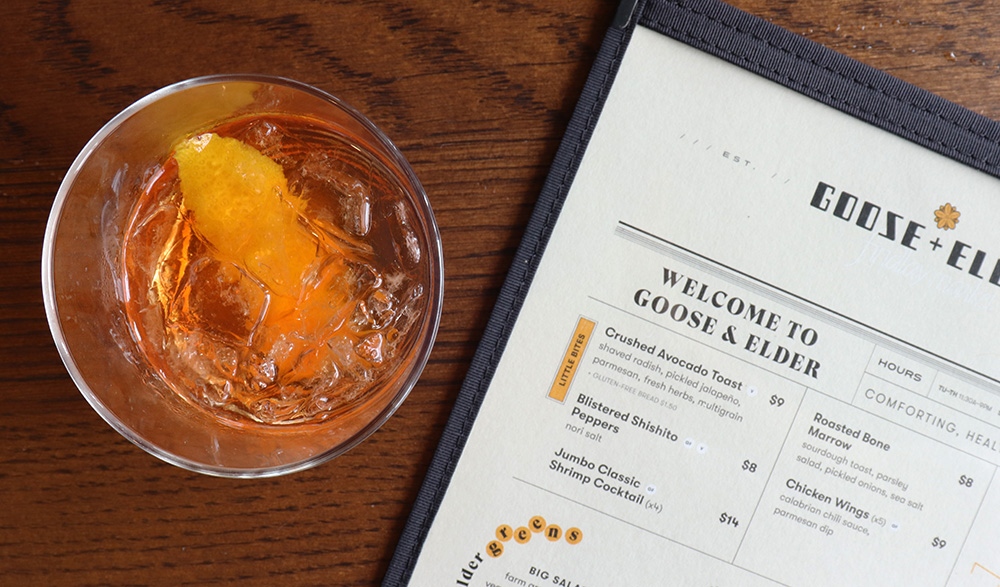 The bar carries over the unstuffy feel, with a slight retro theme to the cocktail menu ('70s and '80s staples: White Russian, Harvey Wallbanger, Tequila Sunrise, Jack n' Coke), plus single-barrel New Riff bourbon, about 30 beers total between bottled and draft, and roughly a dozen carefully selected white and red wines.
Goose & Elder is open lunch and dinner Tues–Fri, brunch and dinner Sat & Sun. The bar is open weeknights until 11 p.m., weekends until 2:30 a.m.
Goose & Elder, 1800 Race St., Over-the-Rhine, (513) 579-8400
Click through our gallery to view more photos of Goose & Elder:
Facebook Comments