Joey Votto has always been different. No, that's not quite accurate. He's always been special.
In the weeks leading up to the 2002 MLB draft, Votto had barely registered on professional baseball's radar. The Cincinnati Reds got lucky, stumbling upon him at an amateur showcase event in Jupiter, Florida. The team's scouting director at the time, Kasey McKeon, wandered over to watch an early morning game in which his nephew was playing. His attention kept getting drawn to this kid Votto at third base. McKeon's interest was piqued.
Votto had an idea that he was going to be drafted, but teams weren't beating down his door. He was from Etobicoke, Ontario, and suburban Toronto isn't what you'd call a hotbed for baseball talent. The list of MLB stars from the Great White North isn't exactly long.
Remember, though, Votto was different. He played Little League on a team sponsored by his family's restaurant, and he became obsessed with the game from an early age. "Baseball was comfortable for me. It felt right. It was kind of an escape," Votto told a Canadian magazine early in his career. "Something I could put all my energy into, both positive and negative." He carried around a copy of Ted Williams's book The Science of Hitting, and Votto actually had a Ted Williams poster on his bedroom wall. How many high school boys do you know who own a poster of a slugger from the 1940s?
As a teenager, his coach—for a town club named the Etobicoke Rangers—also owned a batting cage and a baseball academy, and Votto spent every available minute there working on his craft. "If you told him to work on something, he'd go and do it," said the coach, Bob Smyth. In time, that work ethic would become legendary around the Reds organization.
Eventually, teams began to take notice. The Reds decided to fly Votto into Cincinnati to work out at Cinergy Field with a few other prospects before the draft. The workout got off to an inauspicious beginning. No longer a third baseman, by that time he was seen as a potential catcher, and he was demonstrating throws to different bases. Looking on, evaluating, and offering advice was a catcher whose name might be familiar to you: Johnny Bench.
"He was very supportive and gave me tips," Votto later told MLB.com. "I think pretty clearly I wasn't a catcher, but I had an OK arm. I had a pretty accurate arm but I was probably one of those guys you wouldn't be excited about, long-term."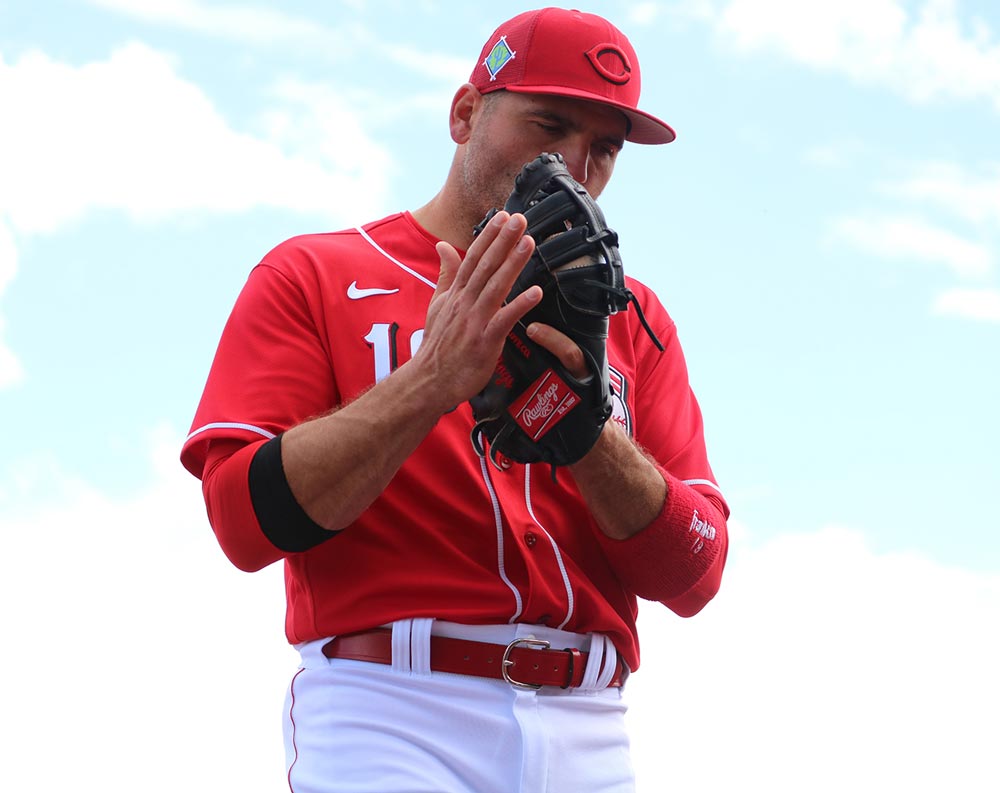 But then Votto picked up a bat and started hammering baseballs all over the stadium, including one into the upper deck. Eyes began opening. Then former Reds star Ken Griffey Jr. appeared. "Ken was my favorite non-Blue Jays player," Votto says via telephone from Spring Training in Arizona. "I played his video game, he was everywhere. Most left-handed hitters attempted to copy his style, his swing."
Junior stood behind the cage, watching the hitters. But Votto wasn't intimidated; to the contrary, he began mimicking Griffey's famous batting stance, bat waggling in the left-hand batter's box. "I have a silly streak in me," he says. "I said, Hey, everyone, who's this? There were 15 to 30 scouts and front office-types around. I did his stance and his swagger." Yes, this kid was different.
Reds General Manager Jim Bowden thought he looked like a first round pick that day. Very soon, everyone in the park would come to understand just how special he really was. No one, however, expected that Joey Votto would surpass Bench and Junior—as well as Pete Rose, Joe Morgan, Barry Larkin, Frank Robinson, and everyone else—and turn into the greatest player in the history of the Cincinnati Reds.
---
Chris Denorfia noticed pretty quickly that Votto was different. The two were drafted by the Reds in the same year, and they were teammates with the rookie league Gulf Coast Reds. Denorfia would go on to play in parts of 10 seasons in the big leagues, making his debut with Cincinnati two full years before Votto.
Early on in his professional career, Votto looked completely lost, but Denorfia was struck by the way he worked methodically at his craft day after day, week after week. One day, he saw Votto in the batting cage not swinging, just taking pitch after pitch from the machine, trying to get his timing down. After all, professional pitchers were throwing just a tiny bit harder than the teenagers back in Etobicoke, and Votto felt overmatched. "I don't know big leaguers that would do anything like this," Denorfia told Sports Illustrated recently. "Just a special, special baseball player."
That same season, Votto spent time with Cincinnati's minor league hitting coordinator, Leon Roberts, a former big leaguer in his own right. He'd actually discussed the craft of hitting with Votto's baseball idol a number of times. "I found out Joey Votto was a big Ted Williams enthusiast," Roberts said later. "When I heard that, I started teaching him some of Ted Williams's concepts. I'd tell him, Here's what you're doing, here's what Ted did. It helped him see what changes he needed to make."
Votto was an enthusiastic student, and his study sessions extended late into the evenings after minor league games. He paid for a subscription to MLB.TV and spent hours watching the best hitters in baseball—Barry Bonds, Manny Ramirez, Todd Helton—breaking down their at-bats and trying to figure out what made them so great. Even then, Votto aspired to greatness.
The Reds drafted pitcher Carlos Guevara in the seventh round a year after Votto, and he first met Votto when they were teammates on Cincinnati's rookie league affiliate in Billings, Montana. He didn't pay much attention to the young slugger at that time, but the following season they were at Class-A Dayton together and became roommates on road trips. They got along well immediately, but it was a bizarre season for the franchise's minor league affiliates.
Prior to the campaign, Reds GM Dan O'Brien issued an edict requiring every hitter to take pitches until he got a strike. Before long, other clubs figured out what the Reds were doing and took advantage of it, burying practically every minor league hitter in a one-strike hole right away. The Reds adjusted somewhat, picking one or two hitters before each game who were allowed to swing before they saw a strike. But it was a silly concept, eventually abandoned by the organization.
Votto responded with a maturity uncommon among minor leaguers. "That whole season," says Guevara by telephone, "I watched Joey working on spraying the ball to the left side. Everything he hit was to the opposite field, even his home runs were almost all to the opposite field. He told me, I'm working on my 0–2 approach. I'm going to be down 0–1 or even 0–2 all the time, so I'm working on that approach."
"In retrospect, I think it was a good thing," Votto says now. "It made hitting that much harder and forced us to have more resilience, trying to get hits with one strike and especially deep in the count."
They were both in Sarasota the following season, and Guevara noted that Votto was trying to pull the ball all the time. They were both promoted to Double-A Chattanooga in 2006, and Guevara was amazed at what he saw from his roommate. "He put it all together. He was spraying the ball all over the field. He was the best player in the league. That's when I realized, I'm not just looking at a future big leaguer, I'm looking at an All-Star, a different kind of player."
Guevara had long since noted that Votto approached the job unlike anyone else. "This was his job, and he was going to get the most out of it every single day, seven times a week," he says. "Everything he does when he gets up in the morning is preparation for the game that day. Then, when the game is over, everything is about being prepared for the next game. He used the minor leagues to figure out how he was going to make himself the best big leaguer he could be. He was playing chess while we were all playing checkers. And he still kind of is."
---
What does "greatness" even mean? Here's a decent measure: Since Votto made his major league debut in September 2007, only two players have accumulated more wins above replacement (WAR) than his 64.6: Mike Trout and Robinson Cano, a couple of potential Hall of Famers.
And then there's this, perhaps the single best argument in favor of Votto as a baseball legend. Over the course of his career, he's led the National League in on-base percentage (OBP) seven times. The list of players in baseball history who have led their league in OBP at least seven times over the course of their career: Ted Williams, Babe Ruth, Barry Bonds, Rogers Hornsby, Ty Cobb, Votto. That's it. Even better, Votto led the league in OBP for four consecutive seasons, from 2010 to 2013. In the entirety of baseball history, only three other players have ever done that: Hall of Famers Hornsby, Williams, and Wade Boggs.
Some of you might be thinking, Big deal. All he does is walk. Back in 2013, after Votto had already won a National League MVP award, then-Reds GM Walt Jocketty accused him of that very crime against old-school baseball. Throughout his career, observers in the stands and in the broadcast booth have charged that Votto was too content to accept a base on balls, especially with runners on base. Shouldn't he be looking to put the ball into play, even if it means swinging at pitches outside the strike zone?
It's always been a silly argument, for a number of reasons. First of all, just on the surface, it's clear that there is more to Votto than standing in the batter's box, bat on shoulder, waiting for ball four. After all, the guy has led the league in slugging percentage, doubles, and OPS and has pounded 24 or more homers in nine different seasons. Votto has even won a Gold Glove. He's a well-rounded player who has been one of the game's best for a long, long time.
You might say, But he doesn't drive in runs like, say, Tony Perez! Certainly, Votto's RBI totals don't look as gaudy as Perez's numbers with the Big Red Machine. But don't ever let anyone tell you that's because Votto isn't a good "run producer" or that he isn't "clutch." Perez had a good career average with runners in scoring position (.284); Votto's is a superior, even gaudy .325. Unlike Perez, Votto hasn't had the good fortune of Morgan and Rose hitting in front of him in the Reds lineup.
For his part, Votto has mostly tried to ignore the nonsense. Before the 2016 season, however, he executed a perfect troll job on his critics. In discussing his off-season regimen, Votto said, "A lot of sleeping, a lot of walks. I went for a lot of walks. The Cincinnati fan base can be excited about the future of my performance. I'm rested and I practiced walking a lot."
Only one other Reds player in recent times, Barry Larkin, even compares to Votto, but we're at the point now where ever-growing numbers of Cincinnati fans didn't actually see Larkin play. The more, shall we say, seasoned among you might be inclined to add a few more players to the conversation, from the Big Red Machine stars all the way back to Frank Robinson. Whatever names you have floating around in your head right now, I'm guessing they're players who ended up in the National Baseball Hall of Fame in Cooperstown (or, in Rose's case, deserve to be there).
No matter how you slice it—rate stats, counting stats, traditional metrics, advanced metrics—Votto compares favorably to any other player who's ever played for Cincinnati. As things stood before the 2022 season, Votto has the highest career OBP in franchise history (.416), and he's second only to Robinson in slugging percentage. He's second to Bench in career home runs, third in runs batted in and doubles, and fifth in hits (despite having 500-plus fewer plate appearances than anyone ahead of him on that particular list). And yes, he's collected more walks than any other Reds player.
When asked about his place in Reds history, Votto says he's honored just by the comparison. "I have nothing but respect for those players," he says. "Frank Robinson is one of my favorite players of all time. Johnny Bench, Joe Morgan, Barry Larkin— to be in that category is an honor." Votto is quick, however, to say that it's far too soon for discussions about his place in club history. "There are two things: One, I'm not done playing. And two, I have expectations that match my skill level. I'm honored, but I play to play well."
And that's why Votto will go down in history as the greatest Reds player ever: He isn't finished. Barring injury, it's likely that he'll pass Bench for the career home run crown and will be no lower than second in RBIs and doubles by the time he retires. You could go broke betting on 38-year-old baseball players to perform well, but Votto demonstrated pretty clearly last year that he's still relevant.
Midway through the 2020 season, it really appeared as if Votto were on the inevitable age-related decline. But then he retooled his swing and became a completely different hitter. This just doesn't happen at the highest level of the most difficult of sports, but that's Votto—always tinkering with his swing and always succeeding. Playing chess while everyone else is playing checkers.
If you want a quick and dirty measurement of how good Votto's age-37 season was last year, note that his OPS+ (a statistic that normalizes a player's OPS to adjust for park and league factors; an average OPS+ is 100) was 136. Only 22 other players in the entire history of baseball have posted a better OPS+ at age 37. And when you look at the names ahead of Votto on the list, it's mostly a who's who of baseball greats: Bonds (268!), Ruth, Williams, Willie Mays, George Brett, Stan Musial, Mike Schmidt.
No, Votto isn't quite as productive a hitter as he was at his peak; he's not walking as much, and the batting average is down. But he's come to terms with the fact that he's getting older, and he's made a compromise with Father Time, sacrificing walks and more-perfect control of the strike zone in exchange for hanging onto the power for a little longer.
---
Votto is under contract with the Reds for two more seasons, with the club holding an option for a third season (2024). While he was outstanding last year, time is certainly running out, even if Votto has slowed down the aging process temporarily. Unfortunately, Reds ownership seems prepared to squander this remarkable career.
In the wake of last season, with a fun and talented (though flawed) Reds roster that remained in a playoff race deep into September, most fans thought owner Bob Castellini and Reds management owed it to the greatest player in club history to patch the lineup holes and help Votto finally get the championship he deserves (the championship Castellini promised to fans upon purchasing the team in 2006). Votto has played in a total of 11 playoff games in his remarkable career, and his teams have never won a playoff series. Compare that to the Big Red Machine's Morgan, Rose, and Bench, who played in 37, 42, and 45 playoff games as Reds, respectively, including multiple World Series.
As soon as last season ended, the Reds began executing a fire sale, trading away Sonny Gray, Jesse Winker, Eugenio Suarez, and Tucker Barnhart and allowing Nick Castellanos and Wade Miley to leave town with little more than a pat on the back. All of a sudden, with team management attempting to "align our payroll to our resources," in the immortal words of current General Manager Nick Krall, the Reds are back to pretending they're too poor to compete.
Which means that Joey Votto will almost certainly never play for a championship team in Cincinnati. It means that he'll finish his career here with more last-place finishes (six currently) than playoff appearances. It means that during a long Hall of Fame-caliber career he'll never be a part of a Reds team that advances in the playoffs. He'll be the only player in the inner circle of Reds greats, however you define that, who never made it to the World Series.
Joey Votto has simply been incredible in almost every way for the last couple of decades. From the teenager who imitated Junior to the man who homered in seven straight games at age 37, he's been a joy to watch. Votto has grown up in Cincinnati in many ways that matter. Initially a shy, sensitive kid, he's emerged as an elder statesman of the game who enjoys joking around on the field as much as he insists on working harder than anyone else off the field. And he's remained incredibly productive even as his physical gifts begin to wane.
Joe Morgan was great, no question about it, perhaps the best second baseman in baseball history. Johnny Bench? Well, we'll never see another like him. You can make an argument for Frank Robinson, and I know some of you will say that native sons Pete Rose, Barry Larkin, and Junior Griffey were the best Reds players you've ever seen.
Give me Joey Votto. By the time he's done, he'll retire as the best player in the long and storied history of this great franchise. And you can still watch him play this summer at Great American Ball Park. He's just special, you know?
Facebook Comments