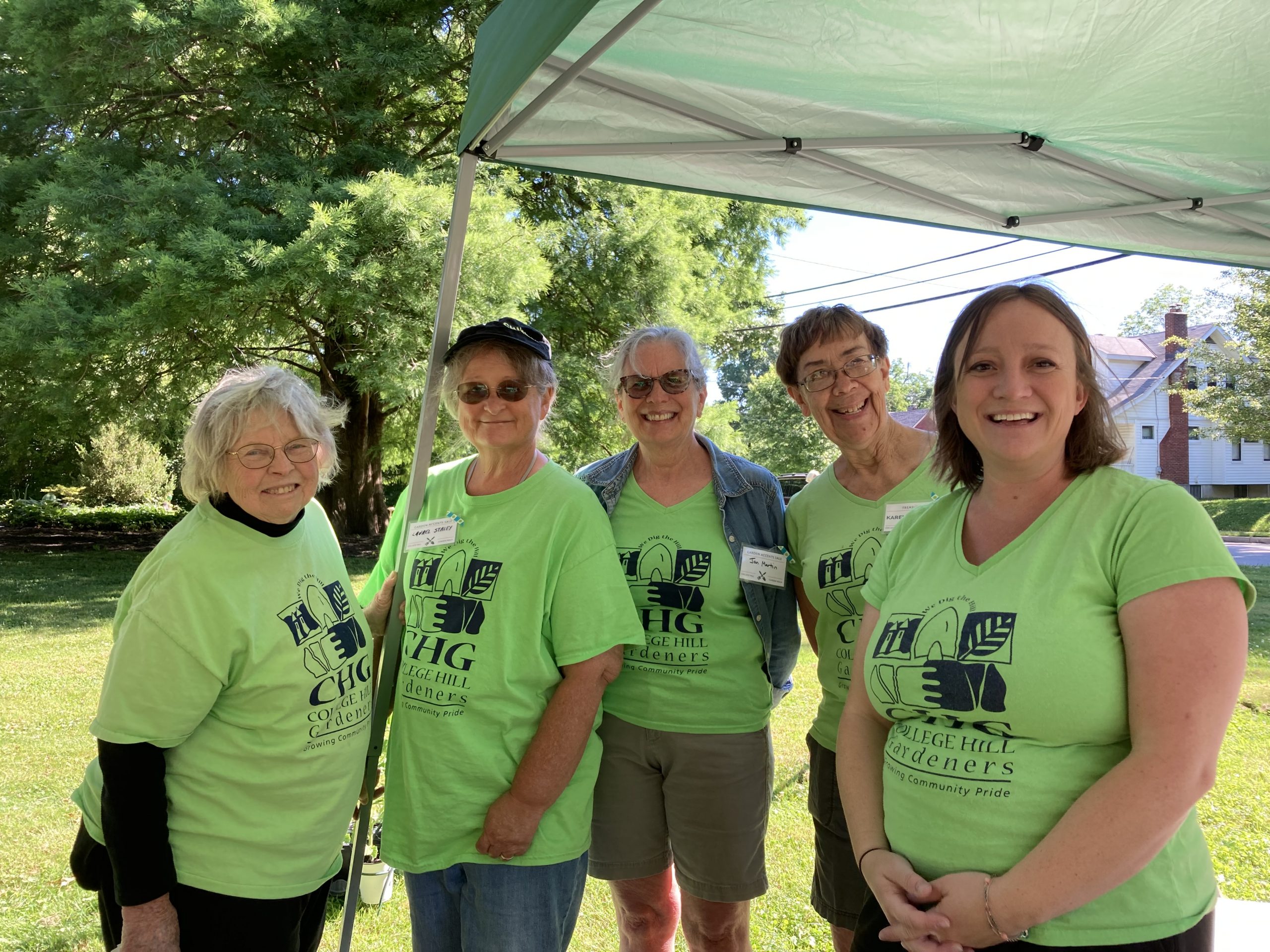 Gardeners are doers by nature. When the ground is fertile, they act. In the dormant months, they plan, organize, and prepare. When the timing is right, they get to work. Procrastinating could mean a lost opportunity to bring something to life.
Beth McLean has been gardening for 40 years. Growing up in rural northwest Ohio, she treasured the open spaces and greenery. Shortly after she and her husband, Tom, moved to Cincinnati in the 1980s, they found a place with plenty of space for trees, bushes, grass, vegetables, and flowers. On more than four acres on Belmont Avenue in the urban neighborhood of College Hill, the McLeans cultivate herbs, tomatoes, lettuce, peas, and radishes from seeds in the greenhouse, transplant the seedlings to a kitchen garden, and then bring the plants to fruition in the larger summer garden.
Sometime around 2002, Beth got together with a couple of other serious College Hill gardeners to form not so much a club but a group of like-minded, engaged neighbors. Phyllis Schoenberger is a master gardener. Peg St. Clair is a gardening writer and former director of education at the Civic Garden Center. They invited other neighbors, and about 20 people showed up for the first meeting.
From the start, it was evident that the group was interested in way more than the latest variety of hybrid roses. "No one at that meeting was concerned about whether they had to wait until after Mother's Day to plant their annuals," recalls McLean.
What they wanted to discuss was the neighborhood. In particular, College Hill's business district. Six blocks long on Hamilton Avenue, it was once a self-contained mini-downtown. Decades ago, one barely needed to leave the neighborhood to do the grocery shopping, stop at the bank and the drugstore, buy a refrigerator, or see a movie. Like many of the city's first-ring suburban neighborhood business districts, the years weren't kind to it, and the street had fallen into decline.
By the start of the 21st century, storefronts languished vacant, litter and debris piling up on empty lots. College Hill's old retail buildings, many built during the first half of the 20th century, were becoming home to check-cashing outlets and carry-outs peddling beer and cigarettes with a side of lottery tickets. And worse.
"The business district along Hamilton Avenue has seen buildings deteriorate to the point of demolition, with the land left vacant and periodically overgrown with weeds and littered with trash," reads a City of Cincinnati planning document published in 2018. "Vacant buildings, still standing, are home to hookers, squatters, and generally attract trouble, crime, and unsavory activity."
This emerging situation, not roses, was on the minds of the group at that first meeting in 2002. Neighborhood resident Tina Stoeberl made one of the first gatherings. "I knew right away this was not a bunch of gardeners," she says. "This was a group of community activists. And they were going to change things. I could see it immediately."
---
Gardeners possess qualities that make them well-adapted to be neighborhood activists. They're generally optimists. If the bean plants fail to yield much this year, next year will make up for it. They're patient, encouraged by small signs of growth; one new, emergent bud means more will follow.
The College Hill Gardeners started small by adopting a vacant lot at the corner of Hamilton and Llanfair, cleaning it up, and hosting a farmers' market there. "We turned a vacant lot into a spot where people could buy fresh produce, get some eggs and plant material, and buy some pies and cakes and cookies," McLean says.
What the group cultivated has grown, 20 years later, into one of Cincinnati's most remarkable stories of neighborhood transformation. More than $85 million has been invested in business district development, most of it homegrown. The latest new venture is the Big Chill, a neighborhood bar owned by College Hill residents that will, when the weather warms, also include a walk-up window for soft serve ice cream.
The Big Chill occupies a building in the heart of the business district that was once so old and nondescript it was referred to merely as the Nameless White Building. Its development is part of a $9.5 million project in the 5900 block of Hamilton Avenue that also includes locally owned breakfast, lunch, and brunch destination Sleepy Bee Café, which opened its fourth Cincinnati location in August 2022 at the site of an old furniture store.
"The neighborhood has always been near and dear to my heart," says Sleepy Bee owner Frannie Kroner, who grew up in College Hill, has family there, and just moved back to the neighborhood from Northside. The new location also serves dinner Wednesdays through Saturdays, as the Sleepy Bee transforms into "The Smoky Moth" in the evenings and fires up its wood-burning oven for flatbreads and other dinner fare.
That block also includes the re-imagination of an old bowling alley, Mergard's, which in later years had been taken over by a discount shoe store. The building will feature 14 apartments, to be priced affordably, and new offices for the neighborhood's not-for-profit developer, the College Hill Community Urban Redevelopment Corp. (CHCURC). The new digs will be a far cry from the days when the organization operated out of a coffee shop or the rec center. CHCURC has evolved into one of the city's most active, well-staffed, and best funded neighborhood redevelopment groups and is the prime mover behind the business district's transformation.
Community development corporations (CDCs) can be a powerful tool to revitalize urban neighborhoods, and, as the name implies, they derive power from their communities. Not every Cincinnati neighborhood has the benefit of one, and not every group has the resources needed to effect such transformation. "Organizations like that reinvest in the community," says Seth Walsh, who led CHCURC for six years. "They're the community at the end of the day."
CHCURC was the first CDC in Cincinnati, established in 1975 by a church pastor and other neighborhood champions. One of its first successes back then was redeveloping a parking lot behind the building that houses College Hill Coffee Co. at Hamilton Avenue and North Bend Road.
"I knew right away this was not a bunch of gardeners. This was a group of community activists. And they were going to change things. I could see it immediately."

– Tina Stoeberl
Like a lot of organizations that depend on volunteer help for their success, CHCURC's level of activity rose and waned over the years but finally emerged as a force after a tipping point in the early 2000s. Kroger shuttered its neighborhood grocery at the Hamilton and North Bend crossroads; across the street, the popular Shuller's Wigwam restaurant closed after 80 years in business. "The community had a panic moment," says Walsh. "Was there anything to be done to prevent the business district from declining?"
Walsh recalls the story as he's heard it from neighborhood residents. He became the full-time executive director of College Hill's CDC in 2016, and his leadership is credited with getting much of the business district's visible success across the finish line. He leveraged that action into an appointment to Cincinnati City Council, when he was named in December 2022 to fill the seat left by Democrat Greg Landsman, who was elected to Congress.
The Kroger/Wigwam wake-up call led to a community reckoning. It started with a backyard barbecue to which a couple dozen civic-minded residents were invited.
---
College Hill is a diverse community, both racially and economically. It was founded in the early 1800s by a prominent abolitionist, William Cary. He and other residents were active members of the Underground Railroad. Cary also believed in education, and he established two schools there: Farmers' College, built by farmers to educate their children, and Ohio Female College. Neither of them lasted very long, but they survived long enough to give the hilltop community its name.
Lawyers, university professors, and government professionals have long found College Hill's solid, stately Tudors attractive places to call home. One of those was Dale McGirr, a senior vice president at the University of Cincinnati who was instrumental in the campus master plan that changed the university's look in the 1990s. He also worked behind the scenes to further commercial development in the neighborhoods around UC's campus. McGirr advised the College Hill group to view the departure of the two neighborhood anchors as a moment to take action.
"He said, You need to think of this as a golden opportunity instead of being in a state of desperation," Stoeberl remembers. "He told us, You are sitting on the golden egg with these corners being empty."
Kroger is not coming back, McGirr said then, and neither is any other grocery store. Business district landlords are filling their storefronts with whatever tenants they can. It's time to think differently and get busy saving the district, or give up and let it go. McGirr died in January 2022 at the age of 73, but he lived to see the community take up his challenge and run with it.
The neighborhood group decided to raise money to reinvigorate the community development corporation and to potentially buy and control property in the business district. One benefactor, who has remained anonymous, pledged to donate $200,000 if the community could match it.
It was a call to action. Neighbors sponsored dinner parties at their homes, where $20 would buy a specially prepared gourmet meal, and March Madness parties with beer, wine, snacks, basketball, and camaraderie for $10 a head. Stoeberl helped organize a 5K race in the neighborhood that cleared $13,000 in its first year. "We did everything you can imagine to raise money," she says. "This was boots on the ground doing whatever it takes."
The College Hill Gardeners organized a community garden walk and a fall festival to raise money. CHCURC meetings became well-attended and turned into fund-raising challenges. It took a while, but they finally matched the $200,000 pledge—and then they didn't stop. Over the last two decades, residents have raised more than $6 million to support CHCURC's not-for-profit development work, says Kate Greene, the organization's CEO and a College Hill resident.
There was hope when a local developer proposed condominiums, retail, and townhomes on the Shuller's Wigwam site, but that plan fell through during the recession of 2008 and 2009. The city, however, had granted the project $1 million to help close the financing gap, money that the redevelopment corporation still controlled. "We took that money and used it to buy property in the business district and get it ready for development," says Walsh.
Neighbors stepped up to buy property when they could in order to get it under community control. A group of residents formed an LLC and bought a half dozen properties. A building in the heart of the business district was slated for a sheriff's sale and became another opportunity to buy. Who do we know that has $10,000 or $20,000? Stoeberl recalls the group asking. "We sat down and made a list of people who might be interested."
Flushed with the success of the farmers' market, the gardeners adopted two traffic islands and bus stops that had become overgrown and littered with trash. They essentially embraced the "broken windows" theory of urban neighborhoods, the idea that small things that remain uncared for lead to bigger problems. "If you're standing there to catch a bus and it's not cared for, you're not going to bother to take your empty pop bottle and put it in the trash," says McLean. "You're just going to drop it because there's trash all around you. We wanted to address that. It looks like no one cares, but I do, we do, so let's do."
The gardeners' enthusiasm was contagious, and members started seeding other neighborhood organizations that had gone fallow. "I became secretary of the business association, and I didn't even own a business," Stoeberl says. She would a few years later, buying College Hill Coffee Co. during a bit of a midlife crisis. "I was turning 40 and wanted to leave my industry [health insurance administration]," she says. "I guess you could call it a little bit of a meltdown."
Her partner begged her not to do it. "She said, Buy yourself a nice pair of diamond earrings," recalls Stoeberl, who had no experience in consumer retail or in coffee. "I thought, How hard can it be? I'm going to change the hours, the menu, the look, the feel, the retail…virtually everything. I was too naïve to know how hard it was. I drank a bottle of wine, said, I'm doing it, and I never looked back."
Seventeen years later, College Hill Coffee Co. has survived the pandemic, anchored the busy Hamilton and North Bend corner, and served as a community gathering place. Perhaps looking ahead, Stoeberl announced in February that she had sold the business.
---
Phyllis Schoenberger formed a quality-of-life team through the community council, the College Hill Forum, and began addressing vacant lots one by one. The garden group recruited volunteers to claim blighted, vacant parcels of land in the business district and keep them clean. "We thought if we can clean up our public spaces and show a clean and bright, shiny, cared-for face to the community and those who pass through, it would benefit everyone," says McLean.
Gardeners have held volunteer leadership roles in the community council and the development corporation. "Gardeners are a group of folks who don't tarry on," McLean says. "When something needs to be done, it better get tasked immediately or it gets overgrown. We just had an itching amount of energy that we wanted to expend in our neighborhood and make it better for everyone."
One of the first locally owned successes in the district was the now-closed Red Rose Pizza, located in a building owned by neighborhood residents in 2013. Brink Brewing opened in 2017. The owners settled on College Hill after a search that included Madisonville, Walnut Hills, and other urban neighborhoods. There were bars in the neighborhood, but no breweries yet. "We didn't know a lot about College Hill," says co-owner Mark Landers. "There wasn't a whole lot here at the time."
After a little firsthand observation, they determined that, yes, residents there like to drink beer and would support a locally owned brewpub. Brink has since won numerous awards for its beers while maintaining a family atmosphere in the pub. "We wanted it to be a gathering place where people could meet, get together, and celebrate," says Landers, who's since moved into the neighborhood with his family of six.
With coffee, pizza, and beer as the gastronomic foundations, more adventuresome eateries followed. Kiki, serving ramen and Japanese-influenced dishes, opened in a former bank building in 2019. MashRoots debuted in 2021, serving varieties of a Puerto Rican specialty, mofongo, as well as other Latin street food.
They joined two pioneering College Hill establishments that had weathered the good times and the bad: Bacall's Café, serving burgers, fries, and beer since 1982, and Marty's Hops and Vines, which opened as a bar and bottle shop during the recession, in 2009.
Guided by the community members' vision and support, CHCURC has emerged as, in effect, the neighborhood business district's master developer. The organization owns 31 properties there and has overseen $85 million worth of development, Greene says. "This work didn't happen overnight," she says. "It's been almost 50 years and been done mainly by volunteers."
Her organization follows a "ground-up" approach led by the neighbors, as opposed to one influenced by for-profit development companies. "It was made possible because of all of the neighborhood involvement—the volunteerism and civic engagement and active citizenry of College Hill," she says. "That's really the critical piece to getting us to what we see today."
---
College Hill's population is about 60 percent Black, and the question of gentrification arises in a community that's mixed both racially and economically. Henrietta Carr owns Enliven, a nail and massage salon in the business district. "A little bit more diversity wouldn't hurt," she says. In the same breath, though, she's quick to point out, "The world is not really black and white anymore—it's important that every culture is represented." Businesses like Kiki, MashRoots, and Tortilleria Garcia reflect other cultures, she says, while businesses such as YEP! Fitness and her own are Black-owned.
Julie Brown sees the gentrification issue as being less about race and more about income. "I appreciate the development that's been happening, because I can afford what's happening," says Brown, a Procter & Gamble employee who's active in the neighborhood's community council. She believes CHCURC is promoting equitable and inclusive development, although that could change down the road as market forces drive up property and housing prices.
Stoeberl says racial diversity is good for business and offers a simple formula: "Black plus white equals green," she says.
Greene says CHCURC has made "defensive plays" to maintain affordable housing, including buying the building that houses College Hill Coffee Co. and contains 16 affordable apartments, and buying, rehabbing, and preserving affordable residences at Hollywood Apartments and elsewhere in the district. "If those were owned by someone who was in it for the money or someone who was from out of town, they could absolutely increase the rents right now, because we're bringing the market up to a point that could support higher rents," she says. "What we've done is purchase those and keep the rents artificially low, because we want to make sure we're not displacing people who call this place home."
CHCURC also launched the OurShop project, which offers young lifestyle businesses a chance to test a brick-and-mortar concept with six months of free space in a business district storefront, along with mentoring and guidance. Of the five businesses that were accepted for the first round last year, two have remained in the district. Applications for the second round closed in January, and more than 50 startups applied.
Another new addition to the district is Manga Manga, which sells Japanese comic books, perhaps the only store of its kind in Cincinnati. It's moving to a more prominent storefront space from its current location just off of Hamilton Avenue.
Those big, empty corner lots where Kroger and Shuller's Wigwam once stood have finally filled in. In October 2022, the community celebrated the grand opening of HaNoBe (for Hamilton and North Bend), featuring 171 apartments that will bring in more residents to support the neighborhood businesses. Just to the west of that, a developer is planning to build 31 townhomes, with prices beginning at $400,000.
One of the next big items on CHCURC's to-do list is the old Hollywood Theater, a former movie house dating back almost 100 years that's situated squarely in the middle of the business district. Last year, the organization began a nationwide search for companies to adapt and operate the space, and final decisions could be made later this year, Greene says. Meanwhile, CHCURC turned the back parking lot into a drive-in theater, with family movies screened on the exterior wall in the summer months.
Twenty years after Beth McLean and her friends planted their seeds, the College Hill garden has bloomed and the community has reaped a bounty. McLean was reminded of those early days while cleaning out her attic recently, when she found a card her fellow gardener Phyllis Schoenberger had sent.
"Everything worthwhile takes time," the Hallmark-style sentiment read. And Phyllis wrote in, "…And energy, and vision, and friends who help on the job."
Facebook Comments