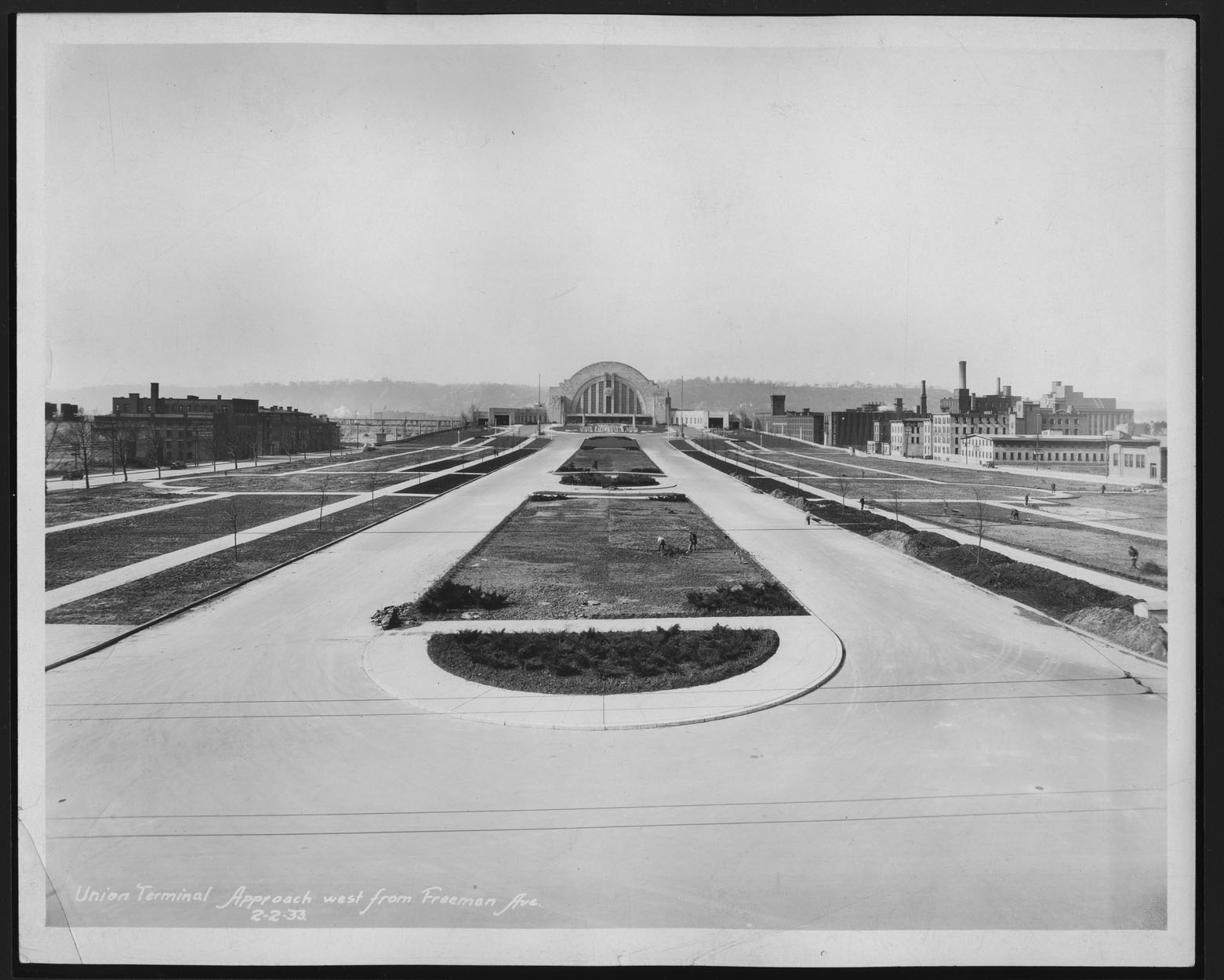 Newly restored and reopened, Union Terminal is the pride of Cincinnati. In the years since its debut as the Cincinnati Museum Center on November 10, 1990, the Terminal has become the fourth-largest attraction in our region, behind the Cincinnati Reds, Kings Island, and the Cincinnati Zoo.
Cincinnatians forget that, almost from the day it opened in 1933, Cincinnati tried to figure out what the building was supposed to be. Henry M. Waite, chief engineer during construction of the Terminal, spoke to the Rotary Club when they met at the Terminal on the day before dedication ceremonies. According to the Cincinnati Enquirer [March 31, 1933] Waite praised the building's beauty but expressed skepticism about its utility:
We will have visitors from all parts of the country to view this station, and I hope it is not too much to wish that they would come by train. I presume, however, they will use their automobiles.
While Union Terminal operated near capacity throughout World War II, passengers quickly bled away to automobiles and airplanes. Passenger service was eliminated in 1972, but efforts to find alternative uses were underway as early as the 1950s.
Parking for the Reds
In 1957, Union Terminal figured into plans to keep the Cincinnati Reds from moving to New York. The Brooklyn Dodgers and New York Giants departed that year for sunny California, and New York City was left holding the bag. That bag contained an unfulfilled offer to build what would become Shea Stadium as part of a futile effort to hold either of the National League teams in Gotham. Snubbed by both, New York determined to build that stadium anyway, so why not the lure the Reds to the Big Apple? Cincinnati owner Powel Crosley Jr. hinted that he might consider such an offer, because he needed parking. Cincinnati, he said, was dragging its feet on demolishing buildings near Crosley Field to feed his need. The city rushed a plan onto paper, according to the Enquirer [December 28, 1957] that offered 8,000 additional parking spaces, including the potential for more as maintenance facilities for passenger trains were no longer needed at Union Terminal.
City Hall
A 1961 plan proposed Union Terminal as Cincinnati's new City Hall. A "study committee" of the Cincinnatus Association recommended this use in a report. City Manager C.A. Harrell told the Enquirer [March 15, 1961] that "a new city hall isn't in the immediate or even near-term future for Cincinnati."
Convention Center
Harrell also dodged the suggestion, a year later, to turn the terminal into a convention center. City Council said the 1962 effort made no sense because Union Terminal was too far from downtown hotels and restaurants to hold conventions. This assertion led the legendary Enquirer reporter Bob Elkins to time his walk from the old Sheraton Gibson to the Terminal—39 minutes including having to wait at a "Don't Walk" light.
Airport
Louis Nippert, at one time owner of the Cincinnati Reds, suggested in 1963 that Union Terminal would make a fantastic airport—if only the airplanes used that brand-new GE VTOL (Vertical Take-Off & Landing) technology. Herbert Stevens, director of Cincinnati's planning commission, told the Enquirer [September 7, 1963] the idea would be taken under advisement, even though helicopter operators had told him they would not use the terminal as a base.
Science Center
The futuristic design of the Terminal led many minds to think of science. Before the Natural History Museum moved in, a Museum of Health, Science, and Industry, known as MOHSI, rented space in Union Terminal beginning in 1982 and served as many as 10,000 students a year. From 1968 to 1970, the Cincinnati Science Center operated a hands-on museum in one of Union Terminal's exhibition halls. Someone even suggested it would make a wonderful planetarium.
Jerry Springer
As part of the 1973 campaign to rescue the landmark, Jerry Springer recorded a song titled "Save the Terminal," often incorrectly reported as "Save the Union Terminal." The folky protest song was produced by Shad O'Shea and released on Council Records. Writing credits were S. Flaharty, T. West, and J. Eliot. The flip side featured a song co-written by O'Shea, "Faded Photos (Just Won't Do)." You can still enjoy these gems at https://youtu.be/mYVfrPQpQRc
Recreation Center
In 1975, the City of Cincinnati placed advertisements in the Wall Street Journal, headlined "World-famous Cincinnati Union Terminal for lease—$1 per year!" That brought in some unusual proposals. Remember Oz? In 1977, a city task force selected the Columbus-based Skilken & Company to renovate Union Terminal as a recreation center including a discotheque, restaurants, shops, a "human pinball machine," a roller rink, ice-skating rink, and something called a "Wizard's Ice Cream Parlor."
Death of Lincoln Park
The ill-fated Oz project killed Lincoln Park. Union Terminal sits on a plot of land that was once known as Lincoln Park, created as a city park in 1858. It is often claimed that Union Terminal replaced Lincoln Park, but that's only half-true. Lincoln Park was still very much a manicured green space until 1977 when the Skilken Organization proposed their entertainment mall and demanded parking, which meant bulldozing the lawns and trees that remained between Western Avenue and the Terminal fountain. When the West End Task Force objected to the destruction of the last recreational space in their neighborhood, developer Steve Skilken was blunt: "They can have their greenspace, if they want it, but then I'll let them have their terminal, too. They can pay me for the work I've done and the money I've put into it, and I'll go elsewhere." City Council folded and the remnants of Lincoln Park were asphalted.
Shopping Mall
No longer named Oz, the Union Terminal Shopping Mall opened in 1980 with an F.A.O. Schwartz toy store, Les Palmier restaurant, a Doubleday book shop, LaTabagie tobacconists, and 30 other vendors, many in pushcarts. Mimes and puppeteers entertained on weekends for a few months. By 1983, only six stores occupied the increasingly empty Terminal and legal claims flew back and forth. Loehmann's clothing, the last tenant, moved out in 1987.
At Last . . . The Cincinnati Museum Center
By then, the Museum of Natural History and the Cincinnati Historical Society had solidified plans to move from Eden Park to the West End. Today, with the completion of a massive two-year, $228-million repair and restoration project, the Terminal once again welcomes more than 1 million visitors annually to the Cincinnati History Museum, the Cincinnati History Library and Archives, the Duke Energy Children's Museum, the Museum of Natural History & Science, the Robert D. Lindner Family Omnimax Theater, and the Nancy & David Wolf Holocaust & Humanity Center.
It took a long time and many detours to get here.
Facebook Comments