Has the answer to FC Cincinnati's goal-scoring woes really been riding the bench for the better part of six seasons in Major League Soccer, including the last two campaigns for the Orange and Blue? And could the 23-year-old striker be on the verge of a call-up to the U.S. men's national team?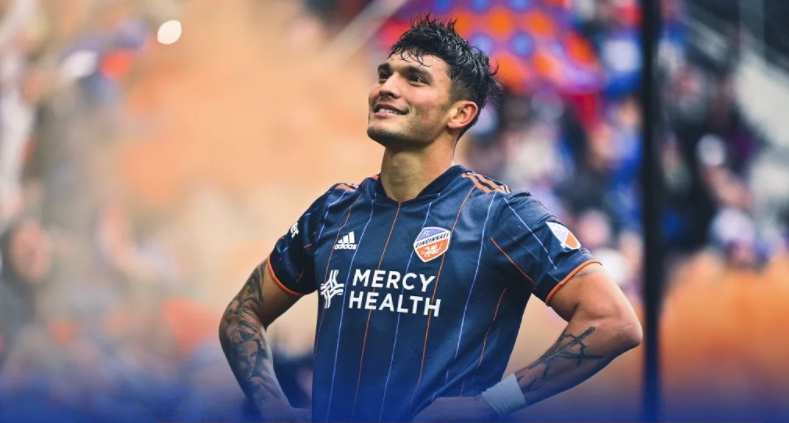 The two thoughts are becoming less and less far-fetched with each goal Brandon Vazquez notches for FC Cincinnati, who suddenly find themselves eighth in the Eastern Conference on six points following the Vazquez-led 3-1 drubbing of visiting Inter Miami last Saturday at TQL Stadium.
Vazquez scored two goals for the second successive match, tallied an assist, and won a penalty for FC Cincinnati, who now (gasp!) own a winning streak. It's the franchise's first winning streak since a pair of road triumphs last June at Chicago and Toronto, and it was FC Cincinnati's second-ever victory in 19 tries at TQL Stadium.
Vazquez is now the league's joint-leading scorer with four goals. Over his last nine appearances (all starts), he has seven goals and 12 on-target scoring attempts. So, while the sample size remains small, Vazquez's consistent high-level play now cannot be ignored. First-year FC Cincinnati head coach Pat Noonan has taken notice.
"His upside, his potential is massive," Noonan said post-match Saturday. "You can see that with his last two performances. Not just with the goals, but his ability to hold the ball, his ability to work defensively for our team. He does a lot of little things to help the group have success. In the end, as a striker, you have to finish plays off. And he's doing that right now, so his overall performances for the group are what's helping us to have success and win games."
Inking a deal with Atlanta United as a 19-year-old ahead of the club's expansion season in 2017, Vazquez found playing time hard to come by—and for good reason, because he was stuck behind star striker Josef Martinez on the depth chart. In 2017, Vazquez accumulated just 178 minutes as Martinez scored 19 goals in 20 matches. A year later, Atlanta won the MLS Cup behind Martinez's league-record 34 goals, which earned him league MVP honors. Vazquez's playing time was even more sparse (86 minutes) in 2018.
Vazquez saw 637 minutes of action in 2019 but was left unprotected by Atlanta in the 2019 expansion draft. He was selected by Nashville but immediately shipped to FC Cincinnati for $150,000 in 2020 Targeted Allocation Money and $50,000 in 2021 General Allocation Money. That trade may end up being the shrewdest in FC Cincinnati history if he continues to develop.
In Cincinnati, Vazquez was again glued to the bench, though, first behind failed Designated Player Jurgen Locadia in 2020 and then $13-million striker Brenner in 2021. Vazquez played plenty in 2020, logging a personal-best 774 minutes, but made just eight starts and scored two goals, one less than his three-year total in Atlanta. Playing under head coach Jaap Stam and interim head coach Tyrone Marshall in 2021, Vazquez appeared in 31 games and scored four goals. But it wasn't until Marshall took over last September that Vazquez started to receive regular starts.
Vazquez started FC Cincinnati's final five matches of 2021, scoring three times. He carried that strong finish over to this season, when the playing time door finally opened following an immigration delay that saw Brenner miss almost all of the club's preseason. At 6-foot-2 and nearly 200 pounds, Vazquez is exhibiting strong hold-up play—evidenced by the 14 fouls he's won through four matches—and meshing well with veteran striker Dominique Badji in Noonan's two-striker system. He's been involved in all five of FC Cincinnati's goals this season while showing off his burgeoning skill set.
In FC Cincinnati's first goal on Saturday, Vazquez found himself alone on the flank. He didn't panic, though. Instead of forcing an early pass or an ill-advised shot, he waited for teammates to arrive in or around the Miami penalty area and slotted an eventual assist with his weaker left foot to Ronald Matarrita. Minutes later, Mattarita returned the favor, slinging an aerial pass to Vazquez for a headed goal. Vazquez had deftly positioned himself between two Miami defenders to provide himself with space to operate.
Vazquez was brought down in the box in the 76th minute, winning a penalty kick for the club. Lucho Acosta rewarded Vazquez's effort with a dreadful missed take, though. But, in another sign of FC Cincinnati's growing resolve, the club stayed on the front foot and Vazquez sealed the match in the 82nd minute, heading into another superb cross from Matarrita.
I semi-jokingly tweeted about Vazquez being the USMNT's missing striker—the Americans have struggled to find a consistent goalscorer at the position since Jozy Altidore's heyday—but the notion is not without merit. First, Vazquez represented the Stars and Stripes at the under-17, under-19, and under-20 levels. (He's also eligible to play for Mexico, too.) Second, it's not unheard of for USMNT manager Gregg Berhalter to pluck a hot MLS striker and insert him into the player pool with virtually no experience; this is how Ricardo Pepi found his way into the mix after scoring nine goals before his first call-up last fall. The USMNT begins the final stage of World Cup qualifying tomorrow night.
As for Vazquez's future with FC Cincinnati, he's clearly earned the right to be a starter and is finally seeing some good fortune. After Brenner arrived in the U.S., he needed ample runway to get into game shape and then suffered an injury that kept him out of the match day squad against Orlando.
Brenner is making too much money and showed enough potential in 2021 to fill the backup striker role that Vazquez played in 2021. Injuries happen, and Badji's minutes will have to be managed, as he logged just 319 minutes in 2021 and 750 in 2020. As opposed to the systems employed by Stam, Ron Jans, and Yoann Damet, Noonan's dual-forward setup—whether it be in a 3-5-2 or 4-4-2—places less of an emphasis on wingers while prioritizing mobile, versatile forwards.
Praise is pouring in for Vazquez, a potentially emerging star who's made MLS's Team of the Week two weeks running. The sign of a true star striker is smelling blood in the water. Next up for FC Cincinnati is a road match against expansion side Charlotte. Let's see if Vazquez can maintain his form vs. the MLS newbies, ensuring a return to the bench becomes less and less realistic.
Grant Freking writes FC Cincinnati coverage for Cincinnati Magazine. You can follow him on Twitter at @GrantFreking.
Facebook Comments