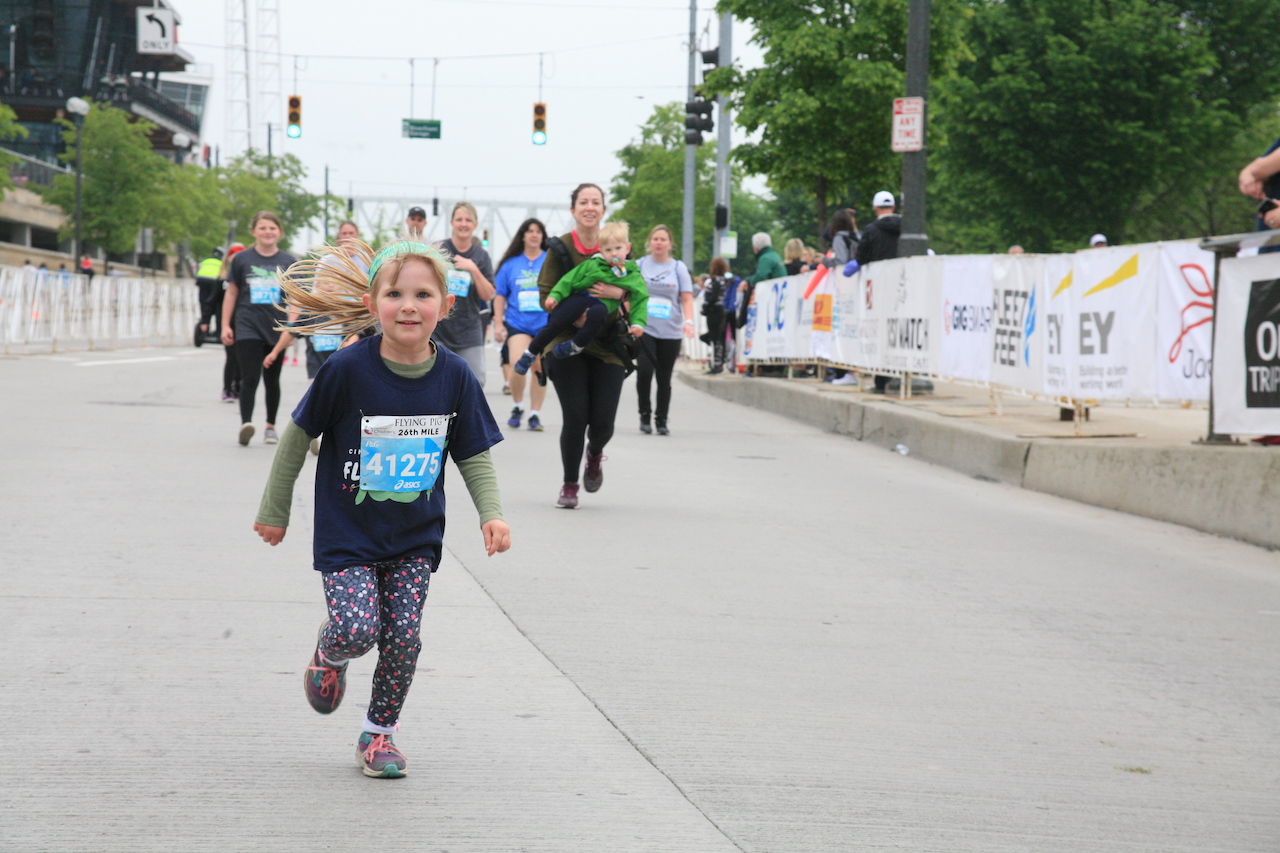 Did you know the Flying Pig Marathon has a program just for kids? There's fun for the whole family of runners! Each year, The Flying Pig Youth Program provides an opportunity for kids of all ages and abilities to learn healthy habits and train for a one-mile race. Families can choose to work independently at home or participate in one of the group training programs offered at several schools around Cincinnati including Clough Pike Elementary in West Clermont.
Local runner Beth Testa first participated in the Flying Pig Marathon in 2009 and thought about how cool it would be to involve students at Clough Pike Elementary, where she teaches fifth grade science and social studies. So in 2010, Testa started the Flying Pig Youth training program for grades preschool through fifth grade. More than 75 kids of all skill levels and interests signed up to train, running a mile per week in preparation for the big race. The goal is to teach healthy habits that continue into adulthood. The Flying Pig has since expanded its youth programming and now provides fun training resources for both the Flying Pig 5K and the Cincinnati Children's 26th Mile. Kids can track their mileage and nutrition using a Hog Log and learn about additional nutrition guidelines to follow throughout the process.
Testa says the kids learn to warm up, cool down, and adopt healthy eating habits throughout the process. "Our goal is to get in one mile per week," adds Testa. "It's really neat to track. They see where they are as time goes on. Typically we exceed the 25 miles. Some years we've done 35 or 40 miles—we just keep going." Clough Pike Elementary is situated in front of a long street that they block off on training days and on rainy days, they run the halls and cafeteria. At the end of the training program, most students and families choose to participate in the Cincinnati Children's 26th Mile event, an untimed race open to kindergarten through sixth graders. "The kids love going downtown and having the bib on and being on the race course with the 'real' runners—the accomplishment is so exciting," says Testa. "And it's all about the medals—they love the medals and the snack bag." Testa says she'll never forget one of her students saying to his grandfather Can you believe I ran 26 miles, grandpa? He's now a senior in high school and the star of a memory Testa will never forget.
"Parents, teachers, and coaches are key to the Flying Pig Youth program and are so important in helping kids stay healthy through training programs like our Fly Up to 5k, presented by EY, which targets older children ready to tackle the 5K distance," says Taylor Conklin, Youth Coordinator at The Flying Pig Marathon and PigWorks. "We are so grateful to Beth and all the other youth group volunteers who have joined the program and helped us share healthy habits with tens of thousands of local kids. We're just thrilled to be back for 2022 and are looking ahead to growing the program even more in 2023."
Interested in signing up your child for the Flying Pig Youth Program?
After a two-year hiatus, the Flying Pig Youth Programs are back for 2022 and the whole family can participate in a Flying Pig event on Saturday, April 30 in downtown Cincinnati. Afterwards, stay for the Family Fun Festival at Smale Park. Visit the website for more information about the Flying Pig youth events and register your little one to take part in this year's event.
Facebook Comments