As Kelti and Tanner Ziese planned for Sage & Scout, a baby-themed extension of their Bellevue-based home goods and decor store Coda Co., serendipitously, Kelti became pregnant. However, the couple's plans came to a halt when Kelti suffered a miscarriage. "That was a big setback," she says. "I was like, Should we even do the store?" Deciding that she could bring joy to other families if she pursued the project, Kelti pushed on. Sage & Scout launched digitally in February and will open at 402 Fairfield Ave. in Bellevue in early April.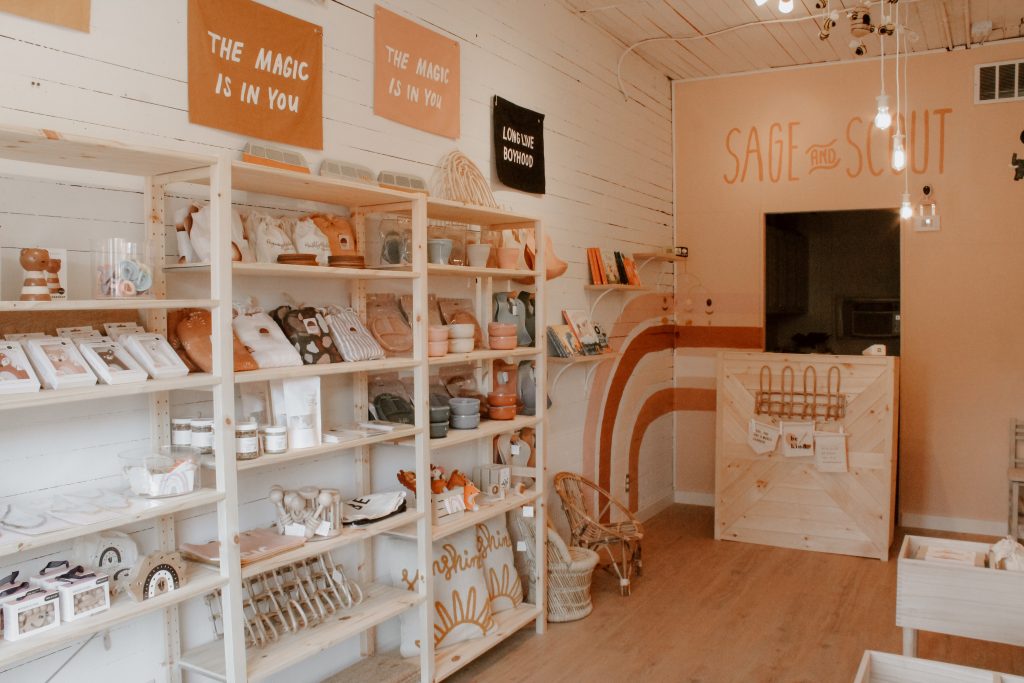 Sitting in her Northern Kentucky home, Kelti dons a large smile during our Zoom conversation. Her blonde-brown wavy hair and neutral-colored top perfectly match the bohemian aesthetic of Coda Co. and Sage & Scout. About four years ago, she and Tanner opened Coda Co. to explore their personal interests. The eclectic home decor and goods store started out as a way for Kelti and Tanner to sell their handmade woodworking and macrame projects; but, as demand grew, the couple began carrying other items made by local artisans from Northern Kentucky and Cincinnati.
Last year, Coda Co. started "to burst at the seams," and the couple looked to expand. They came up with the idea to open a baby store rather effortlessly. "Coda Co. has evolved and grown up with us, with our own interests," Kelti says. So when she and Tanner started talking about expanding Coda Co., a baby store felt like the next step as they considered starting a family. "We thought it'd be kind of fun to have something … [that] one day we can feel like we can apply to our life," Kelti says.
Sage & Scout will open in The Bellevue Beadery's former space, right next door to Coda Co. Kelti plans to fill the 200-square-foot area with a variety of baby-related items, including neutral-colored mattress covers, wooden toys, and clothing made from organic fibers. The shop's products capture Coda Co.'s bohemian style, while catering to moms and babies between the ages of infant to toddler.
Sage & Scout also continues Coda Co.'s commitment to work with small businesses. About 90 percent of the items carried at Sage & Scout are from small-businesses, with a portion based locally, Kelti says. For example, the store will carry The Happy Groundhog Studio's eco-friendly plush animals and Discovery and Joy's resin alphabet sets.
Ultimately, like Coda Co., Sage & Scout captures the owners' values and interests. "Growing up, we spent countless hours enjoying all that Mother Nature had to offer," Kelti wrote on Facebook. "We want our shop to encourage the kiddos of this generation to do the same." The store's logo—a tent—and the wilderness- and camping-themed items available on the store's website speak to this intent.
As for the store's name, "Sage" and "Scout" are the names of two of Kelti and Tanner's dogs. Kelti says the names represent the earthy vibe of the store and also memorializes Sage, who passed away late last year and who Kelti believes is looking over their little angel that went to Heaven.
Facebook Comments