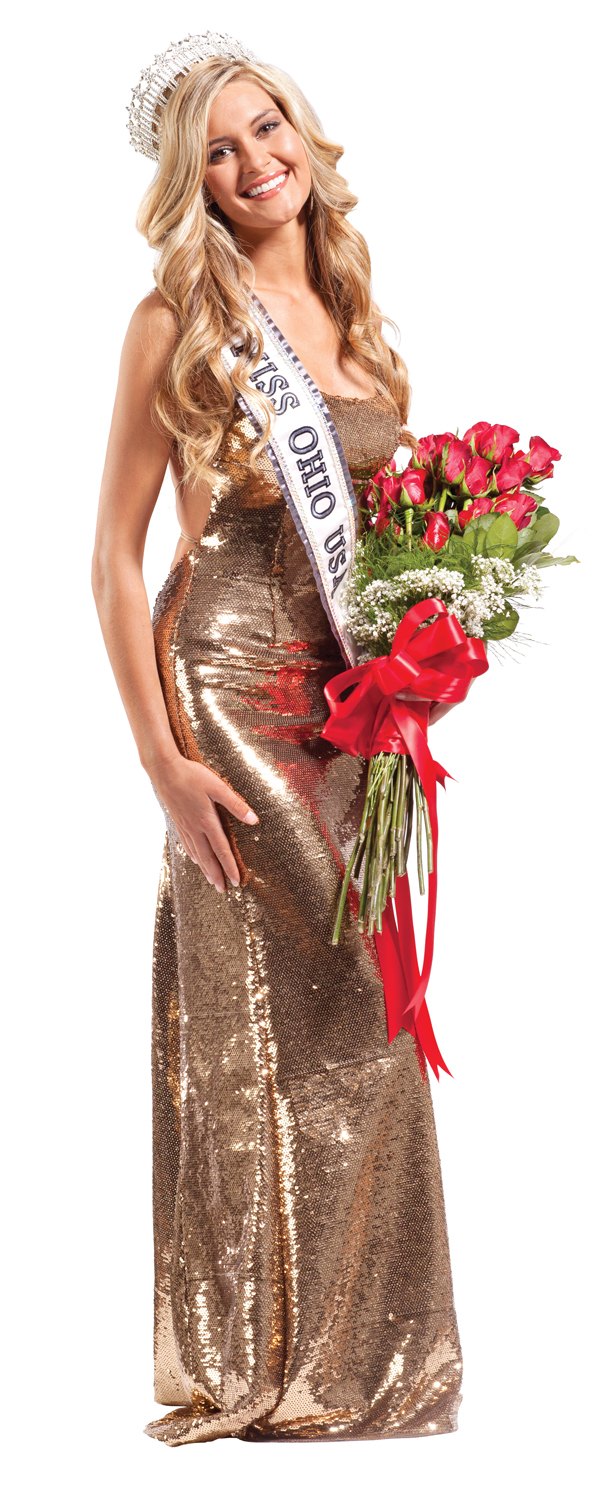 Despite a lack of pageant experience, Audrey Bolte was crowned Miss Ohio USA last fall. This month, the country girl from Batavia will compete in the Miss USA pageant.
I began modeling at the age of 15 because my grandmother made me. At the time, I wasn't sure that I was beautiful. I had buckteeth when I was little. Over time, I gained more confidence.
I've never been a prissy girl. I like to get my hands dirty. I grew up riding horses. After college, I was the manager of a horse camp for kids. I was the camp mother. When the kids were homesick, I'd ask if they needed a mom hug and then I'd squeeze them really tight.
I still train horses and give riding lessons. It's very empowering for people when they learn how to manage a thousand-pound animal.
I drive a truck. Goldilocks is her name, actually. She's a 2000 Ford F-250 with a 7.3 Power Stroke diesel engine.
I love working on the farm. I can walk on the runway one day and stretch fence the next. I don't mind blisters. When I've been broke in the past, I've shoveled stalls to make extra money.
For my interview to become Miss Ohio USA, I showed photos of me hiking three miles in the Pisgah National Forest in North Carolina and then crossing a ledge, climbing down a vine, and taking a 50-foot dive into the water. I love the outdoors.
I want to make a significant impact on people's lives. I like helping people, whether that's teaching someone how to write or digging a well in Ghana.
I'm not afraid of the live Miss USA pageant. What I'm not looking forward to is the time before the interview when there is nothing to do but sit and worry. Once I go into the interview, I'm fine. I just have to roll with the punches.
Showtime
Bolte will arrive in Las Vegas three weeks before the Miss USA pageant to take part in scheduled appearances around the city. The pageant will air live on NBC at 9 p.m. on June 3. Owned by Donald Trump, the Miss USA pageant is celebrating its 60th anniversary.
High Horse
Bolte graduated with honors from St. Andrews College in Laurinburg, North Carolina. She majored in business administration and competed on the school's equestrian team, placing in several national competitions.
Walk This Way
At 15, she began modeling at New View Model Management in Cincinnati. She says her time as a model gave her the confidence to compete for Miss Ohio USA, despite the fact that she had no prior pageant experience.
Quick Study
Bolte ran  track and cross-country at Batavia High School; she graduated in 2007.
Photograph by Jonathan Willis.
Originally published in the June 2012 issue.
Facebook Comments