We all remember the moment. Ravens quarterback Tyler Huntley desperately leapt in the air on that frigid January night, his hands outstretched to push the ball across the Bengals goal line. With the NFL playoff game tied at 17, Huntley's hands might as well have held a dagger poised at the heart of our season.
Suddenly, linebacker Logan Wilson greeted the ball with a fist, punching it free and into the waiting arms of Sam Hubbard. He turned and, as an astonished and then delirious crowd sent every startled pigeon in the city skyward, galloped 98 yards to glory. The Bengals would win the game and move on in the postseason for the second season in a row.
The Fumble in the Jungle electrified the city and, along with Joe Burrow's arm and magic feet, has kept the Bengals faithful confident in more playoff runs with our boys in stripes. Did you know that Hubbard's run also helped feed a hungry child? Provided sustenance for a mother at her young daughter's hospital bedside? Sent a first-grade boy home with a beaming smile and a colorful new backpack?
In a way, every on-field high-light and playoff win impacts the least among us in Cincinnati and the surrounding area because Hubbard and Burrow channel their popularity into raising awareness for their own nonprofit foundations. And those foundations—as well as others set up by more Cincinnati athletes and teams—can make a huge difference in a region struggling with childhood poverty rates and food insecurity.
Burrow's emotional and heartfelt Heisman Trophy speech in 2019 highlighted a sad truth about our abundant society: It's not abundant for everyone. Some children go to bed hungry every night. They struggle in school because their stomachs are empty. Too many face emotional challenges exacerbated by the pandemic. It's a crisis Burrow encountered growing up near Athens, Ohio, and one he devoted 31 seconds to as he accepted college football's highest honor.
"Coming from southeast Ohio, it's a very impoverished area," Burrow told New York's Downtown Athletic Club and a national television audience. "The poverty rate is almost two times the national average. There are so many people there that don't have a lot, and I'm up here for all those kids in Athens and Athens County that go home to not a lot of food on the table, hungry after school. You guys can be up here, too."
The floodgates opened immediately. Will Drabold, a notable fund-raiser and advocate for Appalachia, started a GoFundMe page, and donations to the Athens Food Pantry topped $650,000. A few months later, Burrow established the Joe Burrow Hunger Relief Fund, which has now grown into a full-fledged charitable foundation.
Professional athletes giving back to the cities where they play isn't new, and Cincinnati has a distinguished list. Boomer Esiason remains a staunch advocate for battling Cystic Fibrosis. Anthony Muñoz's foundation promotes spiritual leadership and character-building skills. The Ken Anderson Alliance focuses on providing opportunities for adults with disabilities. Barry Larkin's foundation helps organizations providing recreational services to disadvantaged youths. Sean Casey was active in Big Brothers/Big Sisters as a Reds player and raised Make-a-Wish funds in con-junction with Cincinnati Children's Hospital Medical Center. Johnny Bench's foundation has supported student-athlete college scholarships for 40 years.
Buffalo Bills fans poured nearly half a million dollars into Andy Dalton's foundation in the days following his last-minute touchdown pass on New Year's Eve 2017 against the Ravens—a pass that put Buffalo into the NFL playoffs for the first time this century. Within a few days of Bills linebacker Damar Hamlin's cardiac arrest on the Paycor Stadium field in January, more than 200,000 people donated $8.7 million to his Chasing M's Foundation, which supports toy and back-to-school drives, as well as camps for disadvantaged children.
Professional athletes can build a powerful platform for charitable organizations. They draw the public's attention to their cause and direct fans to solutions. They create a connective tissue within the fan base beyond the game. The work helps the athletes, too, investing them in the larger community and allowing them to interact with fans they might see only in the grand-stands. And it's good for the team. Winning is important, but so is the franchise's image. Fans are more likely to root for a player who spends an afternoon working in a soup kitchen than one who shows up on the police blotter.
The platform is even stronger when the athlete is a star and already has a solid network because he's originally from here. Both Burrow and Hubbard have that hometown (or home region) advantage, and have no qualms about leveraging it. They've chosen similar, but not identical, paths for their foundations, aiming to address a problem that's especially acute here in Cincinnati.
---
Cincinnati is usually rated among the worst major U.S. cities for childhood poverty, says Trisha Rayner, chief development officer and vice president of external affairs at the Freestore Foodbank. "Our food insecurity rate in Hamilton County is 12.8 percent," she notes, "but it went over 20 percent during the pandemic. That's well above the national average."
Food insecurity is defined quite simply as not knowing where your next meal is coming from. And it's likely to get worse. In March, emergency COVID food assistance benefits ended for thousands of residents. Many saw their monthly Supplemental Nutrition Assistance Program (SNAP) benefit fall by as much as 75 percent just as food prices spiked. Food pantries have been swamped and, Rayner says, many are seeking help for the first time.
Many of those victims of hunger are kids, which Burrow witnessed in his own high school classrooms, says his mom, Robin. "Going to school in Athens provided Joe with friends from all different backgrounds, so he saw food insecurities firsthand," she says. Robin has experienced the problem up close as well—she's retiring this year as a long-time educator, most recently as a school principal. She says she often brought stories to the family dinner table of struggling students hampered both physically and mentally by a lack of nutrition.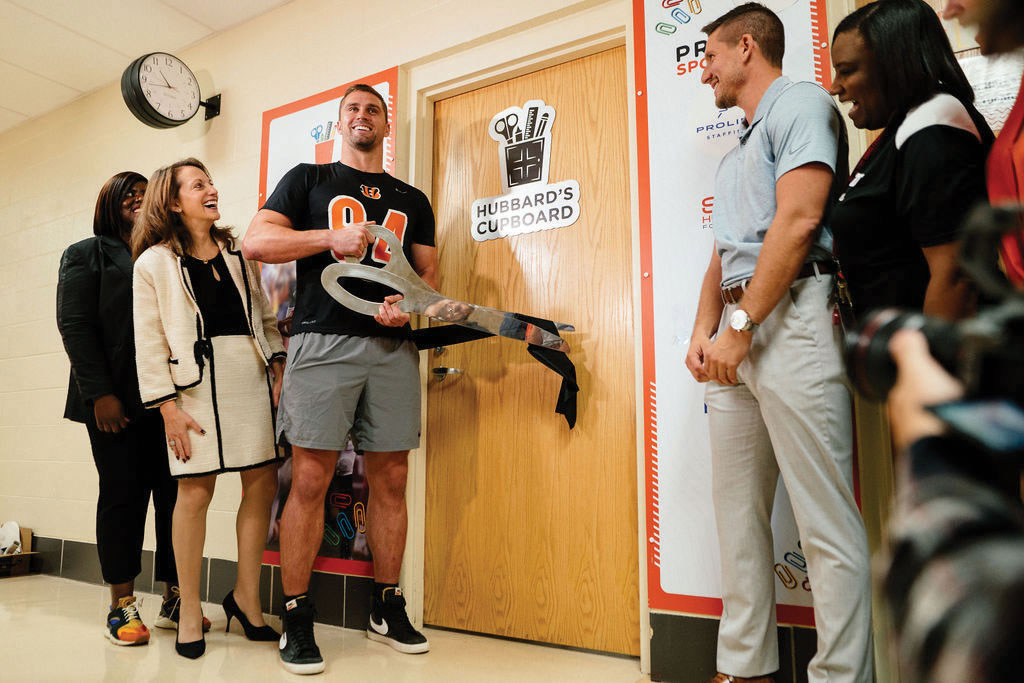 Even though Hubbard grew up in Montgomery, his parents and his high school made sure he was exposed to those less fortunate and became motivated to help. He tutored at Corryville Catholic Elementary School, participated in food drives, and regularly volunteered in soup kitchens at holiday time with his family. "We were always aware we were just fortunate but also that there were a lot of people who had needs," says Hubbard.
He credits his alma mater, Moeller High School, and the Marianist philosophy with further developing his awareness and his commitment to service. He was captain of the Crusaders squad that won two state football titles and elected to stay close to his roots, sponsoring a youth football camp on Moeller's Montgomery Road campus each summer since 2019.
As the pandemic worsened, Hubbard recalls reading a news account about the Freestore Foodbank pantry running low on supplies. "My dad said there are a lot of issues in the world, but something that unites everyone and brings people together is the basic right to food and hygiene," he recalls. "So we rallied around that and realized, after doing some research, how many people we could help."
Hubbard had already worked with the Freestore on a Taste of the NFL charity event he hosted his rookie season with the Bengals and was impressed with the staff's dedication. Using social media, he helped fill the pantry's coffers and has since become a reliable and enthusiastic partner. His annual fowling event in Pleasant Ridge is one of the area's more popular fund-raisers and the first large one he hosted after officially incorporating the Sam Hubbard Foundation.
Where his war on hunger is laser-focused on the tri-state, Burrow's similar crusade fights on three fronts: Cincinnati; Appalachian southeast Ohio; and Baton Rouge, Louisiana, where he led LSU to the NCAA college football championship and earned his Heisman. Burrow's foundation also focuses on mental health, and his mother is quick to connect the two energy-sapping issues.
"Think about showing up to work every Monday and not having eaten all weekend," says Robin, noting that's what happens to many kids who come to school hungry. "It sets them up for failure. It may take until Tuesday or Wednesday for the nutrients to get these kids back up to speed. That's two or three days of being behind."
And that's when kids are in school. What about when they aren't?
Mary Beth Knight, who heads up the food insecurity nonprofit My Why, credits the Joe Burrow Foundation with a Hail Mary pass that took the hunger pangs out of this year's spring break. A perfect storm was brewing: Food prices were sky high, SNAP was ending, and the Freestore was closing for a week as it moved its Tennessee Avenue warehouse to River Road. Thousands of kids were heading home for a week of spring break, many with little food there.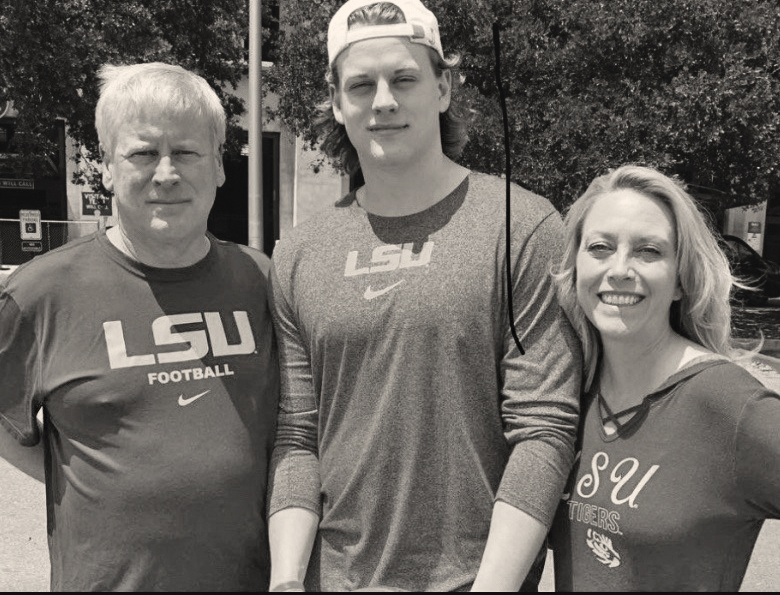 My Why is focused on nutritional support for grade school students from low-income families on the west side, downtown, and in Avondale. Knight, a retired teacher, for years saw the toll food insecurity had on young kids, many of whom relied on free lunches for nutrition. Spring break's combination of challenges, she knew, would roil many stomachs.
So she reached out to the Burrow Foundation for help. She'd been thinking about the young quarterback ever since his Heisman speech, which she said brought her to tears. She had a feeling, she says, that Burrow would make a difference—not just on the field, but in fighting hunger. "He was going to be a hero," she says.
Amy Floyd, the foundation's executive director, mobilized sponsors like Kroger and Kroger Health to action, and Knight worked with Bloc Ministries in Price Hill to assemble volunteers. They packed 38,000 oranges and thousands of oatmeal packets, CLIF bars, apple-sauce containers, and fresh fruit into backpacks for nearly 8,000 kids. "It was amazing," says Knight. "It was just five days from the time I spoke with Amy on the phone to when kids received their backpacks and food. The kids were happy for the food, but honestly I think they were even happier to get a free Joe Burrow backpack."
---
Right before the Bengals' 2022 Super Bowl appearance, Betsy Wilson, director of development at Crayons to Computers, had an idea. The education nonprofit wanted to establish spaces in local schools where teachers could access free school supplies for under-privileged students, which would alleviate the burden of teachers having to travel to C2C's Bond Hill warehouse after a long work day.
A pair of board members suggested that Hubbard might be a good spokesman for the new effort. It took just one phone call to the foundation's executive director, Matt Kittell, Wilson recalls, and a meeting was set up. By then, she'd thought of what to call the new closets: Hubbard's Cupboards.
The Hubbard's Cupboard at South Elementary School in Mt. Healthy is a modest room behind a light wood door just past the main entrance. Inside are shelves and boxes of snacks, school supplies, and hygiene products that teachers can access for their students, al-most all of whom are likely living below the poverty line.
"Thirty percent of Mt. Healthy's students are in foster care," says Amy Cheney, president and CEO of Crayons to Computers (C2C). "They may only have the clothes you can see on the outside. They may not even have underwear or socks because they've been removed suddenly from a bad situation." So, she says, hygiene products can be just as important as food.
Charles Ogdan, executive director of human resources for the school district, says generational poverty in Mt. Healthy has been augmented by a flurry of recent immigrants as well as Cincinnati residents displaced by gentrification. As the low-income student population soared and hunger issues became apparent, the school board decided to move the entire district to a free and subsidized breakfast and lunch plan. "You know, when you're hungry you're not learning," says Ogdan. "You're tired and listless. We knew the status quo wasn't working. It doesn't work to say to a kid, I know you're hungry, deal with it."
Hubbard himself visited Mt. Healthy's junior-senior high school in October to officially open the first of four Cupboards, and Ogdan remembers the stir it caused. He shakes his head, lamenting that he had to miss it; he was waist-deep in a trench with contractors who were digging around the school's foundation, he explains. Hubbard delivered a motivational speech that had students cheering. A DJ hired by the Bengals blasted music, and the Bengals star stayed long after he christened his Cupboard to chat with students and sign autographs.
He did the same thing later in Bellevue, where he packed the school gym with a Bengals pep rally and free ice cream before delivering 650 new backpacks to kids at an elementary school. "Sam is the most humble person in the universe, and he wouldn't leave that gym until he'd posed for every picture and talked to every kid there," says Cheney.
She says that C2C will expand Hubbard's Cupboards to 13 more locations next school year, while Hubbard is using part of his off season to meet with business leaders around the area to solicit support. "It's important for me to be directly involved," he says. "My name is on this, and I don't want to give the wrong impression that my involvement is false advertising. I want to show that we're using the funds in the right way, which means I work directly on this project."
His mom is involved, too. Amy Hubbard, a nurse at UC Medical Center, personally monitors and stocks several of Hubbard's Cupboards, and Mt. Healthy school administrators marvel at her energy. "Yeah, she's a rock star," says Hub-bard with a wide grin. "She and my dad taught us all how to be good humans."
The concept is also making an impact at UC Health, where the Hubbard Foundation donated $10,000 and pledged annual support to the "Food Is Medicine" program, which allocates resources to needy families.
As a school principal in Athens, Robin Burrow has seen the impact the pandemic had on children's mental health—putting them behind in school, tearing them away from their friends, and digging the hole of poverty even deeper. In its first months of existence, the Burrow Foundation has covered nearly $100,000 in hospital bills for families whose children are struggling with mental health, even footing the entire bill for a family whose child ended his own life. She says it's an important aspect of the foundation's charter to "do good."
That's what the latest project launched in January is called: The Do Good Grant. The name comes from a remark Joe Burrow gave in an interview after he won the Heisman. Grants of up to $50,000 will be awarded to applicants who propose projects addressing food insecurity and mental health protection. There will be two sets of applications this year, and the Burrows hope they'll become a regular feature of the foundation's work.
The Burrow team has also worked with La Soupe, donating $50,000 toward food rescue kitchens, purchasing Christmas presents for children of military members, and even repairing a boiler that allowed a food pantry to open. "There are so many great organizations doing wonderful things," says Robin. "It's important that we support people doing this work."
That goes for philanthropic work not just here in Cincinnati but also in eastern Ohio and in Baton Rouge. "We want to help fill in the gaps that have not been addressed, and that takes time, so we'll be strategic in our planning," she says. "People have been so supportive of Joe's journey at all stages of his life, so it's important to us that we give back to those communities that meant so much."
Philanthropy can be contagious. The Freestore's Rayner lauds Hubbard for being an advocate in the locker room, bringing other Bengals and even team management to events. Her eyes light up as she talks about a cold and rainy December morning when Hubbard was accompanied by several players and Executive Vice President Katie Blackburn at a holiday food giveaway at Paycor Stadium. "They all stood out in the rain and loaded boxes into trunks and talked to everyone there," she says. "It was a very special day."
Back to another special day, when the Fumble in the Jungle put the Bengals ahead to stay against Baltimore, and Matt Kittell's phone began buzzing with text messages before the game ended. The Hubbard Foundation executive director was in a suite at Paycor Stadium—actually sitting with Amy Floyd, executive director of Burrow's foundation—and was still processing Hubbard's epic scamper when pledges started coming in. And they kept coming. To his phone, to his e-mail, to the foundation's e-mail.
When the dust cleared, Kittell says, a delirious city had pumped $82,958.12 into the foundation's coffers. Many were $94 donations, representing Hubbard's jersey number. Some were $98 to represent his fumble return. Some were a modest $9.40. Others, mostly from local companies, were five-figure donations.
Every one of those dollars went to work the next day, feeding the hungry and healing the heart, while Hubbard and Burrow prepared for another playoff game.
Facebook Comments