While we may lack our own distinctive style of barbecue, smoke kings all over town are putting out saucy adaptations and reinterpretations that cement our love for summer's favorite food group. Get a load of these 15 local spots to see what we mean.
The Creative Kitchen: Lucius Q
This hip joint really thinks outside the smoker. First of all, they're serving the best veggie 'cue in town, made with umami-rich shredded trumpet mushrooms, cabbage, onion, and BBQ sauce. The meats (all from Avril-Bleh) are just as good—especially the harder-to-find ones like burnt ends, smoked pork bellies, and brisket. The real unicorn here is the pulled pork three-way, and we were weird enough to try it. It's got us convinced Skyline should switch to bucatini—it's the perfect vehicle for sauces. On top of the hollow, spaghetti-like pasta is melt-in-your-mouth pulled pork, sweet barbecue sauce, diced onions, and shredded cheddar. Maybe it's sacrilege, but we're here for it.
1131 Broadway St., Pendleton, (513) 421-4227

---
The Blessed BBQ: Just Q'in
"Faith. Love. BBQ." is the motto here, where it's all about hospitality and honoring God "by providing authentic, well-prepared food." Believer or not, eating here is like a religious experience. They debone and slice the smoked brisket, ribs, pork, and chicken in front of you before piling it on a buttered bun or serving it straight up. Each "sammich" is named after a biblical figure. The Goliath (beef brisket) and David (pork) were equally tender and juicy—no battle there. Of the Southern comfort sides, the potato salad—reminiscent of a deviled egg, with hard-boiled egg chunks and paprika—stood out. We also enjoyed the mushy but perfectly sweetened peach cobbler and both serve-yourself housemade barbecue sauces. But beware: The hot sauce will have you praying for another glass of water.
975 E. McMillan St., Walnut Hills, (513) 452-6328

---
The Carryout Queen: Sweets & Meats BBQ
Looking for a quick fix of barbecue in generous portions? Sweets & Meats BBQ's carryout has you covered. The pulled pork is worth your time, and the shredded chicken is smoked to perfection. If you're choosing between the dripping-in-cheese macaroni and the sweet-and-tangy baked beans, you can't make a mistake. But whatever you do, order the creamy banana pudding—it's so good you'll want a bucket-full (fair warning, it sells out quickly). If that isn't enough, every Sunday the crew whips up a unique special: We had the Burny Mac, a bed of their mac and cheese under sauce-slathered pork belly tips. And yes, we did take a nap after.
2249 Beechmont Ave., Suite B, Mt. Washington, (513) 888-4227
---
The Heater: Pickles & Bones Barbecue
This strip mall takeout spot may be most known for its brisket and pulled pork—and, of course, the homemade bread-and-butter pickles—but don't discount the smoked turkey. You'll get a plastic bag of cutlery, but you can go ahead and pitch the knife—this juicy stuff is fall-apart tender. Bathe it in their vinegar-based sauce—translucent and beautifully speckled with flecks of pepper and spices—for a tangy-sweltering experience. We'll give you the CliffNotes for the exhaustive list of sides: Order the sweet-savory bourbon sweet potato mash and the spicy (like, really) baked beans. The weak be damned, this is some serious flavor. Extinguish those flames with a creamy cup of banana pudding, layered with whipped cream, vanilla wafers, and banana slices.
1149 OH-131, Milford, (513) 317-2217

---
The Owner's Pride and Joy: Goodies
When a restaurant owner comments on every Yelp post, you know he or she values customer experience. This fact is confirmed when you dine in and Goodies owner Tony Dickerson personally introduces himself to ensure you're satisfied. And boy, were we pleased. The "small" rib tips plate—certainly large enough for two—exceeded our expectations. The tender tips with charred edges come doused in sauce. We suggest opting for the Zesty Nati, a thicker, jelly-like sweet-and-sour sauce, over the "hot" housemade barbecue sauce, which was thinner and milder than anticipated. The crunchy fried okra and moist, sweet cornbread are definitely worth ordering, but don't leave without trying the chess pie—a sweet ending to a highly satisfying meal.
7440 Hamilton Ave., Mt. Healthy, (513) 264-1631

---
The Summer Fun Hangout: Eli's BBQ
Part of the appeal of Eli's—aside from the food—is the bare-bones, neighborhood gathering ethos of the original location on Riverside Drive. Now there's a covered, seasonally enclosed outdoor dining area, but that hey-let's-eat-outside-tonight aura remains. We've all had everything on the menu at this point, and yes, the pulled pork is good, but we'd rather have the hot dogs. Their beefiness, the griddled bun, the slaw, the drizzle of sauce—all elements combine to an unexpected treat. We also like our grits—and our baked beans—dirty. The salty, crispy, porky shreds make everything better. Maybe that's what makes the dogs so good. Let's go back and try them again to be sure.
3313 Riverside Dr., East End, (513) 533-1957
---
Editor's Note: Jim Dandy's has permanently closed. 
The Charred Star: Jim Dandy's Family BBQ
Wood is the word at Jim Dandy's. The dining room's paneled floor, walls, ceiling, and booths give off a backwoods hunting lodge feel, and the stacks of hardwood piled beside the black iron smoker in the back parking lot let you know you're in for a tasty treat. The thick, charred baby back and St. Louis ribs fall apart in your hands, and the wood-fired chicken is a daily double of crispy skin and juicy meat. Notable sides include creamy coleslaw, hearty mac and cheese, and red beans and rice with a nice kick.
2343 E. Sharon Rd., Sharonville, (513) 771-4888
---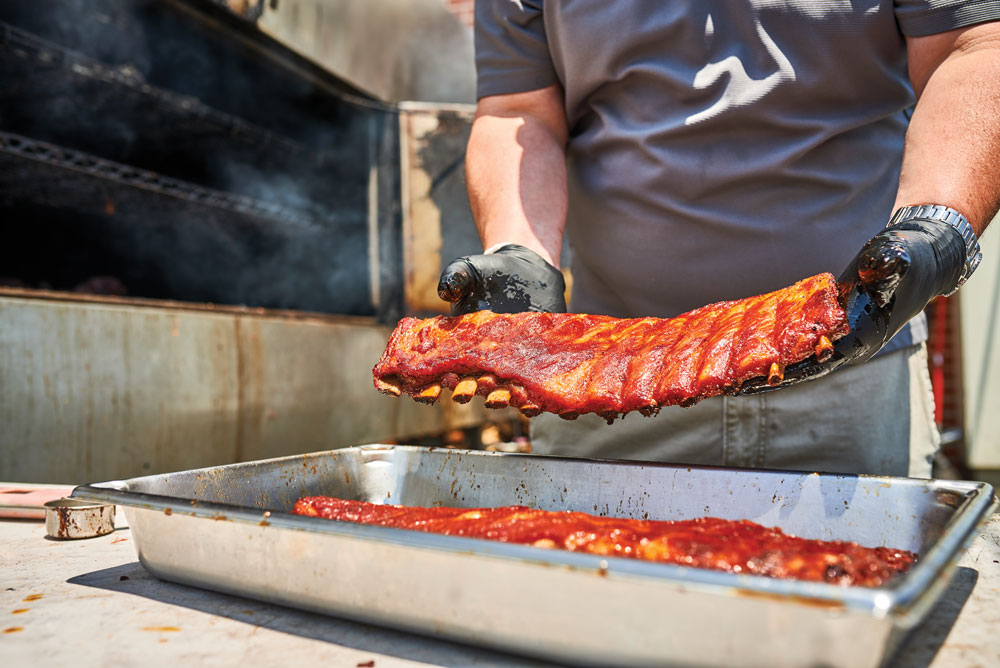 The Competitive Team: Velvet Smoke BBQ
Barbecue and beer—two of life's essential food groups—can bring out the competitive streak among in-home practitioners; the best often go on to open restaurants and breweries, respectively, and the rest become customers. Matt Schneider and Marc Stitt joined forces more than a decade ago to compete in professional-level barbecue competitions across the country, and their trophy-filled joint proves they've got serious chops. You'll be a winner, too, after digging into their meats—especially the burnt ends, ribs, and dry-rubbed wings—smoked in oak and hickory. Individual bread pudding desserts are your own edible trophies for visiting.
10515 New Haven Rd., Harrison, (513) 367-5227
---
The Funky Chicken: Midwest Best BBQ and Creamery
Teriyaki may not come to mind when thinking about barbecue, but after you visit Midwest Best BBQ and Creamery, it will. Their G-Funk smoked wings strike a perfect balance between the spice of their Cajun and ranch dry rub and just the right amount of sour from the teriyaki sauce. The brisket or pulled pork pairs great with the Spicy Sweet sauce that builds to a sizeable kick. On the lighter side, the Simply Carolina sauce (vinegar-based with mild heat) pairs well with both the turkey and the pulled chicken. The best part: You can sample almost all of this along with a side in a single combo of three wings and two sliders.
669 Justice Court, Loveland, (513) 965-9000
---
Editor's Note: Big Art's closed in March 2020.
The Hidden Gem: Big Art's BBQ Grille
Yes, there really was a Big Art. Art Weems started this joint at the corner of Pippin and Struble in Colerain Township in 1999. Though he passed away in 2016, the barbecue tradition he started carries on. Inside, Art's mixes a basement rec room vibe (Cincinnati sports memorabilia) with country kitsch (wooden signs proclaiming "Welcome" and "When Pigs Fly"). Much of the menu has the same feel—ribs and chicken arrive slathered in sweetly tangy sauce (when we go back, we'll ask for ours on the side), fried catfish, baked beans. But the hickory-smoked flavor hooked us. You can really taste it in the hefty pulled pork sandwich, a bargain at $8.99 (with two ounces of slaw and a side).
2796 Struble Rd., Colerain Twp., (513) 825-4811

---
Editor's Note: SmoQ has permanently closed. 
The Old Faithful: SmoQ
While SmoQ isn't your typical barbecue joint (instead of the roadside shack vibe, it's in a large, bright former chain restaurant space; R.I.P. Karlo's Bistro Italia), it's been a solid go-to since opening eight years ago. They're doing something right: The pulled pork was tender with a deep red bark (top with Kansas City Sweet, Carolina Hot, or Burnin' Peter sauce), and the baby back ribs, slow-roasted and smothered Memphis-style, then finished on the grill, are tender and juicy. Trimmings are collard greens—just like Grandma's, picked by hand, seasoned, and cooked low 'n' slow—and breadcrumb-covered mac and cheese, but we especially loved the creamy, oatmeal-topped sweet potato casserole, a side so deliciously sweet it really should be on the dessert menu.
275 Pictoria Dr., Springdale, (513) 671-7667
---
The Gathering Spot: Station Family + BBQ
It's been a big year for chef Caitlin Steininger. In December, just as she made her small-screen debut as a contestant on Bravo's Top Chef, her restaurant Station opened in the heart of downtown Wyoming. As in her first restaurant, CWC, Steininger takes a fresh approach, creating a menu with barbecue basics—pulled pork, brisket, and sausage—plus surprises like smoked salmon and fried Brussels sprouts. The Cincinnati sausage, sourced from neighboring Wyoming Meat Market, is filled with a warm spice blend that mimics Cincinnati-style chili, then braided, smoked, and sliced to order. Top with mustard barbecue sauce, and it's like a coney in a bite. Bring the kids and join all the locals—the patio is a delightful hangout this time of year.
400 Wyoming Ave., Wyoming, (513) 679-6797
---
The Southern Accent: Alabama Que
Smoked turkey tips and salmon set the Alabama Que menu apart from the others, as do its efforts to separate pork products from its other meats for those avoiding pig products (the greens and beans are made with smoked turkey, and meats are cooked on their respective grills). Alabama native Dwan Ward, who came to town in the mid-1990s to play football at UC, uses family recipes to turn out a large menu of chicken, ribs, pulled pork, brisket, salmon, turkey tips, cornbread, and cobbler from a tiny storefront near campus. There's not a lot of atmosphere inside, but a ton of variety.
2733 Vine St., Corryville, (513) 376-8781

---
The Honky-Tonk Hipster: Pontiac BBQ
Dan Wright's take on barbecue is down-on-the-farm goodness in the center of OTR. Rustic wood paneling and mounted deer heads greet you along with a mouthwatering medley of multiregional barbecue. The pulled pork, pork belly, and brisket are classic standouts, but for something a bit different, opt for the smoked kielbasa or tender slices of turkey. Don't pass up the green beans—they're a game changer: delightfully charred and dripping in caramelized onions. Wash it all down with a bourbon-based or tiki (yes, really) cocktail.
1403 Vine St., Over-the-Rhine, (513) 579-8500

---
The Smoke Bomb: Smokin' This and That BBQ
In a strip mall parking lot on the outskirts of Florence sits a gargantuan smoker filled with natural hickory and cherry wood. It's what creates the unique flavor profile at Smokin' This and That BBQ, a down-to-earth neighborhood barbecue spot offering a bare-bones dining experience packed full of supremely smoky flavor. Step up to the bar to order from the back-wall chalkboard menu and choose from staples like wings and baby back ribs or quirky dishes like the BBQ Parfait, a hulking Styrofoam cup filled with a tender pile of pulled pork or brisket, topped with baked beans, housemade slaw, and classic barbecue sauce. Bring your tray to an indoor patio table and chair or picnic table to eat while you imbibe to the beat of throwback country music videos playing on a nearby TV.
10020 Demia Way, Florence, (859) 817-0492
Facebook Comments
---