He pushed his way through the double doors at 1403 Vine at around 9 p.m., combat boots clunking their way across the white-yellow-and-black patterned tile. Dan Wright's signature blue bandana forced his hair into a gnarled pseudo-updo, alluding to the excruciating 12-hour day he'd already put in between his other two kitchens down the street. He offered a couple of vice-grip handshakes to customers crowded into nearby booths, and traded a smirk with beverage director Mike Georgiton, whom he affectionately calls "Seabass." And just like that, he assumed control of the kitchen line: sampling sides while expediting orders like a militant air traffic controller. Taking a break never seems to cross Wright's mind.
"What I've learned is that there's a huge difference between opening a restaurant and operating one," he admits. "You pour yourself into building something new, but sooner or later, you unlock the door, look around, and all of a sudden it hits you that you're going to be doing this for the next 20 years or so." Wright says he forced himself to run Pontiac as a restaurateur, ceding chef responsibilities to Senate's veteran chef de cuisine Jeremy Manis. Wright focused on the vision: inexpensive barbecue that draws from multiple traditions—Kansas City, Memphis, and Texas—a few basic sides, and plenty of bourbon, served up in a neon-lit, urban honky-tonk setting.
Wright certainly put in the hours as opening day approached. Once the stand-alone smoker—the size of a Smart car—was installed, he and Manis racked up hours drilling the fundamentals. Texas white oak emerged as the ideal wood, 225 degrees Fahrenheit the ideal temp, and classic beef brisket, as well as pork ribs and shoulders, the bedrock of Pontiac's barbecue. Then there's the sauce, a piquant little number called Burning Love, chosen by the staff after more than 30 taste tests.
But the detail that might be closest to my heart is the ice. Pontiac had me months ago when I learned they'd serve drinks over crushed ice—because nothing soothes meat sweats like sweet tea over a pile of crushed ice. The tea is hardly the glycemic nightmare you'll run up against down in Dixie; in fact, the gentleman next to me at the bar actually sent his back for not being sweet enough. But for most palates, it's strong and fresh—just tannic enough to cut through the smoky swagger of most of the menu.
Strong souls—especially those with designated drivers—won't want to miss the tiki drinks. Wright's Narcolada layers dark rum with mescal for a sweet, faintly citrusy verve, and the coconut syrup and pineapple juice deceptively mask the criminal booziness. Proceed with caution! There's also a bourbon list with more than 75 choices: Splurge on the butterscotch-flavored double-oaked Woodford Reserve or keep it simple with the maple-toned Knob Creek. Servers are also well versed in suds-speak. I tried a White Raja IPA from Brew Kettle in Strongsville, Ohio. Its smooth, hoppy finish provided a welcome respite from the menu's meaty richness.
Snacks are generously portioned and designed for sharing. Fried pickles borrow a trick from Senate's onion rings, combining beer with baking soda, club soda, and flour for an almost ephemeral crust that keeps the chips snappy. Smoked wings get a clever triple-step cooking method—a mere three hours in the smoker for baseline flavor, then a quick deep freeze to ensure crispy skin upon flash frying. The result is a tender yet firm wing that feels fried without the distractions of grease or breading.
But it's the brisket that gets the royal treatment. Thirteen-pound slabs, both flat and point cuts, of Ohio Angus beef are smoked for five hours, then wrapped in butcher paper and smoked for an additional seven, letting the internal juices gently steam the meat, before finally being unwrapped and smoked for two more hours. The fatty end is as creamy as I've ever tasted in a brisket, and the lean end retains that metallic tang of steak, but with all of the texture of pot roast. Hedge your bets and ask your server for a mix of both. The shoulder cut, thicker and rounder than the brisket, gets 12 hours in the smoke with a minimalist rub of salt, brown sugar, cumin, paprika, and cayenne before being shredded for Pontiac's pulled pork. And don't miss the Sunday special: cracked peppercorn crusted smoked-on-the-bone short ribs. Gnawing my way though an order at a table in a dim corner was an ideal way to spend a weekend afternoon.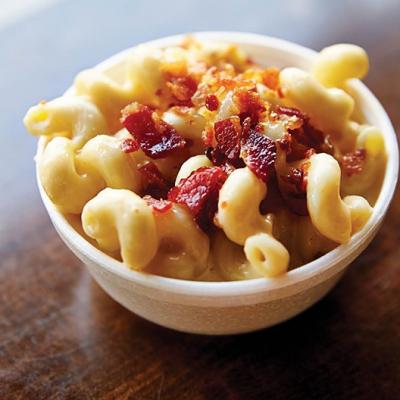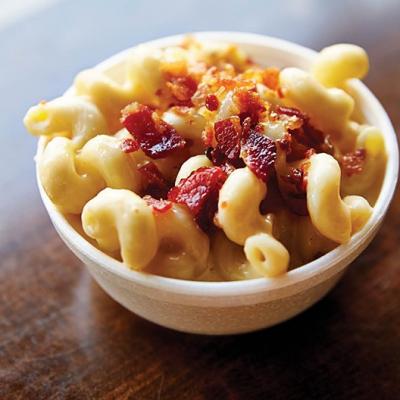 Fair or not, 'cue joints are always judged by their sides. Pontiac's two reliable standouts are the bacon-and-pickled-jalapeño-topped white grits and a silky mac-and-cheese. I tried versions that relied on impossibly smooth Velveeta; the recipe has since changed to use white American. If I have one quibble, it's with Manis's baked beans. They're dense and studded with plenty of brisket bits—no problem there—but there's way too much cumin in the spice mix.
While there is certainly smoke at Pontiac, there are no mirrors. Barbecue often intimidates restaurateurs—it's time-consuming to cook and difficult to hold after service—but it's also a testament to good ingredients and sterling technique. Wright and Manis frontloaded research like madmen and both deserve to watch their labors bear fruit, or in this case meat. We can always use better barbecue in this town, and once again, Wright rises to his own challenge with ridiculously high-quality comfort food at a friendly price point. And while I can't speak for him, I personally have no problem paraphrasing Sir Mix-A-Lot: I like pig butts and I cannot lie…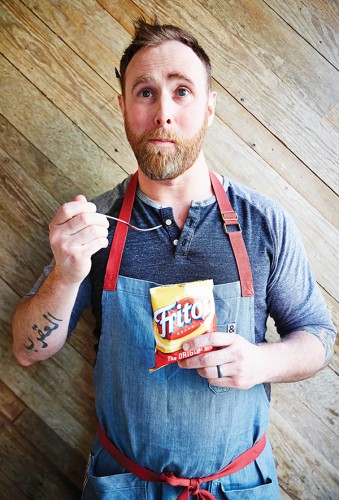 FYI
Pontiac BBQ
1403 Vine St., Over-the-Rhine, (513) 579-8500, pontiacbbq.com
Hours
Lunch and dinner,
Tues–Sun, brunch Sun
Prices
$6 (fried pickles) to $23 (full rack of St. Louis–style ribs)
Credit Cards
All major
The Takeaway
Well-executed and somewhat cheffy BBQ classics served in an energetic shotgun space by solicitous servers who are also eager to keep the tables turning.
Facebook Comments