Need evidence of Cincinnati's growing tattoo industry? Pay attention to the ink on the arms of servers, cooks, and bartenders at any restaurant in OTR. Impressive, no? You can etch your own story at these studios.
1. Crying Heart Tattoo
When it comes to American Traditional tattooing—think tattoo legend and spiced rum namesake Sailor Jerry—no tattoo parlor is more consistent than Crying Heart Tattoo. "It will never go out of style," says co-owner Nate Hudak. "It's what people have always gotten, and will always get." Hudak and Dave Halsey opened the shop in May 2015, adding friend Tyler Abner six months later. The trio ply their trade in a forest green enclave, with a Wes Anderson–like curation of tattoo history, taxidermy, and Americana clutter amid the hustle and bustle of Main Street. Make sure to meet Hank, Hudak's gentle giant of a dog, who is an OTR celebrity in his own right. 1425 Main St., Over-the-Rhine, (513) 832-1756
---
2. Plurabella Tattoo
Since breaking into the industry on Hollywood Boulevard at age 19, tattooing has taken Kore Flatmo to 15 countries and thousands of tattoo shops. But Flatmo flies below the radar in Cincinnati, where he opened Plurabella, his appointment-only studio, in 1999. Since then, he's crafted several revered and intricate large-format tattoos, including a recently finished full-back tattoo of a horse-mounted Samurai charging out of ocean waves, the kind of project that takes up to 70 hours of physical tattooing. Kore also works with his wife, Brenda, and former apprentice Mason Williams, who are unmatched in the Queen City when it comes to portrait work and color realism. "If we were in New York or Los Angeles, Mason and my wife would be very famous people," Flatmo says. 3937 Spring Grove Ave., Northside, (513) 542-983
---
3. Blackbird Tattoo
Have you ever wondered what's behind the random door on the patio at Northside Tavern? Well, upstairs awaits Blackbird Tattoo, a one-chair shop with a DJ-quality sound system blaring underground funk and hip-hop—and one of the most versatile tattoo artists in town. Chris Savage opened Blackbird in 2010 after more than a decade in the local tattoo scene. Unlike many shops in town, Savage's work, by consultation and appointment only, runs the gamut of tattoo styles: American traditional, realism, black-and-white, color, tribal, Japanese. When it comes to custom-designed tattoos, Savage provides an exceptionally personal experience. 4163 Hamilton Ave., Suite 2, Northside, (513) 373-5729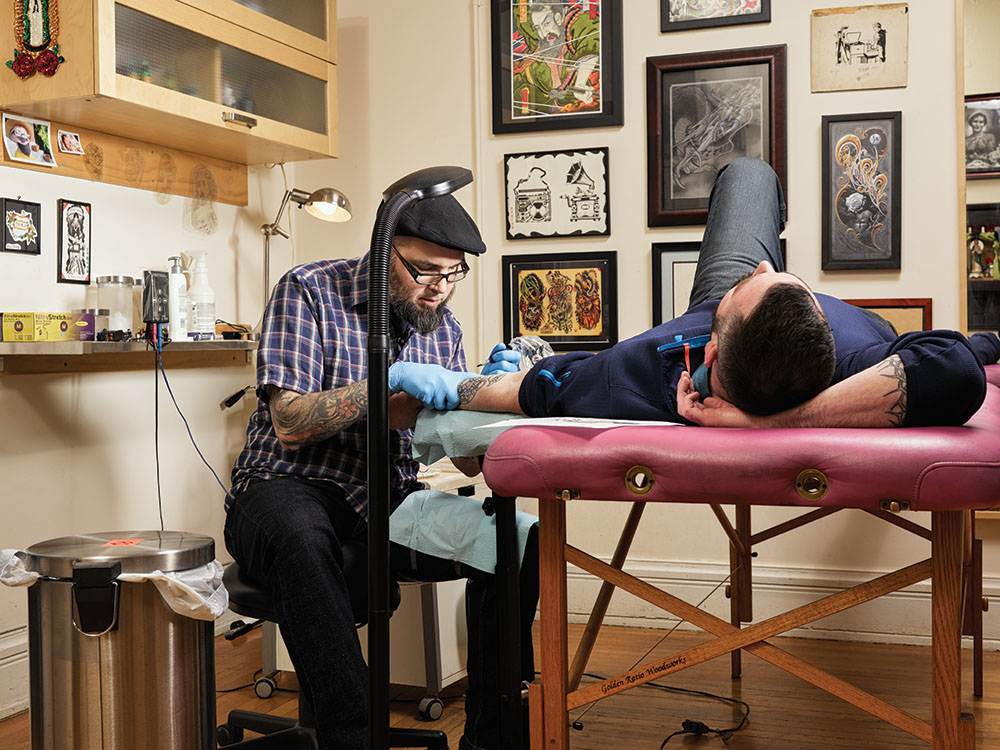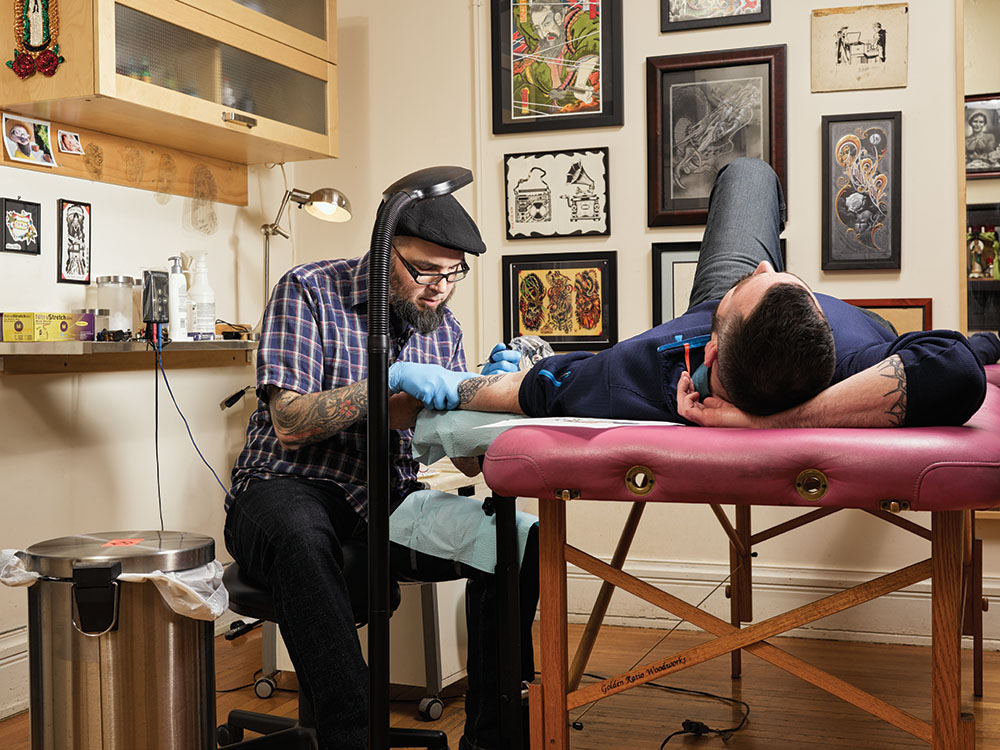 ---
4. Studio 85
Before Jessie Villars decided to open Studio 85 in her hometown in the spring of 2013, the far northern 'burb wasn't exactly part of the tattoo scene.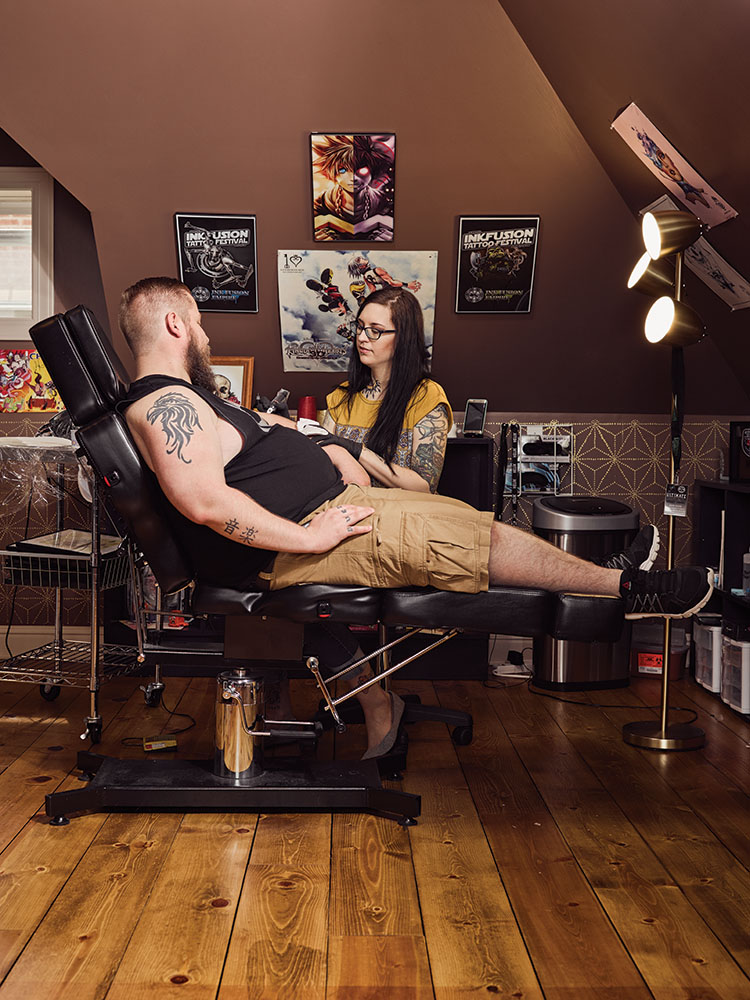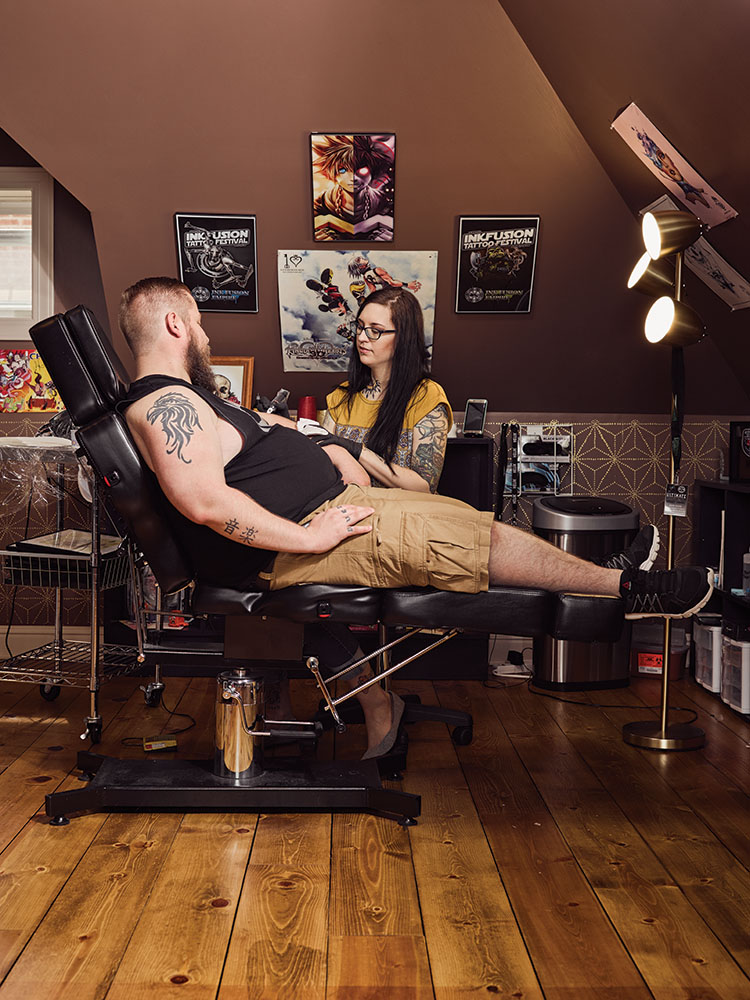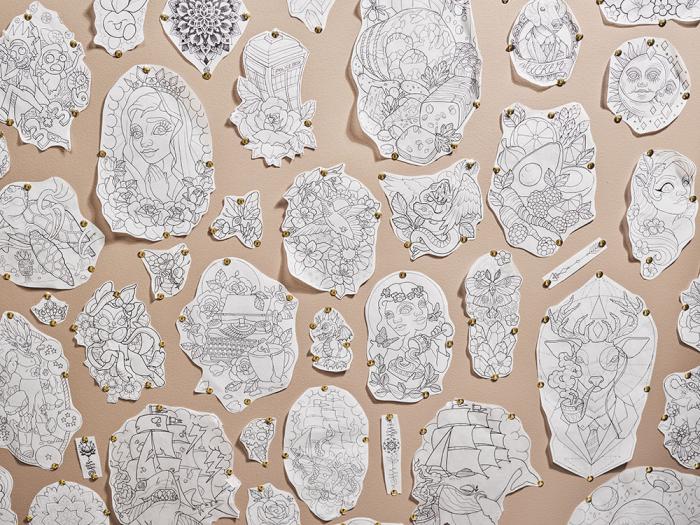 ---
Villars just finished relocating to a larger, stand-alone home in March to accommodate the studio's growing staff and clientele. While some tattoo diehards may scoff at Studio 85's tame, suburban location, it is one of the only tattoo shops in the area to feature artists with a stylistic focus on "New School" tattoos, which often look as if they've been painted on the skin with a brush and not a needle. "We try to stay involved in the tattoo community and stuff that's in style," says Villars. "Whether it's a short thing or a lasting trend, we want to be able to execute the things that are in demand." Villars and the crew at Studio 85 specialize in producing eye-catching, color-centric tattoos with elements of geometry, water color, saturation, and cartoonism. And the next time a new trend emerges? Expect Studio 85 to have it on point. 207 N. Mechanic St., Lebanon, (513) 409-5726, studio85tattoo.com
Facebook Comments