For the entirety of my sentient life, I was blissfully unaware that it was possible for a baseball team to be good. I was born in Pittsburgh and not quite three years old when Sid Bream lumbered home ahead of a throw from Barry Bonds in the 1992 National League Championship Series, a play that sent the Pirates into a 20-year tailspin that failed to produce a winning season, let alone a playoff berth. I grew up thinking Jason Kendall, Kevin Young, Brian Giles, and Jason Bay were great players. (Turns out, they were not.) I remember being downtrodden when Jason Schmidt and Esteban Loaiza, two players the Pirates had traded a few years prior, started the 2003 All-Star Game. (Those appearances accounted for two of their combined five career All-Star Games.) In 2008, I wrote the kind of moody, snarky piece that only a high schooler in a creative writing class can produce, about how the Pirates should sign exclusively players named in the Mitchell Report. (My teacher was not impressed.)
Growing up around terrible baseball gives you two options: you can abandon the sport entirely or find ways to cope with the annual stench. So each April, I squeezed my nostrils with a clothespin, spritzed some Acqua di Gio, and lit up a few Yankee Candles in hopes of making the season more bearable. I say this because Reds fans are going to need to have potpourri and air fresheners at the ready this year. The Reds will not be good. Sure, they had a few moments of competence in the season's first week, but the recent sweep at the hands of the Cubs is far more in line with what we'll see the remainder of the season. Last year, the Reds lost 98 games, and the team is considerably worse at the start of this season. They will not win the World Series, make the playoffs, win more games than they lose, or even provide much real entertainment, aside from perhaps the occasional bit of phallic batter's box humor. But, assuming your threshold for amusement is lowered considerably, and if you look really, really hard, there will be moments throughout each game that aren't so bad.
Baseball provides the kind of satisfaction at the most basic level during horrendous campaigns that other sports can't replicate. A terrible football team will almost certainly lose more than 75 percent of its games in a given year, and might not win any. Similar for basketball. But the length of the baseball season makes it practically impossible to lose that many games. There have only been four seasons in baseball history in which a team lost at least 75 percent of its games. So even if this is the worst season in franchise history, it will provide more positive results than other sports yield in their worst seasons.
That being said, as much as J.J. Hoover seems intent on making it so, I don't think that the Reds will have the worst year ever. (Hey, we're looking for small victories here, people.) And if history is any indicator, this year won't be nearly as bad as last year. That's because since both leagues expanded to 162 games in 1962, the Reds have never had back-to-back seasons of at least 90 losses. Only two other franchises, the Dodgers and the Cardinals, have avoided a prolonged stretch of putridity like the Reds have. In fact, take a look at other franchises that have had far worse streaks of incompetence.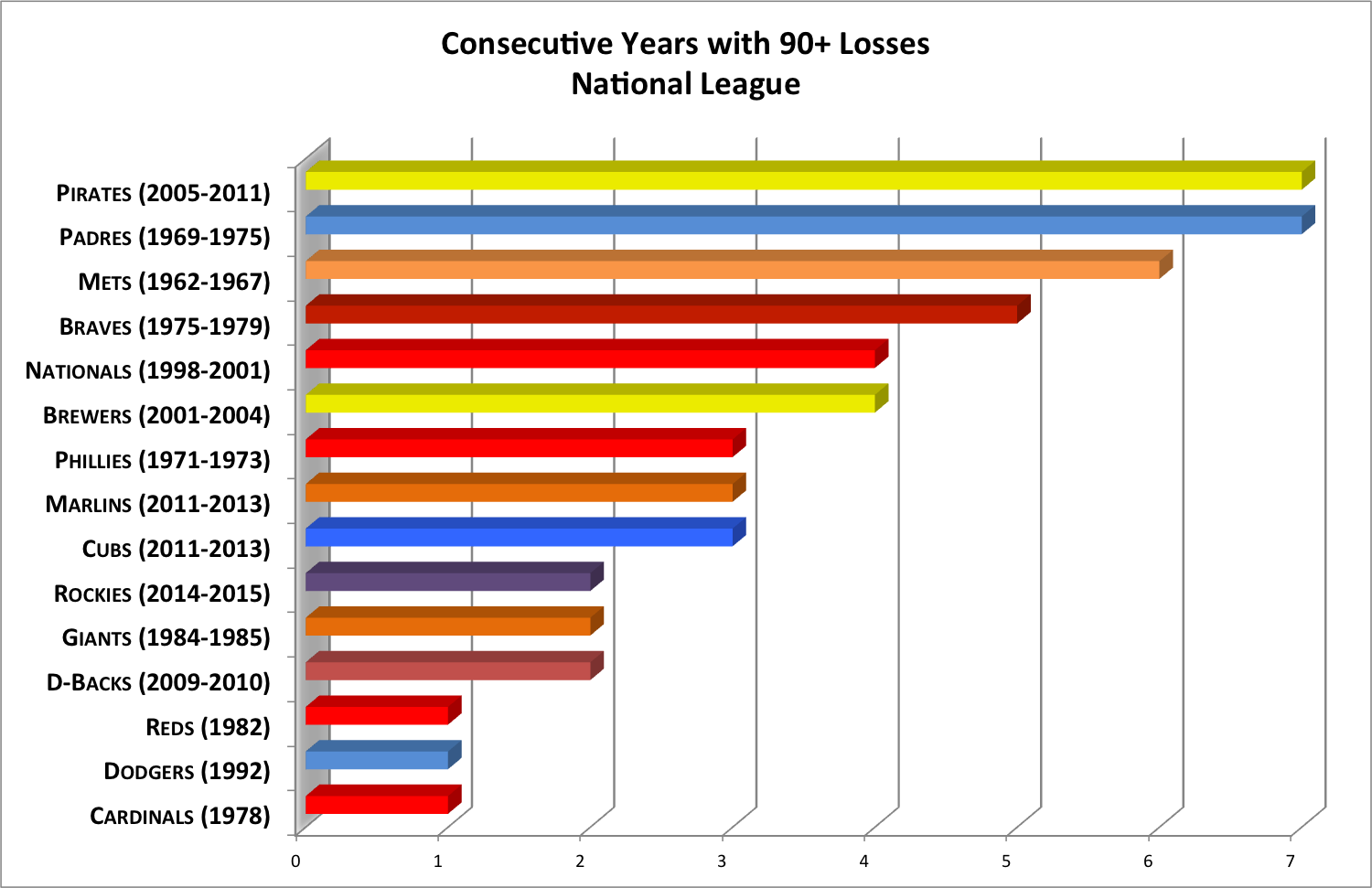 See? It likely won't be all bad.
If/when it is though, accepting your team's own shortcomings can be strangely liberating. You don't have to deal with the stresses of pennant races, one-game playoffs, and playoff rotations. Instead of being frustrated by injuries, you see each DL stint as an opening for a young player. Tickets to games are cheaper, seats less crowded. You can master the art of sneaking into the lower levels once the rest of the fans have cleared out during the seventh inning stretch. (Pro tip: keep your eye on unoccupied lower-level seats for about four or five innings, then pounce in the bottom of the fifth. Ushers lose all interest in ushering after about five innings.)
Plus, there are still moments in baseball that are genuinely more exciting than comparable moments in other sports. Touchdowns come in all shapes and sizes, and when your team is bad, they often are of the boring, four-yard run variety, if they ever happen. Long threes and dunks are cool, but so commonplace that they rarely have a lasting impact. Home runs, however, are badass regardless of when they occur or how far they go. And if you truly detach yourself from the result of the game, you may be able to see something special from the good teams playing against your lousy team. Now, you may puff up your chest and say that you would never want your team to be no-hit, but my dad and I attended a game in 2008 and saw CC Sabathia throw a one-hit shutout against the Pirates, with the lone hit coming on a play that I am still convinced was an error. It was, to that point, one of my most vivid baseball memories. (While you judge me, please remember, this was year 16 of 20 losing seasons and smack dab in the middle of the 90-loss streak above. Our cleanup hitter for that game was Jason Michaels, for God's sake.)
Things might not be that bad yet for the Reds, but the principles of appreciating shitty baseball still apply. This summer, attending a baseball game will become another casual summer entertainment option, where you can sit outside, eat food and drink beer, chat with friends, and occasionally see something cool happen on the baseball field without worrying about the end result. Billy Hamilton will still be fast (assuming he ever gets on base), Brandon Phillips might make a nifty turn at second (assuming he's still on the team), and who knows, maybe one of the young pitchers will flash something that makes him seem like an ace.
Wallowing in the alternative will only lead you to deep, dark places. (Trust me, I know.) Cincinnati, it's time to adopt the glass quarter-full approach and learn to truly appreciate crappy baseball.
—
Adam Flango is an associate editor at Cincinnati Magazine. You can follow him on Twitter at @adam_flango.
Facebook Comments