Saks Fifth Avenue has been a downtown Cincinnati retail staple for decades. As the luxury department store stays true to its high-fashion identity with the highest quality customer experience, a new general manager has stepped in to carry those values into the years ahead.
Eric Newsom, former assistant general manager at Saks Fifth Avenue in Beachwood, Ohio, brings over 20 years of retail experience to his new role in the Queen City. Despite the rise of digital sales, Newsom sees no end in sight for Saks' downtown brick-and-mortar location—and, don't worry, it's not moving to Kenwood.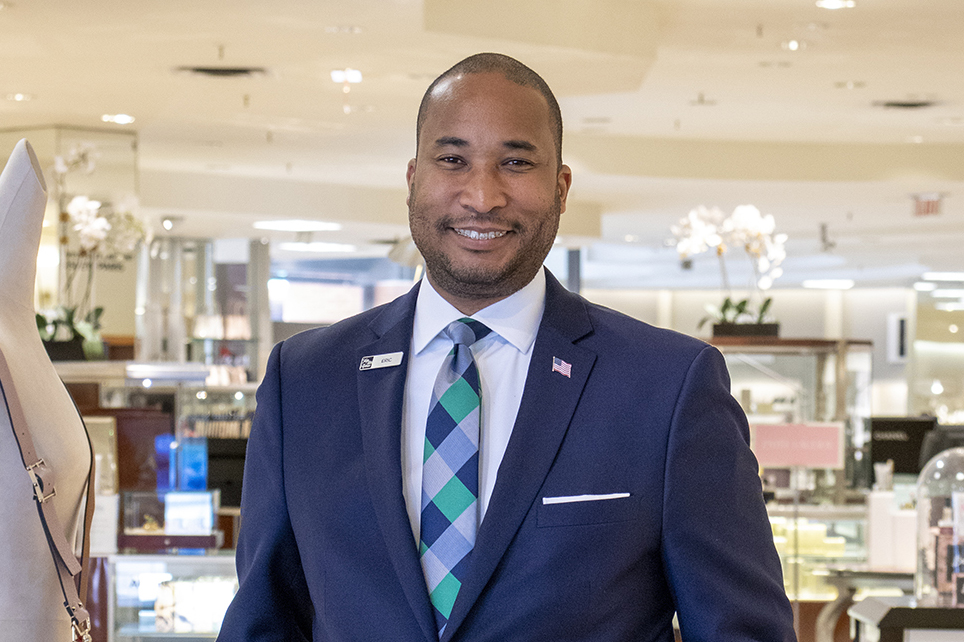 When did you take over as the General Manager of Saks?
I started officially on February 16, 2019, and I was announced to the store in late January. I went back home, got my affairs in order, and I made the final trek here.
Where did you work prior?
I've been with Saks Fifth Avenue for nine years now. I spent the previous eight years as the assistant general manager in Beachwood, a suburb of Cleveland. Before that, I had done a few years with Macy's department stores and Dillard's department stores. Dillard's is really where I grew up and got my start in retail. I spent about 12 years there.
I started on the selling floor in the men's department as a very young, young man. I think I was about 2 or 3 years old (laughs jokingly). I did a nice job with that, and I enjoyed my experience. After that, I went into selling management, merchandising management, and store executive management.
So why did you decide to come to Cincinnati?
First of all, it's a good store, and it's an important store to the city. When the offer was presented to me and I spoke with my principals, it just seemed like a right fit. What appealed to me most was that it was still in the state of Ohio. It reminded me of Cleveland, where I grew up, and I've heard fantastic things about the foundation of the store and the folks who work in the store. It just seemed like a natural fit. It was a no-brainer to come work here.
What are you most excited about in this new position?
I think learning—and learning on a multitude of levels. I'll learn more about what my role entails, how I'm expected to engage with the community, as well as how I'll connect with my store staff and vendor partnerships. Meeting new people, forging new relationships, and the job, as a whole, are what excite me the most.
The store and community have provided an overwhelmingly welcoming experience. I'm excited about being here, the job I have to do and how we can move forward in the weeks, months, and years to come.
Is Saks making any changes in the near future that shoppers should be tuned into?
We are continuously committed to offering that elevated experience for every guest that walks in. By in large, it's Saks Fifth Avenue. It's a name that's synonymous with luxury. It's a name that's synonymous with high fashion. We aren't departing, in any form, from those roots.
My vision is different because I'm new, and that doesn't make it a better vision. It's just a new one. My vision is to take some of the things we've done in our other stores and apply them here to make certain every person has nothing less than a pleasurable and luxury experience.
There's been an idea thrown around that this store might move to Kenwood. Do you have a comment on that?
We are here to stay in this downtown location.
Why do you think this physical location is important to Cincinnati as many retail sales shift to online?
You're right, online is the big competitor. When you talk about your competition—once upon a time, when I started doing this years ago—you were talking about a whole other retailer. We compete a lot with our own web sales. The reason why this location is so important is because it's been here for over 30 years in the downtown location. In just the little bit of time that I've been here, people have said to me, 'Please don't leave. We want to keep our location downtown.'
I know retailing has shifted from downtown locations into the suburbs. But I still think there's something very nostalgic and special about being in this downtown location. We're around a lot of hotels so a lot of tourists come to town. In many cases, people are walking into Saks Fifth Avenue Cincinnati or Saks Fifth Avenue, in general, for the very first time. That gives us a platform to provide a unique experience day in and day out. We are excited about bringing new folks to the party.
With respect to internet sales, I think all the more important for myself, my team, and my staff to celebrate those who are walking in the store. We live in a world that's all social media. It's texting. We've almost lost the art of personal engagement. It's just not as common as it once was. So I think when people walk through our doors, we should be throwing confetti and celebrating. We should let customers know that we appreciate that they chose to come here when they could have gone to any other store in the city or on the world wide web.
Plus, I'm the type of person who likes to touch, feel, and try things on. So there's still a segment of the population that is still interested in coming in to the store and having a personalized experience.
Are there any sales coming up that Cincinnati shoppers should look forward to?
Yeah, we are actually in the middle of our double point sale and sneak peak sale right now.
The Oscar de la Renta trunk show is coming up in June. Our biggest charitable event is also coming up in September, where we are partnering with Dress for Success as we've done in years past.
Facebook Comments