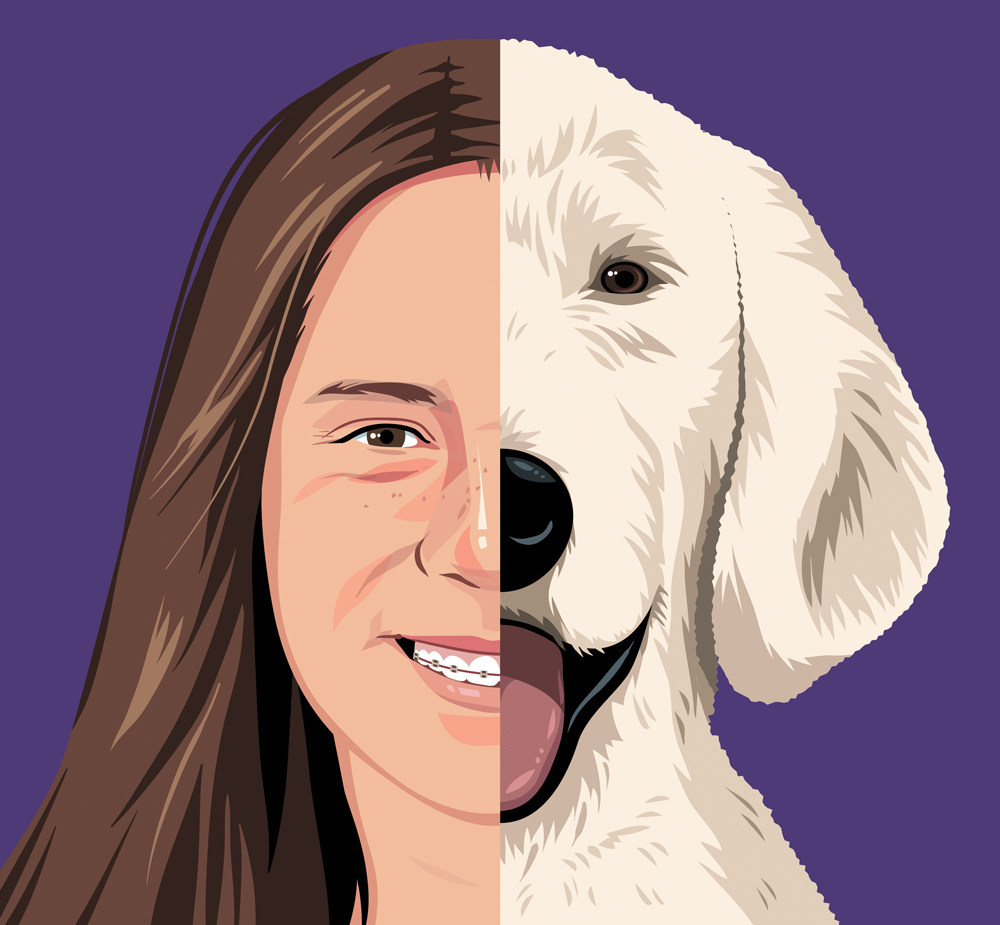 The first time Corrine Gogolewski had a seizure, it happened overnight when she was about 9 years old. Her mother, Beth, heard a small noise, looked in on her, and found her face-down on her pillow, not breathing. Since then, Beth has slept on the floor in her daughter's bedroom in their West Chester home. Indeed, the whole family was immediately on high alert, monitoring Corrine's every move day and night. Her twin sister, Carly, felt responsible for helping to keep her alive.
But things have changed for the Gogolewski family, and we see how in season one of Netflix's series, Dogs, which first aired in November 2018 and remains available on the streaming service. Dogs features six stories from around the world that explore the bond that people and dogs share. In the first episode, we see then–12-year-old Corrine's battle with epilepsy and the toll it takes on her and her family.
For many months, Corrine and her family worked with 4 Paws for Ability, a Xenia-based agency that breeds and trains service dogs and matches them with clients, many of whom are children. "That's an underserved population," explains Development Director Kelly Camm. Many agencies have a minimum age or ability level for a service dog client, which leaves out countless children who would benefit dramatically by having one. In its 21 years, 4 Paws for Ability has placed more than 1,300 dogs, currently placing about 100 a year.
Dogs documents Corrine's first meeting with her own service dog, Rory, which 4 Paws for Ability trained specifically for her medical needs. In eight training sessions each year, families come from all over the U.S. and the world to spend 12 days learning everything they can about their dogs. (Families have the option of staying at the Dayton Ronald McDonald House during their visit.) The training room is a hopeful place, filled with dozens of excited children and their families and the happy, well-trained, affectionate dogs they'll be taking home.
Even though there are cute dogs aplenty, this show isn't exactly the Puppy Bowl. The hard truths come fast and furious, starting with a sad moment on the show when Carly realizes that she won't even be getting the "family dog" she's been hoping for—siblings are forbidden from feeding or playing with a service dog, lest they form their own bond that displaces the dog's intended human partner. (There's a happy ending here, though: Carly was able to get a "client companion" from 4 Paws.)
For her part, Beth still sleeps on Corrine's bedroom floor. But she rests a little easier knowing that Rory is there alongside her.
Facebook Comments