Editor's note: Blume's floral studio has moved to SKY Flower Farm in Burlington, Kentucky.
Are you in the market for a fresh bouquet or potted houseplant? These five local shops have what you need and more.
1. Two Little Buds
Alice Francis and her daughter Mindy Francis Staton know flowers. The duo started making wedding arrangements at Alice's greenhouse in Oxford 14 years ago. In 2007, they opened a storefront in Fairfield Township, where Two Little Buds operated for 11 years before relocating to Hamilton last April. Providing fresh, local flowers for wedding and personal arrangements is a top priority. From April to early November, Two Little Buds sources 65 percent of its flowers from Morning Sun Flower Farm, which Mindy and her husband Josh launched at their home in 2015. Can't make it to the studio or farm? Two Little Buds offers a create-your-own bouquet bar with fresh stems at Lane & Kate, a jewelry store in Over-the-Rhine. 17 N. D St., Hamilton, (513) 816-7742
2. Blume
Local flowers are important to Sande Yelton, too. She and her husband Doug have owned and operated SKY Flower Farm in Burlington for the past five years.
"We did farmers' markets for a while and couldn't quite get over that marketing hump, so I finally pulled the trigger on opening a brick and mortar." That happened last October, when Blume debuted in Covington. The floral studio offers arrangements for weddings, events, and the home. Yelton's work features flowers from her own farm and other Ohio-based growers. The beauty of it, she says, is that every piece is unique. "There is no cookie-cutter arrangement. Everything is an original creation." 607 Main St., Covington, (859) 360-6064
3. Fern
Fern doesn't sell flowers. Instead, it offers a curated selection of indoor plants and handmade planters.
"Plants are the easiest, fastest, and cheapest way to transform your interior space," says Megan Strasser, who opened Fern in May 2014 in an old gas station she renovated in College Hill. The Cincinnati native's eye for design helps her pair plants with planters. (read more here.)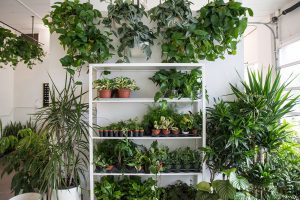 Worried you don't have what it takes to be a plant parent? Strasser says don't stress. "We don't have a lot of plants that are really difficult, because I don't think that's fun for anybody." 6040 Hamilton Ave., College Hill, (513) 541-1269
4. Gia and the Blooms
When Yuliya Bui moved to Cincinnati from Minsk, Belarus, 11 years ago, she noticed a difference in flower cultures. In Europe, there's a little floral shop or kiosk on every corner." Inspired by a lack of flower shops, she opened Gia and the Blooms in Over-the-Rhine in May 2016.
To eliminate flower waste, Bui's shop offers limited vase and burlap-wrapped bouquet styles for weddings, events, and same-day delivery within a 20-mile radius. She also sells single stems, houseplants, planters, and greeting cards. The best part? Its charitable cause: Named after Bui's rescue pit bull Gia, the flower shop donates a portion of proceeds to the SPCA. 114 E. 13th St., Over-the-Rhine, (513) 487-0915
5. Eden Floral Boutique
Customers here are greeted by Mike Tyson, a photogenic 1-year-old Havanese, and Mia, a 5-year-old Lhasa Apso. The dogs belong to store owners Kelly Murphy and Kelly Dragoo, who recognized their mutual love of flowers when they met 10 years ago. "We couldn't find the right storefront at that time, so we worked out of my basement in East Walnut Hills for the first year," Murphy says. In spring 2009, they moved shop to OTR, where they offer custom arrangements for weddings, events, and everyday delivery. Eden also features a flower bar, and sells houseplants, vases, gardening equipment, and more. And, yes, you can bring your dog in, too. 1129 Walnut St., Over-the-Rhine, (513) 281-3336
Street Smarts
These shops host seasonal workshops, too. Learn how to arrange flowers at Blume
and Two Little Buds, or try your hand at everything from calligraphy to weaving at Fern.
Facebook Comments