Editors' note: The Barrett family sold this home in 2020 and in early 2021 it was demolished.
People still build homes as big as this 9,400-square-foot Hyde Park castle today, but it's safe to say that almost none of them are made entirely of Indiana limestone. This grand manse was built in 1906 for unmarried heiress Mary Hanna, who inherited a vast fortune from her father Henry, a coal, iron, railroad, and real estate magnate. Mary put her inheritance to good use, building a new wing at the Cincinnati Art Museum and helping found Fresh Air Farm in Terrace Park for "convalescent" youths. (Now known as Stepping Stones, it serves children, teens, and adults with disabilities.) Although Mary technically lived alone, a small army lived on the estate with her, both in the servants' wing and in outbuildings, including a three-story stone carriage house, a Tudor-style gardener's cottage, and a wood-sided caretaker's home.
The estate has been whittled down over the years; parcels were sold off for what eventually became neighboring homes on Grandin. Charles Barrett, who would become both CEO of Western-Southern Life Insurance and namesake for the University of Cincinnati's Charles M. Barrett Cancer Center, and his wife May Belle, bought the estate in 1957 and raised six children there.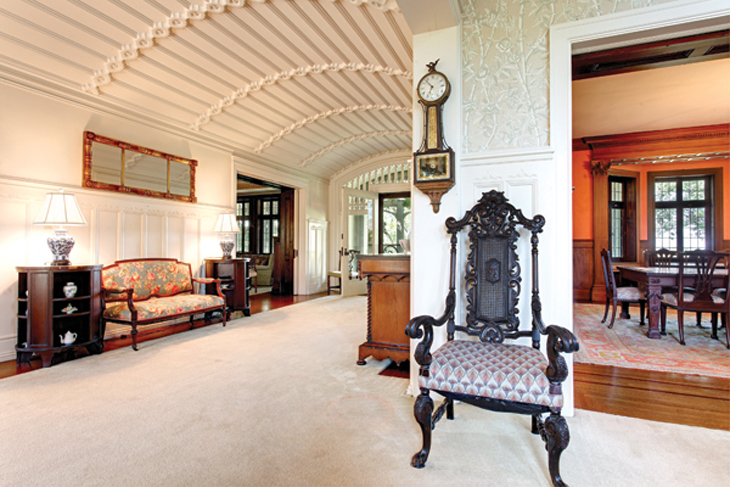 Now on the market for $2,950,000, the house is full of well-preserved details that will make architectural purists swoon: interior shutters that fold into decorative wall pockets, twisted copper gutters, and a brilliant green tile roof. Even the footprint of the estate's original greenhouse, which once abutted the gardener's cottage, is still intact, planting beds and all—despite the fact that the structure's glass walls were removed many years ago. Seems pretty clear that quality lasts.
Facebook Comments