As construction progressed on this luxury mansion, word got out that something extraordinary was happening in Edgewood. With the owners' names being kept under wraps, rumors circulated that this nearly 16,000-square-foot palace was the future home of Reds first baseman Joey Votto…or perhaps a Hollywood megastar with family ties to Kentucky. (Yes, some of us were hoping George Clooney.) The story was picked up by 182 U.S. news outlets and one online magazine in the U.K.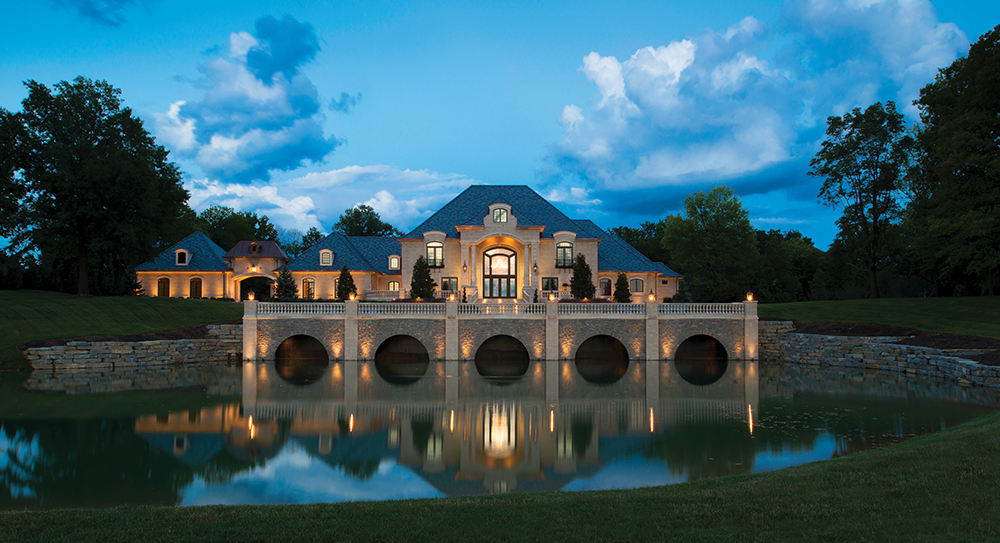 The homeowners, in fact, are not celebrities, and it isn't star power that makes the project so extraordinary. What separates this mansion from its new-construction, home-tour cousins is the fact that it was built the way Cincinnati's grand estates used to be built: by hand.
"Everybody who touched the house had the feeling that we were doing something special," recalls building designer Mike Studer of Studer Residential Designs, Inc.
Led by builder Tim Burks, interior designer Grace Jones, and Studer's team of building designers, hundreds of craftsmen—some of them bearing their great-grandfather's Old World tools—built a European chateau that looks like it has been part of the landscape for hundreds of years.
"We unified to become the creative force that drove this house and brought it to fruition," says Jones, owner of Dwellings in O'Bryonville. "All the pieces of the puzzle fit."
France, Germany, and Ireland all lent their influence to the architecture and the interior design. True European design, Jones notes, is a confluence of styles that comes from countries in close proximity to one another. And since nothing in the interiors was mass-produced, Europe was also the primary source for wall coverings, fabrics, and other furnishings.
The house was meticulously planned, from the 22-step finish on the woodwork in the library, to the hand-applied latticework moldings, to the hand-fabricated limestone baseboards.
But the true feat of the house is not the opulence, it's the livability—something noted by many visitors to the home during the May 2013 Northern Kentucky Cavalcade of Homes.
"At the end of the day, the clients wanted the house to feel like a home," Jones says. "They felt anybody could build a big mansion, but the trick to all this was for it to be a functioning, warm, livable home."
Originally published in Cincinnati Home 2015.
Facebook Comments