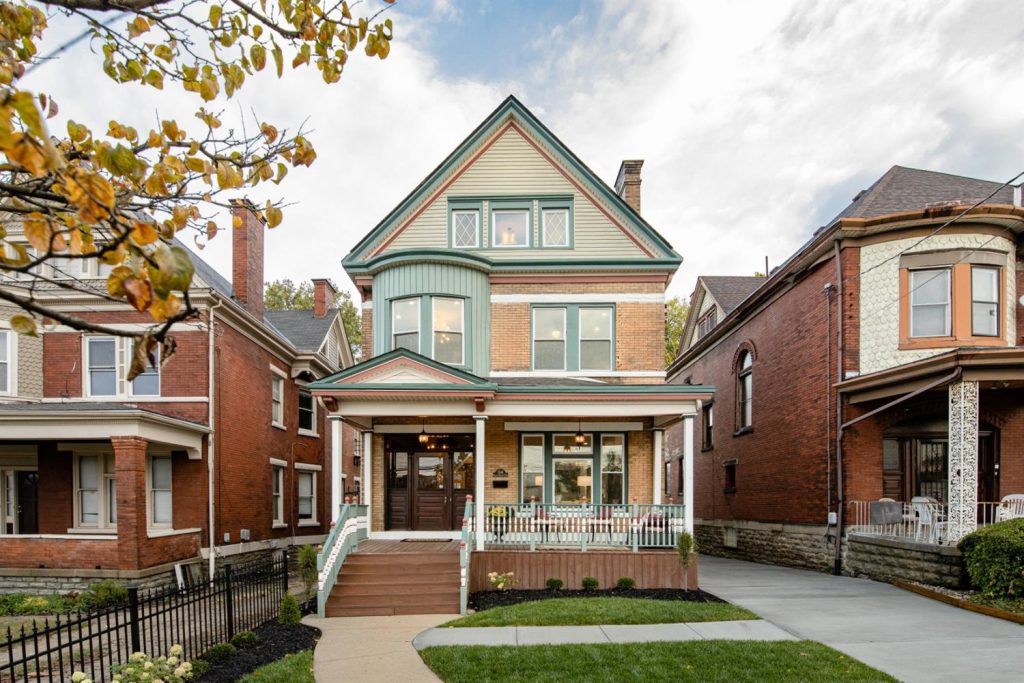 If historic homes are your thing, this East Walnut Hills rehab is right up your alley. Tim Hillgrove and Courtney Ram of Hill Vision Properties took this 1908 foursquare and focused on restoring rather than redoing. "The home was tied up in probate for a few years before we bought it," Ram says. "During that time it had been broken into and stripped of some of the most intricate details—the original stair system, both of the first floor mantles, two sets of pocket doors, and all of the original door hardware was gone." While the home was robbed of anything of value, Ram says the home was well-kept by the previous owners and prioritized restoration to make them proud.
The home boasts five bedrooms and five baths and for Hillgrove and Ram, it was love at front door—literally. "Of course we restored that," Ram says. "We saved everything and even added back period-appropriate character where it was missing. We didn't let anything go to waste." The duo started the project by labeling each piece in the home. From door and window casings to baseboards and original door jambs, they salvaged the majority of what was left and repurposed it in the final product—panels of broken doors became built-in storage benches, as just one example.
When you walk up to the home, the entrance includes a full-length porch and a triple-panel front door. Inside, the grand staircase is immediately to your left and the open floor plan offers a glimpse of each first-floor room: dining room straight ahead, and living room and kitchen to the right. Dark hardwood floors mix well with warm exposed brick and white walls. The living room features a fireplace and the space flows into the kitchen, where a 9-foot waterfall countertop island serves at the centerpiece of the room. Blue cabinets pop with gold hardware and two gold sinks, one in the island and one that's in a second prep and storage station. Other elements in the kitchen include black stainless appliances, a wine cooler, built-in Bluetooth speakers, and a fully-restored butler pantry.  "This is the ultimate entertainment space," Ram says. "We can't help but dream of how incredible holidays will be for the family that gets to live in this home."
Upstairs, the bedrooms are also rehabbed, including the master with a mantel with attached mirrors. The master bath features both old and new details, from a pocket door and claw-foot tub to the double vanity with brushed gold hardware and a massive glass-enclosed shower space. Other rooms include an emerald green office with a starburst pendant light, a modern bath, and a third floor with a sitting area, a bathroom, and two more bedrooms. Additionally, there's a fenced-in backyard with ample space on the deck. A historic masterpiece, indeed!
Click through our gallery to see more photos (by Hailey Bollinger) of this home:
Facebook Comments