→ Newport
Exploring the bars around Sixth and Washington.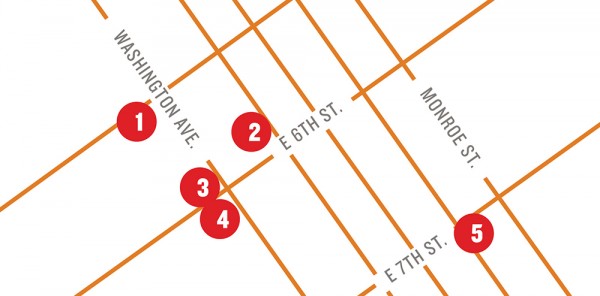 1. Mansion Hill Tavern
Got the blues? So does MHT, where weekly live jams rock this small, divey spot. 502 Washington Ave.,
(859) 581-0100
2. Coaches Corner
The front room will be packed, but stick with it. They've finally gone nonsmoking, and a surprising draft selection makes your wait for a seat worthwhile. 317 E. Sixth St., (859) 261-2800
3. Newberry Bros. Prohibition Bourbon Bar
A neon sign shouts this place's allegiance, advertising "Pappy Van Winkle" to all comers. 530 Washington Ave., (859) 261-9463
4. Pompilio's
Worth a visit for the gorgeous bar back and the history, as well as a not-shabby bourbon list. 600 Washington Ave., (859) 581-3065
4. Jerry's Jug House
One block south, on Seventh Street, visit Jerry's for a glimpse of what a neighborhood bar/carryout used to be in this working-class area. 414 E. Seventh St., (859) 261-5696
---
→ Northside
Diverse destinations for drinkers.
1. Boswell's
Named for the alley out back, this neighborhood joint has a great patio, friendly bartenders, and a sandwich- and burger-heavy menu. 1686 Blue Rock St., (513) 681-8100
2. Urban Artifact
This brewery, located in the basement of a former church, specializes in sour beers. (And they have a full bar if you don't like those.)  1660 Blue Rock St., (513) 620-4729
3. Bistro Grace
Six taps, a dozen seats, and good bourbon (plus a quirky wine list and fun cocktails) inside a chic bistro. 4034 Hamilton Ave., (513) 541-9600
4. The Littlefield
A wee, bourbon-centric resto-bar, with cocktails that benefit local nonprofits. Drink for a cause! 3934 Spring Grove Ave., (513) 386-7570
5. Arcade Legacy: Bar Edition
Nerd out on the  arcade games, pinball machines, and console games while sampling hot dogs, brews, and cocktails. Who's got next? 3929 Spring Grove Ave., (513) 429-3180
---
→ Cheviot
The west side is the best side for partying down.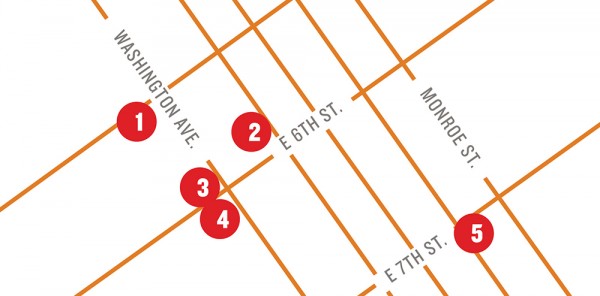 1. The Public House
Start your journey with a pint of Guinness at this revamped Irish pub with a full menu. 3807 North Bend Rd., (513) 481-6300
2. Game Time
With 40 taps, a slew of TVs, and the sand volleyball court/tiki bar outside, this could be your new home away from home. 3613 Harrison Ave., (513) 661-9464
3. Keller's Cheviot Café
Tucked just off of Harrison, the bar in the cozy front room serves up craft drafts, not the canned beer you might expect. 3737 Glenmore Ave., (513) 661-9678
4. Second Street Saloon
It's been in the neighborhood for about 20 years, but its original home was downtown. You can't miss the red Riverfront seats out front. 3703 Harrison Ave., (513) 389-1900
5. Maury's Tiny Cove
Step back in time and have a nightcap at this west side institution, where a dancing bull wearing a bib raises his martini in a toast to your adventurousness. 3908 Harrison Ave., (513) 662-2683
---
→ East Walnut Hills & Walnut Hills
First-ring suburbs call for second rounds of drinks.
1. The Growler House
This bar was a case of love at first sight for us, and it's not letting up. Great service sans beer snobbiness; 30 delicious taps; perfect for sampling and taking your favorite to go. 1526 Madison Rd., thegrowlerhouse.com
2. O Pie O
When we manage to stop stuffing our faces with honey-vinegar pie and empanadas, we love to drink here, too. Try the by-the-glass wine list, or crank it up with a half-priced bottle on Wednesdays. 1527 Madison Rd., opieo.com
3. Myrtle's Punch House
Feel classy as hell sipping the rotating (potent!) craft punches out of a small teacup, or from a bowl to share. Plus, as of April 15, they serve food to boot. 2733 Woodburn Ave., wellmannsbrands.com/myrtles
4. Fireside Pizza
Wood-fired pizza, craft taps, and great cocktails inside the city's oldest standing firehouse? Yes please—especially when the giant sliding stacker front doors are open. 773 E. McMillan St., firesidepizzawalnuthills.com
5. The Greenwich
End your night at a neighborhood institution. The plain facade opens into a lush interior that regularly showcases some seriously good jazz and spoken word acts. 2442 Gilbert Ave., the-greenwich.com
---
→ The Streetcar Shuffle
A boozy way to walk—and in a few months, ride—the line.
1. Moerlein Lager House
A short jaunt south of the lower loop, the large patio offers unbeatable views and the adjacent lawn is ideally suited to soaking in and working off the brews. 115 Joe Nuxhall Way, moerleinlagerhouse.com
2. Via Vite
Five words: Happy hour on the terrace.  (Full disclosure: We've waited as long as we could justify before sharing this specific find.) See you there. You better save us a seat. 520 Vine St., viaviterestaurant.com
3. Arnold's Bar & Grill
It was in business when the original streetcar was carting Cincinnatians about town, and it's still going strong. Cheers to that—preferably in the courtyard.
210 E. Eighth St., arnoldsbarandgrill.com
4. Zula Restaurant & Wine Bar
One glance at the extensive, affordable list of wines by the glass (we're talking 10 wines that are less than $6 a glass, with plenty more in the next price brackets), and you'll never look back. 1400 Race St., zulabistro.com
5. Rhinegeist
The ever-growing brewery (in the old Moerlein bottling plant) is at the top of the line. Check out the new rooftop bar, and be prepared for cornhole, ping pong, and many a baby shower on the main level. 1910 Elm St., rhinegeist.com
Facebook Comments