We visited a slew of Queen City pizza parlors to come up with this list of the top 25 best pizza places in Cincinnati.
1. Taglio
You could Google "Detroit-style pizza." Or you could just go to Taglio. This Columbia-Tusculum restaurant (corporate cousin to A Tavola) serves up 18-inch rectangles of greatness that Motor City residents have loved since mid-century. Detroit-style pizza is a burly setup: crunchy, chewy, and distinctly not foldable. Taglio's version is pumped up further still with edge-to-edge ingredients, plus bracing flourishes like fresh garlic and hot honey (it's magically delicious, especially with pepperoni). Taglio opened as a tiny carry out in a Columbia Parkway strip mall in 2015 and has since doubled down, adding a full bar (try the Nero Manhattan) and a full menu (get the mozzarella sticks, by any means necessary). When you're ready for a serious dinner of seriously non-wimpy pizza, Taglio awaits. 3531 Columbia Parkway, Columbia-Tusculum, (513) 321-0454, eattaglio.com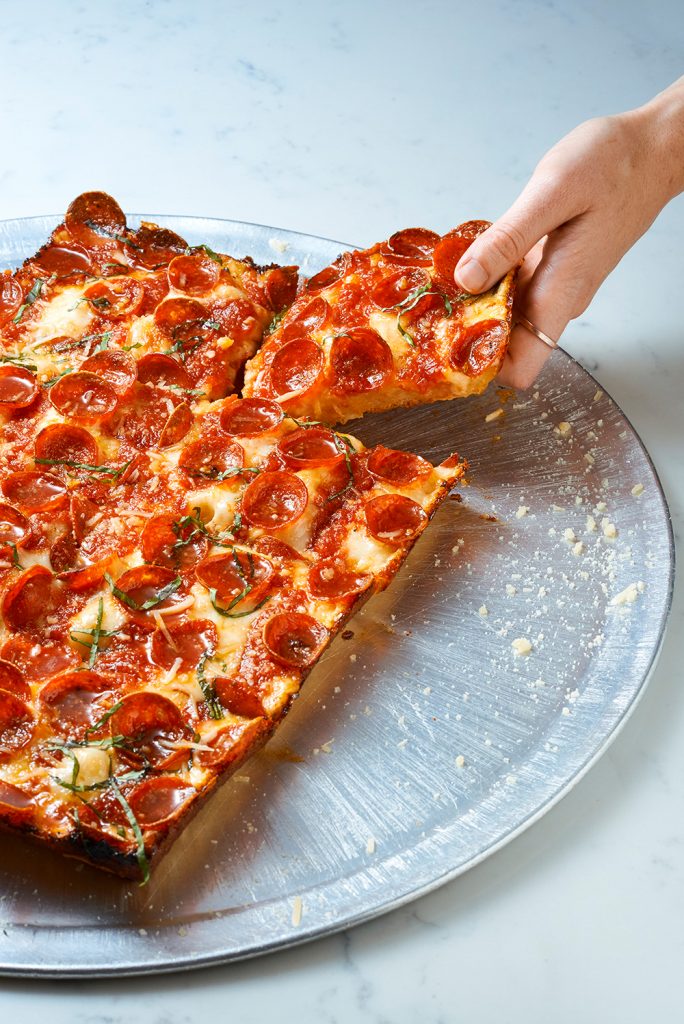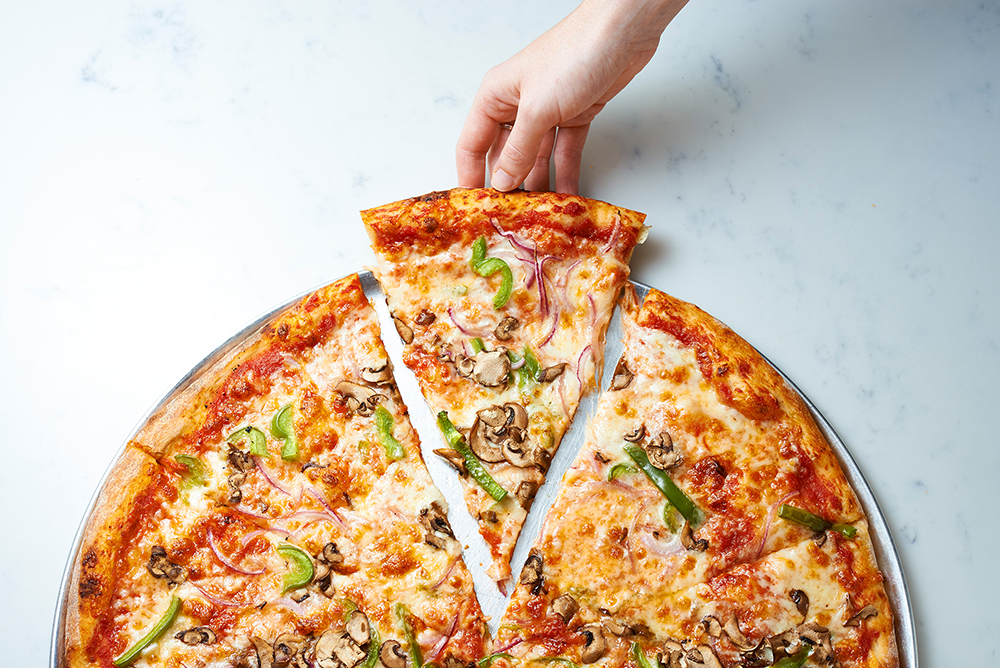 2. A Tavola
First, pick a scene: OTR's urban Gateway Quarter or Madeira's suburban business district. Then make your way to A Tavola, which has set the standard for pizza in both neighborhoods. Founders Sam Ginocchio, Jared Wayne, and Bill Draznik didn't have formal training in the art of pizza making, but that didn't stop them from learning it better than most, helped along by a Stefano Ferrara wood-fired oven, which is necessary for the charred air bubbles of A Tavola's Neapolitan crust. (Bonus: You can also get a cracker-like Roman-style crust in Madeira, from that location's Italforni Bull Oven.) Build your own from the fancy ingredients list, but know this: Nobody in Cincinnati does Margherita pizza better than A Tavola. 7022 Miami Ave., Madeira; atavolapizza.com
3. Marion's Piazza
Don't let the location fool you; this is Dayton-style pizza, born and bred. If you aren't sure how it's defined, let us fill you in: Its toppings sprawl edge-to-edge over cracker-thin crust, cut into tiny, bite-size squares. The rest varies, but that crispy crust is non-negotiable—and Marion's does it exceptionally well, with a golden-bottomed foundation for its heavy-handed topping style. Each miniature slice holds up to a generous amount of sauce, cheese, meats, and veggies. The sauce—perfectly seasoned, lightly sweet, and a hint spicy—works hand in glove with the rest of the components and doesn't overpower. 6176 Soundwave Blvd., Mason, (513) 398-9998, marionspiazza.com
4. Camporosso
In 2017, Eric and Amy Redfield (campo = field; rosso = red; get it?) revamped a Ft. Mitchell gas station, installing two imported-from-Italy ovens—one wood-fired, for Neapolitan pizzas, the other a deck oven, for Americano-style pies. The Neapolitans come out bubbly, the crisp crust marked by a little char. (Try the soppressata hot honey; the meat is a richer trade-up from pepperoni, and the subtle sweet heat provides nice balance.) The Americanos have a slightly thicker, crunchier crust, and on the Supreme, the excellently briny housemade mozzarella tops crisp veggies and a sauce that balances tomato with basil and oregano. The small bar has beer and wine on tap, and a nice selection of bourbon. 2475 Dixie Hwy., Ft. Mitchell, (859) 331-0155, camporosso.com
5. Two Cities Pizza Company
An honest-to-goodness Chicago-style deep dish is not the easiest thing to find in this city. Add a dueling New York–style thin slice, a sizable draft beer list, a comfy outdoor patio, and loads of tasty sides, and you've got our attention. With its "NYCHI" concept, Two Cities essentially dares you to pick a favorite: foldable slice-lovers to the left; fans of the saucy, knife-and-fork variety to the right. Or do as we did and go for both. The Big Apple version shines in its soft, thin crust and flavorful, fresh cheese and toppings; and the Windy City's pie explodes with fresh tomato and mozzarella flavor, plus a to-die-for caramelized edge on the lip of the crust. 202 W. Main St., Mason, (513) 770-0000, twocitiespizza.com
6. Via Vite
In its almost 11 years of operation, Via Vite has mastered thin crust pizza. Its wood-fired pies are cooked to perfection, with just the right amount of char spots and sturdiness to support flavor-packed toppings, like the local sausage, caramelized onions, and fresh mozzarella that cover the Salsiccia E Cipolla pizza. And there's no denying Via Vite's authenticity. Its executive chef and owner, Cristian Pietoso, was born and raised in Florence, Italy, and has worked in some of the country's most renowned restaurants. For such high-quality food and service, you can't beat the price. Or the location—Via Vite sits right on Fountain Square. 520 Vine St., downtown, (513) 721-8483, viaviterestaurant.com
7. Harvest Pizzeria
Harvest Pizzeria still has us thinking about its perfectly crispy fried pickle chips and buttermilk-battered buffalo cauliflower. The wood-fired pizza made a lasting impression, too. The White Pizza is a standout, with a black peppercorn-ricotta base, heavenly Gouda and Havarti blend, fresh basil leaves, and whole roasted garlic cloves. Each ingredient bursts with flavor. The seven-year-old Columbus-based concept, which uses housemade and locally sourced fixings, made its Cincy debut last September across from Findlay Market. In addition to its impressive menu, its cozy interior, family-friendly vibe, and top-notch service make it worth a visit—or three. harvestpizzeria.com (Editor's note: Harvest Pizzeria closed its Over-the-Rhine location in June 2020.)
8. Comets Pizza
This local joint, formerly Corky's Pizzeria & Deli, has been serving consistently tasty traditional pizzas for 27 years, holding its own in a neighborhood with some steep competition. The small, no-frills strip-mall space has a few tables, but carryout and delivery are the bulk of business. When we stopped by, the friendly owner suggested the Comets Deluxe, a top seller with a straightforward mix of pepperoni, sausage, bacon, onions, peppers, and mushrooms. The crust was perfectly crispy in spots, the sauce slightly zesty, and the toppings, placed with precision, combined to create just the right amount of flavor. We can understand why the locals are loyal to this place. 124 E. Main St., Mason, (513) 398-2675, cometspizza.com (Editor's Note: Comet's Pizza has closed.)
9. Newport Pizza Co.
If you're looking for perfectly executed New York–style pizza outside of New York City, look no further. This neighborhood joint across the river on Newport's main drag delivers the goods. The sauce? Awesomely zesty. The cheese? Just the right amount and flavor—with an excellent stretch factor. The toppings? Perfectly spaced and rationed. We loved the house special Monmouth: pepperoni, Italian sausage, bacon, mushroom, green pepper, and red onion, with a blend of mozzarella, provolone, and Parmesan cheeses, all layered on a bed of red sauce and crispy but chewy crust. Though a bit on the divier side, the joint offers a nice selection of beer and wine and even outdoor sidewalk seating. It all comes together for an unexpectedly awesome pizza experience that you'll want to enjoy again and again. 601 Monmouth St., Newport, (859) 261-4900, newportpizzacompany.com
10. Fireside Pizza
What started as a mobile wood-fired pizza oven has evolved into a brick-and-mortar anchor of Walnut Hills, housed in the historic Fire Company 16 building. Order at the counter, scope out a spot at the family-style picnic tables, and soak up the atmosphere of the 1870 building, which (according to the Walnut Hills Redevelopment Foundation) is Cincinnati's oldest remaining fire house. The pizza itself is reliably great: chewy, crusty wood-fired dough, garlicky sauce, and premium ingredients like Italian sausage, Roma tomatoes, and fresh mozzarella. And don't neglect the draft beer menu: Local microbrews are tapped from a customized fire extinguisher. 773 E. McMillan St., Walnut Hills, (513) 751-3473, firesidepizzawalnuthills.com
11. Taft's Brewpourium
This newcomer specializes in New Haven–style pizza, or "apizza," which they aptly describe as a "hotter, crispier, and dirtier" version of Neapolitan. The thin-crust pizza is coal-fired at a high temperature for a short burst, creating a crunchy, charred edge, but with a chewy, soft bottom in the center. Stay true to the style's East Coast roots with the white pizza topped with clams. 4831 Spring Grove Ave., Winton Place, (513) 853-5021, taftsalehouse.com/brewpourium
12. Catch-a-Fire Pizza
Craft beer lover or not, the wood-fired pizza at Catch-a-Fire is as good a reason as any to visit MadTree Brewing Company. Previously a food truck, Catch-a-Fire opened shop inside the brewery in February 2015. Of the 15 specialty pizzas on tap, the Three Little Pigs—featuring Italian sausage, pepperoni, and prosciutto—steals the show. They even serve breakfast pizzas on the weekends. 3301 Madison Rd., Oakley, (513) 441-8565, catchafirepizza.com
13. The Works
Everything about The Works screams "family-friendly," from the menu of appetizers, sandwiches, salads, pasta, and even weekend breakfast to the large, boisterous dining room inside a 100-plus-year-old waterworks building and attached vintage train car. Brick-oven pizza is the main attraction, and The Commish (sausage and pepperoni) and Mediterranean (artichokes, diced tomatoes, peppers, black olives, spinach, and feta cheese) are among the headliners. 20 Grear Millitzer Pl., Loveland, (513) 697-8408, theworkspizza.com
14. Adriatico's Pizza
Adriatico's is a tasty slice of nostalgia for former Bearcats. The 38-year-old sports bar's laid-back, friendly atmosphere is the perfect place to cheer on the 'Cats. Try the large pepperoni pie with Sicilian thick crust. Loaded with cheese and the signature tangy red sauce, each piece is topped with a pepperoni that's as big as the square-cut slice on which it sits. And with 40 beers and 12 gelatos to choose from, what more could you want? 113 W. McMillan St., Clifton Heights, (513) 281-4344, adriaticosuc.com
15. Pizzelii
This large, casual pizzeria is conveniently located alongside the 50 West complex. All eyes are on the central brick oven, which produces nicely charred, chewy, gooey Neapolitan pizza smothered in mozzarella and provolone. The Carni features pepperoni, capocollo, and bacon, while the Squawking Buffalo pairs applewood smoked chicken with a mild Buffalo sauce and Gorgonzola cheese. 7639 Wooster Pke., Mariemont, (513) 407-3007, pizzelii.com
16. Chameleon
For a place known for its live music and late-night libations, Chameleon's pizza leaves quite the impression. The offerings are simple: cheese, pepperoni, or veggie—all by the slice or pie. If you're feeling extra adventurous, choose from one of seven crust flavors (ranging from cooler ranch to garlic). The pepperoni is where Chameleon shines. Perfectly spaced meat rounds spread across a bed of thick cheese, sweet and spicy sauce, and thin, New York–style crust. Just watch for the top layer of grease. 4114 Hamilton Ave., Northside, (513) 541-2073, chameleonpizza.com
17. Fred & Gari's
Maybe you've never heard of Fred & Gari's, but it should be on your go-to list of downtown lunch spots. The retro-styled, friendly carryout deli (run by Fred and Gari themselves, who love to entertain the regulars) is open weekdays, serving deli staples. But the pizzas—made fresh by Fred with a perfectly crunchy crust and thick, melty cheese (traditional and gourmet varieties are on the menu)—are such a delightful surprise, especially when you just can't do another sandwich. 629 Vine St., downtown, (513) 784-9000. (Editor's note: Fred & Gari's is permanently closed).

18. Werkhaus Pizza and Pasta
Just off of busy Glenway Avenue, Werkhaus has the kind of friendly neighborhood vibe you can only find in a restaurant converted from a house. The Chicago Classic is a stellar version, stuffed with sausage, onions, green peppers, and chunky mild tomato sauce. The Werks combines pepperoni, sausage, onions, mushrooms, green peppers, and bacon on a traditional thin, chewy crust. Robust pasta and hoagie menus are ready when you're looking to shake things up. 3637 Werk Rd., Green Twp., (513) 451-9911, werkhauspizza.com
19. Goodfellas Pizzeria
It's everything you want in New York–style pizza: by the slice (or whole pies), cheesy, foldable, highly portable, and available late night. They take a concept that could easily be achieved with a fast-food walk-up window and instead emphasize quality ingredients and hospitality. Choose your experience: Join the to-go line and watch saucers of dough launch into the air as pizzas are made before your eyes or belly up to the Wiseguy Lounge bar upstairs for a craft cocktail. Over-the-Rhine or Covington; goodfellaspizzeria.com
20. Forno Osteria + Bar
A sister restaurant to Via Vite, Forno also takes on authentic Italian wood-fired pizza. While the very simple but classic marinara pie is strong on its own, the Elena is the standout. It's aromatic, earthy black truffle with an olive oil base, Gorgonzola and mozzarella cheeses, topped with a pile of baby arugula. While the double rising and wood-fire processes make for a mostly crisp crust, be careful with the first bite of each slice: the thin crust can make the center a tad soggy. 3514 Erie Ave., Hyde Park, (513) 818-8720, fornoosteriabar.com
21. Brooklyn Pizza & Pasta
True to its name, Brooklyn Pizza & Pasta is a classic New York–style pizza joint, hiding in plain sight in a Montgomery Road storefront. And it's everything you want in a New York–style pizza joint this side of the Alleghenies: zesty sauce, melty cheese, and toppings aplenty (our favorite is the DellaBella, with meatballs, onions, and oregano). Upgrade your order with a Stromboli and you won't be sorry. 9797 Montgomery Rd., Montgomery, (513) 791-0900, brooklynpizzacincinnati.com
22. Ramundo's Pizzeria
This east-side favorite has been serving New York–style pizza from Mt. Lookout Square since 2000. If you're into white pizza, try the Paisano Pie, which layers prosciutto, spinach, banana peppers, whole roasted garlic, and mozzarella, provolone, and goat cheese on a sesame seed crust. A shout out to the amazing Ramundough Bites, baked pepperoni-and-cheese rollups that work as appetizers or your entire meal. 3166 Linwood Ave., Mt. Lookout, (513) 321-0978, ramundospizzeria.com
23. Bourbon House Pizza
In a strip mall at the entrance of a Florence subdivision, Chicago-style pizza has made a home. Our friendly server directed us to the Bourbon House Supreme, suggesting sliced meatballs and spinach for two of the three toppings (we added mushrooms). The crust, substantial and tall, is crusty like a good Italian bread. Inside, ricotta and a mozzarella-provolone blend made for an extreme—but not overwhelming—cheese experience. 7500 Oakbrook Rd., Florence, (859) 282-7999, bourbonhousepizza.com
24. Queen City Pizza
Sitting unobtrusively on a big bend of eternally-under-construction Queen City Avenue, this is a blink-and-you'll-miss-it, mostly carryout pizzeria. But pay attention next time, and you'll be rewarded with four different kinds of crust and a multitude of specialty pizzas. We like the Roman (salami, pepperoni, and capocollo), Kings All Meat (pepperoni, sausage, bacon, beef, ham), and Tuscan Tomato (fresh tomatoes and garlic). 2580 Queen City Ave., Westwood, (513) 661-1700, queencitypizza.com
25. Flying Pizza
This small, no frills strip-mall pizzeria offers up made-to-order Neapolitan- and Sicilian-style pies and slices to a mostly neighborhood crowd. Walk up to the counter—where you'll likely encounter regulars chatting with the on-duty pizzaiolo—and opt for the pepperoni and mushroom Neapolitan variety. Each slice's golden crust supports a generous layer of slightly salty sauce, bubbly cheese, and a handful of toppings. Perfect to fold in half and enjoy on a paper plate—true New Yorker style. 9563 Fields Ertel Rd., Loveland, (513) 683-8448, theflyingpizza.com
---
How We Did It
Yes, we know it's nearly impossible to empirically rank pizza joints. There's no way to do a controlled double-blind peer-reviewed study. But we can't let that get in the way of exploring Cincinnati's pizza landscape! Our team of seven tasters started with a universe of 51 independently-owned places, then scored them on crust (not too chewy, not too crispy), sauce (not too sweet, not too spicy), cheese (flavor and amount), toppings (ditto), and extras (presentation, service, overall taste, OMG factor, and a bonus category), with 50 points possible. (Check out the fake score sheet above to get the idea.) Then we met to compare notes and hammer out the final rankings. Thoughts on the pizza chains are here. Try our top pies and see if they'd make your top 10, or tell us what you consider better. The best part? There's really no such thing as bad pizza.
Facebook Comments