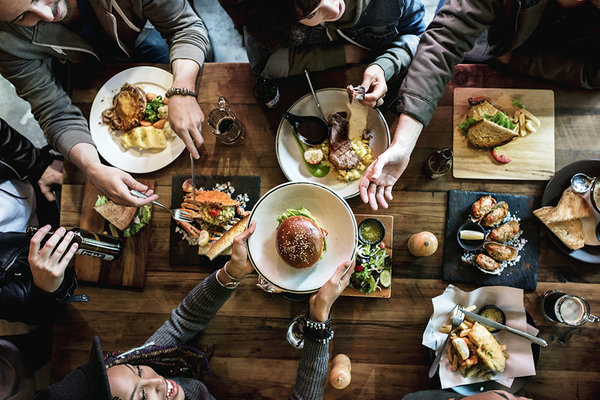 Hyde's Restaurant
Hyde's is best known for its pies, fried chicken, and hospitality, and the menu rotates daily. This mom-and-pop spot serves regulars (with whom they're often on a first-name basis). You should try the classic banana cream pie, topped with all the whipped cream you desire.
130 S. Erie Highway, Hamilton, (513) 892-1287, hydespies.com
Dancing Roll
Craving sushi on a budget? Look no further. Dancing Roll offers a variety of half-price rolls stuffed with tuna, shrimp, crab, veggie, and more. Finish your lunch with mochi ice cream, and you'll find out why they have so many regular diners.
7759 Tylersville Rd., West Chester, (513) 755-6800, dancingrollsushi.com
Bagel and Deli
If you ever find yourself in Oxford, take a trip to Bagel and Deli, where they're known for both wacky and classic bagel sandwich combinations. Try the Messy Katie, with turkey, smoked cheddar, lettuce, honey mustard, Parmesan peppercorn, and Doritos, for a unique blend of flavors. Meat lovers and vegetarians alike can find something to enjoy here.
119 E. High St., Oxford, (513) 523-2131, bagelanddelishop.weebly.com
Blue Goose Sports Café
A favorite among local residents and workers, Blue Goose has an expansive lunch menu, including favorites like the black bean veggie burger, sourced with local produce, plus the Santa Fe chicken salad with Cajun-spiced chicken, tomatoes, tortilla strips, shredded cheese, dressing, and sour cream to tie all the flavors together.
11060 Reading Rd., Sharonville, (513) 769-5700, bluegoosesportscafe
Lisa's Kitchen
This diner-style restaurant serves up some serious burgers and sandwiches, with all-day breakfast for late risers. Try the Frisco Melt for a taste of ham, turkey, bacon, and a whole lot of gooey cheese. Most items can be modified for vegetarian diets.
6601 Dixie Highway, Fairfield, (513) 682-5902, facebook.com/Lisas-Kitchen-218761338297141/
Facebook Comments