It's lunchtime. You're hungry (I'm hungry). You want something tasty (duh) with enough substance to keep you full for the rest of the afternoon, but without driving all of your later-day thoughts to the logistics of desk naps (difficult, but under the desk is the way to go). And it needs to be cheap—but you want something made fresh, with good ingredients, plenty of choices, and a pleasant ambiance.


So am I dreaming from my desk nap, or does this lunch exist? With thanks to Amerasia, it does. The Covington Chinese spot serves up a delicious, fresh-made lunch for about what you're spending on that day-old, plastic-wrapped sub sandwich from the stand in the lobby. And their quirky, kung fu–inspired décor will certainly not hurt how your day is going.
I can't pick a menu favorite, so I'm just going to tell you about our lunch because there's no way to order wrong. The kung pow with beef was perfectly seasoned and lightly sauced, piled with still-crisp peppers, carrots, broccoli, snap peas, water chestnuts, and other (very clearly fresh) vegetables, then topped with peanuts and cilantro—with a good-but-not-overpowering kick. The lo mein noodles were dense, not mushy, and the hot and sour soup was packed with so much goodness that it shouldn't share a name with the brothy, overly-salted variety you typically find. The pepper steak was fall-apart tender and accompanied by plenty of al dente vegetables in a rich brown sauce. The pork egg roll was one of the crispiest we've tasted—and thoughtfully filled with more pork than cabbage.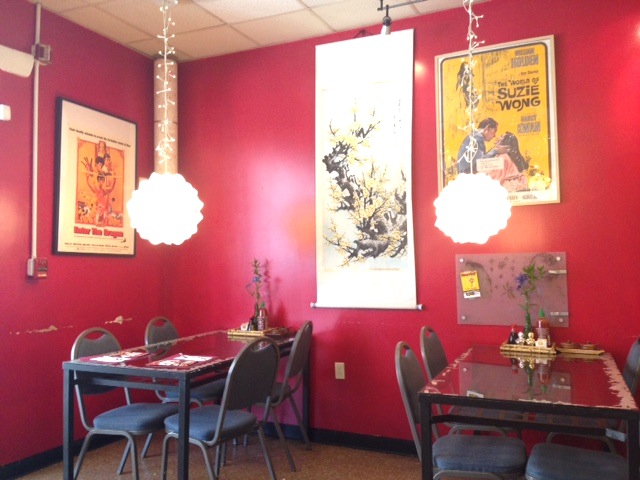 All 11 lunch options cost $5.50 (or opt for the weekly off-menu special for a dollar more), with your choice of chicken, beef, pork, or vegetables. Upgrade from rice (steamed or fried) to lo mein for  $2, and add a veggie egg roll for $1 or a pork egg roll or cup of soup (hot and sour or egg drop) for 50 cents. Seriously, 50 cents. What still costs 50 cents?! And if you feel compelled to celebrate just how great this lunch menu is, Amerasia has one of the best beer menus (which, in fact, fills an entire binder) in town. Just saying.
Point being: Get to Amerasia for lunch soon. Then go back for dinner. Then for lunch. You'll understand quickly.
Open Sun–Thurs 11 am–9 pm, Fri 11 am–10 pm, Sat 4–10 pm (Lunch menu available Mon–Fri 11 am–3 pm), 521 Madison Ave. B, Covington, Kentucky, (859) 261-6121, facebook.com/KungFoodChu
Facebook Comments