Mike, Mark, and Nick LaRosa
It can be a little disconcerting to interview Mike, Mark, and Nick LaRosa at one of their namesake restaurants. They're constantly scoping out the reception area, eyeing employees, and peeking at what customers are ordering. You wonder if they hear your questions. But they can't help themselves.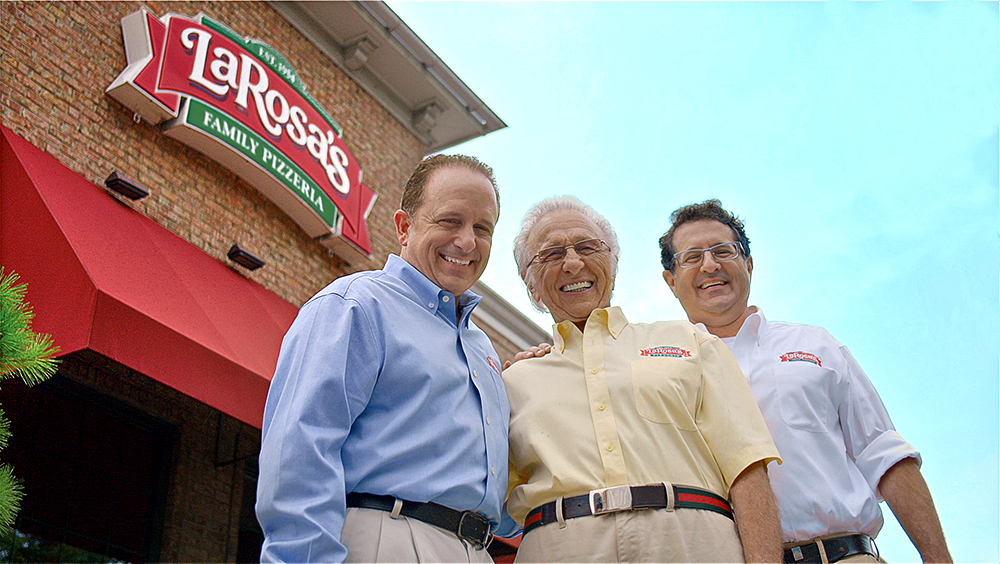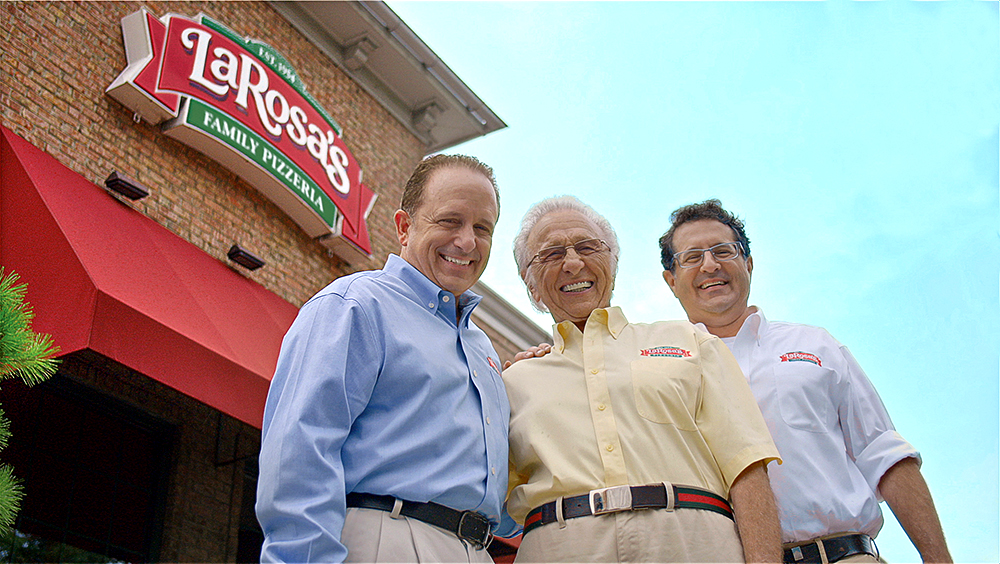 "Everyone is selling pizza these days, from national chains to small, independent places to grocery stores," says Mike, chief executive officer of the company his and Mark's father Donald "Buddy" LaRosa founded in 1954. "We focus on hospitality, and our directive to all of our people is to listen, care, and react. We need to provide legendary service, whether you eat in, carry out, or get delivery. Dad always says, 'Reach out and make smiles.'"
As competition increases and the company expands—there are now 64 LaRosa's restaurants in four states—the focus on hospitality actually narrows, Mike says. "We're trying to know our guests better so we can serve them better." Technology is key to making more smiles, but so is good old-fashioned customer service.
"Businesspeople talk about 'removing friction,'" says vice president of business intelligence Nick LaRosa, Mike's son. "People want more freedom and ease, so we make our mobile app as convenient as possible. You can customize almost everything on our menu, and the app will save your favorites for next time. We track every step in every transaction in case we have a glitch or a customer has a bad experience, so we can locate and fix the problem."
LaRosa's jumped on the tech bandwagon early, introducing a centralized call center in 1991 around its ubiquitous 347-1111 phone number. Today it's called the Guest Service Center, and staff monitors the company's social media channels when they're not taking call-in orders. Even store design is adapting.
"New stores have fewer booths and more open space that allows us to pull together tables to accommodate 10 to 12 people, because we're finding the idea of 'family' expanding to include larger groups," says Mark, president and chief culinary officer. "People told us they want to be able to grab a hot meal on the way home, so we've started installing pick-up windows in stores."
As LaRosa's expands, Mike knows the brand has grown beyond a personal extension of Buddy, a true Cincinnati icon. There are only four LaRosas in a company of 1,700 people—Mark's daughter Christina serves as in-house counsel—so they train all of their workers to be LaRosas. "We want our store staff to feel like family," Mike says, "because we want them to treat our customers like family." —John Fox
---
Dadabo Family
Chester Dadabo launched his pizzeria in Hamilton the same year Buddy LaRosa started his in Westwood. Six decades later, there remains only one Chester's Pizzeria, though in a different Hamilton location, while LaRosa's has expanded. Yet the Dadabo family's impact in Butler County is impressive.
Chester and his wife Mary—both born in northern Italy—ran a Hamilton grocery store and bakery where pizza was popular; eventually they shifted full-time to pizza production. Their children and grandchildren grew up working at Chester's Pizzeria, with son Nick taking over the business upon Mary's death in 1996 (Chester died in 1979). Nick's son Nicholas is now general manager.
Two other grandchildren run their own pizza restaurants in the area: Raymond Leugers opened Raymond's Pizza in Liberty Township in 2008, and Chuck Vitale started Pizzeria Vitale in Hamilton in 2013. For Vitale, the venture was a return to his roots.
"My father worked at Chester's, where he met my mom [Chester's daughter Donna]," he says. "I remember being 4 or 5 years old hanging out there, and they'd let me roll out pizza dough. As a teenager I started making sauce, and eventually I worked full-time with my dad in Chester's commissary turning out meatballs, sauce, and dough."
After a career in Butler County law enforcement and the courts, Vitale finally pursued a dream of owning his own restaurant. He makes everything from scratch, remembering his grandfather's strict orders to "do things the right way."
There isn't a fourth generation learning the family business with Vitale, but his daughter, a graphic designer, helped create the restaurant's web site and food truck graphics. He says he and his cousins, though competitors, help each other out when needed and respect each other's businesses because they trace their passion back to the same source.
"When my grandfather, Chester Dadabo, founded his carryout pizza shop in Hamilton back in 1954, little did he know the legacy he began by serving the area's best pizza," Leugers posts on his web site. "He founded that legacy upon very simple keys to success: Use premium ingredients, make a high-quality pizza and, most importantly, never compromise that quality." —John Fox
---
Roger Glass
Back in 1965, when all of Dayton's pizza places were carryout, Marion Glass, a franchise owner of three Cassano's—the area's most popular pizza chain at the time—had a vision for a pizzeria where you didn't have to scarf down slices in the car or at home. He put in a bid on a lease for a roomy new franchise location that would seat hundreds. When word got out that he had beat out the "Pizza King" Vic Cassano Sr., who was bidding on the same location, he had only two options: give the space up to Vic or be dropped as a Cassano's franchisee and go it alone.
Fifty-three years later, you can guess which option he chose. He dubbed the new venture Marion's Piazza after Italy's vast town squares where large crowds gathered for celebrations. Within three months, he was up and running, and during that time he worked with suppliers to finesse recipes that could hold their own. He approached Pillsbury to formulate a unique blend for the dough (for a flavorful, thin, crispy crust) and Stanislaus to concoct the perfect sauce (not too sweet, not too spicy). The results were so popular the recipe is the same today. "They're the only ones with the secret ingredients—other than me, in the safe," says Roger Glass, Marion's son, who took over the business in 2006 after his father passed away at age 92.
Marion's Piazza has become something of an institution in Dayton. It made its way down to Mason in 2012, where it has formed a passionate Cincinnati fan base. Roger, the sole family member on the payroll, has worked for his father's company since its inception, and credits the business's success to an unwillingness to change over the years, something he says is a direct result of it remaining in the family. "We're known for our consistency," he says. "If you're a family [business], you're not working for the shareholders—we're just trying to do what we've always done." He intends to keep it that way, too. At 75, he's in the office daily, and he's not ready to hand over the reins just yet. But when he does, he says, "Someone will be sitting at my desk doing what I do for the family." —Kaileigh Peyton
Facebook Comments