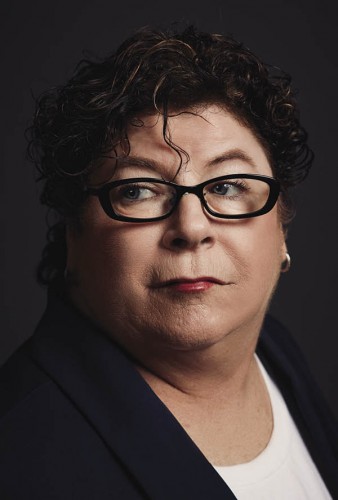 Before we toast the occasion, Cleary Wolters wants to make one thing perfectly clear. "No," she says at Unwind, a crowded, dimly lit lounge just off Hyde Park Square. She takes a sip of chardonnay and leans back in a red club chair, chewing nicotine gum. In a gravelly, matter-of-fact voice, she intones, "I did not sleep with Piper in prison."
It's one of the first questions people ask when they find out that Wolters was once the lover and partner in crime of Piper Kerman, the blonde Smith College graduate who wrote Orange Is the New Black. If you have seen the Netflix TV series based on the bestselling memoir, you know Wolters—or rather, the fictional version of her. Frenemy to the often-flustered protagonist Piper "Chapman," "Alex Vause" is the unflappable, joke-cracking glamazon played by the husky-voiced Laura Prepon. In Season 1, the duo reconnect in the clink and seemingly fall back in love; in Season 2, Vause endangers Chapman by convincing her to lie under oath to the feds. Dark hair, smoky eyes: she's the femme fatale.
At the center of both the memoir and the Netflix dramedy are these young, upper-middle-class women who worked as drug mules while living in Chicago and then Northampton, Massachusetts. For the better part of 1993, Wolters and her sister ran heroin and money between the U.S., Europe, Asia, and Africa. Kerman was just along for the ride while Wolters, her then-girlfriend, handled the goods. But Kerman broke the law once, carrying cash to Brussels. She, Wolters, and a dozen others in the ring eventually were indicted. All but one pled guilty to conspiracy, importing heroin, and/or money laundering, and—a decade after the deeds—served time. The rest is award-winning entertainment history—a history that so far has only been told from the perspective of Piper Kerman.
That will soon change, because Wolters has just written her own memoir, Out of Orange, to be published this month by HarperOne. While OITNB chronicles Kerman's year in the Federal Correction Institute in Danbury, Connecticut, Out of Orange plots Wolters's years leading up to the sentencing, and looks at how educated young girls from good families wound up in service to a West African drug lord. It also covers Wolters's time in the federal corrections system, complete with contraband substances, byzantine protocol, and, yes, girl-on-girl sex.
Wolters, who moved to the Queen City at the age of 7, came back after she was sprung. When she received an advance copy of Out of Orange this past February, she celebrated at Unwind with her longtime best friend, Brian Magnarini, and myself. The three of us used to club-hop together in the '80s. Back then, she struck me as an adventurous preppy who had the chutzpah to ditch the small-town Missouri college that had granted her an academic scholarship, not to mention approach a woman in a lesbian bar and ask point-blank if she could kiss her. She never bragged about her regular attendance at the opera or Playhouse in the Park. In fact, the only boasting I remember was about her father, whom she idolized. He had acted on stage with Henry Winkler—you know, The Fonz from Happy Days.
Now middle-aged, we tend to do our partying in a reclining position. Wolters came from work in a black business pantsuit, her curly hair cut short. In the glow of candlelight and fire from a flagstone hearth, she tells me and Magnarini that she wrote Out of Orange as a cautionary tale. "We live in a fantasy world," she says, gesturing around the room with a slice of thin-crust pizza. By "we" she means people who have, among other things, a college degree and the life-cushion that tends to go with it.
She takes a long pause to tease out her thought. "Our entire paradigm of crime and punishment making us safer, and a better society, is a fantasy. In the face of mountains of evidence to the contrary, we continue to believe that right and wrong are very simple constructs, like black and white, good and bad. My experience allowed me to get a peek at more aspects of that than anyone would care to." And the more she saw of the strange, blurry world of crime and punishment, the blurrier it got.
---
Though it was not intended solely to set the record straight, Out of Orange gives Wolters a turn at the mic. And her tune differs significantly from Piper Kerman's. It is true that Wolters was the person who wooed Kerman into the drug trade, as depicted on the show (season 3 starts in June). There was indeed a period of time that Kerman and Wolters spent together behind bars. Like Alex Vause, Wolters wears black rectangular eyeglasses and possesses an understated intelligence and eyes that truly twinkle. But no, Cleary Wolters and Piper Kerman did not get it on in the prison showers. Or chapel. Or broom closet.
Kerman tempered her unflattering portrait of Wolters in the book with compliments, describing the pseudonymous "Nora Jansen" by turns as "the cow who got me into this whole mess," a "white Eartha Kitt" with "wit and charm in excess," and a "master at the art of seeming effortlessness." At the end of Orange Is the New Black, Kerman admits she will never know whether Wolters was the reason she was exposed. The fact that two years lapsed between the first bust in the case and Wolters's arrest seems to suggest that others may have sung first. Kerman became convinced Wolters only valued her as a moneymaker, while Wolters says she was daydreaming of a house together and lifelong commitment. "It was obvious she was the star witness," Kerman writes. "I certainly nursed a hatred of Nora Jansen over many years, placing much of the blame for my situation on her."
Wolters, however, will not rebut Kerman's characterization, in part because she values the friendship she says they are rebuilding. Now out of prison and leading respectable lives, the duo are "on good terms," Wolters says, adding that Kerman has read Out of Orange and that they communicate sporadically through e-mail and text. (Kerman's representative did not respond to interview requests.)
"How many people can say, 'There's this best-selling book and I'm in it?'" Wolters asks, depositing a wad of nicotine gum in a wrapper and poking out a new tablet from its packaging. "But I couldn't say that to anyone when the book came out."
Wolters was not all that concerned when Kerman's memoir appeared back in 2010. It wasn't an immediate hit and she doubted that any of her coworkers—at Reed Elsevier in Dayton, where she is a software test engineer—would read it, let alone figure out that she was "Nora Jansen." However, within 12 hours of the Netflix premiere of OITNB in July 2013, Wolters's mugshot appeared online, and the middle-aged computer nerd/cat lady was unmasked as a jet-setting felon. The depiction of "Alex Vause" as the child of a poor, garishly made-up mother didn't bother Wolters as much as the story line that Vause had remorselessly ratted out her ex-lover to the authorities. Not everyone knows or cares that the TV show is fictional. Unfortunately for Wolters, she was no longer anonymous. Her whereabouts could be ascertained, she writes in her book, by "any psychotic ex-felon with a snitch-grudge to scratch and the wherewithal to look up who Alex's character was based on."
Wolters's bosses at Reed Elsevier knew about her background, and, to her surprise, seemed more supportive than concerned when she had suggested they brace themselves for unwanted attention. But it never really came. Coworkers were informed, but were too respectful, or shy, to say anything to her. It took a good three months before anyone broached the subject. Wolters doesn't remember exactly what was said, but it was probably about sex in prison.
No one today would suspect this tech whiz was once part of an international drug-smuggling ring. The well-heeled patrons sipping cocktails around us see three old friends laughing about our youth.
"Remember when I bumped into you at a new wave club in Boston, somewhere in the mid-'80s?" I told her.
"Spit," she said, and we all laughed at the club name. "I was in architecture school up there."
"You blew me off," I said, "because you had an appointment to fight someone in the parking lot at midnight."
Wolters's sparkly eyes closed completely as she giggled, recalling the fisticuffs.
"Till then you'd been wearing snowflake sweaters and Pappagallo purses," I said. "I couldn't believe you were turning so tough."
"I lost the fight!" Wolters cried. She took a small sip of wine and crossed her arms. "And I have never fought anyone ever since."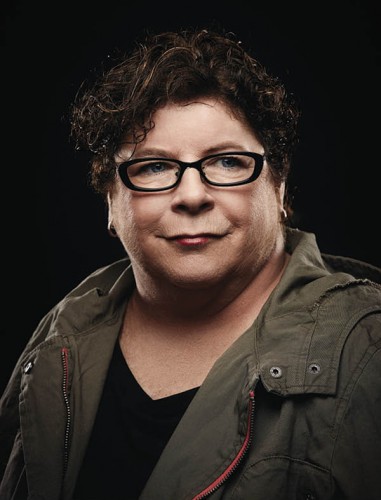 ---
Until that parking lot fracas, the biggest contretemps Wolters had faced in her life was getting busted with beer in high school. It is hard to see, looking at her childhood, how she wandered so far astray from her solid-citizen roots. But let's look.
In 1975, a girl showing up to seventh grade classes in her father's dress shirts was cause for concern. Wolters—short and athletic, with long brown hair that turned blond in summer—was a tomboy, always had been. Such style might earn an appreciative nod today for originality, but for an East Side pre-teen in the time of the Xenia tornado and the opening of the "Quaalude Bailey Bridge," it prompted a parent-teacher conference. She was moved out of the Anderson Township public school system and into a Catholic prep school, where uniforms would make moot the problem of crossdressing. There was no discussion of her emerging lesbian identity, which was nebulous even to her.
The change proved about as useful as putting heels on a unicyclist (which, incidentally, Wolters was in her spare time). She found other ways to assert her personality. A couple years later, when she brought beer on a St. Ursula Academy field trip, she was hauled, yet again, into the principal's office.
Her parents didn't flip out. Wolters was generally a responsible kid, looking after her younger sister "Hester" (her nickname is used throughout Out of Orange), whom she adored, and protecting her older brother Gene. Her father and mother—a trade magazine editor and a public school teacher, respectively—dealt with the issue by pulling Wolters out of St. Ursula and returning her to public school. "It seemed like every time there was a big problem in my life, my parents would get rid of it by moving me away from it," she says. She proceeded to begin her senior year by drinking screwdrivers with a friend in the family's Audi Fox before heading into homeroom. "If I had paid for that crime instead of walking away," she says now, "I wonder if I would have become a little less apt to think anything could be fixed by just changing the scenery."
Her childhood home in Anderson is a four-bedroom Cape Cod nestled among birch, maple, and pin oak trees behind a creek. Brian Magnarini, who lived next door, became her best friend. "We ran wild in the woods and swung from ravines into the creeks," she says. "He was the first boy I kissed."
In the southeastern corner of Hamilton County, Anderson is predominantly white and well-off; the median household income is more than double that of Cincinnati's. Wolters's house today hasn't changed much from when she was a kid: 20th century modern art on the walls, British-cottage floral decor, carpeted library. The changes in her life occurred elsewhere.
Wolters's descent into the drug trade began with her sister's disappearance. Hester—who did not respond to interview requests—was Cleary's thinner, redheaded doppelganger. She had a taste for the occult and lived a somewhat marginal life, bouncing from city to city in the late '80s and early '90s, but she connected with her sister each week without fail on the phone. "Hester was moving from San Francisco to Chicago, where someone had offered her an apartment rent-free," Wolters says over lunch in Northside. "She told me a friend of hers was smuggling diamonds, making $6,000 each trip, and she had been invited to do the same. I didn't believe her."
But then Hester dropped off the radar. Weeks later, she mailed Wolters a package with exotic-looking postage stamps. It contained a bird-foot talisman—with claws and black feathers—accompanied by Belgian chocolates. "It was very creepy," she recalls. Her penniless sister "had clearly been to Africa and Europe. Suddenly this farfetched story didn't seem so farfetched."
When Hester returned from abroad in late 1992, "I didn't recognize my own sister," Wolters says. "She was dressed beautifully, hair coiffed, expensive shoes, movie-star sunglasses. We're talking about someone who shopped at Salvation Army!" Hester excitedly explained that she had become engaged to a Nigerian "exporter," and punctuated that by flashing a wad of cash. "Smuggling diamonds suddenly sounded James Bond-y and cool," Wolters recalls now. She ditched her restaurant job and joined her sister in continent-hopping with contraband-laden roller bags.
---
In the book Wolters says that her journeys would begin with a call from the kingpin, Alajeh, or one of his captains. "Alajeh" was the only name Wolters says she ever knew the man by, but that may have been an alias. According to United States federal court documents, a West African man who is alleged by prosecutors to have used a similar alias—and who Piper Kerman refers to in her book as "Alaji"—is still under indictment in Illinois for the drug trafficking that both women participated in. (The accused, who is identified in court documents as Buruji Kashamu, is sometimes referred to in news reports as a prince and a businessman; in March he landed a seat in the Nigerian senate.)
Wolters writes how she would have just enough time to pack a bag and hustle to the airport to buy tickets with cash to Hong Kong or Brussels or Lagos. En route she might layover somewhere to meet someone at a hastily determined location. Just like in the movies, a courier would sit on a bench and set down a bag, then leave without it. Wolters would pick it up, proceed to her destination, and then hole up in a hotel waiting for someone to retrieve the bag or drop one off. She would rarely have any idea when the packages would be coming, or going, and who would be accompanying them. Wolters and various accomplices would pretend to have lost their passports in order to be issued new ones devoid of stamps, so that customs agents would not know the countries they had traipsed through when they returned to the United States.
The work was by turns exciting, boring, and terrifying. While there were weeks-long stays at luxury resorts, lounging poolside and drinking champagne, there were also heart-stopping moments such as a race through a Zürich airport looking for a bag that never turned up. The book describes Alajeh calling to add a new destination to an itinerary that had already dragged on for more than a month. And there was, of course, the ever-present fear of getting caught, which Wolters knew would mean prison—if she was lucky. She felt certain, she writes, that Alajeh would have no qualms "disappearing" a potential witness against him. Reports in the Chicago Tribune and Chicago Sun-Times last year say Alajeh continues to elude extradition to the United States. Wolters says that she met Alajeh on several occasions; she declines to talk about him in greater depth, but admits that on her first trip, when he summoned her to Benin, she became aware that the "diamonds" she would be smuggling were in fact heroin.
Eventually, Wolters enticed accomplices to carry the luggage. She would simply organize and chaperone the trips. This was the world that Piper Kerman joined. The two women met in Northampton, Massachusetts, where Kerman attended Smith College, in 1992, and by 1993 Kerman was housesitting for Wolters when she made her long trips. Kerman eventually accompanied her friend, first as a pal, then as a lover. Trips home to the U.S. were "more like pushing off a wall between laps than an actual visit," Wolters writes. She took increasingly larger risks as Alajeh's directives grew more complicated.
Kerman exited the criminal enterprise after just one legal infraction—carrying money from Chicago to Brussels. Wolters felt less at liberty to make a clean break. She worried that Alajeh would punish her by harming Hester. She also candidly admits in Out of Orange that she was seduced by that "fantasy world" she referred to on that cozy evening at Unwind in Hyde Park. "I am a Cincinnati Catholic girl," she says. "I always believed there was a higher power at work. I am not a bad person so clearly something is going on that I am not understanding yet." Magnarini remembers her getting "caught up in the money," though he didn't know where it came from. "She had a convertible sports car and liked being able to afford that kind of life," he says. It didn't last long. Less than a year into the business, Wolters quit, disappearing into a small Vermont town. "I finally realized that 'a safe time to exit' would never come, but that I was sure to be dead if I continued," she says. "So I just left."
As the number of young, inexperienced smugglers working for Alajeh swelled, however, a bust became inevitable. As Wolters writes in Out of Orange, a twenty-something runner carrying heroin was nabbed by airport security at O'Hare airport in 1994. Another was caught in San Francisco. By then, Wolters had a new vocation: working with computers. She had a knack for them, and helped people set up these new things called websites. For the first time in her life, she saw a legitimate career path for herself. She partnered with the owner of a computer store on a new digital venture. One of her first clients was the state of Vermont. Things were looking up.
And that's when she was arrested, blocked front and back by unmarked SUVs at a bank drive-through window. It was the middle of a Thursday in June 1996. With characteristic wryness, she remembers sitting, handcuffed, in cut-off sweatpants and a T-shirt, in the back seat of a cop car. Walking to a holding cell, she writes, "I saw the Subway shop across the street with a poster picturing the very sandwich I had intended to be eating at that moment."
In the two years preceding her arrest, the government had been collecting information on the ring. By the time they apprehended Wolters, she says, they knew the names and incriminating deeds of more than a dozen people. All but one cooperated in exchange for reduced sentences; each of them went to prison.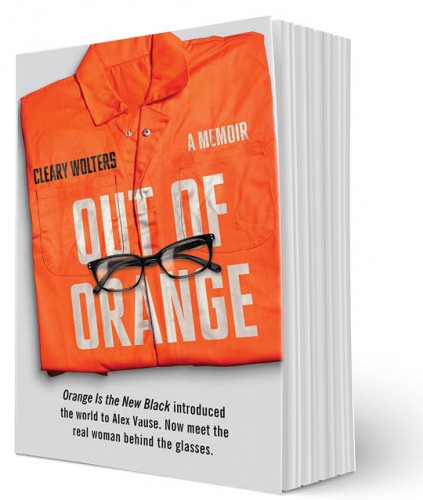 ---
Six years behind bars has left Wolters as seemingly unscathed as Piper Kerman, her more famous ex-partner who is now married and lives in Columbus. Wolters was eager to see Kerman speak at Xavier University in February, but was hospitalized with bronchitis when the evening came. Hester Wolters attended and went out to dinner with Kerman afterward, suggesting that the hatchet really has been buried. Out of Orange flatters Kerman as a beautiful, smart, and much more clear-thinking woman at the time than Wolters. Today, while Kerman fights for lenient sentencing for women, minorities, and nonviolent offenders, Wolters puts in 9-to-5 days at Reed Elsevier and comes home to care for her mother (who suffers from dementia), two cats, and a dog.
"There's a real calmness and kindness to her, and a mischievous part as well," says John Bartlett, a New York–based fashion designer. Bartlett met Wolters at meets and clinics for competition divers in high school. They were both part of a group of relatively wealthy teenagers, mostly from Indian Hill and Anderson Township, who dived together and wound up coming out as gay. Bartlett says he wasn't shocked to find that Wolters was the basis for the character he had been binge-watching. "There's a naivete and a trusting side to Cleary," he says. "That kind of openness may have led to her temporary undoing."
Viewers titillated by the women-behind-bars shenanigans of OITNB won't be disappointed by Out of Orange. The prison chapters chronicle Wolter's many affairs, including one carried out in a storage room with a married—and homophobic—Russian woman. Wolters maintained her sanity, she says, by writing (three novels, which she hopes one day to publish) and continuing her tech education, despite the ban on using the Internet in prison. "I had books," she says. "People sent me coding books, and I had them change the covers, because in the past inmates had used computer expertise to [alter online case files and] release themselves."
Wolters, who was confined to the state of California for the six years prior to her trial, made some good money working in Silicon Valley before her sojourn in jail. When she got out, she aimed to live in San Francisco; friends in the tech industry assured her that a rap sheet wouldn't stop her from being able to jump right back in. But just as an unusual phone conversation with her sister had begun her criminal odyssey, a worried call from her older brother radically altered her post-prison plans. Her father had died and her mother's health was declining. It was a hard decision to return home to Cincinnati instead of staying on the West Coast after prison, she says. "But my brother sounded scared."
The Queen City had fewer opportunities in the tech sphere and a more guarded attitude about hiring ex-felons. Instead of a cushy job, she found herself washing dishes at Uno's. She worked one day a week and relied on family support to get back on her feet and into college. She earned a master's degree in information technology from Kaplan University and is now working on her PhD. By the time her family's nest egg had run out, Wolters was employed full-time as a senior test engineer, and was able to turn the tables. Now it is she who looks after her family, physically and financially.
After being gone for 27 years, she came back to a place that looks to her more like a European city. "There are all these charming artsy-fartsy neighborhoods here now," she says, popping another piece of nicotine gum. "I realized this is where all my friends are. This is my touchstone. Walking into my parents' house made me feel like this big ordeal was winding down. It felt over. I felt safe." In the end, she escaped to Cincinnati, a slightly less crazy turn of events than all the others in her life so far.
"They are crazy about their rules here," Wolters says. "But rules make life so simple."
Cleary Wolters will be signing Out of Orange at Joseph-Beth Booksellers in Rookwood Commons on May 7 at 7 p.m.
Originally published in the May 2015 issue.
Photographs by Jeremy Kramer
Facebook Comments