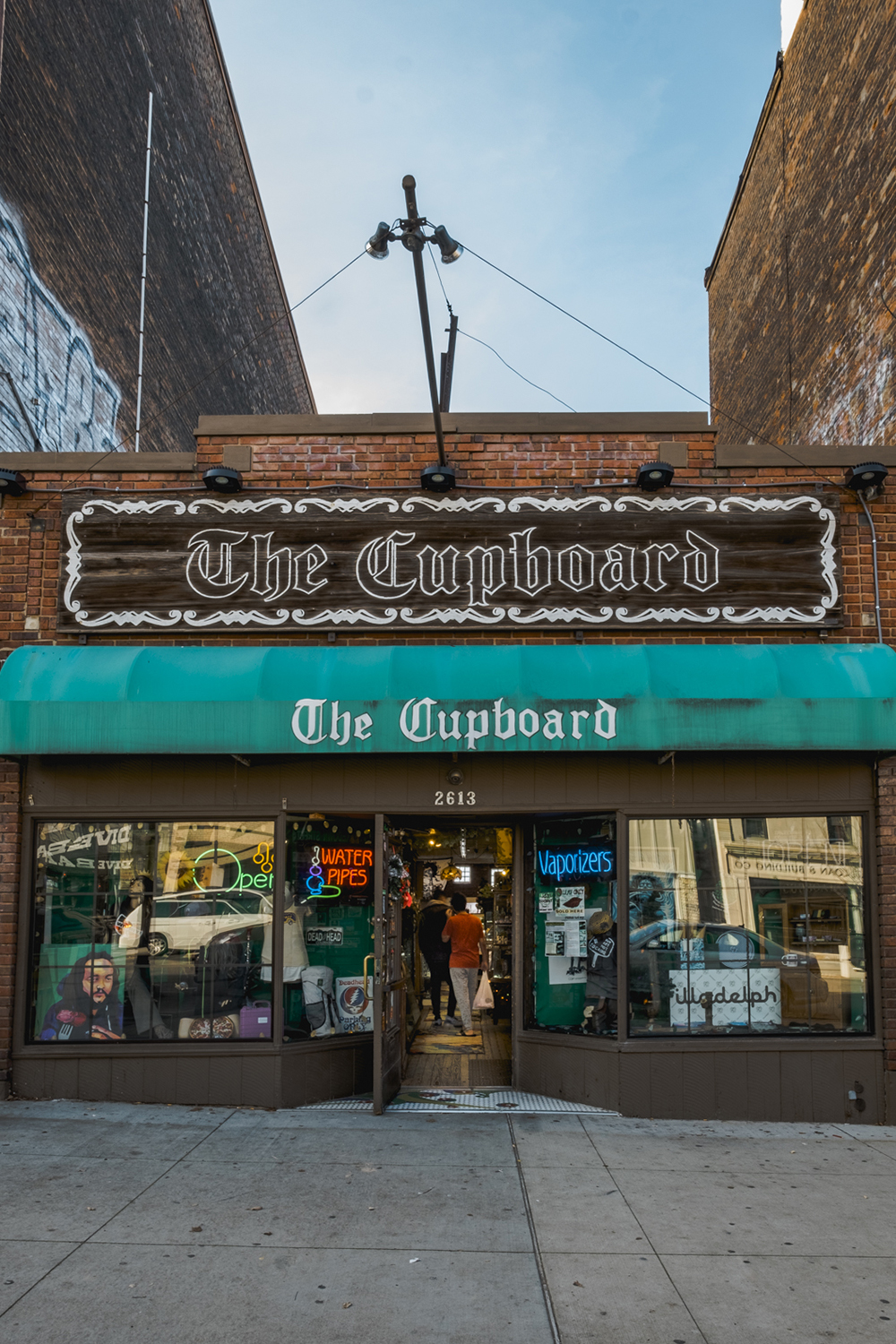 The heady smell of incense hits shoppers before they walk through the sticker-plastered door and pass under the shop name, carved in a Gothic typeface. Inside Corryville's oldest boutique, hip-hop blares from the sound system. "Drop that kitty down low," commands Ty Dolla $ign.
Some of the patrons are looking for vaping supplies. Others browse smoking pipes displayed in antique cases under lock and key, or pick up free tickets to a Led Zeppelin tribute show at Bogart's a few doors down Vine Street. A white-haired retiree pays for a bottle of cannabinoid oil. A twentysomething woman loudly asks for some "cute-ass jewelry bags," referring to candy-colored glassine pouches, as small as an inch square, that sell in packs of 100 for $6. And then someone does something dumb.
"Yeah, I gotta take a drug test…" he begins. A clerk shakes his head and points to the door. "Sorry, man, can't help you." The customer is indignant. "I'll never spend money in here again," he huffs, stomping out. As the door jingles open, the employee calls out, "Next place you go, ask for a detox kit."
The patron would have done well to consult a sign posted in The Cupboard, warning that using certain terms and phrases—including "bong," "weed," "coke spoon," "crack pipe," and "drug test"—will result in refusal of service. In Ohio, it's illegal to own drug paraphernalia. "If you don't know what to say," the sign instructs, "point."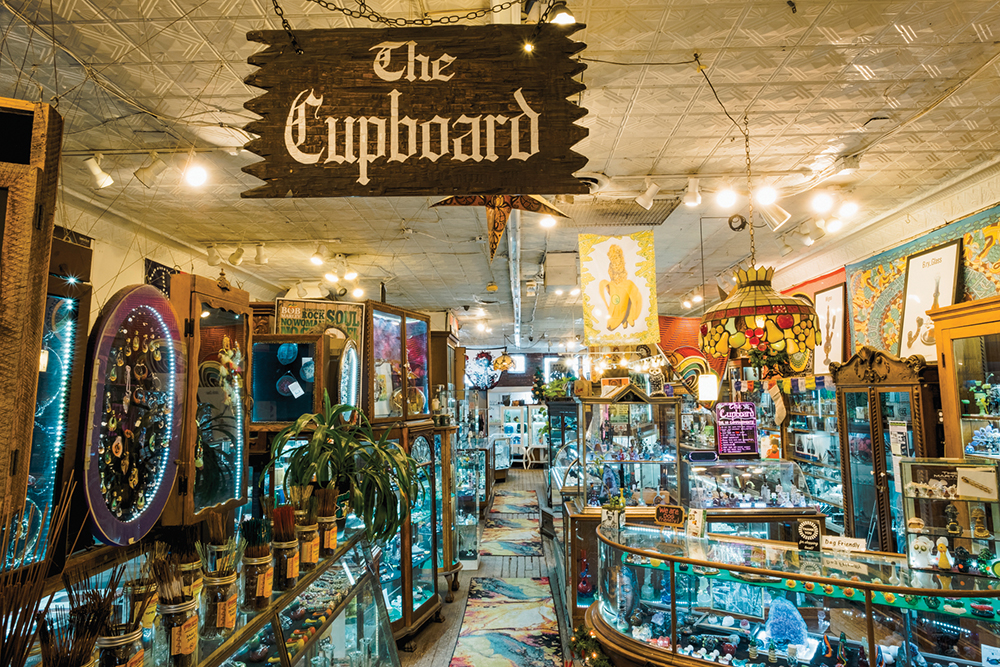 The customer might be forgiven, however, for not noticing the flyer, given The Cupboard's maze-like layout and sheer volume of merchandise. Throughout the space, glass pipes gleam in Technicolor hues in the shape of Homer Simpson, a rubber ducky, and a toilet bowl. More traditional water pipes feature face-mask attachments. In the sex-toy nook are gummy penises, party games like Drunken Hookup, and silicone vulvae modeled after those of porn stars. Also vying for attention are sparkly geodes, beaded jewelry, graphic T-shirts, and—this being a couple of blocks from UC—Bearcat-emblazoned shot glasses.
Smoke shop, gift shop, blast from the past: The Cupboard is each of these, but above all it's an institution and an unlikely Cincinnati landmark. It is the oldest head shop in the state, possibly the nation. It goes toe-to-toe with smaller, newer, streamlined smoke shops. It's a mom-and-pop store that's survived the death of its founders and holds its own against internet competition.
For a half-century on Short Vine, its risqué merchandise has not just ruffled the city's conservative feathers but prompted multiple vice squad busts. Its proprietors have been arrested and hauled out in handcuffs. Throughout the 1980s, court cases over The Cupboard's sales of erotic products tested First Amendment rights in a city that's often been unsure about them.
To the everyday Cincinnatian, however, The Cupboard is a rite of passage. Drawn by the siren song of the lurid, multiple generations of young locals have acquired things here to be hidden from their parents later.
---
In The Cupboard's chilly basement, a mannequin lounges in a chair, surrounded by metal shelves brimming with stock. The store's owner, Barry Loshin, in business-casual attire and gray-framed glasses, scrolls through the store's website. "We interview glass artists at trade shows," he says, clicking on a video. "You can hear about their experience of making the pieces we sell." Loshin visits the store from his home in Sausalito, California, about every other month, so when he's in town everyone wants to talk to him.
"I got the tie-dye," says an employee with short blue hair and a lip ring. Another worker, in a knit cap, descends the stairs from the sales floor and says, "We need to go bulk shopping."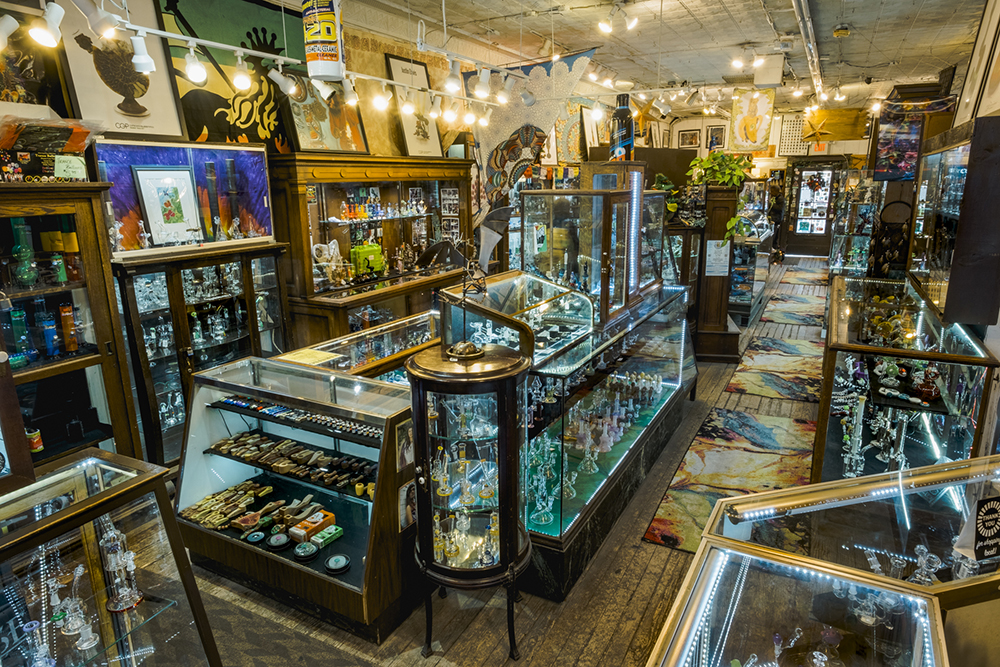 It is not immediately apparent where additional merchandise could fit. And yet The Cupboard stocks a fraction of what it once carried. You can see the store's pressed-tin ceiling these days, for instance, which used to dangle a canopy of dreamcatchers, wind chimes, and fruit baskets, like a souk. If the air could speak, it would whisper the names of countless curious and titillated customers.
"The first pipe I bought there had a swirly plastic stem, like a child's sippy straw, which was in colors," says Patrick Lehman, a retail consultant who now lives in New York. "It was like baby's first pot pipe." As a student at Indian Hill High School in the 1970s, Lehman would take buses from the plush suburb to revel in Corryville's gritty atmosphere. "The whole shopping experience was a celebration of smoking pot and being rebellious, and probably having sex afterwards. It was like getting on a boat in an amusement park and being steered through a labyrinth-like ride. It overwhelmed the senses and made the idea of owning a carved-bone cigarette holder or a peacock-feather roach clip seem like something that was not just plausible, but a good idea."
For those who didn't necessarily indulge, The Cupboard was also, and remains, a go-to for sex toys. Says Gwydion Stone, a former employee, "When people said they were buying a dildo as a gag gift for a bachelorette party, they were probably telling the truth." Whether the purchase was for a laugh or not, patronizing The Cupboard meant not having to risk being seen walking out of an adult shop, which for most carries more stigma.
In the 1960s and '70s, The Cupboard was a rare Cincinnati source for alternative-culture accoutrements of all kinds, from meerschaum stash boxes to cheeky greeting cards to beaded curtains. There have been other outlets for hippie goods, of course, such as Trivet's, Wild Berry, Globe Records, and Tawana Imports—but they're all long gone. The Cupboard remains dedicated to all things taboo, though it now faces its biggest challenges to date.
The growing legalization of marijuana—medical pot is legal in Ohio, while recreational use may be voted on this November—could render The Cupboard just one head shop among many in a predicted "green wave" of new weed-related businesses. That's on top of the internet's unrelenting snatching of retail market share from brick-and-mortar establishments. "There will be a shakeup in the marketplace, and it will require clear merchandising, marketing, and brand strategy to survive," says Suzi West of Green Seeds Creative, a California-based cannabis industry consultancy. "The OG head shops will need to follow suit if they are to survive."
Hippie-era shops will retain a certain aura of nostalgic cool, but without significant changes it's possible that The Cupboard—whose 63-year-old owner has no children to bequeath it to, and who says profits have been down the past two years—may finally, shockingly go bare.
---
The store marked its 70th anniversary last year. It was opened by Hyman Loshin in 1948 as Corryville 5¢–$1. A year later, his son Philip took it over. Philip and his wife Nancy descended from a time-honored tradition of Jews in the dry-goods business. Philip and the couple's two children, including Barry, worked in the store. Days off? Forty-hour work weeks? What, are you kidding me?
"I was like any other employee," says Barry, who inherited The Cupboard when his parents fell ill; his mother died in 2009, his father in 2014. "I was not considered special. I got paid less than the others because I was the owners' kid." He was a kindergartner when he first helped assemble Easter baskets and take inventory of boxes of fabric dye. "It was a great upbringing because I got to see all the newest toys coming out and pick which ones we would buy."
Corryville 5¢–$1 supplied the mostly lower-income neighborhood with hairbrushes, cookware, paper goods, and clothing. "It was mainly very Appalachian fundamentalist," says Loshin of the area in the '50s and '60s. "Poor white folks." The store's proximity to UC, a Kroger, and other establishments on the five-block stretch of Short Vine kept foot traffic moving in those early years.
Not everyone was captivated by The Cupboard's fringe wares. The first bust came in 1969, for 'exhibiting obscene literature for sale.'
When a Walgreens opened nearby in the mid-1960s, however, Philip had to rethink the family business. They couldn't compete with a chain store that enjoyed better wholesale prices and big advertising budgets. They changed the shop's name to The Cupboard, invoking a homey ambiance often belied by their notorious bickering. The moniker was just the start. In one of many pivots that would save the business over the decades, Nancy Loshin ordered a batch of daisy-shaped decals in neon color combinations. She'd seen them in a newfangled hippie store in Chicago.
"It all started with the Rickie Tickie Stickies," says Barry. "People put them everywhere—on buses, on street signs, on protest posters." The flower-power decals were a breakout hit, selling more than 90 million packages worldwide. The success encouraged Nancy to buy other bohemian gear that not only Walgreens didn't have but few other local stores carried: blacklight posters, incense smelling like erogenous zones, and, most notably, smoking pipes. Nancy herself changed along with her merch. A lifelong fashion plate, she took to wearing leather trousers, studded belts, and glitzy baubles. Philip, who installed the display concepts she dreamed up and handled finances, seldom veered from his uniform of khakis and polo shirts. "He looked like everyone's sweet grandpa," says Nikki Tullo, current manager of The Cupboard. "Looking at them, you would never think they were a couple."
Not everyone was captivated by The Cupboard's fringe wares. The first bust came in 1969, when detectives from Cincinnati's Vice Control Bureau raided 2613 Vine Street and arrested Philip Loshin for "exhibiting obscene literature for sale." The offending item was a comic book—"Probably the [Fabulous Furry] Freak Brothers," says Barry. "But we had some sex comics, too." Charges were dropped, but it foreshadowed a rash of future raids. It also demonstrated that a little heat from the fuzz could be good for business. "Whether it was sex toys or lingerie, the Loshins would put it in their display window just to be a thorn in the side of the city," says Marc Biales, owner of Wild Berry, the incense brand still popular at The Cupboard. Adds Tullo, "Nancy believed any publicity was good publicity."
The smoking paraphernalia didn't much bother the cops, and a stink over nitrous oxide chargers (known as whippets) blew over with little fanfare in 1979. City Councilman David Mann failed to generate much outrage over them in a trip to the shop with TV cameras in tow. The Cupboard had less luck with a T-shirt bearing the F-word. In what would become a familiar routine, an arrest was followed by squabbling over First Amendment rights and then by dropped charges.
Enter Simon Leis. Riding high on his conviction of Hustler magazine publisher Larry Flynt on obscenity charges, the Hamilton County Prosecutor redoubled his efforts to rid the Queen City of sex-related merchandise. To many observers, the head shop seemed an unlikely target. The Cupboard wasn't selling porn mags or X-rated videos; that was more the purview of adult-oriented shops that were being shuttered in a "family values" movement energized by the politicized Christian right. The Loshins's 100-plus charges for pandering obscenity in the '80s involved novelties along the lines of suggestive party games and candy shaped like sex organs. One indictment described "a love doll, Spanish Fly pills, and obscene puzzles" that caused "irreparable harm and damage to the morals and welfare of the people of the state of Ohio."
Each year from 1981 through 1987, the Loshins faced new charges, all misdemeanors. "My parents were embarrassed by all this," says Barry, who tears up when recalling the decade of arrests and newspaper headlines such as "Prosecutors File Loshin Motion" and "Judge Resigns Smut Trial." "Intellectuals could see it was a joke, but my parents were actually very conservative and very private people. They were ostracized out of the Jewish community to some extent." The irony, he adds, is that "there were a lot of anti-Semitic undercurrents to the whole thing because they had a successful business."
Philip Loshin pled guilty to one of three dozen charges filed in 1981. Leis told The Cincinnati Enquirer the conviction stipulated that any similar future offenses would automatically be considered felonies, eligible for five-figure fines and up to five years in prison. That eventuality came to pass in 1985, when a jury deliberated for 10 hours over a masturbatory aid called The Stroker. "Phil Loshin came to my house one day at 6 in the morning in a complete panic," recalls Louis Sirkin, a lawyer for the Loshins. "He was terrified of going to jail." The middle-aged couple was found guilty for The Stroker and given suspended sentences and modest fines.
---
Fed up, the Loshins decamped to Seattle in 1985, also wanting to be close to their sons, who lived out west. They kept the Cincinnati store going and opened Off the Wall, a Cupboard clone, near the University of Washington. Focusing on the new place, the couple let the hometown flagship "go by the wayside," says Barry Loshin. Its thicket-like aisles of merchandise thinned out, and The Cupboard has still never quite regained its colorful, psychedelic craft-fair ambiance. Increasing crime in Corryville also hurt business. The Reagan '80s gave way to the Bush '90s. An adult bookstore opened next door to The Cupboard—called Tip Top, later known as Saturday's—once the new county prosecutor, Joe Deters, seemed unconcerned about pornography corrupting local morals. The Cupboard's stock in trade, which had once seemed exotic and verboten, was more ubiquitous.
Nancy Loshin would fly in and visit the shop, sometimes berating staff and obliging them to take lie-detector tests. Paranoid, she eventually hired a security team to monitor employees—but the plan backfired. Once the watchmen had a good idea of how the store operated, a group of them opened their own boutique, in direct competition with The Cupboard, across the street.
"My mom told me, 'It's been hard,'" says Barry. He had earned an MBA and worked in a range of fields, including geology, health care, and tech. His parents never expected him or his brother (who is a dentist) to take over the shops.
The Cupboard might have gone up in smoke, but the Loshins weren't the kind to throw in the towel. (What, are you kidding me?) Nancy saw the game-changing potential in a new breed of upscale glass pipes—artistic, heat-resistant, dishwasher-safe—and the category has been the shop's top-selling item for more than 25 years. "She was one of the first people in the country to get it," says Ken Kulow, whose company Chameleon Glass sold boatloads of pipes to The Cupboard and Off the Wall. "Other smoke shops thought it was a fad, that no one would pay more than $100 for a glass pipe."
The Cupboard was buoyed by gambling on a single category of merch, as it had been in the '60s with flower stickers. Glass pipes presaged the era we're now entering, in which paraphernalia is going luxe and given a prominent place on coffee tables rather than hidden from sight. Most glass pipes sell for $30 or less, but Loshin carved out a market for the higher end, what are called "heady pieces," in the $300-plus range—with specialty pieces currently on sale for as much as $40,000. "She made sure the headies got in the hands of pot dealers," says Kulow, "because when you go to buy pot and you see the dealer smoking out of one, you want one for yourself."
In 2015, Barry Loshin sank $50,000 into launching cupboardglasspipes.com, which sells the product exclusively. Unfortunately, artisanal glass made in the U.S. had already started to crest in popularity, according to Kulow, who says a glut of new manufacturers entering the field, and Chinese knockoffs of name brands, have flooded the market. In smoke shops, vaping rigs and other electronic smoking equipment have eclipsed the old-school pipes, as oils and concentrates begin to supplant marijuana's flower and leaf forms. For a new generation of smokers, digital consumption is the only format they know. "Weed, in the bud state, is sort of like vinyl albums now," says a former Cupboard shopper, a medical industry executive who lives in Liberty Township. "There are those who will always want to play them, but digital, in the form of vaping, just makes more sense."
Loshin isn't fazed by this turn in the marketplace—The Cupboard sells plenty of digital paraphernalia, too—though he acknowledges "a dive" in his glass sales recently. "Do not buy glass from gas stations" is item No. 1 on a freestanding "10 Commandments" sign in the store. "It's not that people are no longer interested in glass," Loshin says, adding that concentrates can be consumed out of it. "It's that not everyone is buying as much as they used to. Plus, the artists are selling directly to customers through social media."
Still, Loshin acknowledges that the kinetic marketplace means The Cupboard will have to re-tool. And that's where his professional background comes in handy. His work in health care exposed him to the potential of the older adult market. While much of the cannabis industry eyes the young generation of first-time consumers, Loshin is considering the power of baby boomers and beyond. "They have disposable income," he says, "and they're not being serviced enough."
Even if The Cupboard can maintain its prominence as a glass specialist, there's increasing competition from other web sites, including the behemoth of Amazon, to contend with. Another liability is the shop's location. Corryville, with its panhandlers, parking scarcity, and blight of long-empty storefronts, has yet to recapture the allure it had in the 1980s, when medical professionals from nearby hospitals frequented restaurants such as Zino's and InCahoots and the boutiques Rags 2 Riches and Scentiments set fashion trends. "It's not as edgy as it once was," says Mike Reeder of Mike's Music, which sells vintage guitars next door to The Cupboard.
Short Vine does, however, look to be headed in a livelier direction. "It's a work in progress," says Dan Schimberg, president of Uptown Rental Properties. As the neighborhood's preeminent developer since 1985, Uptown has added 1,700 residents in new apartment complexes and helped reduce crime with increased lighting, security cameras, and police presence. The company recently bought a slew of empty properties on Short Vine that it intends to fill with new businesses by the end of this year. Adds Michael "Fin" Walters, general manager of Bogart's, "I equate Short Vine with Haight-Ashbury. But the idea of This is how we have always done things is not a formula for growth."
Meanwhile, marijuana legalization poses another threat to The Cupboard, which Loshin says will never become a dispensary. Plenty of money will be made in sales of weed and its myriad accessories, but little will go to the head shops that toughed it out all these years. Corporations with big marketing bucks will enter the fray, potentially squeezing out independents such as The Cupboard, which relegates social-media and graphic-design duties to its part-time store clerks. "Any store with product locked under glass will need a makeover," says Suzi West, describing every smoke shop in Cincinnati. "They will require better assortments that meet needs, well-designed retail spaces and packaged goods, and knowledgeable and efficient staff."
If The Cupboard's keeper is concerned, he isn't showing it. "It all boils down to economics," says Loshin. "There will be an over-supply of stores when everyone thinks it's the wild, wild West. Not all will make it."
Nikki Tullo enters the basement, and she and Loshin begin to disagree over a poster, handmade by Loshin's brother in 1965, on yellow cardboard with a flower decal affixed to its corner. "Watch its metamorphosis," the signs says in freehand black marker. "The Cupboard will be an exclusive shop carrying a unique combination of 'old world' and 'mod' objects. Please be patient as we fill The Cupboard's shelves with the kind of things you want to groove with." The sign was not broken in half before, Loshin says. Yes it was. No it wasn't. Yes it was. No it wasn't!
The buttoned-down middle-aged West Coast proprietor and the thirtysomething manager with a nose ring continue to bicker just like the shop's original owners used to. Finally, Tullo disappears to do payroll. Loshin reaches for a tissue from a box called Mr. Snot.
"Working at The Cupboard is personal for me," Tullo says later. "It's not a job. It's what I've done for the last 17 years of my life. Not long after I started, we were down to seven hand pipes. It was a struggle. I remember standing outside the store and some guy from another head shop walked by and said, 'The Cupboard sucks.' I thought, I'm not going to let this place die."
Facebook Comments