Bygone eras are just a click away these days. But important clues to Cincinnati's social and culinary history can be found in surprising places. Restaurant menus, for instance. If you ever wondered what people were paying to eat 75 years ago, take a look at an old menu; it preserves the imagination and ambition of chefs and restaurateurs, as well as the dining trends and fluctuating food costs of the day.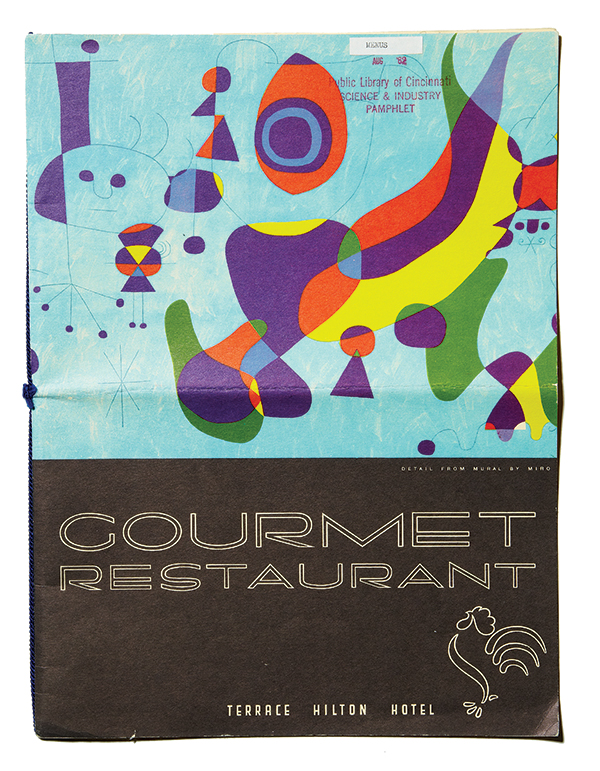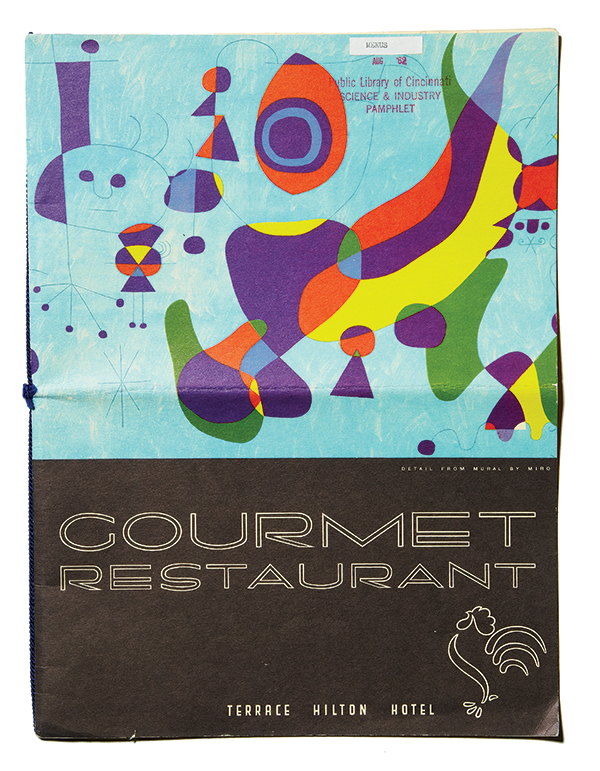 "For a quarter you used to be able to have a nice lunch," says Patricia Van Skaik, manager of the genealogy and local history department at the Public Library of Cincinnati and Hamilton County, where the menu collection lives on the third floor. The Cincinnati History Library and Archives also features menus in its ephemera collection, some going back to the 19th century. "You can look at a menu and see the designs and style of a time period," says Barbara Dawson, curator of printed works. "They document people's everyday lives and customs."
So a menu isn't just a record of tastes and prices; it's a time machine. We sifted through both collections to create this gallery of local restaurant history. Some types of eateries are still with us (the coffee shop), while others have gone the way of the dodo (the black tie dining room). But each serves as a fascinating window into another time and place—$1.95 disco burgers and all.
---
Shuller's Wigwam
For almost eight decades, until it closed in 2000, the family-owned Shuller's Wigwam in College Hill was one of the city's largest (1,000 seats!) and most well-loved restaurants. The American Indian theme, established on the cover of this 1965 menu (signed by Leo Shuller, son of founder Max), continued inside with items such as the Mohican French-fried Seafood Platter Deluxe ($3.25) and the 12-ounce Squaw Steak Special ($4.75) for "ladies and those who prefer a smaller steak."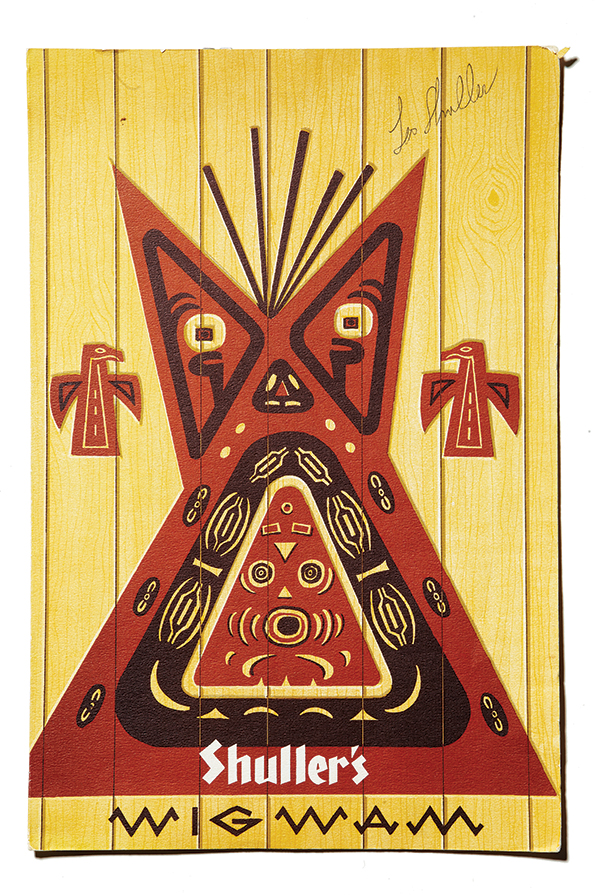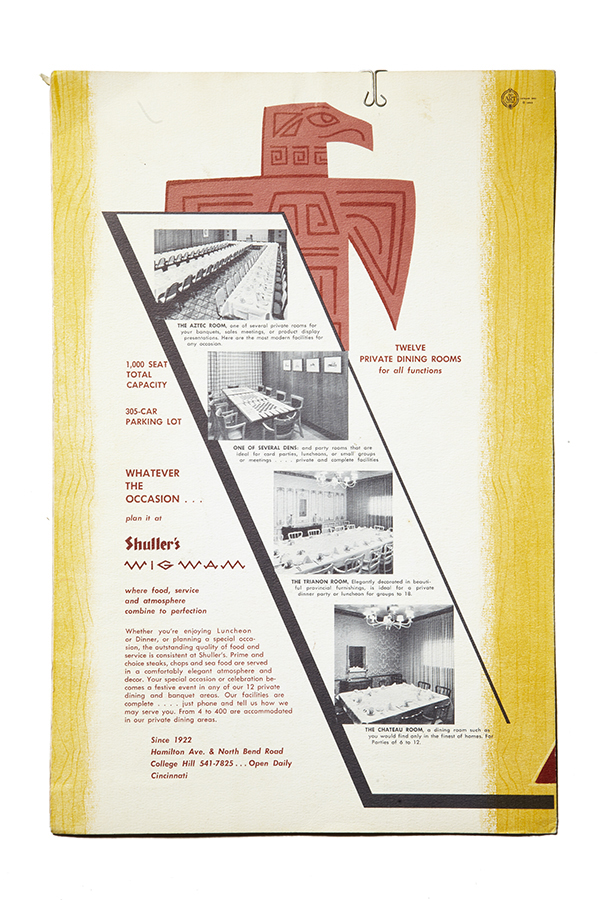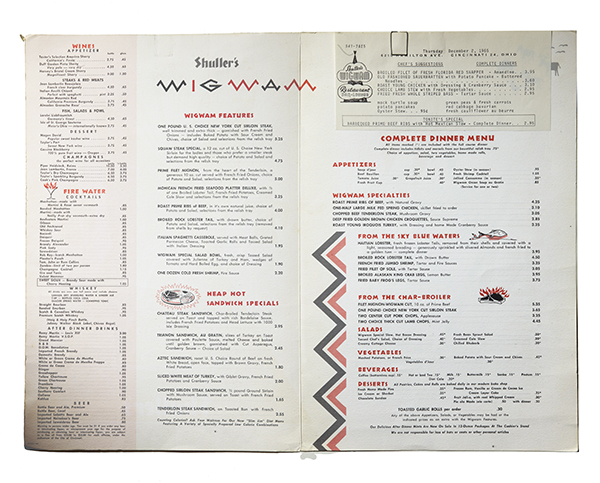 ---
The Gourmet Restaurant
Also known as the Gourmet Room, this monument to Mid-Century Modern dining occupied the rooftop of the Terrace Plaza Hotel. How mod was it? The art on this menu comes from the wall-size mural by Spanish Surrealist Joan Miró. (Visitors to the Cincinnati Art Museum café can now gaze at that mural from their tables.) Lauded for its French cuisine, the restaurant won at least 10 dining awards over the years from Holiday magazine. On the 1962 menu: veal kidneys flambé with saffron rice ($4.25) and fresh frog legs ($4.75). The restaurant closed in 1992. Now it awaits a rebirth, just like the Modernist hotel that housed it.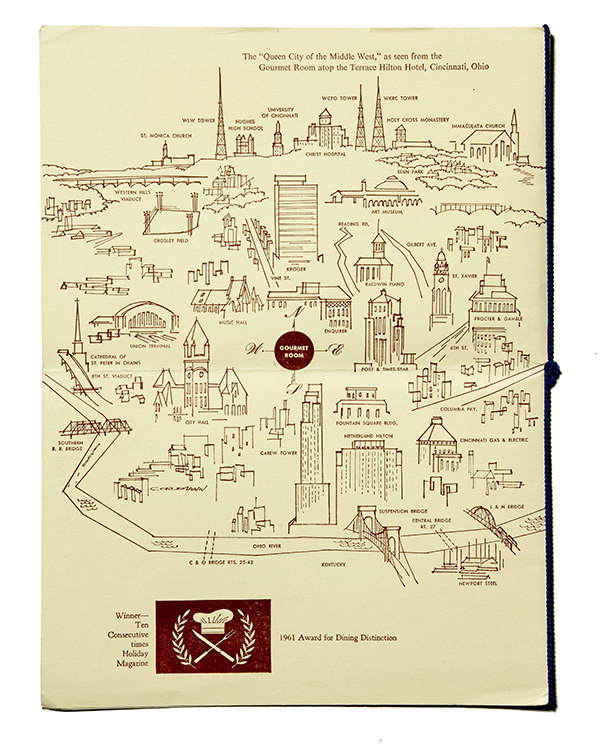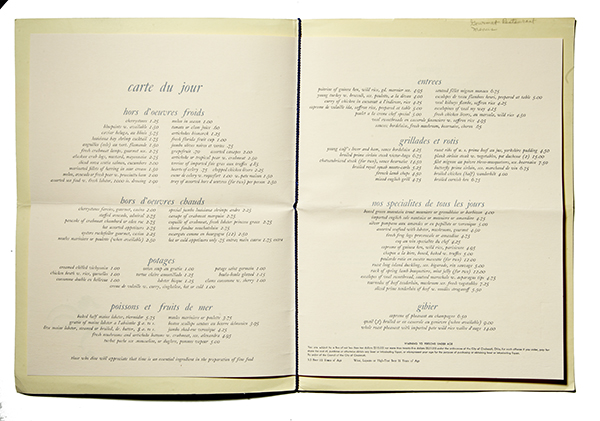 ---
The Netherland Plaza Cocktail Bar
At one point, the Netherland Plaza promoted the "cool refreshment" of its signature cocktails with this novelty drink menu, die cut in the shape of a penguin. While the menu isn't dated, the star attraction—at $1.20—was the Zombie: four types of rum, passion fruit, brown sugar, and fruits. A liquid leveler of that name was popular during the late 1930s and '40s. Prices for the other beverages remained under $1, including the 55-cent house specialty, the Netherland Plaza Sour, made with whiskey, lemon juice, egg white, and claret.
---
Versailles Room
By the early '60s, the Beverly Hills nightclub was in trouble. Officials were determined to close northern Kentucky's illegal gambling houses. Could the club keep booking the biggest names in the business if the tables shut down? This partially embossed, red-white-and-pink menu card for the club's Versailles Room featured showgirls in elaborate headgear and skimpy sequins. It appears to be from 1961, when Beverly Hills spent $350,000 to renovate the Versailles Room as its main theater. Jimmy Durante opened it in July, but it was shuttered by October.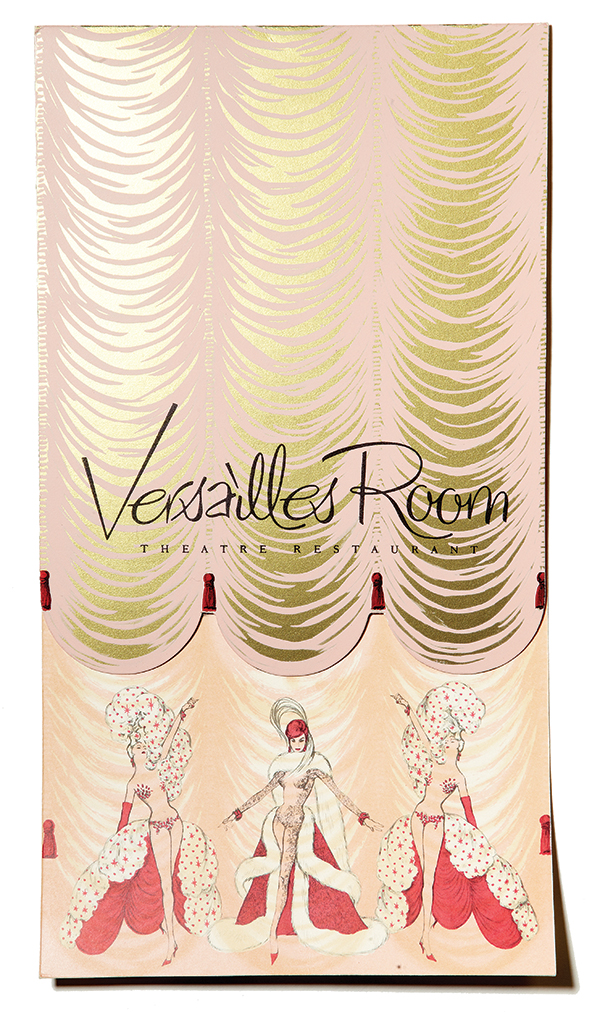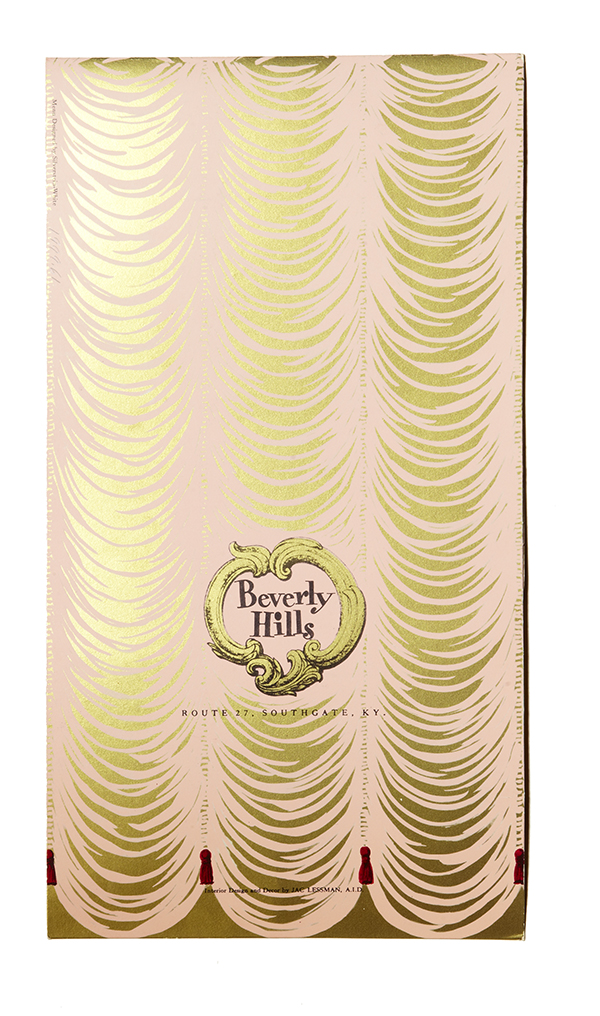 ---
Samurai
Samurai Japanese Steakhouse at 126 E. Sixth shows up in city directories around 1976, replacing a former Japanese restaurant, Kabuki, at the same address. Samurai quickly established its high-entertainment approach to Asian cuisine at a time when American pop culture began its fascination with the Japanese swordsmen of yore. A cocktail menu shaped like a warrior in full battle gear advertised beverages such as the Sumo Flip and a $4 Samurai Grog, guaranteed to "slice through your troubles." The entrée menu promised: "With flashing knives, your samurai chef will slice your entrée into bite-size pieces."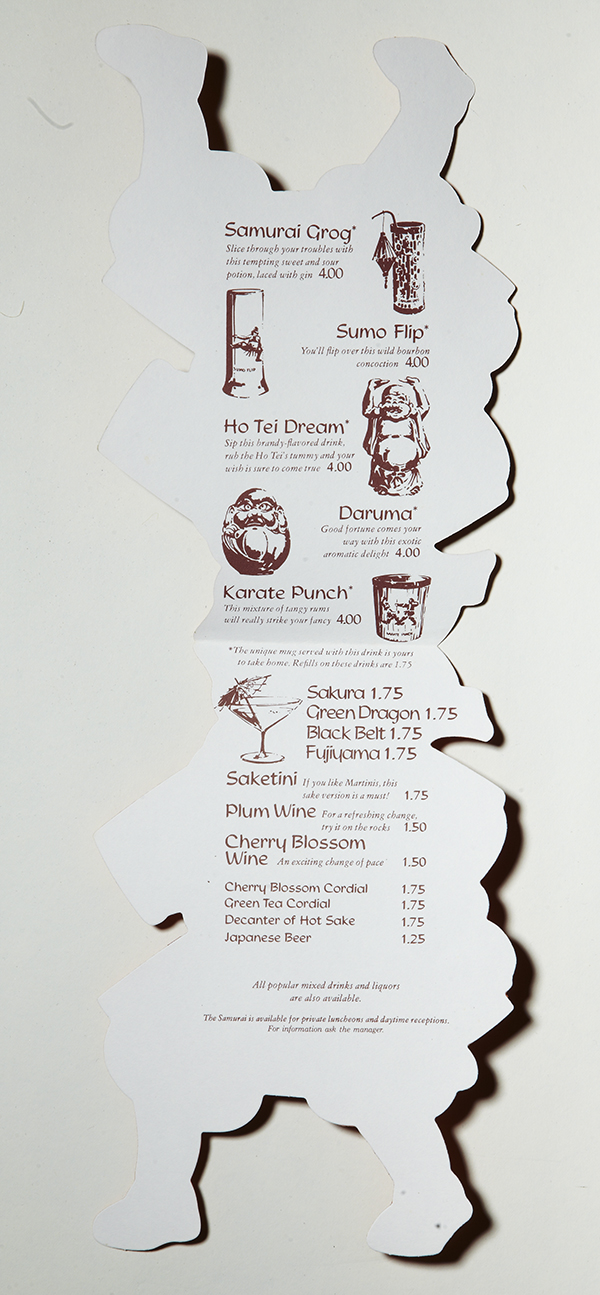 ---
The Playboy Club
Ensconced on the eighth floor of the Executive Building downtown from 1964 to 1983, Cincinnati's Playboy Club provided "gentlemen" members with enough dining and entertainment options to make some want to spend a week there. Most action took place in the Penthouse ($2.50 entertainment charge), where the bunnies served sirloin steak and the finest filet mignon until 1:30 a.m.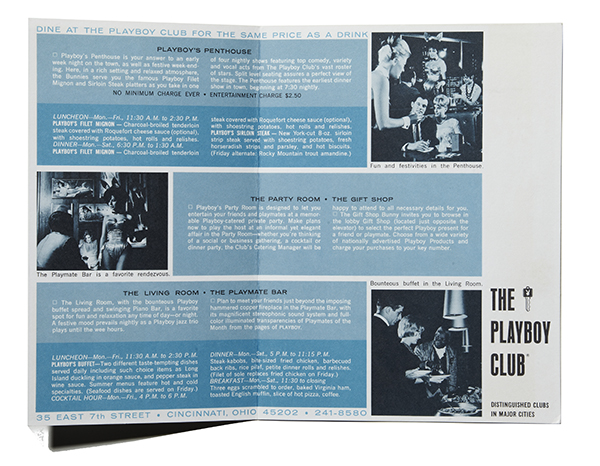 ---
Pigall's
Is this a watercolor of a Parisian townhouse? Non. It's the Fourth Street home of Pigall's, the award-winning bastion of French haute cuisine. Owners Nanette and Maurice Gorodetsky eventually sold Pigall's in 1973 to maître d' Don Whittle, who continued the fine French tradition until 1990. From 2002 until 2009, Jean-Robert de Cavel temporarily restored it to its former glory.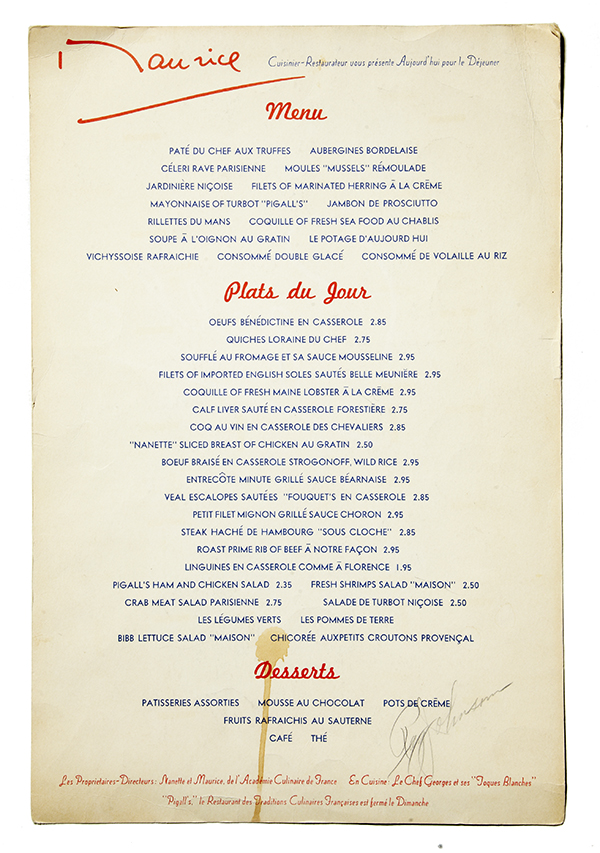 ---
The Fountain Room
Mabley & Carew opened on Fountain Square in 1962. Somewhere deep inside, the Fountain Room specialized in "Ohio fare" with a menu listing  chopped chicken liver, chicken croquettes, and something called "steamship round of beef." The rendering of the Tyler-Davidson fountain on the cover shows a Charley Harper influence. The department store was sold to Elder-Beerman in 1978.
---
The St. Nicholas Plaza Hotel
Invitations to the 1931 debut of the Carew Tower's St. Nicholas Plaza hotel arrived in oversize blue velveteen folders, which opened with origami precision to reveal luxuriant Art Deco renderings and a menu written in French. Unfortunately, the hotel immediately faced a lawsuit over its name and the owners switched to the St. Netherland Plaza, eventually dropping the "Saint."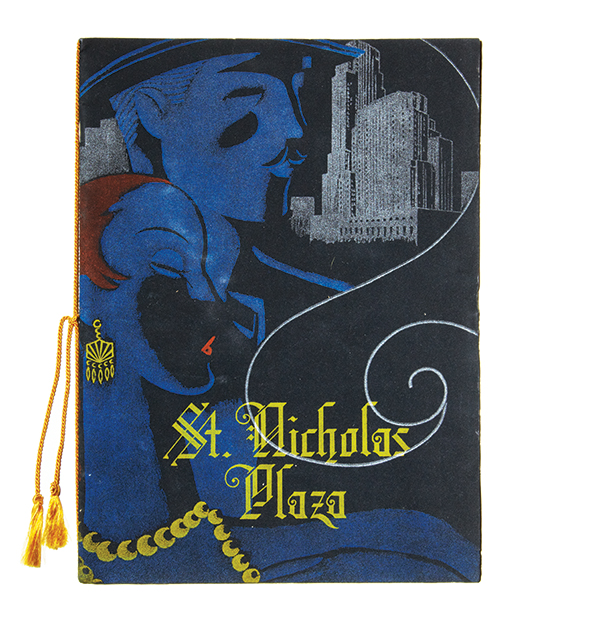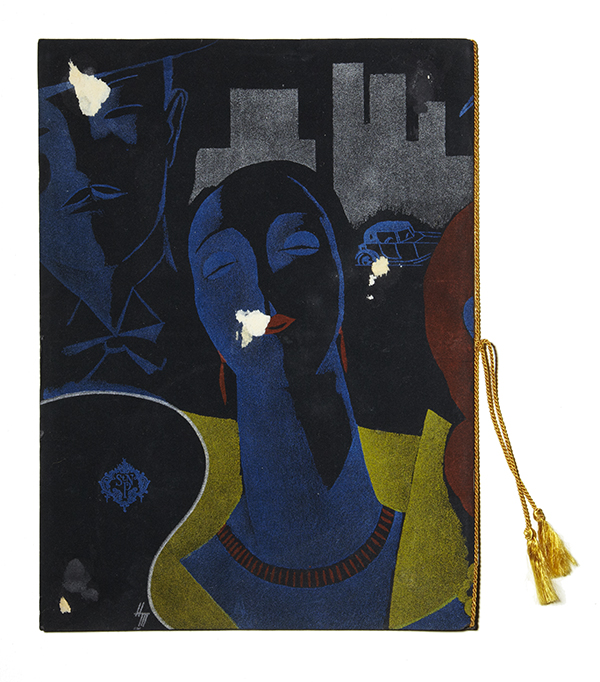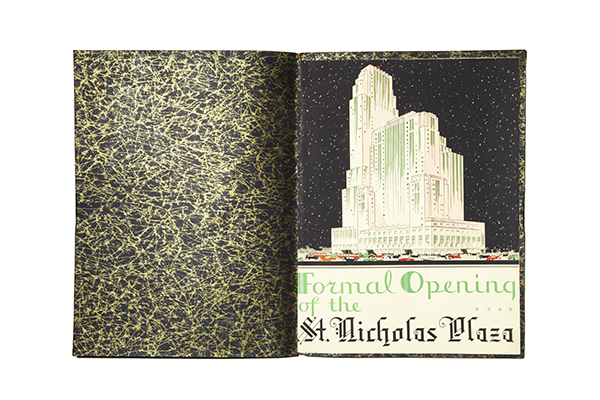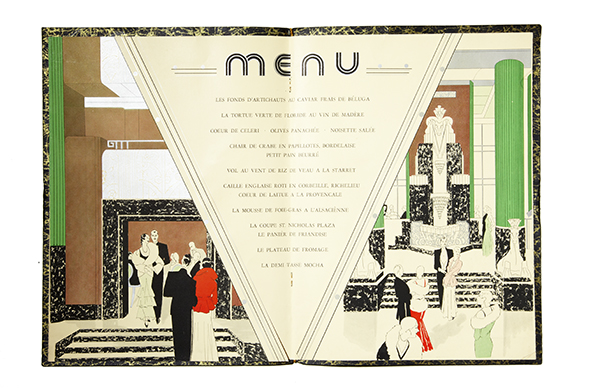 ---
Frisch's
The ubiquitous coffee-shop chain with the Big Boy mascot joyfully hoisting his eponymous "Double-deck King of Hamburgers," Frisch's traces its roots to Samuel Frisch's original 1905 café in Queensgate. Frisch's boasted about its brew—"Just a cup of coffee to you but a reputation to us"—as much as its burgers, and Dave Frisch, who is mentioned on earlier menus as the establishment's co-operator, took over the family business in 1923.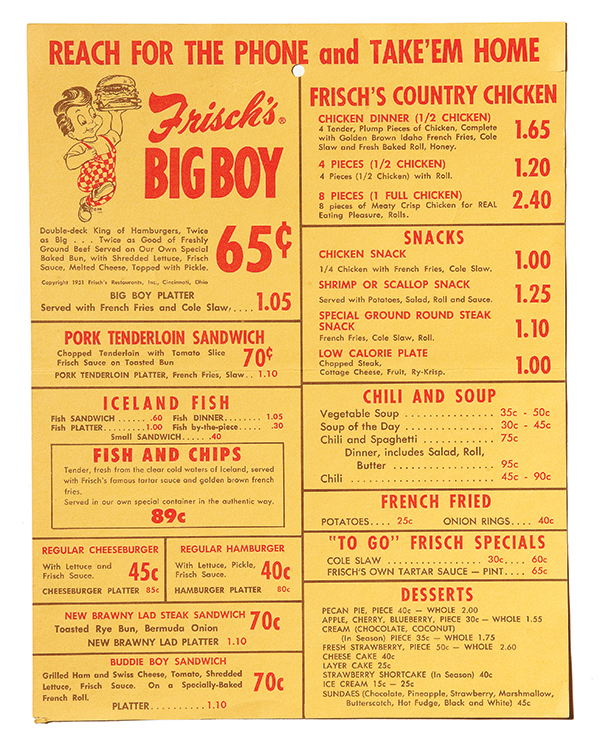 ---
Maisonette
For 56 years, Maisonette was synonomous with sophistication in Cincinnati. Spendy at the time, these prices seem a bargain now—note the English sole Veronique (poached sole with green seedless grapes and white wine sauce) for $6.25. Lee and Michael Comisar were the "proprietaires" and Pierre Adrian the "chef de cuisine," which dates this menu to some time before 1972.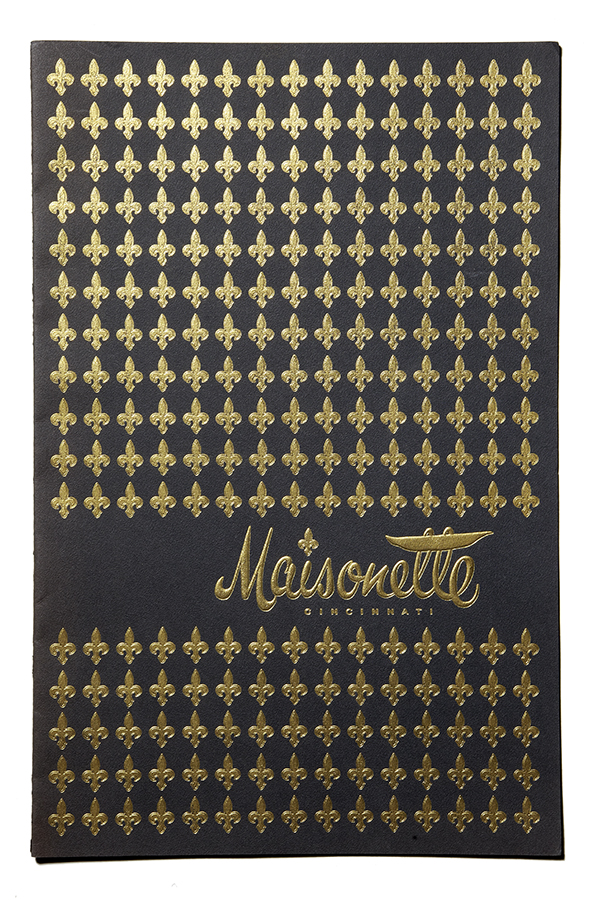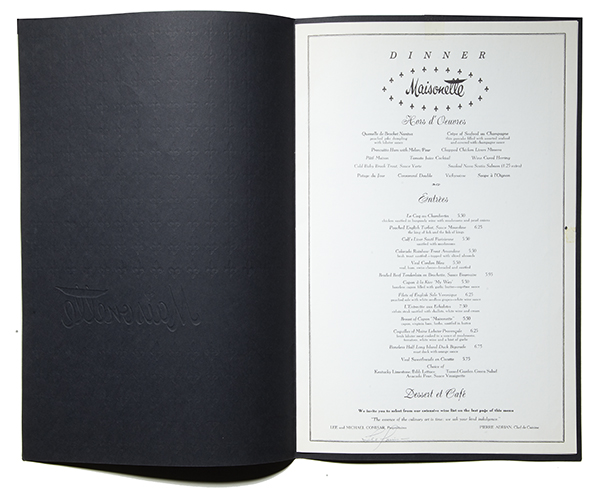 ---
The Gay Peacock
Imagine whiling away long afternoons at the Netherland's Gay Peacock. Opened in 1957, it lasted into the 1960s. Specialty salads like the $1.75 Netherland House, the $2 Shrimp Salad Bowl, and the $2 Crabmeat Avocado Louis were the headliners. The back of the menu lists seductive spirits, including three different fizz cocktails—golden, royal, and silver, priced at 85 cents each.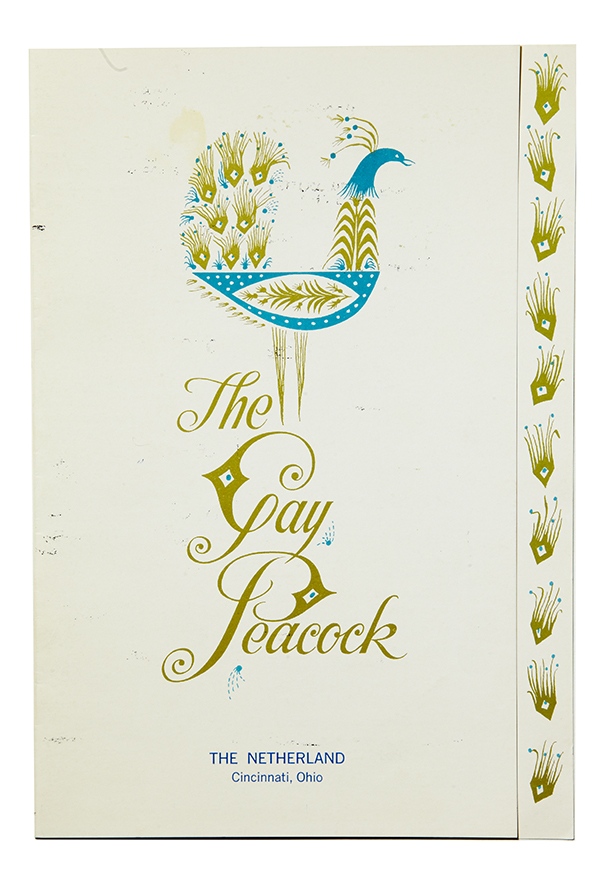 ---
The Heritage
The Heritage attempted to hone an image of hunt club exclusivity, but down-home standards such as country pan fried chicken ($3.50) and Tennessee hickory-cured country ham ($4.75) ruled the menu. While a cottage on the property opened as a restaurant in 1937, the main house—built in 1827—opened much later. Closed in 2004, it is now the site of the FiftyWest Brewing Company.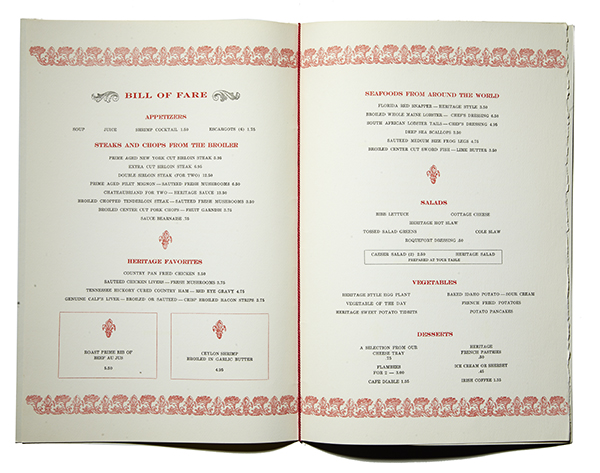 ---
InCahoot's
When inCahoots opened in Corryville's University Village (now known as Short Vine) in 1974, it was at the forefront of the "gourmet hamburger" movement. This boldly minimalist menu all but shouts "Disco!" Ten-ounce burgers went for the then-princely sum of $1.95. A hip, casual-dining institution, inCahoots lasted until 1992 in Corryville, though the name lives on elsewhere.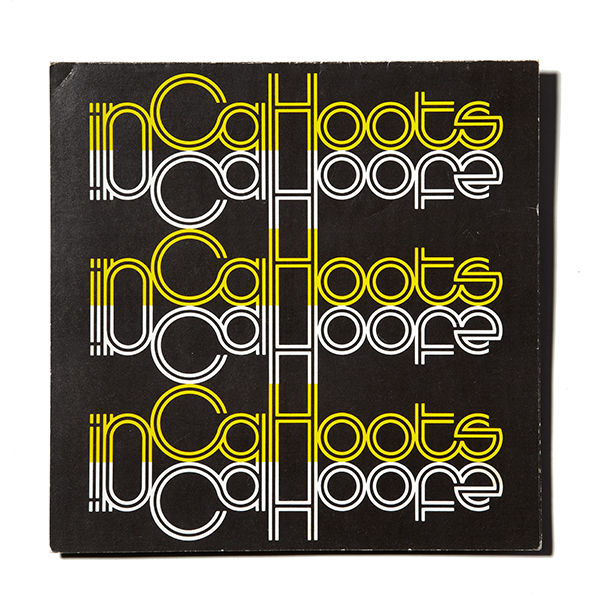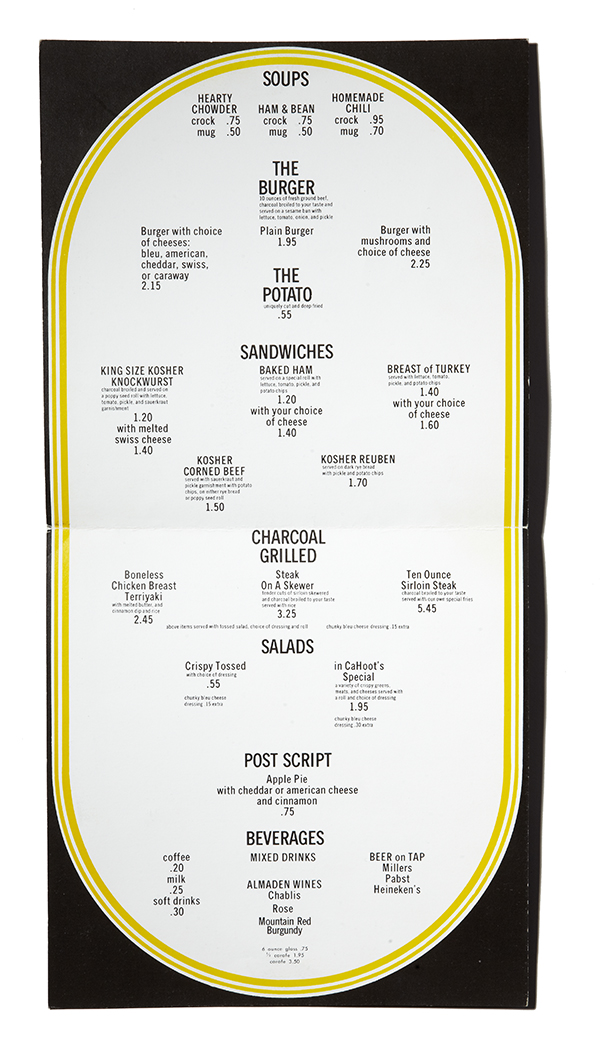 ---
Klosterman's Dixie Bakery & Coffee Shop
According to Ken Klosterman, of Cincinnati's venerable Klosterman Baking Company, his Aunt Blanche and Uncle Frank opened a retail bakery in the Dixie Terminal Building on Fourth Street sometime in the late 1920s or early '30s. Blanche branched out and added a restaurant that served breakfast, lunch, and afternoon tea from 3 to 6 p.m. This lovely teapot-shaped menu offered desserts such as a Scotch scone or English muffin with marmalade and a cup of coffee or tea for 40 cents; cinnamon toast with coffee or tea for 30 cents; and a fruit salad with toasted nut bread and coffee, tea, or hot chocolate for 75 cents. The retail outlet lasted well into the 1970s, but Klosterman says the tearoom closed before then.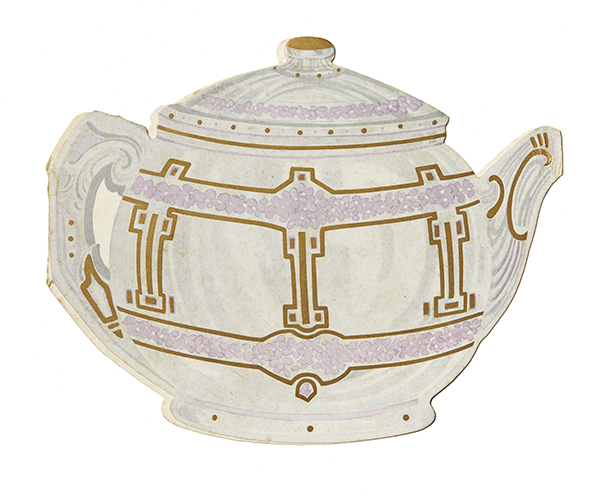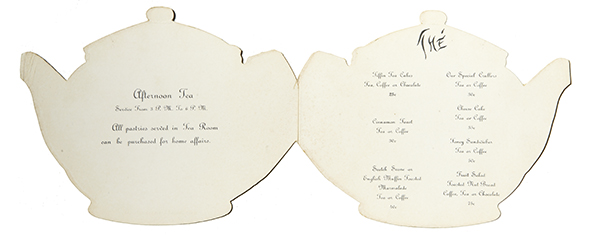 Originally published in the March 2014 issue.
Photographs by Anna Jones/OMS Photography

Facebook Comments