With the lights on, it isn't much to look at. Go Bananas Comedy Club in Montgomery isn't shabby, per se, but definitely showing the wear of almost three decades. Low ceilinged and painted in dark hues, its haphazard wall decor includes signed photos of past headliners and humorous paintings, like the one of former President Barack Obama portrayed as Michael Jackson on the Thriller album cover. Tables fan out from the stage (backed by a brick wall, of course), each topped with a lit flame flickering inside a glass votive. Three-paneled menus with a limited food and drink list stand tall beside the candles. Meh with a dash of farce.
---
A place like this, though—and there aren't many left nowadays—doesn't serve much purpose with the lights on. The comedy club hosts featured headliners who perform multiple shows Thursday–Sunday nights, ranging from big-name national acts like Mike Birbiglia to well-established regional and local comics. But the soul of the venue lives on Wednesday nights, when the place buzzes with anxious anticipation in the minutes leading to the 8 p.m. start of the regular Professional-Amateur open mic night. The lights flick off as a coterie of comics both raw and seasoned gather in the space to tell jokes, work out new material, and—hopefully—make people laugh.
"Open mics here are great," says Blake Hammond, a Pro-Am fixture who's been performing at Go Bananas for years. Lazy-lidded and disheveled with a plaid shirt unbuttoned over a protruding belly, he looks the part of a down-on-his-luck comic. (He knows it, too—his set opens with him describing a recent interaction with his childhood priest, who comments on Hammond's weight gain. "Uh," the comic stammers, before awkwardly responding, "And also with you!") Looks aside, Hammond has developed into a rising star at the club known for a tenacious work ethic. "You can do whatever and really see if something works," he says of the Pro-Am sets. "They'll listen to you. There's a community here."
"It's just a cool environment," adds Kyle Jeffers, a wiry, wild-eyed yang to Hammond's yin whose current set revolves around his recent sobriety. ("It's court-ordered, and it sucks so bad.") "It's definitely a special thing that's not like other clubs," Jeffers adds.
---
He and Hammond came up alongside each other and have an easy, workmate camaraderie. Noticeably at ease in a horseshoe-shaped booth along the club's back wall, you get the feeling each struggles to reach this level of comfort elsewhere in their lives, an observation underscored by Jeffers's admission to being here whenever the doors are open. He works as a landscaper when possible, but helping work shows at the club when he's not onstage is his steadiest employment. "I've worked here for four years now. I cook, bartend, pretty much everything," he says. "It's just a good way to get into the club. For me, it was to be able to watch shows and to learn quicker. And you're just around comics all the time, so it's a good environment."
Hammond exhales a plume of vape smoke and shakes his head. "I never wanted to work here," he says. "I didn't want it to also be my job—I didn't want to hate it. I wanted to just come in and do comedy." A trained journalist who used to write for CityBeat, Hammond now pursues comedy as his main source of income. A job at Skyline Chili pays the bills.
As we chat a few hours before the club opens for a Wednesday night Pro-Am, various comics filter in and punctuate the discussion with off-color interjections that Hammond acknowledges with a gracious laugh. Some are here to perform, others to fraternize, but Go Bananas's hive-like community of funny men and women—though, admittedly, thirty-ish white guys are the prevailing demographic—begins to take shape.
The weekly Pro-Ams are more or less de facto member meetings for the local standup scene. National headliners blow through town to play the Aronoff Center or Taft Theatre, a handful of places have ticketed shows for second-tier comics, and a few bars offer semi-regular open mic nights (some more gimmicky than others), but Go Bananas is the preferred haunt for locals serious about the stand-up lifestyle, even if most are still fighting to make it a feasible one.
---
"I came here for like two months. I would show up late and sneak in," says Jeffers. "Eventually they were like, 'You're a comic, we know you,' and they'd just let me in for free. Whereas if I wanted to go to the Funny Bone, I'd have to buy chips, two drinks, and they would never remember who I was."
"You can't really hang out at those places," says Hammond. "You can't be like, Hey, I'm a comic. But I can just walk in here on a weekend."
Hammond's idea of "hanging out" isn't the interpretation you or I might have—for the comics at Go Bananas, it means studying their peers' performances and obsessively comparing material. "It's a small scene, but we're very competitive. I feel like we're all trying to be better than each other," he says. "It's not a bad competition. If I see him do really well," he says, pointing to Jeffers, "I'm like, That's good. I want to do better than that."
"And when I see him do great, I'm like, Dude that was great. Good job," Jeffers deadpans. "I would never think a bad thing."
Go Bananas is known for incubating up-and-coming comedic talent. Our conversation, in fact, pre-empts a standing collaboration. "We do a writing session every week," says Hammond. "It's where new guys will come in with an idea they want to do and comics who have been doing it for a little bit, like us, will just give them ideas."
"Kind of show them how to write a joke," says Jeffers.
"That's how I learned to write," says Hammond. "And I still write every day with a lot of different people, because different perspectives are good. Stand-up is such a lone thing, but it doesn't have to be."
The two have witnessed a number of their most tenacious friends and mentors use the Go Bananas stage as a springboard to writing gigs in New York or Los Angeles: Dave Waite (The Tonight Show Starring Jimmy Fallon, Last Comic Standing), Josh Sneed (Comedy Central, The Bob & Tom Show), Ryan Singer (Maron). Both Hammond and Jeffers have aspirations to land a coveted standup spot on Conan, the late-night show with a reputation for giving hungry comics their big break. Still, they know the realities of the craft. Most of the comedians currently playing the Pro-Ams won't make it in the industry.
"It's hard," says Hammond.
"And it's a long process," adds Jeffers. "You're not going to be famous in five years."
"Or even 10," Hammond jumps back in. "There's no guarantee. There's no graduation, no hallmark. You just have to do it all yourself. We've been doing it for four, four-and-a half-years. And we're decent—we're pretty good. But we're not there."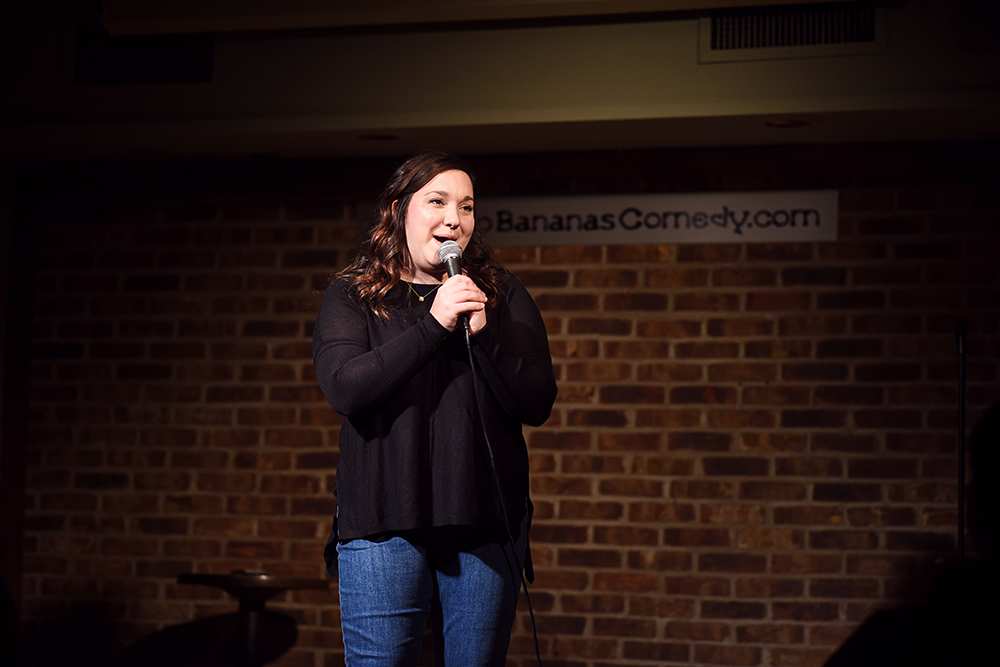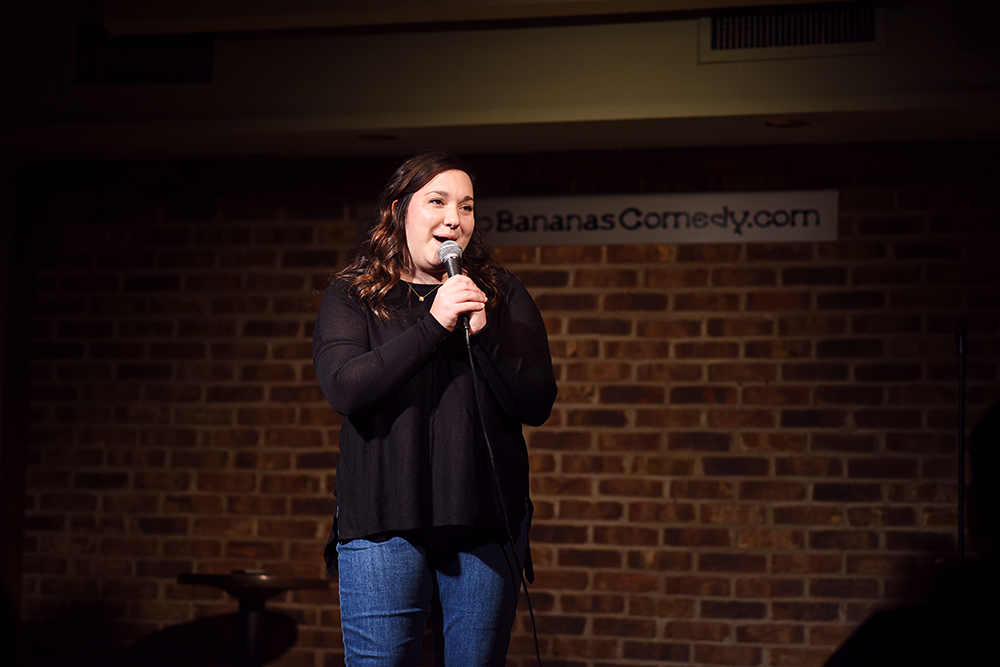 ---
Go Bananas opened in 1990 after a corporate comedy chain vacated. (The space was a Chinese restaurant before that.) Building owner H.C. Cheng understood the venue's difficult-to-find location, buried behind an auto dealership at the far end of a strip of international eateries, didn't lend itself to new business models, so he kept comedy going in the space. Twenty-seven years later, the Cheng family still owns it and has a group of longtime employees who run the joint.
"I've been here 22 years," says general manager Michael Kurtz. "I came for a Halloween rave in '95, helped out, and they hired me." Asked why he's stayed so long, he answers quickly. "Camaraderie. Twenty-two years with no time off—that's been a little tough. But I love it. This place is one of the best clubs in the country, and all the comedians that come through here are great."
"It's like a family, the environment," says Jeffers. "Like Lisa, the server? She cuts my hair. She's like my mom."
With more than two decades of shifts under her belt, Lisa Bunch could be forgiven for no longer listening to the jokes—if that were the case. "When a comic is exceptionally funny or the guys around here do new material, I hear it. And I laugh while I work. It's fun to watch these new guys grow," she says. "Like Kyle, for instance. He's come a really long way. He's getting super funny, so he'll probably be here for another year or two, then he'll move on to New York or somewhere."
Asked if the departures are bittersweet, Bunch pauses, then smirks. "It's a little sad, but they come back and headline."
The house lights go dark just after 8 on this particular Wednesday as LL Cool J's "Mama Said Knock You Out" blares. The spotlight flicks on. In five-minute intervals, comedians of varying experience and talent take the stage—the only requirement for a Pro-Am spot is that you bring five audience members with you. During the one-and-a-half-hour performance, two losers of fantasy football bets will man the mic. One's prepared a shaky set; the other fails to tell a single joke, instead repeatedly commenting on the bright lights. "He was not lying, the lights are bright up there," says Hammond, whose own set followed, opening with a two-minute riff on the previous crash-and-burn appearance. "I wasn't mad at him," he says later, "but the thing that we're trying to do as a career, people do when they lose bets."
The evening ends with a headliner: Cincinnati's own Kelly Collette, a self-described "unconventional sorority girl" who, in 2012, was one of five finalists on CMT's Next Big Comic. Her 20-minute set includes a joke about a news item from earlier in the day that she abandons with an acknowledgement it's not ready yet, moving on to a crafted story of confusion over a $1 coin. ("Sacaga-who? A woman on a coin?" she says, feigning disgust. "What is this, Canada?") This mix of tested jokes and new material is a critical part of the Pro-Am.
"Working out new bits is the most important part of it," says Mark Chalifoux, another local comic. "I try to have something new in every set—that's what keeps it interesting. And while failing those new jokes can be crushing, you have to embrace it. You learn the most from that, and it keeps you motivated to work harder."
Chalifoux's material is largely autobiographical reflections of a full-time dad. ("You treat your first kid the way you would a package marked FRAGILE," he jokes. "And you treat your second kid the way UPS would treat that package.") An eight-year comedy veteran, he's one of the most successful comics working Go Bananas right now, with TV appearances on Fox and IFC, national radio time on The Bob & Tom Show and BBC Radio, and a few years as a paid regular at New York City clubs. He headlined a weekend at Go Bananas in November, and this spring he'll record his debut comedy album at the club for Audible Records.
---
Chalifoux thoughtfully scans the main room, taking note of which comics showed up for tonight's Pro-Am. "Having a widely-respected club like this as a home base has been invaluable," he says. "It's such a privilege to be able to go up there on a regular basis. I certainly don't take that for granted."
Most don't. The comics usually end the night at McLevy's Pub, the hangout bar next door, mingling with friends and fans who came out for the show. Inevitably, they'll end up leaning against the bar or sharing a cigarette outside with a fellow comedian, parsing their set or fine-tuning a specific joke. Sure that next week, it will really kill.
Facebook Comments