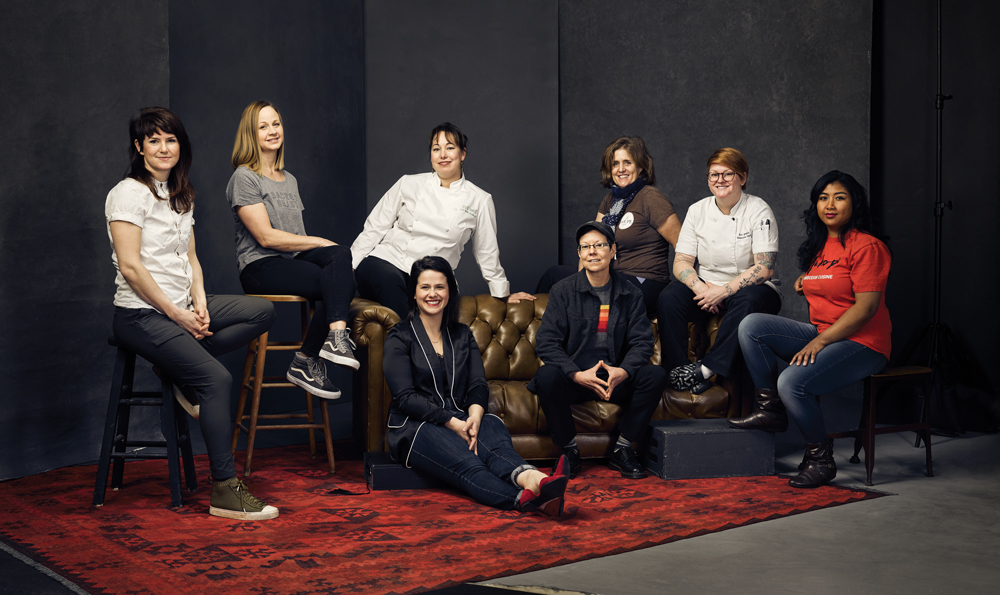 These Cincinnati-based, industry-leading ladies discuss how they got into the business, battling sexism, working tirelessly, and creating a hopeful future for the next generation of women in the kitchen.
---
Kayla Robison
Executive Chef, Arnold's Bar & Grill
Years in the Business: 14
How did you get your start in the industry? [I started working in restaurants when] I was 14 years old. I had gotten my first job…as the coffee-pourer girl at a buffet house. I kept seeing the back of house having so much fun and I wanted to be a part of it but my boss was very old-school, I guess you'd say, and said girls don't work in the back, you're meant to be up front. After a few months of constantly nagging him, we made a bet that if I could wash dishes and bus tables for a few months he would put me in the back. And I did, so when I was 15 I was in the back.
Do you feel fortunate to have advanced to a leadership role at such a young age? I've always been the underdog: I'm a young single mom…and was able to land an executive chef role at 24, so I'm fortunate that I haven't had to go as long as a lot of the other amazing female chefs who…have been around a long time. Finally we're at a time in this industry where there is no gender anymore, really, or it's starting to go away—it's a really cool time to be a part of it.
---
Frances Kroner
Executive Chef, CEO, Sleepy Bee Café, Aster Social Sippery
Years in the Business: 19
What unique challenges do women face in the restaurant industry? It has been really hard in the past for women to get the "chef" title. It goes back to just basic sexism, and then ripples out from there. We face the bias and norms that were the foundation of our industry. They have been dismantled or proven wrong for the most part; however, there are still so many fewer women in the chef position to this day because of them.
How do you support your female counterparts? I am working on the board of Cincinnati Women in Food and Drink, and we are rolling out a program for Cincinnati women in the industry to help develop a supportive, organized community. It is still very much in the incubator phase, and I hope in the next few years I will have a much better-educated answer to the question of how to effectively support each other.
What advice do you have for women and girls looking to start a career in the restaurant industry? Work really hard. Don't be entitled, but ask for what you deserve. Don't let anyone push you around…. Don't work for people who don't respect you enough to give you a safe, professional working environment.
---
Jennifer Kempin
Executive Chef, Social OTR
Years in the Business: 20
How important is it that women in the restaurant business lift up one another? I think it is our duty as females in this industry. Any minority in a situation feels like they should reach back and pull the next person up so they're at the same level as us as we move forward. Especially having other females around, we understand each other on a more intimate level, and because of that we should be supporting one another and telling each other, you can do this, you got this, girl.
Have you encountered any misconceptions about women working in the kitchen, and how has that changed over the years? Oh yeah, I have—much like my counterparts—dealt with sexual harassment problems. A lot of times you're not taken as seriously as men in the kitchen, or they think maybe you can't lift that, or you can't reach that, or you can't do these things, so they step in and do it for you. I think that probably in the last 15 years that dynamic has really changed. It's gone from women being the minority and having to deal with unsavory situations to just becoming a part of the team, which is kinda great.
---
Caitlin Steininger
Owner/Executive Chef, CWC, the Restaurant, Station Family + BBQ
Years in the Business: 17
What drew you to a career in cooking? Food is everything to my family. We eat breakfast to plan lunch and lunch to plan dinner. It's been in my blood, but I've always loved cooking and creating. I decided to go to culinary school my freshman year of high school and there was no looking back. I couldn't imagine doing anything else.
What unique challenges do women face in the kitchen? The restaurant industry is very, just traditionally, a boys club. It's very much male-dominated, and I just think there's a lack of understanding in regards to quality of life for women. There are things as women that we want and need and have in regards to family and kids and other priorities it's hard to accomplish.
Do you feel like the boys club dynamic is becoming less and less? It's not less and less males in the kitchen, but women are getting louder. Not only assertive, but we're just as great. We have our own set of ideas and we're not just in the background. We can play with the big boys, so there's no reason for us not to get the credit.
---
Vy Sok
Owner/Chef, Mahope
Years in the Business: 15
How did you get started with Mahope, and what made you want to open a restaurant after years working front of house? I've always enjoyed cooking with my family—it was always a passion. I've been talking about opening a restaurant for years, and then one day I signed up for the Mortar entrepreneurship program and it helped me get the ball rolling…. I was wondering what I would name the place—it means "food" in Cambodian—and I thought about how my mom asked me every day what kind of "mahope" we're making, so I thought, Duh! Perfect name—Mahope! And the second meaning…is "mom's hope"—my mom's hope is a better future for me because we were refugee immigrants who came to Cincinnati from a war-torn country. We came to America in 1984, so I've lived here my whole life.
How important has it been for you to have support from other women in the industry? It's very important. There are a lot more women on the scene than there used to be, and they're helping me understand the balance between family and work. In the restaurant industry it's hard to raise families, and having [friends like] Kayla [Robison]—she is a mom [too] and she's doing it—it helps me realize that it's OK to have a dream and still do what you love to do and raise your kids as well.
---
Suzy DeYoung
Owner, La Soupe
Years in the Business: 46
What drew you to a career in cooking? It's a genetic disorder I have. There's nobody in my family that isn't involved in food in some way. My dad was the chef at Maisonette, my grandfather was the chef at The Union Club in New York City. I have another grandfather who was the chef at The Sherry-Netherland. His son was a chef. You don't fight the gene pool.
Are gender dynamics in the restaurant industry are still a concern? I really can't say that. When I lived in France, it was extremely difficult, because two of the restaurants I worked in I was the first and only female in the kitchen, so it was truly entering the men's locker room, which at the time I didn't really care what they thought about me. I was there to learn. And the fact that nobody wanted to talk to me just made me concentrate and sponge more from the people I was trying to learn from, but it was tough. But [overall] I've been treated pretty darn well. I wouldn't be where I am now without a lot of those men I've worked with over the years.
What's most challenging and rewarding about being in a leadership role? The hardest thing is seeing someone leave your organization after you've put so much time and energy into training them, but when they blossom—I mean, what kind of mentor would you be if your mentee isn't gunning for you? You should get them to the point where they're better than you. Otherwise you haven't really done your job, I don't think. As a boss you should be in a constant position of teaching and supporting their decisions. I've lost a few really key employees through my life, one in particular who went on to open a restaurant, and golly was I proud.
---
Bridget Lieb
Co-owner, Sacred Beast
Years in the Business: 25
When did you decide to pursue a career in the restaurant industry? [For career day in high school] I went [to Maisonette] for a day and I met Jean-Robert [de Cavel], and it was the most amazing day of my life. I immediately thought, these are my people; I belong here; I love this…. It was the first time I felt like I fit in. Fortunately for me, I ran into Jean-Robert a year later at the mall, and he said, hey, I think I have a job for you, and I was like, perfect! And that's history. So I guess it was fate.
How important is it that men in leadership roles help foster the growth of women on their staffs? I think it's absolutely important. The chef sets the tone of the restaurant and how people will be treated. You lead by example. Jean-Robert did—it was never boy or girl; it was can you do the job or can you not do the job? I was extremely young when I started working there, so I was very protected.
Do you find yourself doing the same for your staff? Jeremy and I very much want our restaurant to feel family-oriented, and we want [our staff] to think, oh good, Bridget and Jeremy are here, like, that's good news. We want them to be relieved that we're here, not stressed that we're here. Setting that tone is the most important thing that you can do in a leadership role.
---
Renee Schuler
Owner/Chef, Eat Well Celebrations and Feasts
Years in the Business: 21
Are gender dynamics in the restaurant industry still a concern? I still think that there are still inappropriate behaviors and inappropriate language…. About 80 percent of the time I don't think it's intentional. We have to be vigilant…even pet names…referring to someone as "dear" or "honey"…. You can call your coworkers one of two things: You can call them by their first or last name, or you can call them "chef."
Do you make a point of shaping the culture in your business? I don't have a choice, I have to have a voice and I have to speak up. Even if my employees choose not to, if I'm aware of something that is happening, I have to do something.
Have you encountered any misconceptions about women working in the kitchen? I think the biggest one is that women don't want to work in the kitchen because they want to have babies or that women leave because it's too hard to have a baby and work the line. My executive chef had a maternity leave to have twins, and actually, I feel really good that she decided to have a baby last year because it means she feels very secure in the ability of the kitchen to function without her and she felt secure enough in the business and her role here that she could start a family.
---
Shannon Blalack
Co-owner/Executive Chef, Melt Revival
Years in the Business: 18
How important is it for women in the industry to support and lift one another up? Extremely important. [There's] a huge push for women in leadership, not just in restaurants, but all over the place. Women are coming together to make a stand and let people know that we deserve equality, as anyone does. Gender doesn't matter. It's about the job.
What unique challenges do you think women face in the restaurant industry? I think [earning] respect. Because it's been a male-dominated industry, it can be harder for a woman to prove they can do it too. I'm a [petite] woman, and I will buck through anything the dudes can do. It's just a matter of showing you can.
What advice do you have for women and girls looking to start a career in the restaurant industry? Go for it! Anything is possible. I started as a server; I've worked every single position in a restaurant—dishwasher, everything. You can do anything you put your mind to.
What do you find most rewarding about being in a position of leadership? The most rewarding thing for me right now is I'm able to do this for myself, even though it's stressful. It's your money, so it's your failure or your success.
Facebook Comments