Visit a comedy festival in Bloomington, pedal your way Horse Country, go off the grid in Hocking Hills, camp out at a NASCAR race, or choose from 14 other adventures. Hey, summer's fleeting. If you don't stop and look around once in awhile, you might miss it.
1. Savannah, Georgia (May 27)
This beautiful Southern city celebrates its martial past as summer kicks off.
At first blush, this dreamy Southern belle might not seem like a fightin' town. But Savannah has layers on layers of military history. And during Memorial Day weekend, the military and police communities come out in force to remember the city's role in conflicts past. Some of the most visible reminders are from the Revolutionary War (the city was British-held right up to the end). In fact, just 10 years after the decisive Battle of Yorktown, President Washington visited, then followed up with a gift of two bronze cannons captured from the British. The "Washington Guns" sit on Bay Street, steps away from the footbridges and ancient stone staircases of the cobblestone riverfront—itself a living snapshot of ye olde Savannah. To see this site and much more, head over to Rousakis Riverfront Plaza on historic River Street for the Armed Forces Festival (May 25), a full day of patriotic merrymaking to help fund the Georgia National Guard Family Support Foundation.
Despite its location in the deep south, Savannah takes much of its identity from its role outside the Civil War: The local lore goes that General William T. Sherman couldn't bring himself to burn the beautiful city, preserving it as a "Christmas gift" to President Lincoln. And yet the war between the states is remembered in nearly every corner of the city, with cannons, statues, and forts a-plenty. Visit Sherman's former headquarters, now known as the Green-Meldrim House, take the Civil War Savannah Tour, or simply walk through the city's 22 historic squares.
If you need an excuse to visit one of the world's most famous cemeteries, plan to attend the Chatham County Memorial Day Ceremony (May 26), hosted by the Savannah-Chatham Metropolitian Police Department, at Bonaventure Cemetery. You'll quickly see why it's one of the most photographed places in the world (most famously for the cover of the book Midnight in the Garden of Good and Evil).
Of course, Savannah memorializes contemporary wars, too. The Vietnam Veterans Memorial, also on historic Bay Street, is unique in its simplicity: Inside a small pool sits a marble stone in the shape of Vietnam inscribed with the names of local men and women who fought and died in that war. It's a peaceful corner that inspires deep reflection. Visit the memorial during your weekend to see a performance by the Third Infantry Division Band Brass Quintet at the Savannah VVA Memorial Day Ceremony (May 25).
If you're looking for a day trip, take a drive over to Ft. Pulaski National Monument, a sprawling brick coastal fortification on marshy Cockspur Island. It's still pocked with holes from the Union artillery fire that ultimately helped bring down Confederate forces. While you're at it, hop over to Tybee Island, just a few more minutes down the road. Because Memorial Day is about flags and 21-gun-salutes, but it's also about hanging out at the beach. —Amy Brownlee
savannah.com/events/event/armed-forces-festival/, visit-historic-savannah.com/green-meldrim-house.html, savannah.com/events/event/chatham-county-memorial-day-ceremony/, savannahculturalheritagetours.com/, bonaventurehistorical.org/, savannah.com/events/event/savannah-vva-memorial-day-ceremony/, nps.gov/fopu/index.htm
---
2. Limestone Comedy Festival (June 2)
College town charm and plenty of laughs.

Since 2013, the Limestone Comedy Festival has brought in a slew of well-respected comics to Bloomington, Indiana, a beautiful (and in the summer, blessedly empty) college town. Headlining this year's lineup is W. Kamau Bell, who's best known for his political comedy and CNN show United Shades of America.
How excited are you to visit Mike Pence's home state? I've actually been to Indiana three or four times since the election, and I lived there as a child. So I'm familiar. There's this thing called the Midwest, but Indiana is mostly the South. John Cougar Mellencamp may have good Midwestern values, but he's more country than Motown.
Is there a goal or theory that drives your comedy? Usually I'm investigating some idea I don't understand. Comedy is a way to explain the world to yourself and to explain how you see the world to other people.
You excel in many different media, including podcasts, TV, and a new book, The Awkward Thoughts of W. Kamau Bell. What makes a live show special? When a live show is good, you're doing something that isn't repeatable—it's the only time you and the audience will have that. With Limestone, it's also a chance to work with my friend Hari Kondabolu. We're doing a show together, and on some level I don't even care how it goes because I'm excited to see him. But because we won't be worried, I know the audience will have a good time. —Craig Fehrman
limestonecomedyfest.com
---
3. Put-in-Bay, Ohio (June 10)
Setting sail (or not) on Lake Erie.

Put-in-Bay, a village on South Bass Island in Lake Erie, northwest of Sandusky, will be a busy place the weekend of June 10. In the wee hours of that Saturday, sailboats of all shapes, sizes, and speeds will glide into the bay, completing the annual Mills Trophy Race. If you're not up for watching the boats arrive in the middle of the night, no worries—you can see the entire racing fleet in all its glory the next day at the downtown docks.
A 10-minute walk southeast will have you at Perry's Victory and International Peace Memorial Park. There, you can catch beautiful views of the lake, brush up on local history, and check out the Put-in-Bay Music Festival, a free set of shows featuring all forms of Americana, from bluegrass to zydeco. The audience is encouraged to bring lawn chairs, but if you're not the type to lounge while you listen, check out the cornhole tournament. There is an entry fee—$30 for the singles tournament, $50 for doubles—and a cash prize of at least $300. Register by June 1 to join in, or simply show up and cheer for whichever team has set their bean bags on stun. —Michelle Brandstetter
pibmusicfest.com
---
4. The Shawshank Trail (June 17)
Follow in the footsteps of movie stars in Mansfield, Ohio.
No good thing ever dies. At least, that's what Andy Dufresne writes to his friend Red Redding in the 1994 movie The Shawshank Redemption. Based on a Stephen King novella, the film found a devoted audience through repeated airings on basic cable. And as fans made their way to Mansfield, seeking out locations from the film, the Mansfield/Richland County Convention and Visitors Bureau (now Destination Mansfield) created the Shawshank Trail, a guide to filming sites in the area. This weekend marks Destination Mansfield's third Shawshank Hustle 7K race. The route passes five of the trail's stops, but you'll have to make a short trip north of town to see the pièce de résistance: the Ohio State Reformatory. The structure, which mixes Victorian Gothic, Queen Anne, and Richardson Romanesque architectural styles, was slated for demolition before the movie gave it new life. Visitors can follow in Dufresne's footsteps—and even see his escape tunnel—during the Hollywood Tour. In March, the trail added a 15th stop: Sandy Point National Wildlife Refuge on St. Croix, in the U.S. Virgin Islands, which stood in for Mexico, where Red reunites with Dufresne. There's no little hotel on that beach: it's a nesting habitat for sea turtles. You can still visit, though, September through March.  —Amanda Boyd Walters
shawshanktrail.com
---
5. National Museum of the U.S. Air Force (June 24)
Fly through an exhibition of presidential aircraft in Dayton, Ohio.

You can see it on their faces. Somewhere around the Holocaust exhibit, visitors realize that they've spent so much time with the exhibits about Wilbur and Orville and the beginning of flight that their day at the National Museum of the U.S. Air Force is nearly over and they're still nowhere near finished.
If that's you, you owe yourself a return trip to the world's largest military aviation museum. And this time, start in the museum's new fourth building. Because the $40.8 million expansion, which opened last summer, shouldn't be a rush job. The 22,400-square-foot space houses 10 presidential aircraft, including the Air Force One that carried JFK to Dallas, and Sacred Cow—the plane that took FDR to the Yalta Conference in 1945. Seeing the compact room where the polio-stricken president huddled with his wartime staff, it's easy to summon the intensity of that era. There are also historic moments represented by the military's workhorse aircraft: Hanoi Taxi brought the first American POWs home from Vietnam.
Take it all in at your leisure, then head back to the beginning to wonder at the genius of those bicycle mechanics from Dayton. —Linda Vaccariello
nationalmuseum.af.mil
On the way: Slather on the sunblock: the Vectren Dayton Air Show (daytonairshow.com) is back. The annual aviation extravaganza this year includes the U.S. Air Force Thunderbirds; an F4U Corsair demonstration; an all-female skydiving team; and the country's newest fighter, the pricey F-35 Lightning II, performing a "heritage flight" with a WWII warbird. It's a chance to see your tax dollars and your grandfather's war bonds at work together.  
---
6. Hocking Hills State Forest, Logan, Ohio (July 1)
Get swept away by the beauty of nature.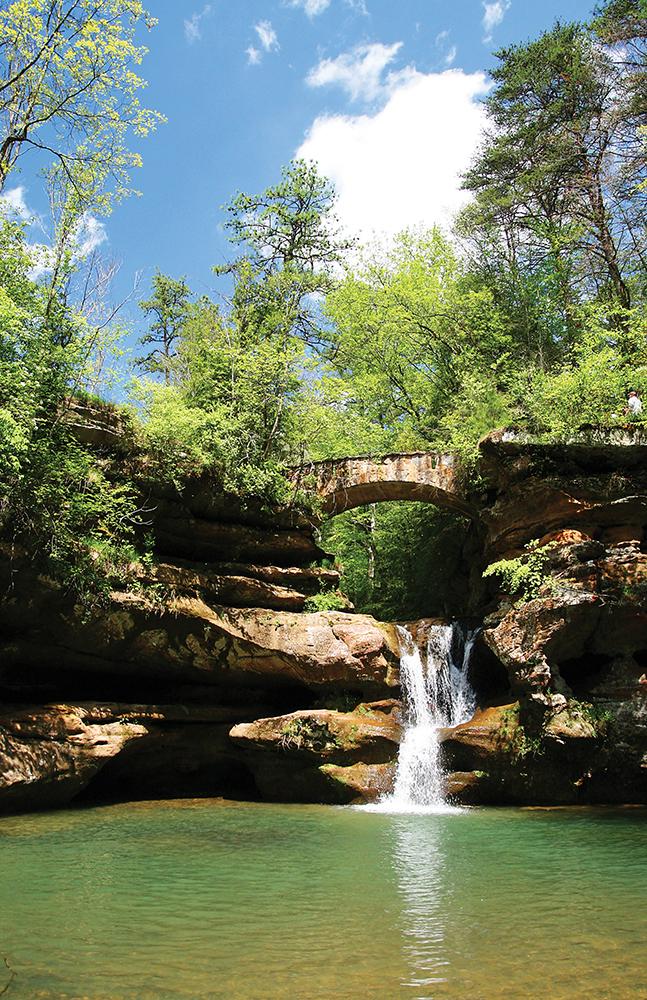 The Hocking Hills State Forest, in the Southwest part of the state, is truly among the most beautiful spots in all of Ohio. Anytime is a good time to go—but best is when the water is running the fastest. There are six areas of the park, and weaving through all of them are water flows that have cut amazing paths and patterns in the Blackhand sandstone hills of the region. There are dramatic outcroppings, deep gorges that you can see to the sparkling bottom of, and the kind of caves that bearded pioneers with vacant stares once inhabited, in the time before WiFi. Pro tip: Snag a first-come-first-served spot at Old Man's Cave Campground, with access to a six-mile trail that threads through everything from pristine yew and birch forests to echoey gorges galore. This is a good place to view wildlife: barred owls, white tailed deer, frogs and box turtles, wild turkey, beavers, and more. Even black bear, which are slowly making a return to the area, make an occasional appearance. This is good news: listen for them, but please don't feed. —RJ Smith
parks.ohiodnr.gov/hockinghills
On the way: Hocking Hills not your jam? Try Vinton Furnace State Forest (forestry.ohiodnr.gov/vintonfur nace), a "state experimental park": 12,000-plus acres of rare plants, cool birds, bobcat rumors, and even old Belgian coke ovens. Adams County's mysterious, fascinating Native American earthwork Serpent Mound (arcofappalachia.org/visit/serpent-mound) is Ohio's very own Stonehenge.
Up in the northeast corner of Ohio, beautiful and unlikely rock outcroppings covering 167 acres in Nelson-Kennedy Ledges State Park (parks.ohiodnr.gov/nelsonkennedyledges) form maze-like trails weaving through moss-encrusted rock walls and opening onto sun-dappled forests. Go ahead—go out on a ledge.
---
7. NASCAR Quaker State 400 (July 8)
This is how you camp at Kentucky Speedway.

Dave Yeary and his wife Kris have been traveling to Kentucky Speedway since it opened in 2000, including all six of the track's annual NASCAR Cup Series Quaker State 400 races. The Green Township native shared his veteran insight in advance of this year's green flag on July 8.
The campsite setup: "We go down on Tuesday when they open the campground [before race day on Saturday]. Our group is so big—we all have big RVs, but we rent a 40-by-60-foot tent and set up underneath with a karaoke system, grill area, light it up at night, put misters in there when it's super hot. Bands come and hook into the system. We've had some heckuva good times."
The spread: "Each camper will get a day for a meal they have to prepare for everyone. You might pick hamburgers and hot dogs, or BBQ, a little bit of everything. Most of us are beer drinkers. Some have the summery mixed drinks. And of course there's always the occasional jar of moonshine that makes its way around."
Advice for first-timers: "I bring everything—extra tools to help other people out. You won't need it, but someone usually does. Don't be afraid to ask if you need help. Just come and enjoy yourself and meet other campers. There's so many nice, friendly people." —Justin Williams
kentuckyspeedway.com
---
8. National Museum of African American History & Culture (July 15)
Finding hope in a complicated, horrible history.
Before you enter, you pass the words of James Baldwin, embedded in brass beneath gently cascading water: "I think that the past is all that makes the present coherent, and further, that the past will remain horrible for exactly as long as we refuse to assess it honestly." Inside, 85,000 square feet of exhibition space answer his call. Upper floors house the culture half—examining contributions to the arts, innovation, and sports with a constant eye to how that work moved the dial on equality. Belowground lies a three-story dive into the unbearable truths of how the economies of Europe and the Americas were built: On and by slaves. There's a detailed look at the various African societies of the 1400s; of slave rebellions in every colony; of the rice-growing expertise brought over from Africa; of individuals finding ways to maintain agency in their life—whether dancing or learning to read and write—despite the danger. It adds desperately needed nuance to the simplistic high-school-textbook narrative from the Civil War through Reconstruction, Jim Crow, Civil Rights, and up to today. The connection between America's past and the racial divisions and disparities of the present couldn't be clearer. And yet the "Blacksonian," as Wesley Morris has called it, is also clearly a triumph of spirit. —Alyssa Konermann
nmaahc.si.edu
---
9. A Key West Road Trip (July 22)
Chasing the sun down U.S. Route 1.
At about 6:30 on a Sunday morning, Las Olas Boulevard is silent. It's too early for the typical mix of tourists and locals that bustle about Ft. Lauderdale's swankiest street. In order to watch the sun rise over the Atlantic Ocean, though, this is the route to take. And that's what you're here to do: watch the sun rise, then chase it down U.S. 1 so you can watch it set in Key West. When you arrive at Ft. Lauderdale Beach, the obvious is made clear: The sun rises so…freakin'…slowly. When you're about to start a 400-mile roundtrip drive with plenty of stops along the way, this qualifies as an inconvenience. So take a few pics for your Instagram feed, but don't linger. It's time to start the journey.
Let us note that it is possible to fly into Key West, the southernmost island of the Florida Keys. There's an airport and everything, but air travel robs you of a stunning, relaxing, and picturesque drive. Key West is the destination, sure, but traveling solely for that island is like eating only the cherry on top of an ice cream sundae. And no one loves maraschinos that much. So fly into Ft. Lauderdale, which has a more convenient and less expensive airport than nearby Miami. The crucial step is renting a set of wheels. Any car with power windows will do the trick, but springing for a convertible—whether it's a Mini Cooper or a $3,000-a-day Ferrari—will be worth it.
Beginning the day early is key. Not only will it be cooler, but the road will be more open, making the drive and its views even better. And don't forget to fuel up the body. Before you hit the beach to watch that sun rise, head to Stork's in the tiny inland isle of Wilton Manors and carbo-load with a breakfast pastry or a slice of strawberry rhubarb pie. Sleeping in? Grab a pork belly breakfast sandwich with pickles at The Foxy Brown. Then hit the road.
The first main island you'll encounter on U.S.-1, the only road you'll need to reach Key West, is Key Largo, the same one name-dropped in the Beach Boys' "Kokomo." At 27 miles long, it's the largest of the Florida Keys and after about 90 minutes of driving, it makes an excellent spot to dip your toes in the water. The John Pennekamp Coral Reef State Park has affordable options for all types of aquatic exploration, including glass-bottom boats, scuba tours, snorkeling, and stand-up paddling. I opted for the $12 per hour kayak rental and navigated the eerily empty mangrove swamp like I was Charles Marlow.
Next, I made a pit stop at a church in Islamorada (it was Sunday, after all), but after that, the road opened up and the Overseas Highway came into full view. There are ostensibly 42 bridges connecting the 125-mile stretch of road to the chain of islands, but they aren't elevated like the bridges we're used to. It's as if the water's surface has been paved. You don't have to crane your neck to get a view of it; you're surrounded on all sides. Islands, approximately 1,700 in all shapes and sizes, dot the horizon, and boats toss up wakes on an otherwise calm sea. Driving along this remarkable highway, one of only 31 in the country designated an All-American Road, it's almost easy to forget about that final stop.
After traversing the renowned Seven Mile Bridge and swimming off the shore of Bahia Honda State Park, I drove the final 37 miles to reach Mile Marker Zero. Key West is known for its über-relaxed vibe, and a walk down Duval Street is all the proof you'll need. Everyone in town seemed to act like they had just completed a 5K and were en route to enjoy a celebratory beer. Grab your first pint at Irish Kevin's. The live music venue has a nice blend of old timers and twentysomethings, and it gets rowdy at night. The only drawback is that it's entirely indoors. I was intent on drinking outdoors, so I tried Caroline's Café, which has a comfortable shaded patio bar and bartenders who can whip up a stiff umbrella-topped drink.
The island's other known commodity is key lime pie. Though most key limes are not grown in the Keys anymore, there are still dozens of pie shops and homemade recipes in town. I opted for Kermit's Key West Key Lime Shoppe, which delivers a wonderfully tangy and sweet slice. It is also conveniently located around the corner from the Ernest Hemingway Home and Museum, where the famous six-toed cats roam across what is still the largest piece of residential property in Key West.
As the sun set, I stopped at the Southernmost Point buoy. In yellow letters, it reminds you that Cuba, Hemingway's home after Key West, is just 90 miles away, which seems impossible until you consult a map. The plan all along was to go to Key West and back to Ft. Lauderdale in one day, but I was tempted to stay due to the reasonably priced B&Bs and Dry Tortugas National Park, a scarcely visited national park located 70 miles off shore and home to a 19th-century fortress. But I stuck to my plan, as un-Hemingway-like as that now seems. The Southernmost Point in the contiguous United States seemed like a good spot to turn around. —Adam Flango
fortlauderdale.gov, storksbakery.com, myfoxybrown.com, pennekamppark.com, bahiahondapark.com,
irishkevins.com, carolinescafe.com, keylimeshop.com, hemingwayhome.com, nps.gov/drto/index.htm
On the way: Scattered across Ft. Lauderdale's seven-mile beach are plotted nesting grounds for loggerhead, leatherback, and green sea turtles. Turtle hatchlings emerge from these pockets each summer and crawl to the ocean; problems arise when they confuse street lights and high beams for moonlight. Organizations like Sea Turtle Oversight Protection (S.T.O.P., seaturtleop.com) work to save those that have gone astray. Register for one of S.T.O.P.'s turtle treks, and you can help guide turtle babies to the water.
---
10. Frankfort, Kentucky (July 29)
Commonwealth history—and bourbon.
Started in 1836, the commonwealth's historical society occupies prime real estate in the heart of the state capital, Frankfort, a vibrant small town with plenty of indie businesses and one very big player in the world of bourbon—Buffalo Trace Distillery. For $8, your ticket to the Thomas D. Clark Center for Kentucky History lets you ogle Abraham Lincoln's pocket watch (whose tick was recorded for Steven Spielberg's Lincoln), furniture from the Lexington brothel of notorious madam Belle Brezing, and a 1994 Corvette assembled at General Motors' Bowling Green factory. If genealogy is your thing, sift through archival records, maps, photographs, and oral histories for all 120 counties in the research library. Admission includes a guided tour of the former state capital building (utilized from 1830 to 1908), an impressive Greek Revival edifice just a short walk down the block. The Kentucky Military History Museum, housed in a mid-19th century arsenal overlooking the city, is an easy walk up the hill. Think of it this way: You could school yourself on the entirety of Kentucky's illustrious history and still have time to taste some of the best bourbon the commonwealth has to offer right at the source.  —Joanne Drilling
history.ky.gov
On the way: At Larkspur Press (larkspurpress.com), Gray Zeitz, the high priest of letterpress, and his assistant Leslie Shane print primarily Kentucky authors, including Wendell Berry, Bobbie Ann Mason, and Richard Taylor. The elegant hardbacks are available at fine bookstores, but to truly appreciate Zeitz's Zen-like poetry in motion, book lovers should plan to attend the press's open house in November for a glimpse of the antique presses and books being stitched by hand.
---
11. U.S. 127 Yard Sale (August 5)
A shopping trip where the journey is the destination.

Thirty years ago, Mike Walker had a dream. The Fentress County Executive, from Jamestown, Tennessee, hoped to draw travelers off interstates and into small towns, where they could soak up all the local color they wanted—while dropping a few bucks into those towns' coffers. What would bring them in? A yard sale, of course. Today the 127 Yard Sale stretches 690 miles between Gadsden, Alabama, and a spot five miles north of Addison, Michigan. (Jamestown is roughly in the middle.) Homeowners might spread a few housewares on a blanket, or band together with neighbors in a group effort with furniture, tools, and a few collectibles. Schools, churches, and fairgrounds often offer vendors booth space, creating flea market–like pockets of merch. You can't see it all, so pick a home base. Regulars on yard sale forums praise Celina, Ohio, from which you can head north to Van Wert and Bryan (both noted as good stops). Hard-core shoppers, head toward Tennessee: Stay in Chattanooga on Wednesday night; aim for Crossville on Thursday; then hit Somerset, Kentucky, on Friday; and Lexington on Saturday. By Sunday, you'll have a full trunk and sore feet, so head home and start planning next year's trek. —Amanda Boyd Walters
127sale.com, 127yardsale.com
On the way: Celina-bound travelers can detour to New Bremen's Bicycle Museum of America (bicyclemuseum.com), where the collection of nearly a thousand two-wheelers includes the country's oldest bike as well as Pee-wee Herman's red beach cruiser. Chattanooga, the birthplace of the tow truck, pays homage to its history at the International Towing & Recovery Museum (internationaltowingmuseum.org), home of the world's fastest wrecker, a tow truck raced at speeds above 130 mph. Those are some hot wheels.
---
12. Leaving On That Late-Night Train (August 12)
Amtrak's Chicago-to-NYC Cardinal Line can whisk you to outdoor adventure and an under-the-radar food scene in West Virginia.
Three nights a week, an Amtrak passenger train rumbles out of Cincinnati at 3:27 a.m. It passes the night skyline at a steady roll, across the Ohio on a trestle just west of the Clay Wade Bailey, then on through Covington. Before long any signs of city fade away as the route tracks the river's south bank. Without city light, the reality of 4 a.m. sets in, and the gentle sway of the train rocks you to sleep—in blessed solitude, if you've sprung for the roomette rather than coach. But set an alarm to wake in time to catch the wilds of West Virginia in the morning light and the sit-down breakfast in the window-lined café car.
At 9:41 a.m., the train stops in Thurmond. The smallest incorporated town in the country with a population of five (an active few: they have an official statement of inclusion that welcomes diversity), at first glance it's barely a glance: just the yellow and red board-and-batten–sided train depot, a single-lane iron bridge, and the New River rushing by. But a short jaunt back alongside the train line reveals what remains of a once-booming coal town, with a National Park Service history exhibit filling the storefront windows and a winding road up to the homes that remain in the now-serene setting. Thurmond sits within the New River Gorge National Park, a roughly 70,000-acre expanse that encompasses three rivers, 1,400 species of plants, hiking and mountain biking trails, and some of the country's best whitewater—which, unlike out west, is warm. Each year 75,000 people run the river, and increasingly, it's a destination for rock climbers with its water-cut sandstone faces home to more than 1,600 climbing routes.
Cincinnati's world's-largest-small-town thing extends beyond city limits: The New River's water flows west to the Queen City, points out Dave Arnold, a Terrace Park transplant who's been in West Virginia since 1976, when he and his business partner Jeff Proctor (also from Cincy) got gigs as river guides. Two years later they opened a small outdoor outfitter, which has grown into Adventures on the Gorge, an adventure resort offering lodging from $15-a-night campsites to $1,200-a-night luxury homes; multiple on-site restaurants; a zipline canopy tour; and guided whitewater rafting, rappelling, paddleboarding, kayaking, biking, fishing, climbing, and caving tours. Arnold is also my ride from the station, a service AOTG provides for any guests coming by train; you're not exactly in Lyft territory, after all.
Lunchtime means Cathedral Café in Fayetteville, a perfectly eclectic spot owned by Wendy Bayes, a firecracker of a Miamisburg native who went to West Virginia for a summer guide job and never left. She now serves a locally sourced menu with killer paninis (like The Hypocrite, their vegetarian sandwich…with bacon), carrot cake, coffee, and wine to locals and visiting outdoor enthusiasts. Dinner, meanwhile, takes us to the original Pies and Pints, the proprietor of which came from Loveland, and which recently opened back home, too.
The New River Gorge bridge, visible from the AOTG grounds, is iconic. (Need a refresher? It's on the West Virginia state quarter.) You can raft below it, drive atop it, or walk the 3,030 feet across its catwalk. Doing the latter means taking in the scene from 851 feet above water—including the Cardinal Line tracks, which from that vantage point appear as thin, hatched lines hugging the river's winding path.
Fifty miles (or four train stops) southeast, Lewisburg is a gem of a free-spirited little town with a small historic district that provides space for a surprisingly big food scene. Which makes sense: The area was historically an agricultural hub, so it didn't take the same hit as coal towns when the world switched preferred power sources. Being repopulated by hippies and back-to-landers in the '70s also left its legacy. You won't find hippies about town today, but you'll benefit from their coming before you: farm-to-table food is the norm, and there's a laid-back, artistic vibe throughout, including in the many boutique shops. Bella is a kitchenware-lover's dream; Patina hawks artisan and vintage goods; Edith's is basically a locally owned Whole Foods; Wolf Creek Gallery stocks brands like Free People and Frye; and Serenity Now Outfitters is packed with outdoor gear from Patagonia and Keen.
Find shelter at the General Lewis Inn, a charming hotel built in 1929 from an 1834 homestead. It's within easy stumbling distance of the French Goat, an upscale bistro that also excels at cocktails; Stardust Café, the place for local beef and perfection in the form of a flourless chocolate torte; and Wild Bean, a big, quirky community hub of a coffee shop.
Greenbrier County is also home to The Greenbrier resort. Around the turn of the 19th century, people began coming to the spot from near and far to bathe in the healing waters of the sulphur springs.
The draw has grown substantially, albeit less sulphur-based, as the resort now includes 710 rooms, 11,000 manicured acres, 14 restaurants and bars, plus golf courses and stables. An icon of design from the mind of Dorothy Draper in the 1940s, it's big prints and bold colors all over—all continually refreshed by her protégé, Carleton Varney. The Greenbrier is also the site of an infamous, formerly secret Cold War–era underground bunker, built to house Congress in case of a nuclear attack, which guests can now tour.
The local train depot, White Sulphur Springs, is right across the street. Heading west to Cincinnati, the Amtrak chugs apace as the evening light wanes. Back at Union Terminal, the elegant two-toned wooden walls and old-school signage of the waiting room and ticket booth—in the station's heyday, the men's lounge and a barber shop, respectively—greet you. The room is full, passengers ready to board.  —Alyssa Konermann
amtrak.com/cardinal-train, nps.gov/neri/index.htm, adventuresonthegorge.com, lewisburg-wv.com, greenbrier.com
On the way: Call it the budget-and-time-sensitive way to explore the Canadian wilderness. The 17,371-acre landscape of Dolly Sods, part of the Monongahela National Forest in West Virginia, is primarily bog (marshy wetland) and heath (open areas of coarse grasses and small shrubs). But that shouldn't make you think it's flat: The elevation ranges from 2,500 to more than 4,700 feet with giant, jagged rock formations and wind-gnarled trees throughout—all of which you can explore on 47 miles of trails.
---
13. Asheville, North Carolina (August 19)
A historic home, a vibrant arts scene, waterfalls worth hiking to, and global cuisine in the Blue Ridge Mountains.
The best way to get insider intel in Asheville is by feasting on the knowledge of locals. So on your first night in town, grab a stool and dine at the bar. The Corner Kitchen in Biltmore Village makes an excellent starting point; well-informed patrons and staff at this cozy spot will gladly help curate your Asheville dining experience while you sip a glass of Avelada, a crisp Portugese vinho verde. If your dining companions happen to point you toward Cucina 24 or Cúrate, heed their advice. Cúrate serves Spanish tapas with a modern twist: the warm, Galician style octopus and fried eggplant with honey and rosemary are standouts. Cucina 24 plates some of the city's freshest, local-est Italian cuisine, like rigatoni all'Amatriciana and creamy, housemade stracciatella (the cheese, not the gelato) with grilled broccoli and Calabrian chilies. Or dispense with restaurants altogether and take part in a Wild Food Foraging Adventure through No Taste Like Home, during which you'll amble through forest and field on a guided tour, collecting edible berries, nuts, greens, seasonal mushrooms, flowers, and seeds.
When touring the Biltmore in August, keep in mind that this American castle, built by the Vanderbilt family at the turn of the 20th century, lacks a key American comfort: air conditioning. Still, the house is worth every sweaty step, especially the kitchen—Downtown Abbey's Mrs. Patmore and Daisy would have died for such space, and such a view! You want more walking? Head out of town to find stunning waterfall hikes, like the Catawba Falls trail at Pisgah National Forest, or Rainbow Falls at Gorges State Park. Chimney Rock at Chimney Rock State Park offers dramatic views from atop a 500-million-year-old rock tower.
Downtown Asheville is awash in indie boutiques where you can find un-Google-able goodies to take home. Pop into Old North on Walnut for a discriminating selection of well-made men's and women's clothes, and Asheville Market Basket on Battery Park Avenue for colorful cottons for yourself, your table, and your bed. While you're downtown, plan to spend some time (and money) at Tops For Shoes: If it's trendy, a little edgy, and comfy, they have it. If you're near downtown on the Lord's day, reserve a spot at one of Rhubarb's Family Tables, where they serve a three-course family style supper at 6:30 every Sunday.
Finally, save an afternoon for wandering around Asheville's River Arts District next to the French Broad River: 22 buildings house more than 200 working artists. Browse contemporary jewelry at Olivia de Soria, ceramics at the Odyssey Center, and kilim and batik home goods at Sunnyside Trading. Yuzu Patisserie & Café is good for a sit-down and a snack; for something more substantial, head straight to White Duck Taco Shop, grab a picnic table, and tuck into inventive soft tacos filled with duck mole, Bangkok shrimp, or Korean beef bulgogi. Wash them down with a lime margarita that's as refreshing as Asheville itself. —Alyssa Brandt
thecornerkitchen.com, cucina24restaurant.com, heirloomhg.com/curate, notastelikehome.org, biltmore.com, fs.usda.gov/recarea/nfsnc/recarea/?recid=48114, ncparks.gov/gorges-state-park, chimneyrockpark.com, oldnorthclothing.com, topsforshoes.com, rhubarbasheville.com/sunday-supper, riverartsdistrict.com, oliviadesoria.com, odysseyceramicarts.co, sunnysidetradingco.com, yuzubycynthia.com, whiteducktacoshop.com
---
14. Exhibit Columbus (August 26)
Visit a dreamy Midwestern town where the past is the future.
Columbus, Indiana, is the Mid-Century-Modern dreamland of the rural Midwest, thanks in large part to native son J. Irwin Miller, a Yale- and Oxford-educated businessman who championed modern design as a way of attracting people to his Cummins Engine Company. The town is littered with churches, schools, and public buildings designed by the likes of Eero and Eliel Saarinen, I.M. Pei, and Deborah Berke. In 2016, Exhibit Columbus was created to honor and revitalize the legacy of J. Irwin and his wife Xenia through public art and design. The focal point was a juried competition that awarded five Miller Prizes; each winning art and architecture studio was then commissioned to create a temporary installation—including a contemporary wigwam near the First Christian Church and a 3.5-acre limestone circle in Mill Race Park. "The concern had been that Columbus was becoming known for what it did, not for what it's doing," says Richard McCoy, director of Landmark Columbus, the organization that jumpstarted Exhibit Columbus. "We want to again look like a city of the future, but in a way that doesn't forsake the past."  —Justin Williams
---
15. Detroit Jazz Festival, Detroit, Michigan (September 02)
How to do the Motor City bop.
Mark Stryker was an arts reporter and critic at the Detroit Free Press from 1995 to 2016. The author of the upcoming Made in Detroit: Jazz From the Motor City (University of Michigan Press) has a few tips on making the most of your weekend.
What It Is: "It's a great, diverse festival—it's the city at its best. Musicians will tell you it draws the best audiences of any festival they know of. I've heard piano trios and guitar-piano duets playing for thousands of people and you could hear a pin drop—at an outdoor festival!"
Do It Right: "If you can, stay at the Renaissance Mariott Hotel. It's where all the musicians stay. There are jam sessions every night. You walk out the door and you are almost literally on the festival grounds. Plus, you're highly likely to end up in an elevator with Ron Carter or Pat Metheny."
Get to Steppin': "There are four major stages. Three are right down on the river and the fourth is up Woodward Avenue, a short walk. Early on, take a trip around the grounds so you get a sense of what the festival is like from different points of view. We will have just launched our streetcar, M-1 Rail. It goes from right where the festival is up Woodward. You can take it to the great Detroit Institute of Arts, the Motown Museum, and where some of our greatest restaurants are, without needing a car." —as told to RJ Smith
detroitjazzfest.com
---
16. Rollerblading the Little Miami (September 02)
How to survive 150 (or even just 50) miles on in-line skates.
Still got that pair of Rollerblades? In September, Montana outfitter Zephyr Adventures leads a group around Dayton, Yellow Springs, and Xenia: five days and up to 150 miles on the Great Miami River, Mad River, Creekside, and Little Miami Scenic trails. Zephyr's alumni ambassador and tour operations specialist Kristin Keys explains.
People still do that? Yes and no. Zephyr was founded in 1997 as Zephyr Inline Skate Tours, but these days the company is more focused on biking, hiking, and food, wine, and beer tourism. This trip (and one in June) takes Zephyr back to its roots in celebration of the company's 20th anniversary.
"It's way more fun than biking, I think," says Keys, a former college ice hockey player who has been with Zephyr for 18 years. "There's something so Zen about just rolling down a path all day long."
Why Ohio? It's very skater-friendly, meaning paved, flat, and beautiful, with lots of trees for both scenery and potentially hotter temperatures. "And there are miles and miles of trails," Keys says—340, in fact: the Miami Valley system is the largest paved-trail network in North America.
How far do I have to skate? For as few as eight to as many as 38 miles on any given day. A van can always pick you up or drop you off mid-trail. And they never run out of Band-Aids or blister moleskins. —Jason Cohen
zephyradventures.com
---
17. Pittsburgh (September 9)
Rivals? Sure. But where we have Skyline, they have haluski. Which is better? Decide for yourself.
It's about time we bury the Terrible Towel–fueled angst and embrace what we share with Pittsburgh. Take the Strip District. In the same way that Findlay Market's many butchers reflect Cincinnati's strong German heritage, the Strip is lined with specialty food stores that reflect Pittsburgh's Italian roots, like the Pennsylvania Macaroni Company (Penn Mac to the locals) and The Enrico Biscotti Co., which offers fun bread-making classes. If you like Smale Park, then compare Pittsburgh's North Shore Riverfront Park. Located along a trail that winds behind PNC Park's outfield bleachers, it one-ups our path with pristine skyline views and rentable kayaks, so you can paddle to the Point, where the Allegheny and Monongahela rivers meet to form the Ohio. Both cities appreciate local history—the Heinz History Center is an impressive compendium of all things Pittsburgh—but even more important is the local grub. Most will say Primanti's, with its fries-and-coleslaw-topped sandwiches, embodies the Steel City. They're not wrong, but Pittsburghers also embrace the city's Polish offerings, especially haluski and pierogi. Restaurants offer their takes, but authentic varieties are found at local churches (we ride for St. John the Baptist in the northern suburb of Baden), many of which sell their delicacies year round. —Adam Flango
pennmac.com, enricobiscotti.com, heinzhistorycenter.org, primantibros.com
---
18. Savory Cycle Ride, Midway, Kentucky (September 24)
Eat, drink, and pedal your way through Lexington's horse country.
We've just banked into a narrow, uphill lane when the rear derailleur on the bike in front of me makes a sound like a spoon in a garbage disposal and explodes, spewing bits of metal all over the road. Our small peloton skids to a halt and right away, Stuart Morrison, an English import visiting the  Bluegrass State by way of Tennessee, takes charge, urging us up the lane away from what he recognizes as a dangerous blind turn even on a sleepy Sunday morning in the Lexington countryside. Luckily the next driver to come around the bend is not a church-bound local but rather Stuart's daughter, Stevie. No sooner has she pulled the sag wagon over—cyclist-speak for support-and-gear van—than James Lin and his wounded bike are spirited inside, and the rest of us are off and rolling the 15 or so miles to the next rest stop.
This is Savory Cycle, a gourmet benefit group ride through the heart of Lexington's horse country that takes place on the last full weekend every September. "Gourmet" because it includes meals made by James Beard Award–nominated Chef Ouita Michel and her team of culinary experts at Holly Hill Inn, who also ensure that morning and afternoon rest stops are packed with scratch-made energy bars, baked goods, and drinks. As for the "benefit" part, proceeds from the ticket price go to Lexington's Broke Spoke, a volunteer-run community bike shop.
At Broke Spoke, "everyone is treated equally, period," says Allen Kirkwood, a cycle commuter and engineer at Lexmark International who has volunteered there for five years. The shop puts bikes under people who ride out of necessity, rather than for recreation, and it's where riders can go to true a wheel or rebuild a drive train from bins of donated parts. "They can volunteer at the shop through our sweat equity program and earn a bicycle," says Kirkwood.  "One hundred percent of the profits from Savory Cycle go to keeping Broke Spoke afloat."
Savory Cycle has two routes. The "Five-course" ride, a "metric century" (100 kilometers, or about 62 miles), meanders along country roads lined with stone walls and horse pasture, with morning and afternoon rest stops. The less ambitious 25-mile "Amuse Bouche" goes straight from Midway's charming Holly Hill Inn, where both courses begin and end, to lunch at Woodford Reserve and back again. Lunch at Woodford Reserve Distillery for both routes comes with a chance to walk the distillery grounds.
Savory Cycle is the brainchild of Mason Colby, a French translator who also happens to be an avid cyclist. Colby wanted to do something to benefit Broke Spoke, where he has helped out in the past, but, because of young kids and work, can't regularly volunteer. When Colby travels to France to meet with clients, he retrieves a venerable Peugeot kept stashed in a friend's Burgundy garage and embarks on day-long rides, stopping for coffee, croissants, or a glass of wine. It's an experience, he says, that is very much a part of French society, and a perfect way to enjoy the countryside and cuisine.
But Kentucky has beautiful scenery, great cycling, and amazing food, too, he thought. "I just wanted this ride to exist," he says. "I wanted it to be a counterpoint to the super-roadie fast centuries"—rides that are more competitive than contemplative—"and just show off the roads and the food."
So in 2014, with help from other bluegrass-based cycling enthusiasts, Savory Cycle was born. The antithesis of competitive sweat fests, Savory is all about taking it easy and savoring the landscape—Kentucky-grown grains, fruits, honey, farm-raised meats, and vegetables included.
The day begins with breakfast on Holly Hill Inn's broad front porch. Colby strums a banjo as riders munch on mini biscuit sandwiches, muffins, and fresh fruit. During breakfast I stroll the lawn, admiring the bikes. Among the shining alloy, titanium, and carbon-fiber speed machines stand plenty of sticker-plastered, scratched-and-dented commuter "frankenbikes" typically assembled by younger cyclists in community shops like Broke Spoke. While benefit rides tend to be the domain of well-off folk with fancy bikes, Savory is a melting pot, and with a recommended pace of just 13 miles per hour, suitable for both the newbie and seasoned randonneur.
As we prepare to saddle up, Colby makes a few announcements. "Last year, thanks in part to Savory Cycle, Broke Spoke was able to sell 230 bikes and trade 62 for sweat equity," he says, before turning the mic over to Pam Thomas, who has designed the route. Following a career in the Kentucky legislature, Thomas has become something of a cycling maven, organizing the much larger, faster, and sweatier "Horsey Hundred," a springtime multi-ride weekend that draws thousands from across North America to Lexington. Thomas gives us the usual cautionary spiel, but then she adds: "I know this is going to be hard for some of you, but slow down. Don't rush. Enjoy the scenery and the food." And a word about the horses. "These are very expensive animals here in Woodford County," Thomas says. "Feel free to take their pictures, but don't feed them. And don't lean your bikes against the fences. They will eat your saddles."
If eating then biking 60 miles sounds like a recipe for stomach cramps, fear not. Chef Ouita Michel's crew includes Woodford Reserve Chef de Cuisine and avid cyclist Nat "Naytron" Henton, who brings first-hand knowledge of what the distance cyclist needs to eat and drink and when.
For its hydrating properties, Henton adapted an old school drink—the "haymaker's switchel," a vinegar-honey-lemon-ginger, electrolyte-replenishing delight that once quenched the thirst of field workers. When I sip it outside a barn at the morning rest stop, some 20 miles into the ride, it gives me a buzz. (An energy buzz, that is. Alcohol is reserved for after you've safely reached the finish line.)
The mid-afternoon rest area is stocked with coolers of black- and blueberry-lemonade and sugary snacks in the form of Woodford Reserve's famous corn cookies. These the Lycra-clad veterans of the ride insist I have to try. They're made, Chef Michel tells us, from local corn so as to conjure the landscape and compliment bourbon's 51 percent corn content, an ethos reflected in all of the food she prepares for the ride as well as at Holly Hill Inn and Woodford Reserve Distillery, where she is owner and chef-in-residence, respectively. "We deliberately connect to foods that are grown in that landscape," she says.
From the vantage of a bicycle saddle in the slanting September sun, the horses we pass seem conscious that they are the stars in this universe of green undulating grass neatly fenced with black board and leaning stone. They're curious about the riders, whinnying and gamboling as we pass, occasionally taking off beside us and impossible to keep pace with.
There are long hills where you drop into low gear and pump your way slowly to the top then enjoy the blast of hay-scented air as you accelerate downhill on roads cut into Kentucky's famed "karst" of limestone layered like a cake. It's a hot, dry day and the ride unfolds as a series of conversations. Corbin Little, an English teacher who lives in Lexington, tells me she's a sucker for gourmet rides. For her, Savory stands out for its lack of pretension and a sense of camaraderie deepened by the easy cadence.
Fall colors are just beginning to emerge and on the final, relatively flat leg, the road is strewn with huge yellow tobacco leaves. Grasshoppers throw themselves into our spokes, as the residents of Woodford County wave from the shade. Even Lin manages to finish the ride, his derailleur having been replaced during lunch by the ride mechanic, Adam, from Lexington's Broomwagon Coffee + Bikes. The pungent scent of barbecued brisket and strains of a string band tuning up greet us as we coast back into Holly Hill Inn's driveway. Dinner is almost ready, but first there are amber tumblers of bourbon and cold cans of beer to hoist.
During the ride I wondered out loud whether eating and drinking my way by bike across 62 miles of Kentucky blacktop would amount to a net calorie loss or gain. With two big hills, I was told, in terms of calories, it meant a loss. But even before dinner is served, Savory Cycle has made me feel full. —Cedric Rose
thebrokespoke.org
Facebook Comments