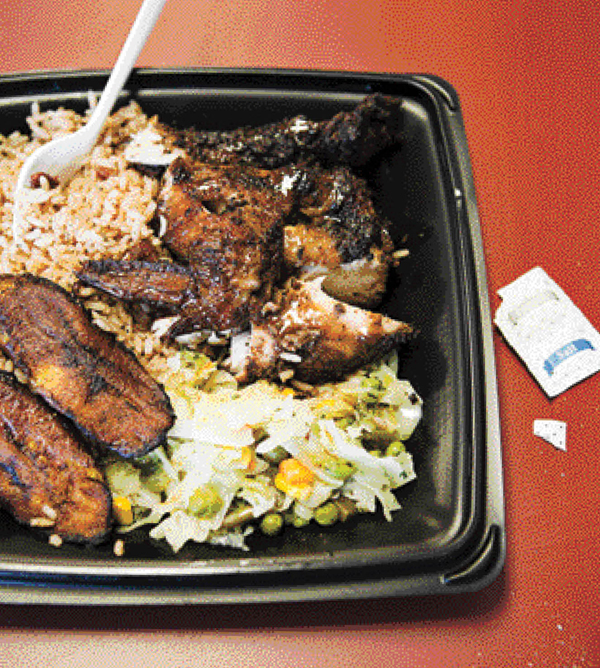 Photograph by Stacy Newgent
There is a mural on the wall at Island Frydays depicting a group of Jamaican luminaries—Bob Marley, Usain Bolt, Marcus Garvey, and a few members of the famous bobsled team—standing together in a crowd that can only be described as unnatural. But the curious painting is just one more aspect of owner Leo Morgan's mission to give Cincinnati a taste of Jamaican cuisine and culture. The menu's signature dish is the jerk chicken, which is seasoned with a dry rub of allspice and Scotch bonnet peppers. The flavors are bold, and the heat jolts the back of your throat just when you're ready to declare it's not that spicy. The ox tail, another traditional favorite, is served with butter beans and tastes like pot roast, only richer; the flavorful fat from the meat mixes with the rice and peas to form a succulent stew. There are also several curry dishes, most notably goat—the result of Indian indentured servants coming to Jamaica in the 19th century. And don't let the unappetizing name stop you from trying a beef patty, curry-spiced meat packed into a flaky, buttery shell akin to an empanada. Wash it all down with a bottle of Ting, an intensely sweet grapefruit flavored Jamaican soda. No matter what you order, you'll be given several opportunities to customize your meal: white or dark meat, plain or spicy, fish head on your plate or, well, not. If you plan to eat the stew fish—which is tender and sweet—bring your own silverware. Trying to bone the fillets with a flimsy plastic fork requires the dexterity of a model ship builder. More tips: Most dishes include bones, so chew cautiously, and the portions are more dinner than lunch, so don't hesitate to share. Then again, there are worse problems in this life than leftover jerk.
Island Frydays
2826 Vine St., Clifton
(513) 498-0680
Prices: $2–$15. Lunch and dinner seven days.
Originally published in the October 2011 issue.
Facebook Comments