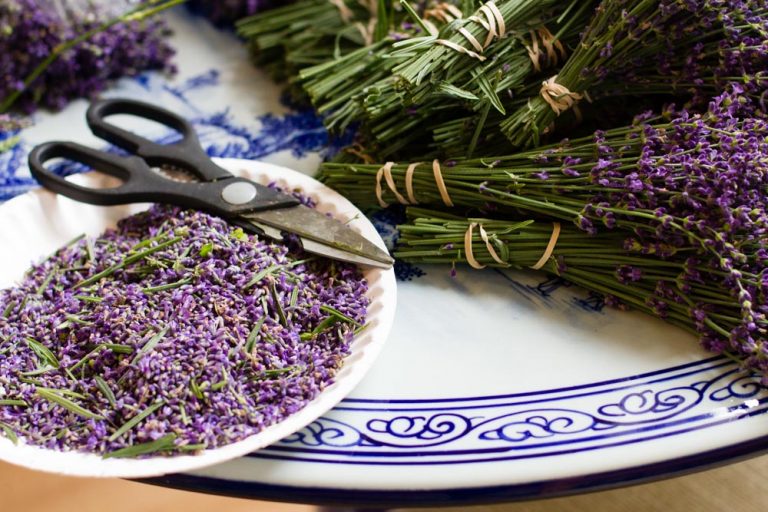 No, you should not expect the endlessly rolling, lavender-corrugated hills of Provence. But guess what: The lavender on this side of the Atlantic smells just as nice, and One-derings Lavender Farm is less than an hour from downtown.
Sisters Kim Benz and Amy Farr—both chemical engineers by training—began growing lavender in 2007, and they haven't stopped. Their inspiration was one part traveling out west to Mt. Hood, falling in love with the fields of lavender there, and one (very important) part family. "This was our mother's home. She was a big gardener. But she had Alzheimer's, moved out in 2007, and died the following year. Before that, she had started growing lavender," says Benz. "So for us, it was a way to process grief—we just started planting lavender. Our only thought at the time was wanting to create something beautiful. We just kept doing it, and all of a sudden after three or four years we had all of this lavender, and it was like what are we going to do with it?"
What they did with it is impressive: Their lavender products—linen spray, cream, scrub, soap, massage or bath oil, bug spray, and more—are all made in-house and all actually smell like fresh lavender. You can come pick your own from the field (Fridays and Saturdays 11 a.m.–3 p.m.), take one of the several classes they offer (like bouquet, herbal tea, wreath, or sachet-making), or schedule a lavender luncheon (take note: lavender shortbread cookies and lavender lemonade are involved, and you'll want to get in on that).
The first big bloom happens in mid-June, but the English lavender plants will re-bloom through the first frost, usually in September (they also grow varieties of French lavender, so check back next year for that). Fresh lavender runs $24–$28 per pound—but that's 450–600 stems, so for a bundle, think more in the $5 range. You can find their goods at Findlay Market, too.
As a thanks for visiting, they also offer free pick-your-own herbs: chocolate mint (try it as tea), marjoram, oregano, basil, and more. Plus, One-derings is part of a southwest certified tree farm with heavy hardwoods like oak, and the ecosystem hosts a variety of wildflowers and birds. Enjoy the lavender fields, forever.
One-derings Lavender Farm, 2195 S. Clarksville Rd., Clarksville, Ohio, (937) 725-0830, onederings.com
Facebook Comments