You know those wee villages in England that look like nothing more than a smudge on the map, but when you get there they are crammed with travelers and there's a bustling visitors center to help you find a B&B, a tea shop, and a loo? That's Yellow Springs. Except the tea shop is a craft brewery, the tourists are from Dayton, and if you didn't book lodging well in advance you are out of luck. Which is how my husband and I found ourselves one beautiful afternoon having biked from Cincinnati to the home of Antioch College only to discover that I thought he had made a room reservation and he thought I had and there was, quite literally, no room at the inn because Yellow Springs doesn't really have an inn—not in the chain hotel sense. Lesson learned: Call ahead.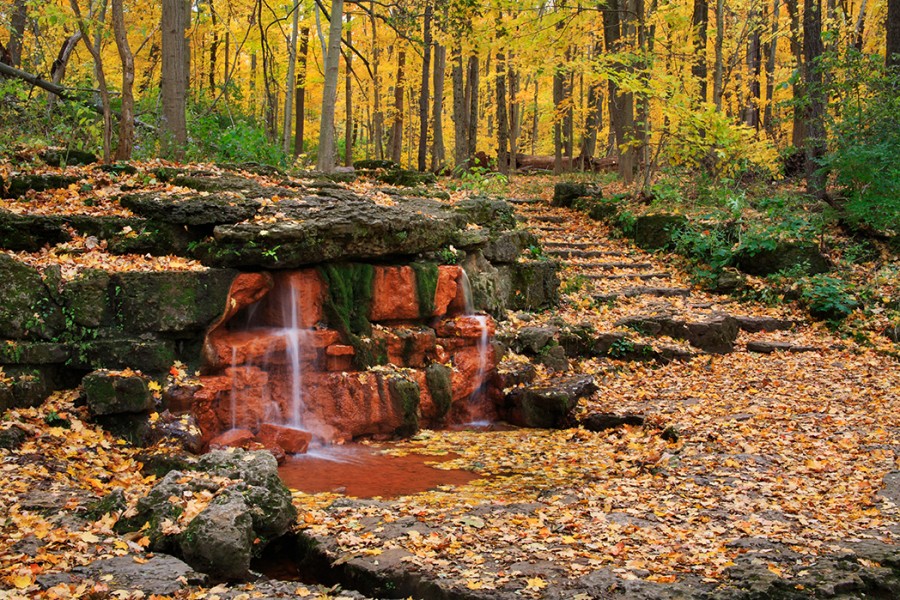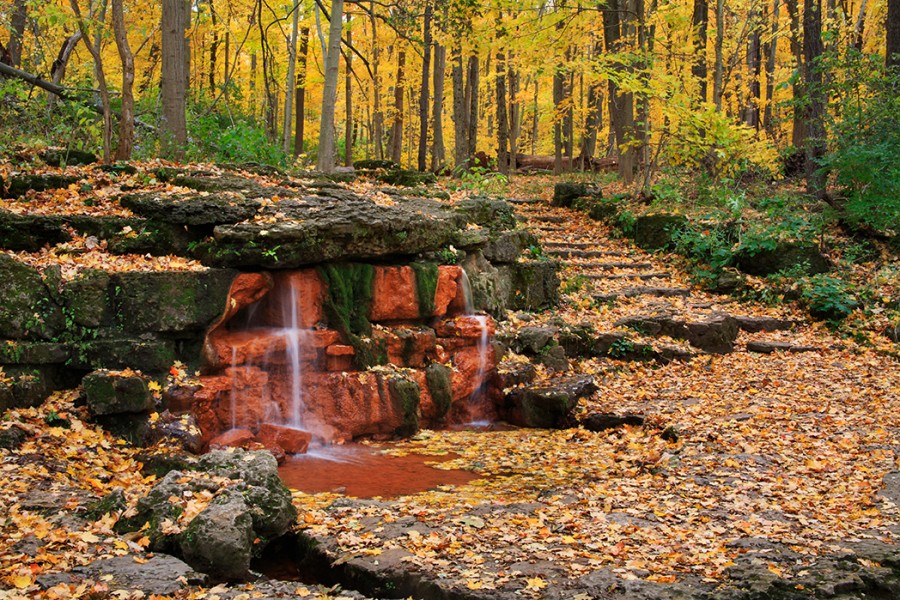 In addition to the retro-hippy charm that draws sightseers and clogs the sidewalks on golden autumn weekends, Yellow Springs is a fine base for a couple of days of vigorous (or leisurely) cycling on the Little Miami Scenic Trail—part of Southwest Ohio's growing network of paved recreational paths. But whether you're arriving by bike or driving there with your Trek mounted on your Toyota, first you need a place to stay. Yellow Springs Station—the visitors center—has information about the town's handful of B&Bs and guest houses, including the long-awaited Mills Park Hotel. When this 28-room inn—modeled after an historic home—opens later this year it will double the number of guest beds in town. Judging by my experience, and by the crowds on any given Saturday afternoon, it'll be filled immediately.
Daunted by the hubbub in the tiny town? Once you get on the trail the masses start to fade, and a mile south of Yellow Springs the joggers and dog-walkers and tykes on trikes are mostly a memory. Ten miles of pedaling through farmland, forest, and suburban backyards takes you to Xenia, with its Art Deco city hall and ornate early-20th-century courthouse. If you're hungry, the bike rack at the local McDonald's is a reassuring sign that you and your sweat-soaked clothing are, if not welcome, at least not unexpected.
South of town is Xenia Station, with a water fountain, maps, and restrooms. Upstairs, past the replica of the old telegraph office, there's a belvedere where you can look out over the treetops. As you enjoy the view, remember that 41 years ago one of the worst tornados ever to hit the Midwest bulldozed a half-mile swath of death and destruction through this city. Yes, this is the place. So check your phone's weather app before deciding how much farther you want to ride.
From Xenia, you can continue south—toward Morrow, Loveland, and all the way to Newtown. But here's your chance to explore new territory. Head west via the spur marked Creekside Trail, dodging black walnuts (an autumn biking hazard) and zipping along wetlands where you can catch glimpses of migrating waterfowl. A crossroads with a handful of wood-framed buildings and the remnants of the Alpha Grain & Seed Company is a textbook example of what a railroad town looked like circa 1900. Beyond it, the posh suburb of Beavercreek welcomes trail riders with public restrooms and a 9/11 memorial made of rusted girders. At this point you're about 17 miles from Yellow Springs. Over-achievers: You can continue through Dayton to pick up the Huffman Prairie Trail, which ends high on the hill where a couple of bike mechanics named Wilbur and Orville experimented with their crazy idea for a flying machine.
Return to Yellow Springs in time for dinner at the Winds Café, a farm-to-table spot that's arguably one of the best restaurants in this corner of the state; you'll need the calories the next day for the trip north. If your legs are up for it, the trail will take you all the way to Urbana (about 25 miles), where the Depot Coffee House serves lunch and where you can use Uncle Al's Fixit Stand—a kiosk with an air pump and bike tools for emergency repairs.
Twenty-five miles there means the same distance back. Recover from your "half-century" at the Yellow Springs Brewery, conveniently located just north of the village at the edge of the trail. You can toast autumn with their Not Punk Enough Pumpkin Ale while weighing the possibility of lingering in town another night. If you can find a room.
---
STAY
No Best Western, just a small assortment of B&Bs and guest houses. stayyellowsprings.com
Mills Park Hotel: Watch for the opening of this boutique inn coming soon. millsparkhotel.com
EAT
The Winds Café is chic, Emporium Wines and the Underdog Café is laid-back, but every place is open to casual diners. yellowspringsohio.org/things-to-do/dining
La Pampa Grill: The little burg has its first food truck, featuring wood-fired Argentinian specialties. Follow it @lapampa4
DO
Annual Street Fair: Crafts, music, beer, food, buskers, and more toddlers in tie-dye than a Deadhead daycare center (October 8). yellowspringsohio.org/street-fair
Little Art Theater: With Sunrise Café, they offer discount dinner-and-a-movie packages on Mondays. littleart.com
Glen Helen Nature Preserve: Where you'll find the eponymous yellow (well, orange-ish) springs. glenhelen.org
KNOW
You thought Antioch College was dead? It's not, but it's…complicated. Read up about the historic institution so that you can discuss it knowledgeably with townies. antiochcollege.org
Facebook Comments