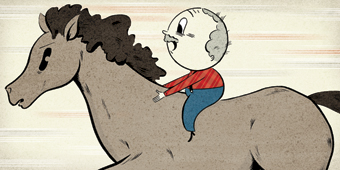 Illustration by Ryan Snook
Throughout his life, my dad dreamed of someday riding a horse. He was an accountant, a job that didn't call for much bronco busting, and he grew up in working-class Mt. Adams, where not only couldn't you find a grazing colt, you could barely find a blade of grass. We later moved, like many urban families, to the suburbs—in our case, Bridgetown, where there weren't a lot of cowboys galloping around.
My dad fed his dream by taking us to Lexington's Calumet Farm every year, in its heyday a mecca for horse lovers. We rolled past miles of white fence, behind which tawny and chestnut and umber horses munched languorously on sweet bluegrass, lobbing us that look of haughty indifference horses can do better than any other species. We tromped through stables and peered into the stalls of horses that once had been at the top of the sport of kings. My dad relished every minute of it, but you couldn't ride those horses.
He also loved to watch the Triple Crown races every year on television. I can recall my family working in the yard on warm spring Saturdays and suddenly stopping because it was almost time for the big race. Still urban people at heart, we stunk at landscaping, so rushing inside to see which horse was this year's best always seemed like a good idea.  
My dad never did fulfill his dream. Gone now more than 20 years, he didn't find the time or the place to make it happen. Thinking about that recently, I wondered why he didn't. Maybe there simply was no place to do it where we lived.
The thought struck me again while on the Web site for the Green Township Library in Mack. Having always thought the building looked like some weird spaceship out of a Jules Verne novel, I was surprised to read that "The striking copper central dome flanked by two smaller domed structures were designed to reflect the silos and barns of the horse farms that once dotted Green Township."
An homage to a local legacy of horse farms? Had I missed something? When I was growing up on the west side, I knew no one who had a horse or rode horses as a hobby. My own experience was limited to one treacherous afternoon at the old Ft. Scott Camps in Crosby Township when I was around 12, during which a surly gray nag tried repeatedly to knock me off his back by brushing hard against tree trunks while a line of us clomped along a muddy trail. I hated that horse.
But giving it some thought, I recalled that, in fact, a few stables did exist even when our family arrived on the west side in the 1960s. Though the area was in the middle of a building boom, a few remnants of its rural past survived. The Brockhoff farm boarded horses into this decade, though the family sold the northern section of the pasture in the mid-1960s to make way for Oakdale Elementary School. The eastern section was plowed under in the 1980s for a condo complex. But even today's teenagers can recall horses on the property that included a Mail Pouch barn. The stable and farmhouse finally gave up the ghost in 2005 and now you'll find a tidy complex of office and medical buildings where once windswept horses roamed.  
Not exactly an equestrian legacy to scare a bluegrasser, but maybe there was more, and I just somehow missed it. I started asking long-time west-siders about horse stables and riding in the area. A few recalled an occasional pasture with a horse or two but no one offered much more than that. Maybe I needed to go further back. The west side building boom started in earnest after World War II, with Green and Delhi townships doubling in population in the 1950s. Maybe I just hadn't dug deeply enough to find the horse farms to which the library paid its architectural tribute.
I contacted the Delhi Historical Society, where helpful and patient Peg Schmidt gave me a few names and phone numbers, along with her own knowledge of the area's equine past. Infamous bootlegger George Remus, she said, stabled racehorses on his property on the border of Price Hill and Delhi way back in the 1920s. She mentioned a few others, including a horse farm on the corner of Anderson Ferry and Delhi roads, where Del-Fair Shopping Center has been located for decades. She said that Pete Rose, the west side's favorite prodigal son, rode horses at that farm as a boy. Though I haven't been able to verify this detail, it comes as no surprise that the Hit King has long nurtured a fondness for horses.
Next I went to the Green Township Historical Association. At the next meeting of the group I spoke to more than a half-dozen members, most of them long-time residents, and managed to snatch a sliver of information here and there but nothing that would suggest a rich heritage.
Then I heard about a guy who not only has ridden horses since childhood but who is taking west side horsemanship to a whole new level.
NICK KURLAS GREW up on Bridgetown Road in Cleves. His pedigree is not equestrian; it's culinary. His parents opened the Cleves Drive-In Restaurant in 1964, near the end of the carhop craze, and it grew into a popular place for the locals to grab a cheeseburger and a milkshake.
Kurlas recalls his father buying a pony for him when he was 6 years old. Before leaving for the restaurant in the morning, his father would saddle the pony and tie it to the back porch, where Kurlas would find it when he woke up. Most afternoons, all the way through high school, Kurlas headed to the Walnut Creek Stables located right behind the family's home, and he rode the wooded trails that have since given way to subdivisions, switching to a Quarter Horse named Thunder when he was 13.
"I'd grab a buddy and we'd ride all afternoon," he recalls while seated at a table in the family restaurant, now called Nick's American Café. It's located on South Miami Avenue, the main drag in Cleves. The restaurant has recently undergone a dramatic expansion (of both the property and the menu) and now includes a bar. He and his mother, Louise, run the place, offering home-cooked meals that are gaining something of a reputation. The atmosphere is quaint—and steeped in Kurlas's passion for horses. Pictures of Thoroughbreds fill every wall. "I've always been a horse enthusiast," he says. But the horse that truly hooked him was not his childhood pony. It was the first Thoroughbred he owned, when he was all of 19 years old.
In 1977, Kurlas bought Corktown Hero, a $5,000 claiming horse, with money he saved from a summer job at a refinery. "I claimed it at Keeneland, the day of the Blue Grass Stakes," he recalls. "It was just a magical day."
Corktown Hero, a 4-year-old, proved to be a diamond in the rough. During the next three years, the horse ran in 60 races, winning 11, finishing second eight times and third 13 times. "I got bit with this great thrill," he says. "It's not only a thrill to win, it's the horse itself. He was a magnificent specimen."
As we talk, Kurlas surveys the restaurant, getting up occasionally to check on diners. The restaurant is his other great passion. He didn't always feel that way, though. He attended the University of Cincinnati and earned a degree in business management, so he could find a career outside the restaurant industry. "I saw how hard my parents worked, the hours they put in," he says. "I wanted to do something else."
The something else that occupied him while a student was Corktown Hero, who, sadly, contracted colic and died at the age of 6. "I lost my little jewel," he says.
Since that day, he has dreamed of owning another.
THAT DREAM WAS delayed while Kurlas focused on the family business. In 1982, the Kurlas family bought two Skyline Chili franchises in Fairfield, and in 1994 bought a third one in Hamilton, while continuing to operate the Cleves Drive-In. Kurlas, however, continued to obsess about owning a world-class racehorse. "I figured the only way I could do it was to buy a farm, breed a couple of broodmares, and get lucky," he says. "The plan was breeding and raising my own and getting something I didn't want to sell, to be blessed with something I couldn't afford to buy."
Which is exactly what he did. He bought a farm outside Aurora in 1994 and slowly developed it. Very slowly. The property was not fenced or in any way prepared to house Thoroughbreds. One year he put in a long gravel driveway. The next year he put in water lines. A year later he built fences. The slow approach has paid off. His 58-acre farm was recently named the number one breed farm in Indiana. His patience in developing the property speaks to his somewhat contradictory nature. Though he's now 51, Kurlas exudes an almost boyish manner, a wide-eyed enthusiasm, whether he's talking about the restaurant's expanded parking lot or breeding a Kentucky Derby winner. And yet he speaks in a carefully measured way, as if weighing each statement before making it. He's tough to figure—both a dreamer and a pragmatist.
In 2003 he built the large barn that is now home to not only his horses but to Kurlas himself. When he told me he lives in the barn above the horse stalls, I pictured him on a bale of hay in a place like the Mail Pouch barn on Bridgetown Road. Not even close.
Crescent Farm sits in a small valley on Laughery Creek just west of Aurora. You can't see the property from the road, and it's easy to miss the turn. In fact, when I came for a tour on a sunny Sunday afternoon, I missed it three times. While crunching along the driveway you see horses—a lot of them—clustered in small groups or galloping together across fenced-in fields. Then you see a wide, two-story, cream-colored building with a green roof and three symmetrically placed spire-topped cupolas.
I meet Kurlas's full-time employees, Stan and Marsha, who also live in the "barn." They manage the farm—feeding, exercising, and monitoring the health of the horses, preparing the ones already competing at area racetracks. Behind the barn, Marsha runs two horses through their paces in something called an EquiGym—a circular pen that looks like a giant revolving door, in which the horses canter along in isolated, moving stalls, getting a controlled workout without a rider or handler.
We walk over to a field where a half-dozen yearlings gallop around us. They stop now and then, approach us, sticking out their noses to get a little attention. Kurlas has been breeding for more than five years now and stands about 30 horses on his farm. Throughout the tour he talks about his plan to breed a first-rate stallion to his mares and, with luck, produce a horse that will "make something happen."
The key to the plan is producing first-class Indiana racehorses by using Kentucky-bred stallions. The Bluegrass State, he explains, produces the best horses in the country. According to Thoroughbred Times, of the top 10 American stud farms, Kentucky boasts, well, all of them. Competition for stud fees, not to mention on Kentucky racetracks, is formidable. A foal born of an Indiana mare on an Indiana farm, however, is registered in that state. That Indiana horse, when racing within the state against other Indiana-bred horses, would have a significant blood-line advantage. "I'd have dominance in my niche," Kurlas says.
But before he could achieve that dominance, he needed to convince the owner of a first-class Kentucky stallion to move it to Crescent Farm and breed with his mares. Making that happen would require more than a modicum of chutzpah, he knew. But he started calling owners. "The whole time I was thinking, 'These people are going to think I'm crazy,'" he says. "I talked to some people, I left some messages, some people called back, some didn't."
One who did was former Kentucky governor Brereton Jones, who owns Airdrie Stud farm in Midway, Kentucky, one of the top stud farms in the country. Kurlas had met Jones at several horse-related events, so his call didn't come completely out of the blue, but he was stunned when Jones offered to stand a 17-year-old stallion named Patton on his farm. Jones said Kurlas could breed Patton to all his mares. Kurlas would feed and care for the horse, and stud fees paid by other farms would be split between him and Jones. Foals sired by Patton through Kurlas's mares would be his to keep and would be certified Hoosiers.
Patton moved to Crescent Farm last summer. He is the only Grade I producing horse (which means he's sired a horse that has won a Grade I stakes race) in Indiana, a benefit that instantly launched the farm to the state's top rung. Over the course of his life, Patton has sired 23 stakes horses, which have amassed winnings in excess of $14 million.
Kurlas has been generous with his time—the tour lasted almost two hours—and I know he has to get back to his restaurant for the dinner rush, but we have yet to see the crown jewel. When I ask about Patton, he seems hesitant. "Sure, sure, if you want," he says, "but it's breeding season so he might be a little squirrely."
A dark brown stallion that doesn't look much different from the others we've seen, Patton shoots us an imperious glare and seems annoyed when Kurlas slips a bridle over his head. "You go that way," he says, pointing to the side door of the barn. "I'll bring him out and you come behind me."
He walks Patton out the front of the barn, speaking gently while the horse tugs against the bridle and snorts, then leads Patton in a circle, sunlight brightening the horse's rich coat. But Patton has had enough. He blasts several long neighs, throws back his head and then suddenly rears up on his back legs, his front legs kicking the air. Kurlas holds the lead high, as if he were flying a kite, and Patton's front hooves fall back to the ground, but only for a second. Again, Kurlas holds the bridle strap as high as he can, his arms outstretched.
Finally gaining control, he leads the horse back into the barn. He comes back outside, a bit shaken but smiling broadly. "That was something, wasn't it?" he says. Yes, I say, it was. Kurlas tells me that Patton might have assumed the interruption meant it was time to breed. When we simply wanted a closer look, he became confused and angry.
As I get ready to leave, I wish Kurlas good luck. "My ultimate goal is to race on a world-class level, to produce that horse I dream of," he tells me. "When you have a dream, you have to make it happen yourself. Nobody's going to do it for you."
I nod, knowing something about horse dreams. It occurs to me on the drive home that my dad's dream probably didn't involve merely saddling a horse. It was about galloping across the open range like John Wayne or the Marlboro Man, leaving behind the worrisome demands of city life and riding off into a glorious sunset. On a sunny day in May, who can't relate to that dream?
Originally published in the May 2009 issue.
Facebook Comments