Photograph by Jeremy Kramer
Trouble with rampant honeysuckle, riotous poison ivy, random roguery? The Goebel Girls are on the job. They are the five female goats that spend their days chomping away at a formerly-weed-clotted slope that used to provide cover for drug deals and other sketchy activity behind MainStrasse Village's Goebel Park.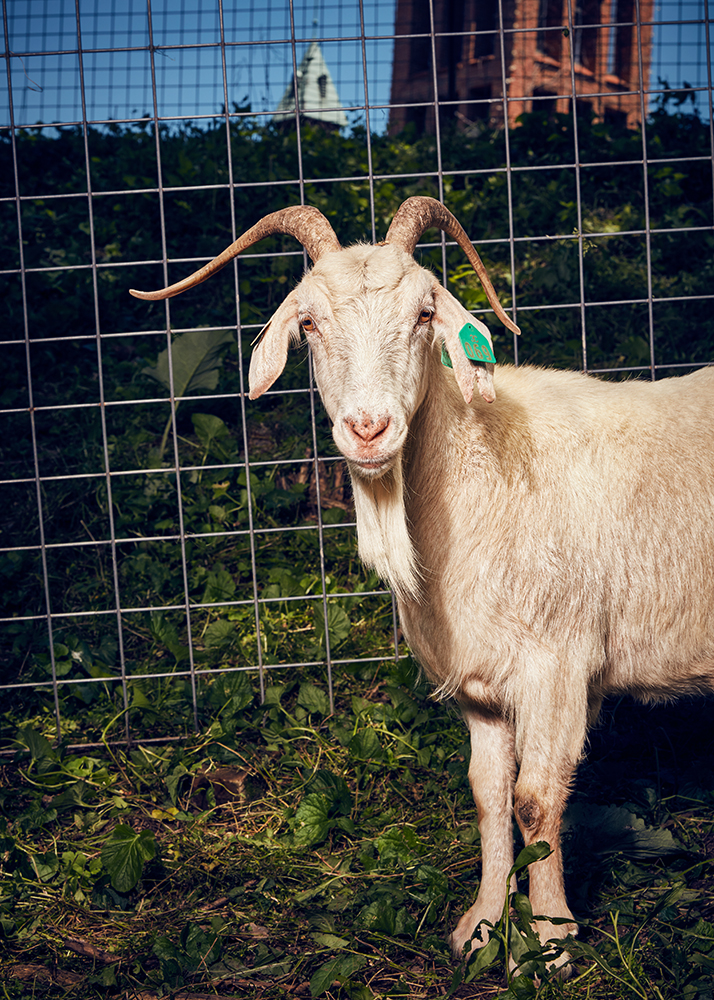 ---
"Now," says Gus Wolf, "they've created a line of sight to the bottom of the hill." Wolf, who owns the goats, has a tree farm in Carroll County where they spend the winter. The animals are a mix of Spanish, Savanna, and Kiko breeds; they're meat goats who've been permanently rescued and enlisted to clear the thick undergrowth. Wolf and his wife, photographer Lauren DiFulvio, live nearby and attend to the herd.
---
So do community members, city workers, and transients: Wolf gets a flurry of texts, phone calls, and notifications when any goat shows the slightest sign of being out of sorts. "Seeing people interact with them, it's cool," says Lauren. The couple also has kids—four-legged ones—who aren't yet gruff enough for city life. "These girls," says Wolf of his current nannies, "are old, wise, and tough."
Facebook Comments