Thanksgiving dinners in Cincinnati go back a long ways. The New England Hotel, located at the southwest corner of Sixth Street and Broadway, hosted a special dinner in 1848. The Cincinnati Enquirer [22 November 1848] was unsure what to call it:
"The New England, or perhaps we should say the Thanksgiving Dinner, will take place at the New England House to-morrow afternoon. Hitchcock intends getting it up in real Eastern style."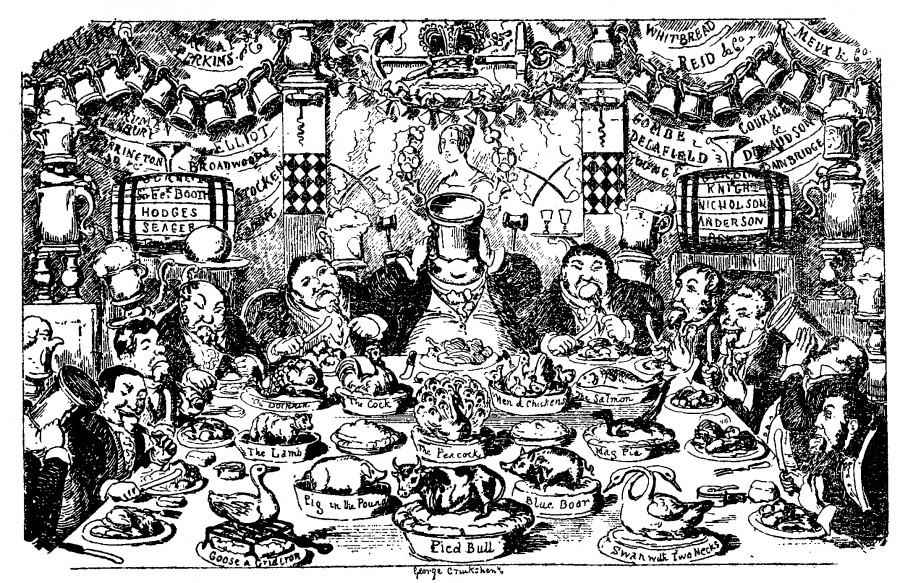 Abner Hitchcock, proprietor of the New England Hotel, was not alone in serving up a feast in late November. The Enquirer [30 November 1849] found groaning boards at hotels around the city:
"With their accustomed liberality, the landlords of the different Hotels treated their boarders yesterday to a real thanksgiving dinner. It would be useless for us to add that it was enjoyed immensely by them all. We have no doubt some of the eaters wished for a frequent recurrence of the day."
It is noteworthy that, while both of these dinners took place on Thursdays, Abner Hitchcock's New England feast was held on the fourth of five Thursdays in November 1848, while the 1849 dinners were held on the fifth of five Thursdays that November. In 1866, Cincinnatians celebrated "Forefathers' Day" on Saturday, 22 December 1866 at the Walnut Street House (on Walnut between Sixth and Seventh Streets where the Aronoff Center is now located) to mark the 246th anniversary of the Pilgrims landing in Massachusetts. It sounded very much like a Thanksgiving dinner. For the record, participants drank at least seven official toasts.
As you would expect, turkey was generally served at these early Thanksgiving dinners. Our ancestors rarely settled for one meat dish, however, so ham and game are very often listed as accompanying dishes. Throughout the 1800s, Cincinnati diners expected another dish found  less commonly on today's Thanksgiving table: oysters.
As Cincinnati's incomparable "food etymologist," Dann Woellert, reports in his newest book, Historic Restaurants of Cincinnati: The Queen City's Tasty History (2015, Arcadia Publishing):
"Cincinnati followed the trend of other U.S. cities and had oyster houses, oyster saloons and oyster bars before the Chesapeake Bay oyster beds began to deplete in the 1880s. Those beds, which produced 111 million pounds of oysters in the 1880s, now only produce about 3 million pounds annually. So many oysters were transported on ice from 1835 to 1850 between the Atlantic coast and Cincinnati that the stagecoach line was called the Oyster Line. This oyster-bearing trip by stagecoach was a five-day affair. Oysters were to nineteenth-century Cincinnatians what Chinese food became for their twentieth-century descendants."
A taste for oysters was certainly in evidence at the Broadway Hotel, located at the southeast corner of Broadway and Second Street in 1866, where Proprietor Ham Allen laid out a Thanksgiving feast in 1869. The initial soup course included oyster soup among three choices. The next course, fish, featured whitefish, halibut and mackerel.
The third course was devoted entirely to oysters in a multitude of guises—fried, raw, pickled, sautéed (in sauce Fine Herbs), stewed in Champagne, and formed into patties.
Mr. Allen followed this with a course of cold side dishes involving chicken salad and lobster salad, the latter "decorated with Jelly a la Modern." Next was a course of boiled dishes with young capon, egg sauce, beef tongues, ham, leg of mutton, and caper sauce. Roasts made up the next course: beef, stuffed young pig, loin of veal, spring lamb, and turkey with giblet sauce. Frankly, your reporter (an undoubted Philistine) does not recognize relishes as a separate course, but Mr. Allen presented them separately. He offered horseradish, French mustard, pickled onions, Worcestershire sauce, assorted pickles, beets, and cold (not "cole") slaw.
For the sixth course, Mr. Allen presented his entrees, which comprised:
Sweetbreads larded, garnished with green peas
Noix veal garnished with Spanish olives
Casserole of rice with filets of trout
Quails, larded and stuffed with legumes
Chicken livers a la Brochette
Venison cutlets broiled in jelly sauce
Pork tenderloins larded en Turban
Timbol of Macaroni, Mazarene style
Eileen Matelot a la Bretagne, Crussade garnished with filet of wild ducks
Prairie Chickens stuffed a la Montmorency
Bread of Turkey livers a la d'Orleans
Feet de Veal a la Hollandaise
Lambs brains au gratin
Croquettes of Rice a la Creme
Tendron de Volaille a la Jardaniere
But wait, as Ron Popeil used to say, there's more! We have next vegetables, including locavore favorites such as onions, creamed rice, tomatoes, oyster plants (salsify), mashed potatoes, and sweet potatoes. The game course proffered saddle of venison, quail, and at least five types of wild duck, all with appropriate sauces.
As we drift into the pastry course, we find lady cake, pound cake, blancmange, fruit cake, almond kisses, vanilla ice cream, orange slices, vanilla diamonds, strawberry and peach pies, and jelly cake.
Finally, we float, fully over-sated into the final dessert course of apples, raisins, filberts, and pecans. At which point most of us would mumble our thanks and pass out. Our proprietor is considerably silent about the beverages that would accompany his repast.
We can only imagine . . .
This article was reposted with permission from Greg Hand, editor of Cincinnati Curiosities
Facebook Comments