The barren, not-quite-post-industrial (that would have required, at some point, the presence of booming industry) acreage of Queensgate holds a secret. A secret that, save for short memory spans and some level of civic neglect, would be no secret at all. Because just 60 years ago, a populous neighborhood—full of life and families and small businesses and beautiful brick buildings—stood in its place.
---
That neighborhood—the West End to residents, dubbed Kenyon-Barr by city planners then later rebranded as Queensgate in an attempt to lure business tenants—was systematically destroyed: the homes, the businesses, the school, the very streets they occupied. (A process I detailed in Cincinnati Magazine's February "Lost City" issue, which you can read here.)
It was part of urban renewal, championed by well-meaning urban planners—but utterly disastrous for the West End and the more than 25,000, mostly African-American, residents who called it home (though that number may be as high as 40,000, depending on where you source the numbers).
Old planning documents and newspaper clippings are pretty much the only way to hear about the project, and they tell the story from the city's side, one of unabashed enthusiasm. Basically: It's a slum and look at this great thing we're doing! So shiny! And all that parking! But what they don't contain is the perspective of those who actually lived there—who were never consulted in the development of the plan, all of whom were displaced as a result of it. All the tens of thousands of them. But there are some 2,700 photographs, owned by the Cincinnati Museum Center, that give a glimpse of their reality.
---
Anne Delano Steinert, an educator, preservationist, and urban historian who is currently getting her PhD in urban history at UC, can't remember when she first found the photo collection, she just always knew it was there. And she assumed others did, too. "But the more I got into local history," she says, "the more I realized no, actually, no one knows anything about this collection, it's sort of like this hidden gem that people are totally unaware of."
So she created a photography exhibit featuring 39 of the photographs, enlarged to 3-feet by 3-feet. "When you look at the images, I think it becomes very clear that this place was a vital, vibrant, busy neighborhood full of communities and people who knew each other and were working hard. I think that it's important to get people to see the pictures and really question [the official record's] interpretation. Did we have to tear it down? Was it so bad? How has it been portrayed to us, and how is the story that the pictures tell actually a different story?"
In creating the exhibit, Steinert has gotten to know people who lived in that area of the West End when they were young, who remember it prior to demolition and remember being forced to leave their homes—people who will constitute the exhibit's second panel discussion (details below). She's also found people who don't want to talk about it, which she understands: "Imagine that everywhere you knew from childhood—your school, your street, your house, your church, the candy shop, everywhere that you could walk and that you knew how to navigate—all of that was just obliterated. Like the kind of thing that happens in war. Suddenly all your ways of orienting and grounding yourself and feeling connected to a place have been totally eliminated. There's a real sense of displacement and disorientation and lack of connection. I think [those who were kids] really feel a sense of dislocation from their childhood because there is no physical trace of it left."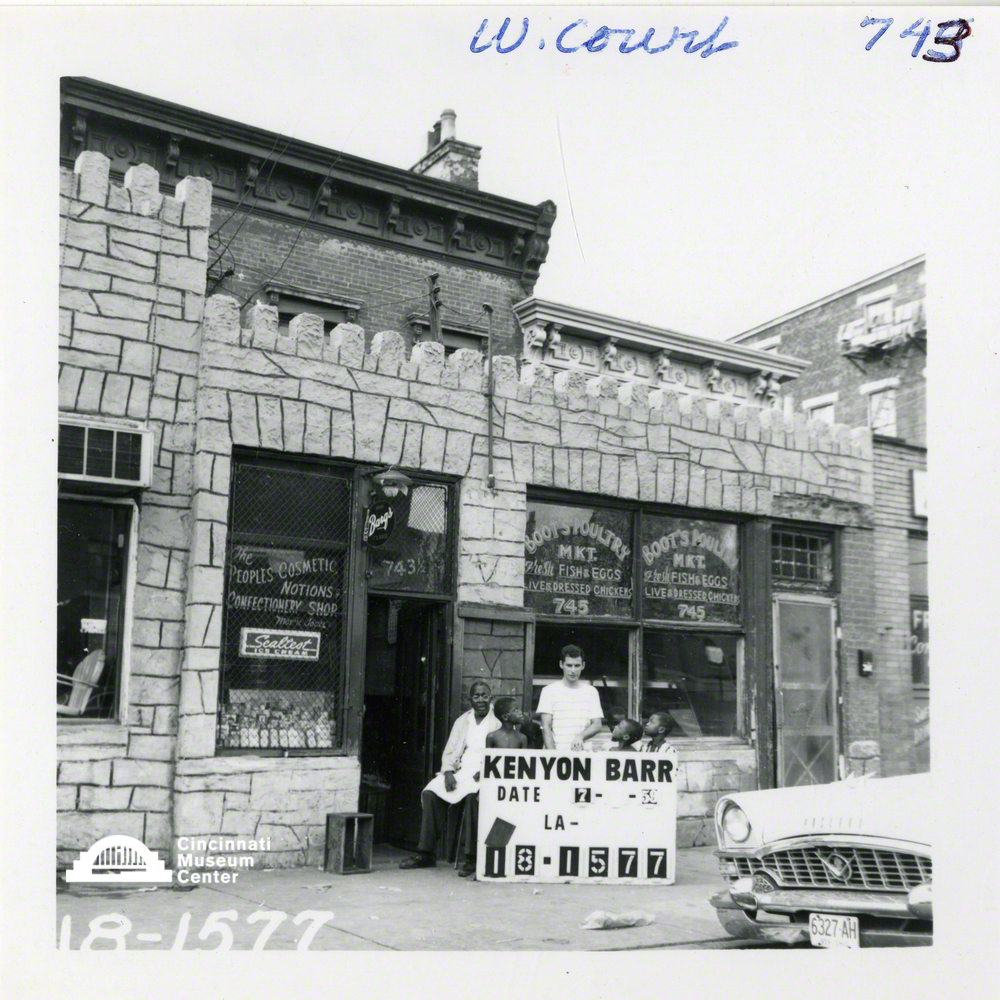 ---
She left the exhibit largely without text; there's just one panel at the entrance, and otherwise the photographs speak. Two tablets will circulate with "after" photographs taken by Steinert this fall—a process that took three days due to how unrecognizable the terrain is (and warning: this before and after is devastating)—and an overlay of the 1934 Sanborn map, showing the neighborhood's density overlaid with a 2015 aerial photograph of the area. You'll get a similar sense of loss and unease just looking down: On the floor Steinert has an old street map layered over a new street map.
One is not like the other.
---
1202 Linn St., West End, facebook.com/findingkenyonbarr, November 2, 2017–January 2, 2018
Exhibit space open: Sundays 12–4 pm, Tuesdays 3–7 pm, Fridays 10 am–2 pm
Events
Opening Reception, Thursday Nov. 2, 7 pm (doors 6:30)
Panel: Living in Kenyon Barr, Thursday Nov. 16, 7 pm (doors 6:30)
Panel: Photographing Kenyon Barr, Thursday Nov. 30, 7 pm (doors 6:30)
Panel: The End of Kenyon Barr, Thursday Dec. 15, 7 pm (doors 6:30)
Facebook Comments