It was just one little Cincinnati room, but it saw a lot of history. It is gone now, demolished along with the rest of the non-descript building on the south side of Third Street downtown.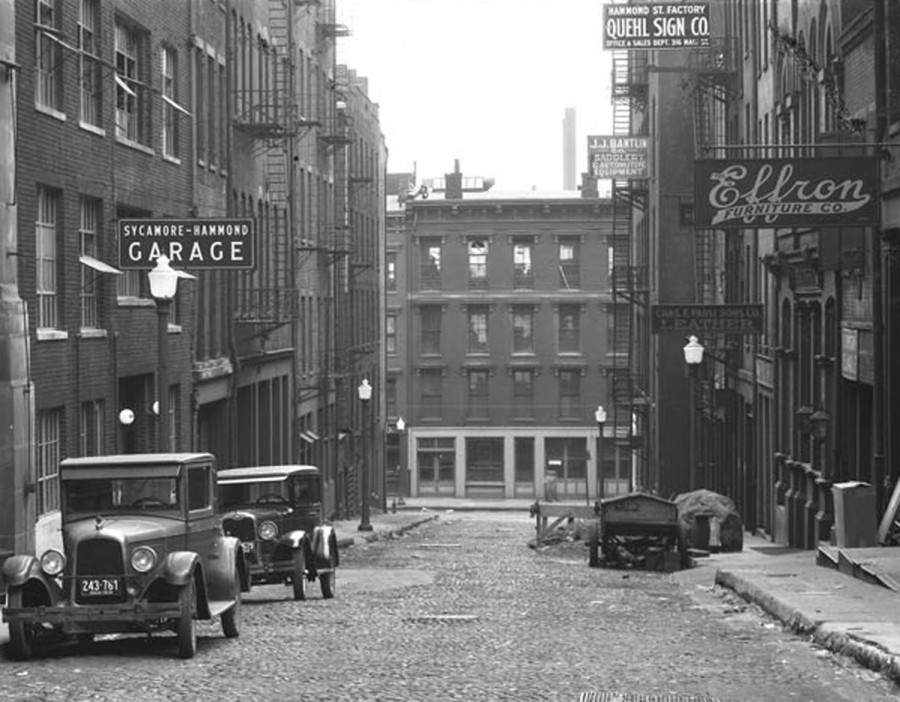 Among the first occupants of the room, on the east side of the second floor, was attorney, John Williamson Herron. Herron's name rings few bells in Cincinnati these days, but he became a United States District Attorney, a distinguished judge, and his daughter married William Howard Taft. Herron's office in 1849 was a plain room on the second floor of a building on the south side of Third Street, between Sycamore and Main. Although six blocks from the Court House, the building was considered convenient, according to The Cincinnati Post [18 January 1893]:
"The room is a rather cozy one, and at the time was considered one of the best situated in the city, as the building was near the courts and was known as the Law Building."
Into that cozy room, in 1849, came a young attorney from northern Ohio named Rutherford B. Hayes. Although future reports would describe Hayes as Herron's partner he was, in fact, a tenant, renting desk space in Herron's office while he built his own legal practice.
Hayes spent more than a decade in Cincinnati before enlisting in the army in 1861. While he lived here, Hayes served as Cincinnati's city solicitor for a couple of years, but he was mostly in private practice, working in commercial law and as a criminal defense attorney. In one of his cases, he successfully employed an early version of the insanity defense. Eventually, he moved from Third Street into a classier office on Sixth Street.
Hayes built a solid reputation as a good attorney and rose to positions of influence in the Republican Party, but his friends remembered that he spent a fair amount of time writing poetry and productions for The Literary Club of Cincinnati. He was president of that distinguished organization, which still occupies its historic house on East Fourth Street. When the Civil War broke out, a majority of the Literary Club enlisted and served with distinction. By the end of hostilities, one member of the Literary Club, Hayes himself, had achieved the rank of major general. In addition to Hayes, the Literary Club counted among its members five brigadier generals, eight colonels, four lieutenant-colonels, eleven majors, fourteen captains, five first lieutenants, two second lieutenants, and one member who never advanced beyond the rank of private.
Hayes displayed great bravery in battle and he was wounded several times. While still in the army, he was elected to Congress, representing Ohio's Second District. Hayes served three terms as Ohio's Governor before being elected President of the United States. He returned often to Cincinnati, where even the Democrats loved him.
When Hayes died in 1893, The Cincinnati Post sent a reporter and artist to his old law office on Third Street. The building looked somewhat different, the Post reported. When Hayes worked there, the building was just three stories tall. A fourth story had been added and the windows were enlarged somewhat. The ground floor was occupied by a baking powder factory.
Hayes' old office was now a "policy shop." In other words, a numbers racket. "Policy" was a low-rent version of the lottery. For a good part of the 1800s, many states authorized legal (but often corrupt) lotteries to raise funds for hospitals or schools. Tickets cost anywhere from a dollar to $20 or more, a hefty sum in those days. Vendors realized they could make a fair amount of money on the side by selling "insurance policies" on certain numbers to less wealthy customers. For a dime or a quarter, a gambler bought a "policy" paying him if a particular number or group of numbers appeared in a certain order when the lottery was drawn. These "insurance policies" were sold by "policy shops," and one of them occupied Hayes' old law office.
Eventually, the gambling crowd was driven out and bootleggers moved in. At least, that appears to be the situation. In 1928, at the height of Prohibition, the old building was occupied by George W. Gluck, onetime officer of the F.P. Gluck Co., wholesale distillers, now a beverage distributor. The city directory lists the headquarters for four distilleries in that building: Hill & Hill, Peerless, Old Stone, and Miller & Company. Also occupying space is the Federal Distributing Company, purveyors of "medicinal" (wink, wink, nudge, nudge) alcohol. The former Law Building was the scene of several liquor robberies.
Occupying the little office on the second floor in 1950 was Martin Rettig, among the last surviving students of artist Frank Duveneck. In addition to his canvases of delightful flowers, Rettig painted designs for Rookwood Pottery. He was at one-time president of the Cincinnati Art Club. Alvin F. Harlow, in his book The Serene Cincinnatians, describes the little room in its last days:
"The genial, well preserved Mr. Rettig, now in his eighties, still paints in his austere studio, up a curious, corkscrew stairway in a centarian building on Third Street. His two high-ceilinged rooms were once the law offices of Rutherford B. Hayes; in the back room, a big, built-in vault with a huge lock and doors edged with wrought ornamental border, once held Mr. Hayes's books and valuable papers. High up on the wall of the front room, close to the ceiling, your eye is caught by a row of painter's palettes, each of which once rested on the thumb of one of the masters of those golden years, each marked with the name of its long-dead owner—Mosler, Twachtman, Duveneck, Farny, Noble, John Rettig, Blum, DeCamp, Hammond, Bussbaum, Madrazo, Van Loo, Baer, Cox, Webster, Potthast, Mrs. Storer. What a gallery of beauty has sprung from those palettes!"
The building, along with all the buildings on the south side of Third Street, was razed when the city built Fort Washington Way in the late 1950s.
This article was reposted with permission from Greg Hand, editor of Cincinnati Curiosities
Facebook Comments