Until 1908, Cincinnatians hoping to acquire a tattoo needed to wait for a tattoo artist to wander into town. Traveling tattoo artists set up temporary shops inside target shooting galleries, or outside factories, or in tents near the circus side-show.
The very first tattoo artist to set up a permanent shop in Cincinnati was Jesse Frederick Barber. He advertised himself as "Professor J.F. Barber," and that highfalutin title was a fair indication of his promotional talents and artistic skills.
---
Barber was among the earliest to recognize the potential of electricity for transforming the ancient art of tattooing. A Pennsylvania native, Barber opened his first salon on Ontario Street in Cleveland, not far from a bustling market. The Cleveland Plain Dealer [3 May 1903] touted his electrified instruments:
"Tattooing by electricity. That is one of the latest uses to which the 'chained lightning' has been put. And it has improved the art mightily. It has made it less painful and more artistic."
The electric needles over which the Plain Dealer enthused were Barber's own inventions. He designed and manufactured them himself and advertised in national publications like Popular Electricity and Billboard. An advertisement from Popular Electricity [November 1910] is typical:
"Make Money Tattooing With An Electric Tattooing Machine! This machine can be operated on any 5-volt battery circuit (four or five dry cells give plenty of current) and anyone can become an expert at the art by using my machine and methods. Write today now for particulars and information regarding this money-making proposition.
J.F. BARBER, 1019 VINE STREET, CINCINNATI, OHIO"
Barber moved to Cincinnati and opened his salon sometime in 1908. The first time the word "tattoo" appears in the Cincinnati city directory is 1909, in a listing for Barber's salon. That address, 1019 Vine Street, once housed F.A. Friedrick's shooting gallery. Friederick provided shelter for wandering tattoo artists, allowing them to sleep in his back room and allowing them to ink customers when no one was shooting tin ducks on the target range. The building was located just south of the Canal. After Barber renovated the building, his neighbors included another shooting gallery, a tobacco shop, a pet store, a small theater and a few saloons.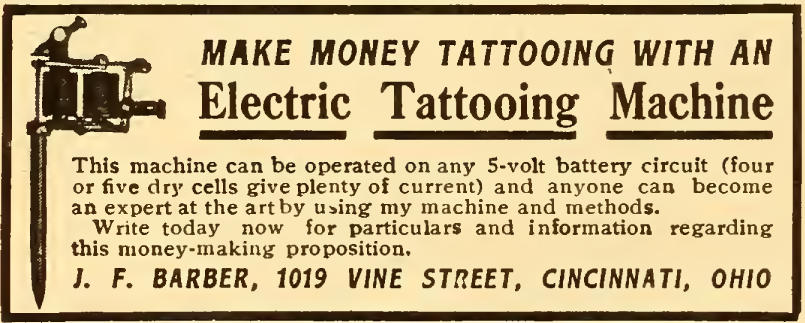 ---
In addition to electrifying the tattoo process, Professor Barber worked to attract more women customers. The Cincinnati Post [18 July 1908] announced "a fashion which may become a vogue" for tattoos among women. The article quoted Barber, who described the sorts of tattoos women asked for:
"Sometimes it is an imitation of a garter above her knee, or the representation of a heart just above her own, while in one instance I decorated a woman's arm to give it the appearance of being swathed in lace."
It goes without saying that, in 1908, proper women did not display any of those parts of their bodies in public. Barber probably sold a lot of his electric needles based on that interview.
According to Carmen Nyssen's excellent Buzzworthy Tattoo History blog, Barber specialized in "bodysuit" tattoos of the sort cultivated by sideshow performers:
"In numerous newspaper ads, Barber prudently solicited young 'well built' men with 'clear white skin' to tattoo for exhibition – a service he charged $100 for in 1908, and $150 in 1910. Three first-rate examples of Barber's bodysuit tattoos are that of Norfolk's famous Cap Coleman (c. 1911), Huey Bowen, and Coney Island attraction Frank Graff (c. 1915-16)."
The Billboard show business newspaper [9 March 1912] reported that Coleman was on his way to Barber's Cincinnati salon to have his ink refreshed and expanded between seasons on the road:
"The new tattooed wonder, A.B. Coleman, last season with the Smith Greater Shows, is spending the winter at J.F. Barber's studio, Cincinnati, Ohio. He will again be seen on the road the coming season."
Barber moved out of Cincinnati to Detroit around 1918. The factory assembling his electrical tattooing equipment was based in Detroit and he wanted his distribution center closer to the production facilities. A tattooist named John H. "Jack" Temke took over Barber's studio at 1019 Vine Street when Barber moved to Detroit. Temke later moved his practice out to 1404 Central Avenue in the 1920s but remained active right up to his death in 1949.
According Nyssen's blog, Barber, in addition to selling tattoo equipment, managed a circus act known as Valerius & Valerius. Hailing from Denmark, they were an "iron jaw" act in which the performers are raised into the air by a cable or trapeze which they clench between their teeth.
---
Barber married three times, in 1904, 1918 and 1927, each time recording his profession as "artist." Eventually, Barber and his third wife moved back to Ohio and invested in real estate. After the 1930s, most records list him as a landlord rather than a tattoo artist. He owned a couple of rooming houses near the intersection of Race and Court streets downtown and lived in one of them.
Barber remained in Cincinnati for the rest of his life, but it does not appear that he was actively engaged in tattooing except for a brief run on Third Street in the 1920s. When he registered for the draft – at age 62 – during World War II, his registration card indicates that his occupation was "owns two rooming houses" but notes that he had a "tattoo on shoulder – large dragon."
Barber lived to the ripe old age of 91. When he died on 10 October 1970, none of the local newspapers ran an obituary for the man who put Cincinnati on the tattoo map. Some of Barber's "flash" art – the designs for his tattoos – is still preserved by collectors and occasionally offered for sale at auction.
This article was reposted with permission from Greg Hand, editor of Cincinnati Curiosities.
Facebook Comments