May 9, 1961: A Sheriff Candidate Gets Arrested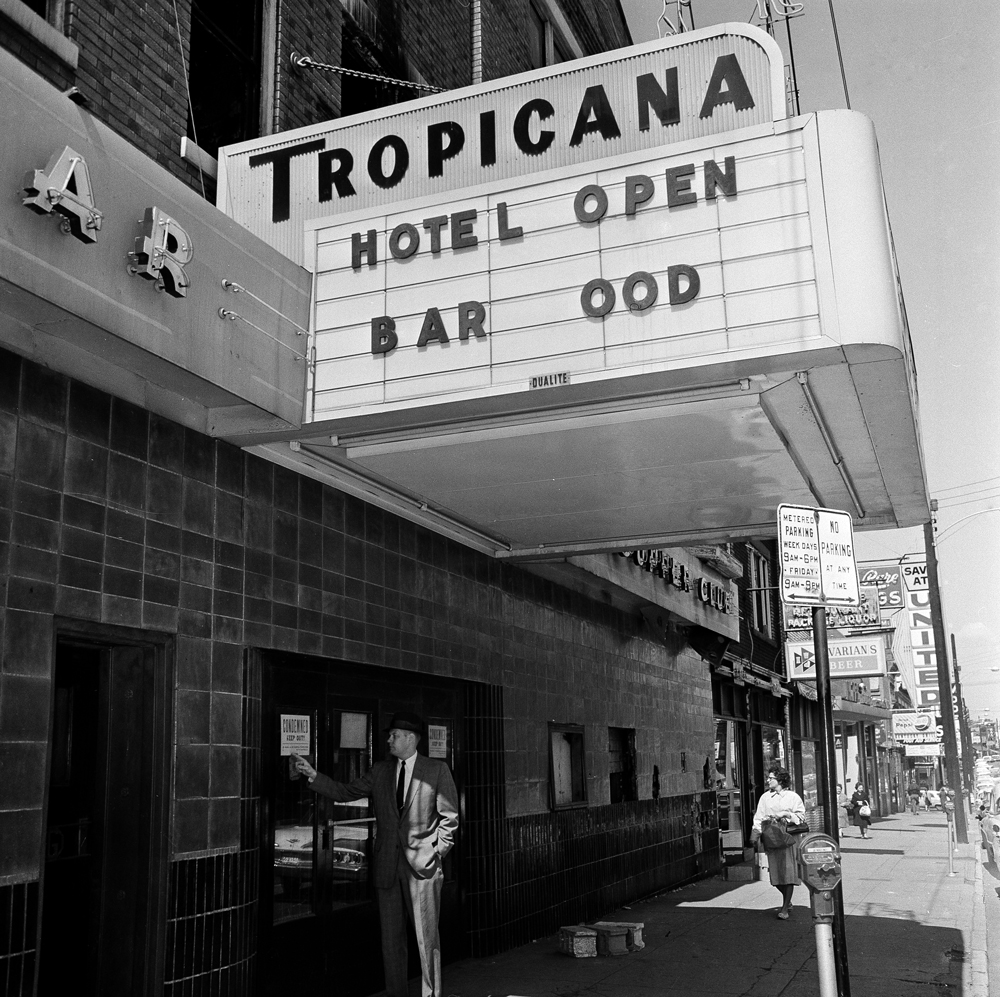 Even now it seems like a movie. The squeaky clean Cincinnati boy (St. X class of 1944) and football star (Notre Dame and NFL quarterback) George Ratterman (Eight kids! Devoted wife!) reluctantly enters political life, running for Campbell County Sheriff at the behest of the Committee of 500, to improve his community (and run the gangsters and vice out of Newport). But before the election, a snag: In the wee hours of a May morning, our handsome hero is discovered in bed with "strip-teaser" Juanita Jean Hodges, alias April Flowers, at the Glenn Hotel, and arrested. Not as squeaky-clean as we thought, huh, George?
That's what everyone was supposed to think. But the truth began to emerge as soon as that afternoon. Ratterman proclaimed his innocence, of course, bolstered by the results of a blood test that showed chloral hydrate—"knock-out drops"—in his blood. He claimed that after dinner and drinks with a mutual friend, he and that friend had gone to the Glenn Hotel with Tito Carinci, a former Xavier football player and then-manager of the Tropicana nightclub, located in the hotel. Carinci and Ratterman knew each other; Ratterman claimed he'd gone hoping that Carinci wanted to talk about getting out of the club life. Carinci's story differed, making Ratterman out to be nothing more than a man looking to enjoy the company of a young lady not his wife. (Carinci and Hodges were also charged in the incident.)
+ Cincinnati Magazine looks at 10 events that set the city on its path to today. See the full list here.
The sensational case went to trial in Newport's police court before throngs of curious spectators. After three days of testimony, Ratterman's counsel dropped a bombshell: A Highland Heights photographer testified that he'd met with a man named Marty about coming to the Glenn to take a quick photograph of a man and a woman in a room. (Marty Bucerri was one of the hotel's owners.) That photographer decided he didn't want the gig, and instructed his wife to say he wasn't at home if Marty called—which Marty did, about an hour before Ratterman was discovered by police. Charges against Ratterman were dropped immediately, the case was referred to a grand jury, and Ratterman went on to trounce Republican Al Howe and Democrat Johnny "TV" Peluso in the November election.
Ratterman's win wasn't exactly a blockbuster-style happy ending. Reform-minded candidates for city commission were defeated, so most of Newport's old guard officials remained in place. Ratterman served just one four-year term in office, moving to Colorado in 1967 and working as an NFL color commentator in the 1970s. Eventually, due to both Ratterman's efforts and the greener fields provided by Las Vegas, illegal gambling was driven out of Newport—though no other industry arrived to replace it. The "Sin City" reputation lingered in the form of strip clubs along Monmouth Street.
Reformers wouldn't have complete control of the city until the early 1980s, and it was only after commissioners created the economic development director position—and hired Laura Long to fill it—that Newport's tide truly began to rise, with development of the Newport Aquarium and Newport on the Levee. Still, that dark May morning brought something to light, launching the beginning of the end of Sin City.
Facebook Comments