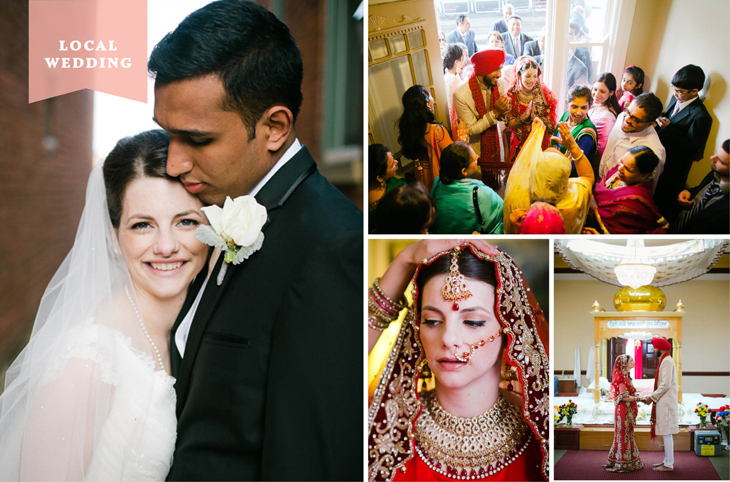 Photographs by Jonathan Gibson Photography
When longtime college sweethearts Angela Neyer and Sanjeet Grewal—who met as freshmen at Xavier and dated all throughout undergrad and graduate school—got engaged, they knew they wanted to incorporate both of their family's cultures into their wedding ceremony.
But combining Sikh and Catholic ceremonies proved tricky: "For a Catholic to be married in the eyes of the church, you have to be married in a church," Angela explains, "and for Sikhs to get married, it's at a gurudwara," their place of worship. The solution? Have two ceremonies on the same day: a Sikh one in the morning, a Catholic one in the afternoon.

Prepping for two very different wedding ceremonies required some creativity. A henna artist came by three days before the wedding and hand-drew the traditional designs on Angela's hands, arms, and feet. Angela chose a hair and makeup style that would be appropriate for both a traditional Indian ceremony and a Catholic one, so she'd merely have to change outfits between ceremonies.
Sanjeet's mother picked out Angela's dress for the Sikh ceremony and reception while she was in India, while Angela chose her white bridal gown at home in Cincinnati. "[The whole thing] was super cool," Angela says. "We wanted both of our families to experience a little of each culture, and have that opportunity to see where both of us came from. I think everyone had a great time and really enjoyed themselves."
Ceremony: Guru Nanak Society & St. Xavier Church
Reception: Bell Event Centre
Cake: The BonBonerie
Flowers: Irene Hyatt Designs
Makeup: Jean Folchi
Hair: Alisa Owen, Asila Creations
Henna Artist: Ila Shah
Dress: Bombay Creations in India (Sikh ceremony and reception), Bridal and Formal (Catholic ceremony)
Photographs by Jonathan Gibson Photography
Facebook Comments