The Ohio River has been sloshing around these parts since mastodons trumpeted in the shadows of Pleistocene glaciers. Floods—like deer, catfish, and passenger pigeons—came with the territory.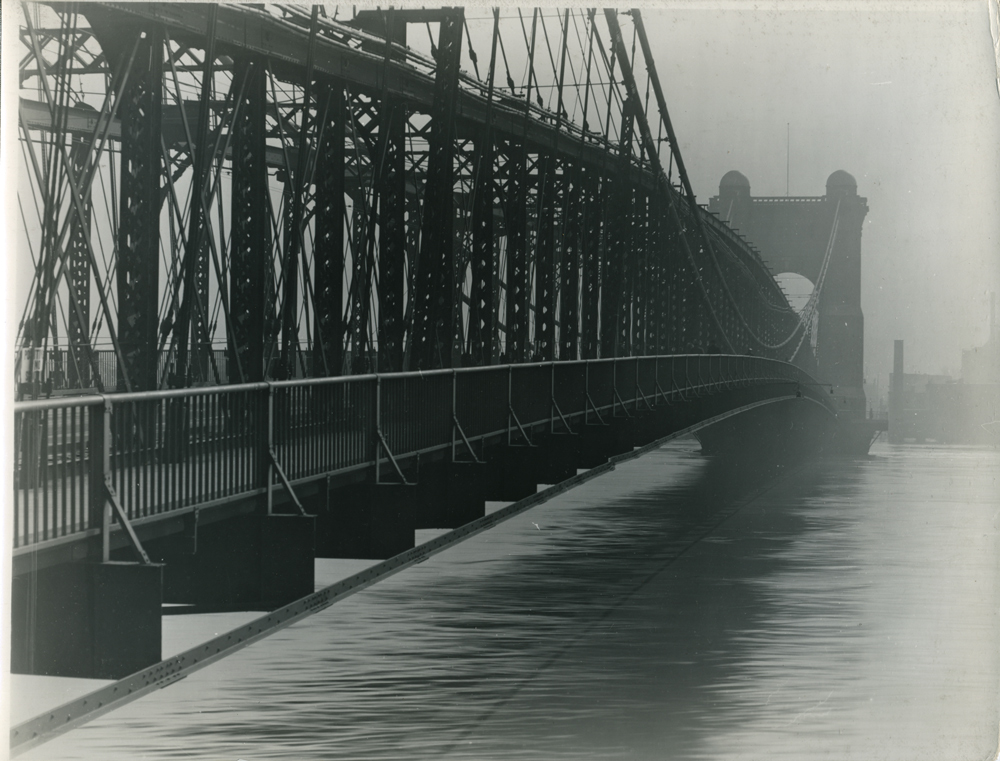 By 1937, however, the territory was chock-full of residents dependent on mechanized systems for water, light, heat, transportation, and employment. The floods of 1884 and 1913 damaged enough of this infrastructure that authors of the 1925 city plan recommended several flood-control strategies. Lots of discussion yielded little action over the next decade.
Then came January 24, 1937, now known as "Black Sunday." On that single day everything that could go wrong went very, very wrong. The river had exceeded flood stage for a week, yet still the waters rose and swamped every precautionary barrier. Floodwaters poured into the waterworks, into electrical generating stations, into telephone switches and gas lines. Railroad tracks submerged. The Mill Creek valley was a lake of fire, as a million gallons of gasoline dumped from upended storage tanks ignited when a trolley line snapped and sparked. More than 30 buildings burned to the waterline.
As the Ohio River overflowed, six inches of snow piled onto a paralyzed city. Temperatures dipped to 20 degrees. Much of the city shivered as gas pipes uprooted and coal piles soaked. Factories as far inland as Hartwell were inaccessible and out of commission. Trains, unable to reach the city center, dropped passengers at suburban stations. The city's airport was useless. Dayton and Cleveland delivered potable water by truck. Authorities limited electrical consumption to a radio, a refrigerator, and a single light bulb—if households had any electricity at all. So many telephone lines failed that only the city's ham radio operators provided reliable communication.
To combat looting, the National Guard blocked access to most of downtown. The mayor closed all schools, theaters, and stores. The Great Flood of 1937 lasted 19 days and covered 15 percent of Cincinnati. Remarkably, only eight people died.
The city was still drying out when elected officials, corporate leaders, and citizen volunteers rallied to prevent a recurrence. The 1925 plan was dusted off, the Army Corps of Engineers enlisted, and everyone rolled up their sleeves. Within two years, the broad outlines of a flood mitigation plan came into focus.
+Cincinnati Magazine looks back to see how Cincinnatians of the past made it through their dark days and to the leaders of today's efforts to move forward. Read all the stories here.
The Corps offered two proposals to prevent future floods: an array of projects to tame Mill Creek and a levee spanning the downtown riverfront. Over the objections of warehouse owners and produce dealers south of Third Street, the city rejected the levee in favor of a string of flood-mitigating parks that continued to leave the riverfront businesses vulnerable. Today, Smale, Sawyer Point, Yeatman's Cove, and the Serpentine Wall provide some cushion against the whims of the capricious river, and the warehouses have been replaced by stadiums and The Banks, which use multilevel parking garages as stilts to hoist themselves above the 1937 flood line. All that empty space is designed to absorb flooding with minimal damage. Kentucky happily accepted Corps-built levees and welcomed the Cincinnati/ Northern Kentucky International Airport as a replacement for "Sunken Lunken."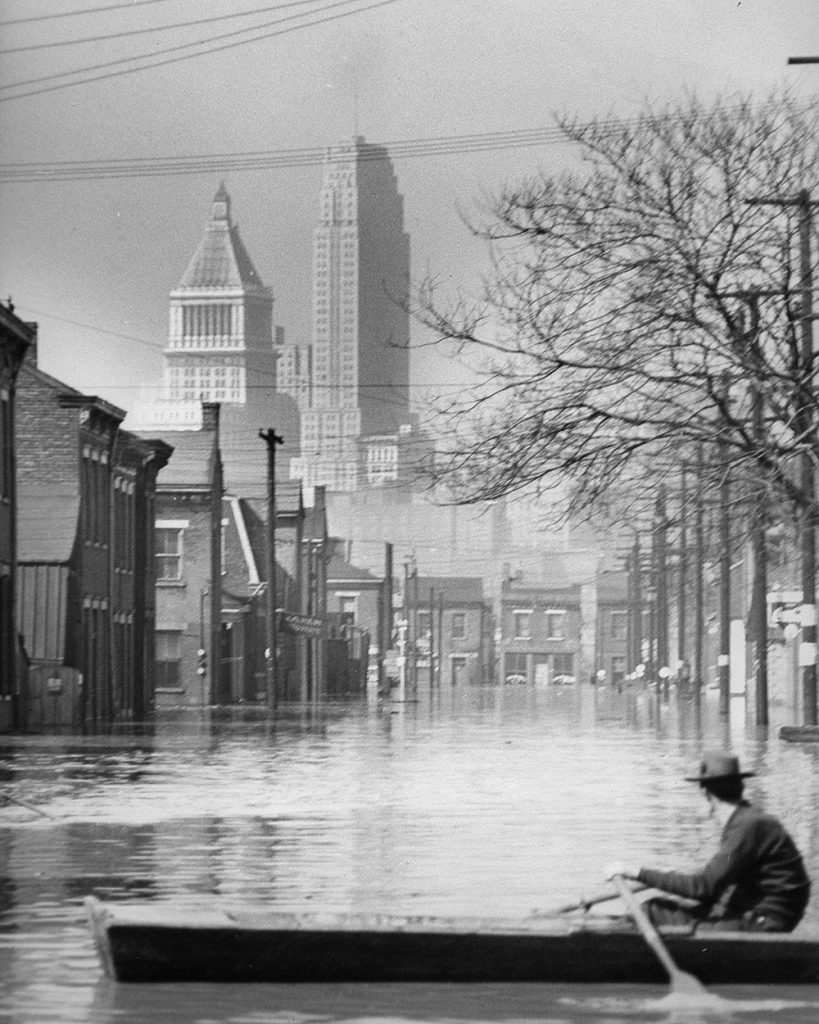 The Mill Creek barrier dam runs unobtrusively for a mile and a half, adjacent to the Sixth Street Viaduct, centered on a massive watergate that slams shut whenever the Ohio River threatens. Although World War II slowed construction, the dam was dedicated on January 24, 1947, the 10th anniversary of Black Sunday. At the other end of the Valley, Winton Lake got its start as the West Fork of Mill Creek Lake, designed to retain excessive runoff before it overflowed downstream. Other Corps-created reservoirs are Harsha Lake in Clermont County and Caesar Creek Lake in Clinton County, which control flooding along the Little Miami River.
No subsequent floods have wreaked havoc on Cincinnati like Black Sunday did in 1937, but that doesn't mean the mighty Ohio has stopped trying. Or that humans keep trying to outsmart Mother Nature.
Facebook Comments