From indoor skydiving to an after-hours adult pool party, here are the best fun and games the Queen City has to offer right now.
Indoor SkyDiving: iFly Indoor Skydiving
According to most sane people, skydiving is dangerous. But that doesn't mean you have to miss the experience. At iFly, which opened in March, you put on a wind resistant suit and a helmet, and an instructor will coach you through how to float atop the breeze from two wind turbines in their 48-foot tall clear cylinder. Once your muscles stop tingling from fighting against that wind, watch your instructor make it all look easy by spinning, flipping, and diving before sticking the landing.
7689 Warehouse Row, Liberty Twp., (513) 901-4359
Canoeing Experience: Scenic River Canoe Excursions
Scenic River Canoe Excursions offers the best bang-for-your-buck, family-friendly river outing experience. From May through September, you can float down the Little Miami via kayak, canoe, or tube for 2.1, 6, or 10 miles. Reservations are only required for the 10-mile trip, and prices range from $21 to $29. Every trip ends back at the livery and includes a life jacket, river equipment, and a free ride to the starting point. Pro tip: Check their Facebook page before you go to confirm river conditions are safe.
4595 Round Bottom Rd., Terrace Park, (513) 576-9000

Kitschy Tiki Night: Japp's Since 1879
Ditch your stuffy workday vibes at the door. The city's most famous barkeep, Molly Wellmann, is here to cure your midweek blues in a monthly island-style tiki party (on the first Wednesday of the month at 8 p.m.). Sample a trio of exotic fruity cocktails, along with light bites and super chill tunes. You might feel a little cheesy wearing a Hawaiian shirt and lei out of the house, but you'll feel right at home here among the diehard denizens of Tiki Night.
1134 Main St., Over-the-Rhine, (513) 381-1524

Winter Bar Patio: Rosedale OTR
When the dead of winter leaves you feeling stifled with cabin fever, break free and cozy up on an outdoor bar patio. But wait! Not just any one will do. Rosedale OTR has a warming trifecta to ward off those three nasty stages of frostbite and keep your precious phalanges intact: Fire pits, check. Heaters, check. And, yes, even a full-blown tent—check! It couldn't possibly get any bet—oh yeah, and bourbon. They've got a lot of that, too. 208 E. 12th St., Over-the-Rhine, (513) 864-5400

Frisbee Golf Course: Mt. Airy Forest Disc Golf Course
Despite nearly 30 area disc-golf courses to choose from, Idlewild, Lincoln Ridge, and Mt. Airy still reign supreme, based on local player reviews. Mt. Airy, however, deserves the most recognition. With an on-site pro shop where you can buy discs and a nearby practice range where you can warm up, the course is great for beginners. Plus, plenty of long fairways mean you can really chuck that thing, with enough shots that require tight maneuvers sprinkled in to keep the 18 holes interesting.
4800 Lodge Rd., Mt. Airy, (513) 541-7305

Flying Lesson: Lunken Flight Training Center
The center's explorer's package is no joke. After a 30-minute introductory lesson about flight, a walk around your aircraft, and learning the important dials in the cockpit, you'll take off with your instructor. Once you're in the air, you'll have the helm (briefly). So go ahead—count out the seven hills and point out where you live. Then watch as your instructor demonstrates a few easy maneuvers that'll show you what more you have to learn. The hour spent in the air counts toward the 40 hours needed for a license, and you can even gift someone a lesson.
4500 Airport Rd., East End, (513) 321-3211

Local Jazz Spot (That Isn't Schwartz's Point): The Härth Lounge
If Schwartz's Point is the tight-spaced, subterranean steward of cerebral jazz in Cincinnati, its polar opposite is The Härth Lounge. Polished, popular jazz in a sleek and spacious room is the perfect accompaniment to after-dinner drinks with friends on one of their sofas or at a high-top table. The musicians keep things accessible Thursday through Saturday by giving modern popular songs a jazz-like flair and mixing in revered genre artists like Count Basie. Consider it Schwartz's Point without a stick up its sax.
125 W. Fourth St., downtown, (513) 621-3473

Public Tennis Courts: Lunken Playfield
The Lindner Family Tennis Center offers 16 lighted courts, both hard surface and crushed-stone clay, in the busy complex near Lunken Airport that includes a golf course, driving range, playground, softball fields, and running and bike trails. The Cincinnati Recreation Commission facility hosts high school matches, USTA tournaments, a variety of leagues, and lots of open play for you and your friends. Memberships are available, or pay as you play.
4750 Playfield Lane, East End, (513) 321-1772

Powerlifting Gym: RiverCity Barbell
This unassuming warehouse in Dayton, Kentucky, carries a lot of weight—in the form of iron plates, Atlas stones, logs, and other super heavy things weightlifters like to pick up. You have to be a member to train here ($60/month), and you have to "leave your ego at the door," say co-owners and competitive lifters Jim Phillips and Zac Whalen. RiverCity hosts Revolution Powerlifting Syndicate meets and sponsors the Iron Asylum Strongman team for men and women.
1101 Second Ave., Dayton, Kentucky

Holiday Pop-up: Overlook Lodge
An over-the-top homage to the Overlook Hotel in The Shining, this neighborhood spot gets an all-out holiday makeover to become the Miracle pop-up bar through December 28. Try the holiday-themed cocktails with lots of cinnamon, chocolate, and peppermint, and revel in the kitschy decor, from fake snow to leg lamps, Red Rider BB guns, and other memorabilia from iconic movies like A Christmas Story and Elf. You'll miraculously fall into the holiday spirit in no time.
6083 Montgomery Rd., Pleasant Ridge, (513) 351-0035

After-Hours Adult Pool Party: Adult Swim, Ziegler Park
What's better than visiting the Ziegler Park pool with the whole family on a sunny afternoon? Visiting Ziegler Park pool after hours sans kiddos for Adult Swim. Once a month from May to September, Ziegler hosts adult-only evenings, where guests 21 and older can pay $10 to swim from 7:30 to 10 p.m. And because it wouldn't be a party without alcohol and music, there's a cash bar and DJ. The sunset makes for a pretty magical backdrop.
1322 Sycamore St., Over-the-Rhine

Weekly Group Bicycle Ride: Tuesday Night Ride, Reser Bicycle Outfitters
If you're into (or looking to get into) bicycling, this shop along Newport's main drag is the spot for you. Each relatively warm-weathered Tuesday evening, bicyclists gather at Reser Bicycle Outfitters for four group rides. They vary according to levels of intensity, ranging from a casual 12-to-18 miles to a race-pace 25-plus. Cyclists pedal off at 6:15 p.m. sharp. So get there early, bring a friend, and don't forget bottles of water.
648 Monmouth St., Newport, (859) 261-6187

Weird New Sport: Fowling Warehouse
After the sport gained a loyal following in Michigan, Loveland-based Joe Frank and four friends opened the first Fowling Warehouse in Oakley this May. Pronounced foe-ling, it's part football, part bowling (hence the name), with hints of cornhole, beer pong, and horseshoes. The objective: Knock down—by throwing a football—10 bowling pins set up on a wooden platform 48 feet away before your opponents do. Take our advice and stretch before playing. Unlike cornhole, your arms will be sore after. 2940 Highland Ave. #230, Oakley, (513) 900-0959

Sand Volleyball: Fifty West Brewing Company
A handful of local spots offer sand volleyball leagues, but none are quite as fun as Fifty West Brewing Company's. With four co-ed sessions running early spring through fall, the brewery's six outdoor courts host six-on-six and four-on-four games Monday through Thursday nights. Spectators (and their pups) can watch from the sideline or get a bird's-eye view from the brewery's second-floor balcony. And for just $15, you get a bucket of five Fifty West beers to carry out on the court.
7668 Wooster Pk., Plainville, (513) 834-8789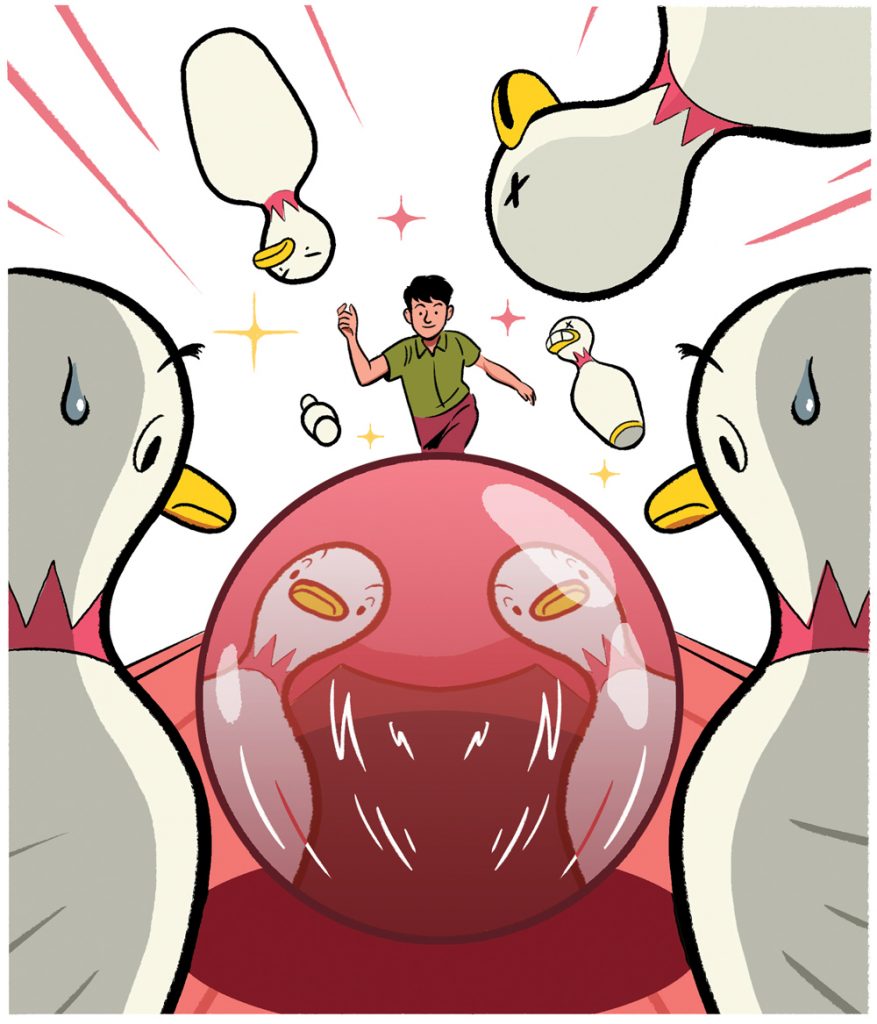 Alternative Indoor Bar Activity: Pins Mechanical Co.
A relative newcomer to Main Street in Over-the-Rhine, Columbus-based Rise Brands (the folks behind 16-Bit Bar + Arcade) opened its third Pins Mechanical Co. bar, arcade, and duckpin bowling entertainment hub in November 2018. Two floors of duckpin bowling—like regular bowling but with smaller balls, lanes, and pins—are the fun centerpoint, with a third floor full of arcade games and pinball machines and a fourth-floor rooftop patio perfect for warm summer days.
1124 Main St., Over-the-Rhine, (513) 964-7746

New Brew Bus: NKY Brewery and Distillery Bus
Launched in April, this repurposed school bus helps you explore some of Northern Kentucky's breweries and distilleries between 1 and 9 p.m. on Saturdays. Buy a $10 ticket online; from bartenders at Bircus Brewing, Darkness Brewing, Second Sight Spirits, and Wooden Cask; or on the bus at Braxton Labs, Hofbräuhaus, and New Riff. While there's a posted schedule, there's only one bus, so make sure you pack your patience.
Grown-up Dance Parties: CWC The Restaurant, Station Family + BBQ
It all started with breakfast nachos, the morning entrée of your teenage dreams. Now the trio behind CWC and Station host dance parties that let your grown-up self live it up like back in the day. On February 22, Station hosts a Spring Break '98 Dance Party, with a DJ playing old school hip-hop tracks ("California Love," anyone?)—because let's be real, you'd really love to relive those college nights, just not at the club.
CWC: 1517 Springfield Pike, Wyoming, (513) 407-3947; Station: 400 Wyoming Ave., Wyoming, (513) 679-6797

---
Dance Classes for…
Bollywood Fans: Cultural Centre of India
You'll find private and group classes for ages 3 to adult and everyone from curiosity seekers to competitive dancers. You can also perform at public events and workshops.
Celtic Kids: McGing Irish Dancers
Girls and boys—including several world champions in Irish dance—have been kicking up their heels here for 40-plus years. Make sure to clear your calendar around March 17.

Drop-Ins: Planet Dance
Founded by artistic directors of the Exhale Dance Tribe contemporary troupe, this studio is perfect for short attention spans. You're able to drop into any class at any time without preregistering.

Exercise Junkies: DanceFix
Daily cardio-intensive adult workout classes feature Heather Britt's original choreography set to hip-hop, jazz, and Latin music. You'll probably get to dance in a parade or flash mob, too.
Extroverts: Salsannati
Choose one of three experience levels, including beginner, and you don't have to bring your own partner. Once you're feeling confident, join the crowd at a salsa dance outing practically any night of the week.
Facebook Comments