Lightning Horse Industries started in 2015 as a small screen-printing lab in A.J. Yorio's basement. Five years later, the design and video production company has taken over the rest of his house as well. "My entire second floor is Lightning Horse, and my entire bottom floor is Lightning Horse," Yorio says. "It's like an Oreo cookie; the cookie is Lightening Horse and the cream filling is where my dog and my wife live." Yorio has been designing under this moniker since graduating from the University of Cincinnati's fine arts program in 2015. Originally the name of a fictional '80s metal band Yorio created for a school project, "Lightning Horse" stuck when he began freelancing after college. "I thought it was something stupid and weird that people would remember," he says.
Yorio has since expanded the company to include graphic designer Brady Corcoran and videographer Michael Marcagi. In just four years, the team has built an impressive portfolio, from creating apparel for FC Cincinnati to designing an ArtWorks mural in Over-the-Rhine. Their designs have a specific, handmade aesthetic. They use hand-drawn and textured designs, and they screen print T-shirts manually, rather than using a digital or automated process. All of this is to leave behind a degree of imperfection, or what Yorio calls, "artifacts of the artist's process," a concept inspired by his high school art teacher. "We have so much technology that it's very easy for almost anyone to produce a digitally perfect image," Yorio says. "But power is given to the artist when they can include their own signature or some sort of handmade element to the work."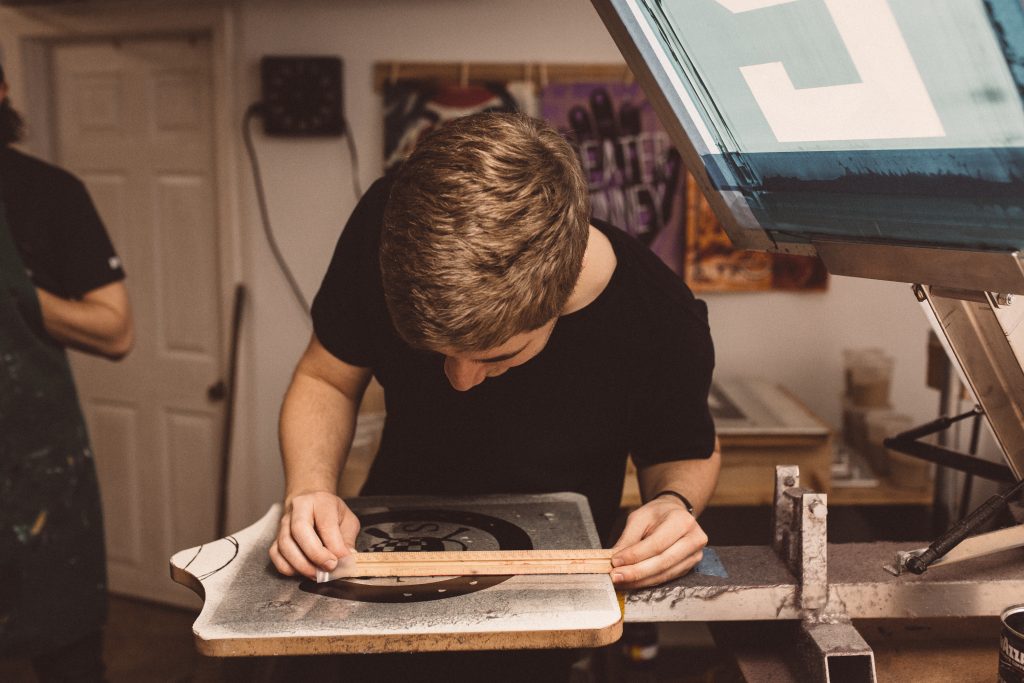 Cincinnati and the Midwest are featured prominently in Lighting Horse's original designs. An Anderson Township native, Yorio says he's inspired by the city's lack of pretention. "It's cool that Cincinnati will never be the standard of cool," he says. "There's like a threshold to it; you can go out and buy some cool skinny jeans and walk to some hip bar in OTR, but you're probably going to run into your mom. I love that."
While many of their collaborations are locally rooted, Lightning Horse has garnered national attention, too. Most notably, in 2017, the company produced official merchandise designs for popular TV shows The Office and Parks and Recreation, which NBC still sells online on various products, like T-shirts, coffee mugs, posters, and blankets. Yorio "had just come off the most in-depth binge of The Office," when he got a call from a former classmate, who works for an independent firm that manages NBC's e-commerce department; he was looking for designers to revamp NBC's online merchandise. "The universe had just clicked itself into place for me," Yorio says.
In his spare time, Yorio often speaks at local high schools in hopes to inspire the next generation of designers. He leads a talk he calls "Eat Your Visual Vegetables," during which he tries to "communicate the importance of design and art in the world." As for the future of Lightning Horse Industries, Yorio plans on chasing bigger and more ambitious projects: "We really want to make sure every project we're doing is something that doesn't make us want to sleep in."
Facebook Comments