The Contemporary Arts Center has teamed up with Collective Espresso to open a café in the museum's newly renovated Kaplan Hall Lobby, set in the space formerly occupied by the shop and check-in desk. Collective CAC will feature a menu of breakfast dishes (served all day!) like two kinds of biscuits-and-gravy, sandwiches, salads, and even a few snacks (we'll have the boiled peanut "Southern hummus" plate, thanks). There's also a sweet kids menu with Tillamook cheddar grilled cheese and almond butter and jam.
Maybe the prettiest thing on the menu (this is a museum, after all) is the Caramelized Onion Tart, with molten bits of gruyere folded into warm caramelized onions to fill a tasty little tart shell. It's topped with arugula lightly tossed with truffle oil and sunchoke chips.
Go whole hog with the Kentucky Ham and Brie sandwich: the country ham is salty and perfectly complemented by the creamy brie and kicky aioli.
Or, if you actually need to go back to work without taking a nap break, try the baby kale salad trimmed with pickled watermelon radishes and dressed with just enough cumin seed vinaigrette.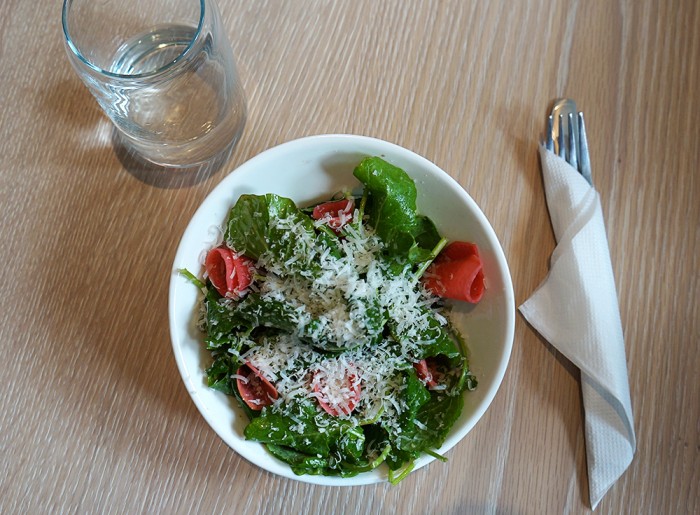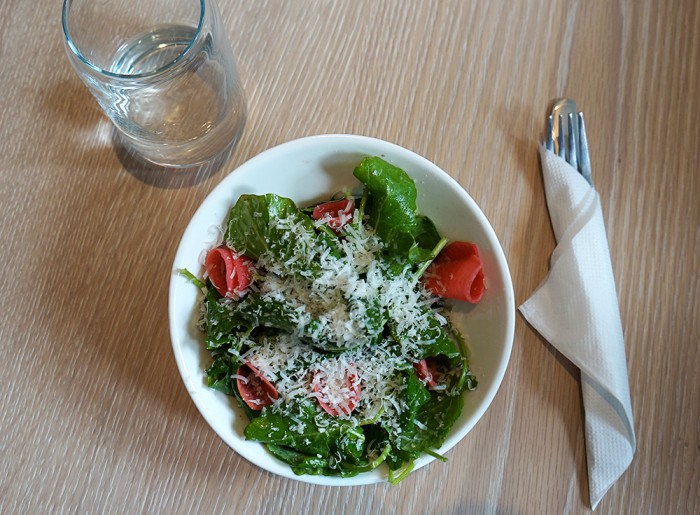 After lunch (or breakfast-for-lunch…), look around the lobby and you'll notice some serious changes to the scenery. For starters, Cincinnati Swing, by Austrian artist Erwin Redl, features animated LEDs suspended from 160 pendula on the museum's 107-foot-high back wall. According to the CAC, "Cincinnati Swing investigates the way complex patterns arise out of a multiplicity of simple interactions."
Look up from the café to see Chandeliers (pictured at top), a light installation by Findlay, Ohio-based artist Matt Kotlarczyk that uses found objects to create whimsical fixtures. Situated on the museum's exterior and throughout the lobby—including behind the Collective bar—is a series of vividly colorful vinyl decals created by artist collaborative Assume Vivid Astro Focus (AVAF). And the CAC shop, which was moved to accommodate the new café, also got a facelift.
The lobby renovation and accompanying installations are part of an effort by the CAC powers-that-be to make its "urban carpet" interior—designed by Iraqi-British architect Zaha Hadid—more comfortable and navigable to museum visitors. "The space is at its best when people are in it," explains Curator Steven Matijcio, "and these changes make it more inviting." Biscuits and gravy included.
Contemporary Arts Center, 44 E 6th St., downtown, contemporaryartscenter.org, (513) 345-8400, CAC Lobby/Café Hours: Mon and Tues, 7 a.m.–4 p.m.; Wed–Fri, 7 a.m.–9 p.m.; weekends, 10 a.m.–4 p.m.
Facebook Comments